10 CRICUT HACKS YOU DIDN'T KNOW
Hey, Cricut fans! You have got to check out this post. Get more use from your Cricut mats, find some simple alternatives for transfer paper and cutting mat scrapers, some storage tips, and more in this post. These 10 Cricut Hacks You Probably Didn't Know are a game-changer.
Whether you're a Cricut beginner or an old pro, you're going to just love these Cricut die cutting tips and tricks. We have found some AMAZING Cricut hacks that are sure to save you time and money. It's going to make your crafting time much more efficient and easier!
10 CRICUT HACKS YOU (PROBABLY) DIDN'T KNOW
We love crafting with our Cricut machines. The more we use them, the more we find some great tips and tricks to make it easier, faster, and less expensive. Check out the Cricut tips below and see if you learn something new that you can try.
Press and Seal Cling Wrap Makes Good Cheap Transfer Paper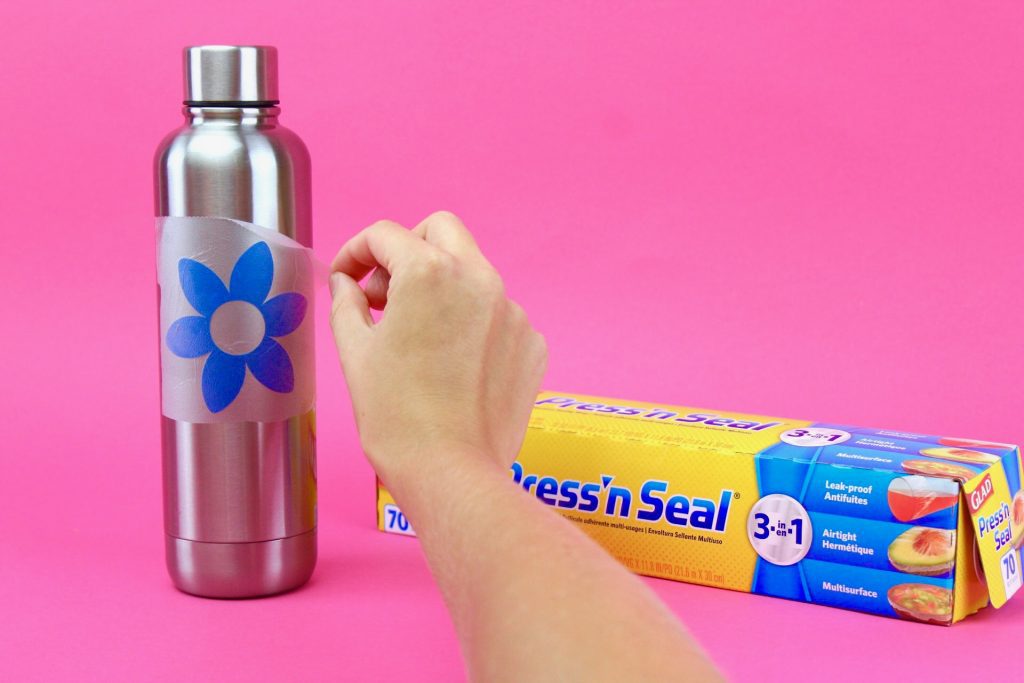 You're making a beautiful vinyl project and, OH NO! You're out of transfer paper. What are you going to do? Well, head to your kitchen and grab some of that sealing cling wrap. It doesn't do quite as good a job as actual transfer paper but in a pinch, it's a quick fix that works.
Some people have had good luck with clear contact paper too if you happen to have any of that on hand.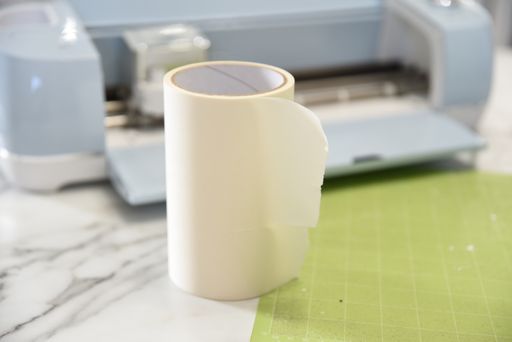 Our favorite transfer tape is this masking paper transfer paper. It's inexpensive and works well for most projects.
Remove Excess debris From Your Cutting Mat With Lint Rollers
It's no secret that I use my Cricut almost every day, but you don't have to craft with it a lot to know how frustrating it is when your vinyl won't stick to your mat because of little pieces of paper or excess vinyl left on your mat.
You could spend hours picking off every little piece with a weeding tool, or you could grab a cheap lint roller from the store and watch the magic happen.
Use This $1 Spray To Clean Your Cricut Mats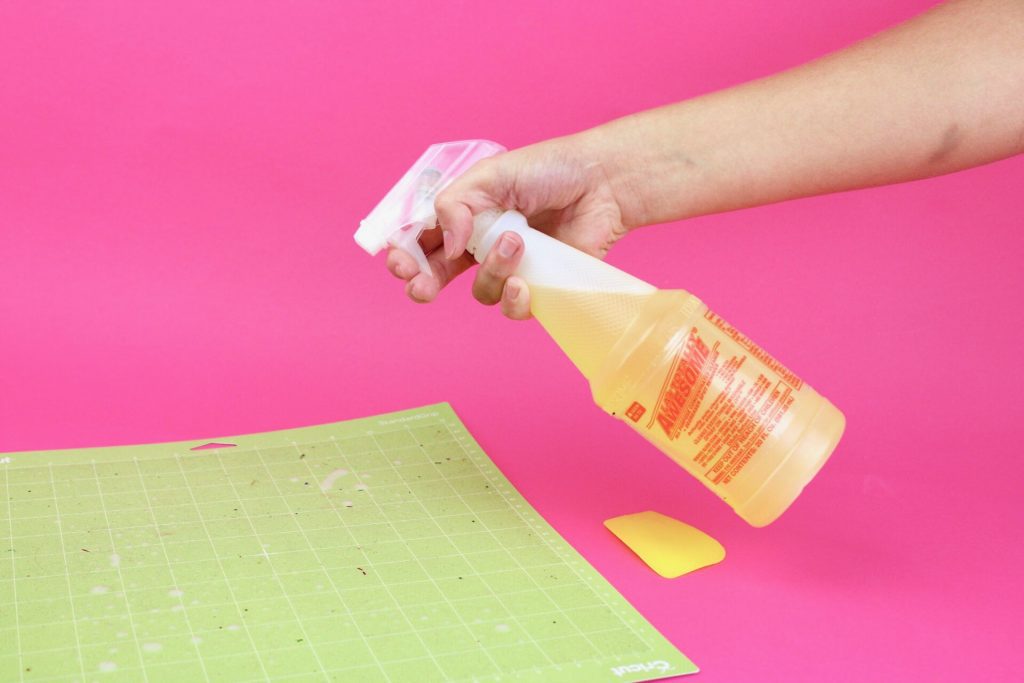 This cleaner is from Dollar Tree and believe it or not it's perfect for cleaning your Cricut mats. It's called LA's Totally Awesome All-Purpose Cleaner and it'll be the best $1 you've spent in a long time. Simply spray, soak, and scrape! Perfect for all those small hairs and fibers your lint roller can't get!
We have three different methods for cleaning Cricut mats. Be sure to check them out to see our favorite!
Old Gift Cards Make The Perfect Scraper
I know for a fact you probably have at least ten used gift cards sitting in a junk drawer somewhere in your home. When you have bubbles in your craft vinyl and need to scrape them out, they're my go-to.
They're firm but flexible enough to get the job done. They're perfect for scraping over transfer paper to make sure your vinyl is secure as well!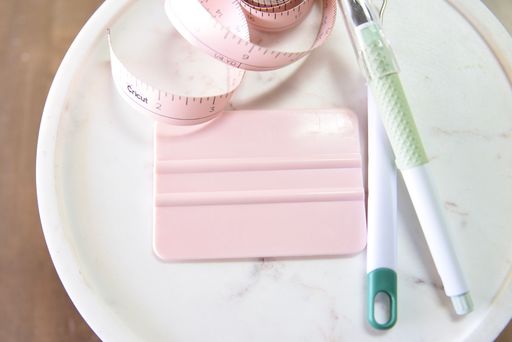 Our favorite burnishing tool is this squeegee from 143Vinyl. It's so inexpensive and works so well!
Use An Old Tissue Box To Capture All your Vinyl Pieces While Weeding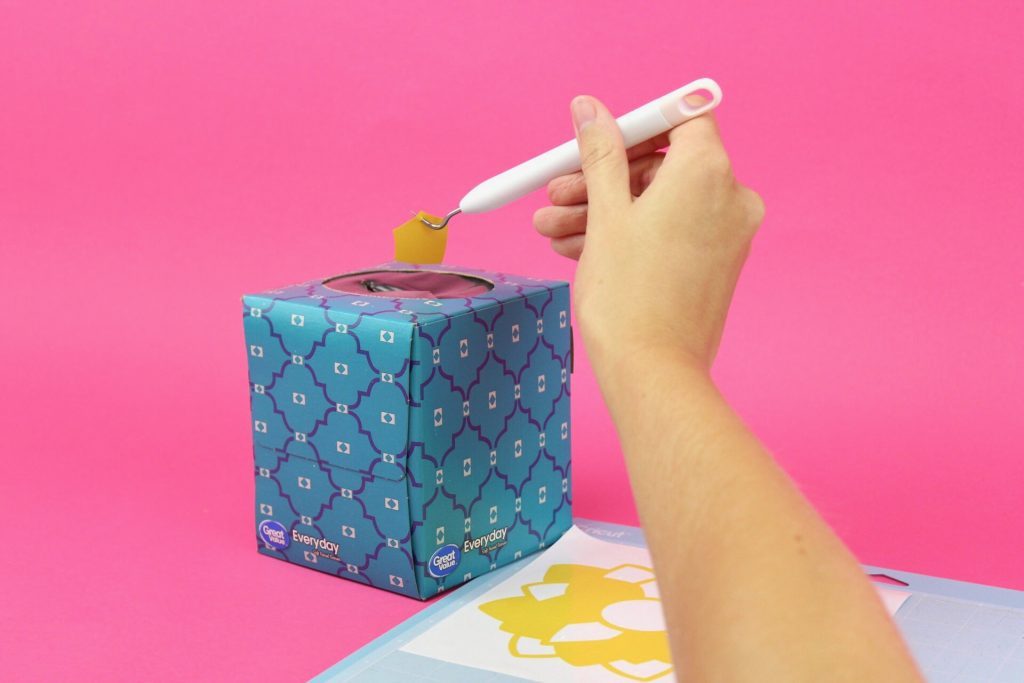 I know what you're thinking, but don't knock it till you try it. You know those tiny pieces of weeded vinyl or heat transfer vinyl that you keep finding all over the floor, in your hair, or on your shoes?
Well, keep a tissue box handy and you won't believe how much of a difference it makes. Once you start using it you'll never go back.
Pssst – no tissue box on hand? Try using an empty wipes container. It works really well too!
Always Keep Those Plastic Sheets That Come On New Cricut Mats
I know it's tempting to peel that satisfying plastic sheet off your new Cricut cutting mat, toss it in the garbage, and get crafty; but that's a no-no.
Take a moment to place that plastic sheet in a safe place and once you're done crafting for the day, simply stick it back on your mat. It protects your mats from so much dirt and debris.
Did you lose your plastic sheet? No worries. Grab a shower curtain liner from the dollar store. Cut into 12 by 12 inch squares and use as protective covers on your cutting mats.
News flash, these things aren't just for dispensing bags. They're perfect to fit 14 basic rolls of vinyl or iron in! Nothing is more satisfying than seeing all of your die cutting vinyl and iron on proudly and neatly displayed rather than thrown in a box.
Plus, it's so much easier to grab and go rather than dig through a seemingly bottomless bin of unorganized vinyl rolls.
Mark The Top Of Your Cricut Mats and Never Load Them Incorrectly Again
I know I'm not the only one who's loaded my Cricut cutting mat backwards once or twice (or like, 50 times). You know how it is. You get caught up in crafting and shove it in there the wrong way. I decided enough was enough. I got a sharpie and simply drew a few arrows on the top of my mat.
To be honest, it's already saved me from making that same mistake a few times. The arrows catch my eye and remind me to make sure my mat is facing the correct way. It's a small change with a big impact!
Poking your Cricut Blade into a Ball of Tin Foil to Clean It
We do this with our blades on a regular basis. It helps to clean off all the dirt and debris and although it doesn't actually sharpen them, they perform much better afterwards.
Give this a try to get more life out of your cutting blades.
Use a Spray Adhesive to Make Your Mats Sticky Again
After you've used your lint roller (see no. 3) and cleaned your mats with the incredible spray (see no. 4), sometimes they still just aren't as sticky as the day you peeled that glorious plastic sheet off for the first time.
No worries! Grab some spray adhesive and painters tape. Tape off the edges and spray a light coat of adhesive. After it has dried overnight, you're ready to craft again!
What did you think about these 10 Cricut Hacks You Probably Didn't Know? Which one will you try first? If you have any to share with us, be sure to tag us on social media with hashtag #MakersGonnaLearn. Don't forget to pin this post so you can refer back to it again and again.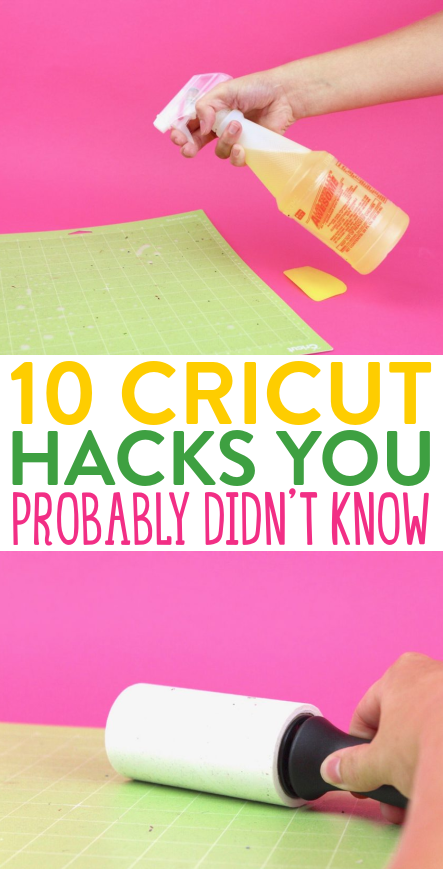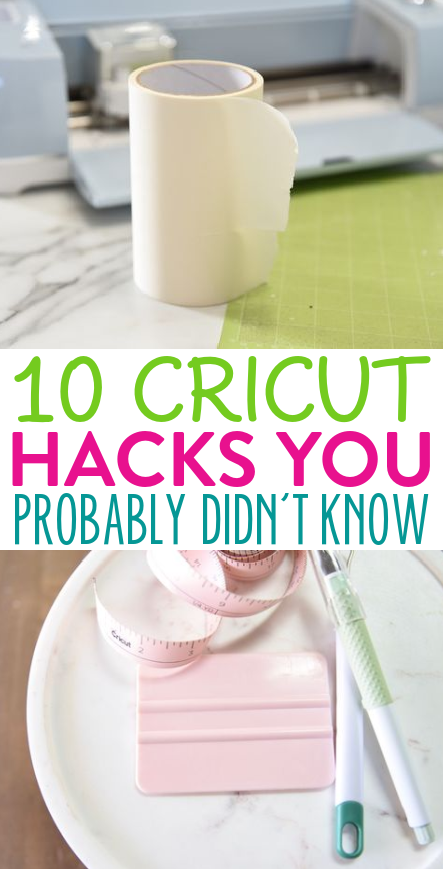 Tanner, Courtney, and the rest of the Makers Gonna Learn Team are all here because we love die-cutting and especially love sharing fun projects and tutorials with fellow makers. We are all great friends and are always having a blast when we are together- you will see this on camera, especially during live streams! We are here to inspire and support you in your crafting journey!