10 Things You Can Cut With Your Cricut That Aren't Vinyl
We know a lot of Cricut machine owners who think that they're limited to the basics – vinyl and iron-on vinyl – but you're not! You can actually get crafty with a lot of different Cricut materials and we're going to show you 10 things you can cut with your Cricut that aren't vinyl.
You are going to love these ideas for your die-cutting projects! In this post, we have narrowed our list of materials Cricut can cut to our top 10 (besides vinyl), but there are so many more different materials you can cut with your Cricut – you'll be able to make nearly any craft projects you'd like!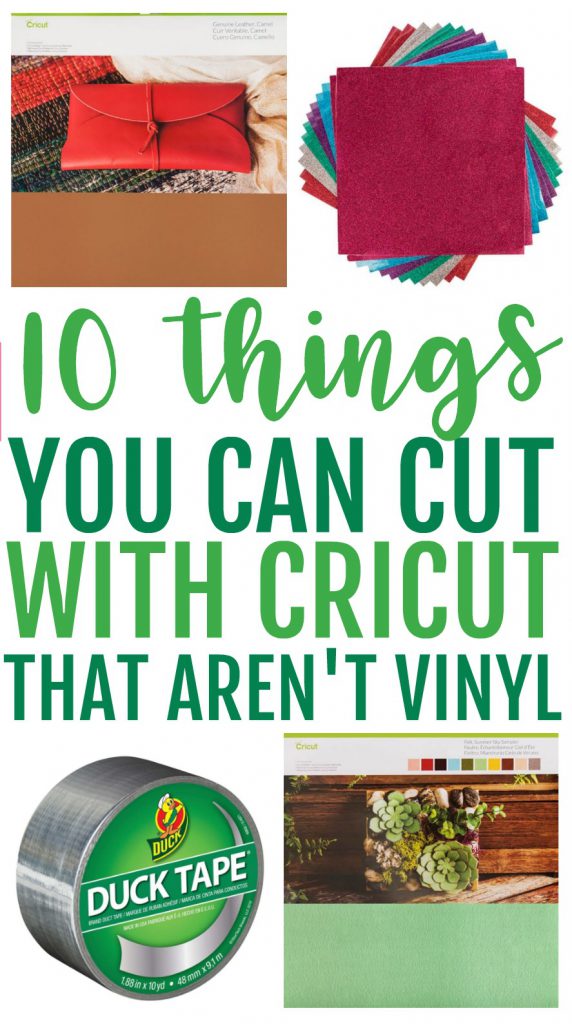 10 Things You Can Cut With Your Cricut That Aren't Vinyl
One important thing to think about here – Cricut Explore Air 2 materials and Cricut Maker materials are sometimes different. This is one of the key differences between the Cricut Maker and the Cricut Explore. The Maker has the adaptive tool system and more cutting power so it can handle cutting more materials than the Explore can. Either way, there is a long list for each machine of things you can cut with your Cricut that aren't vinyl.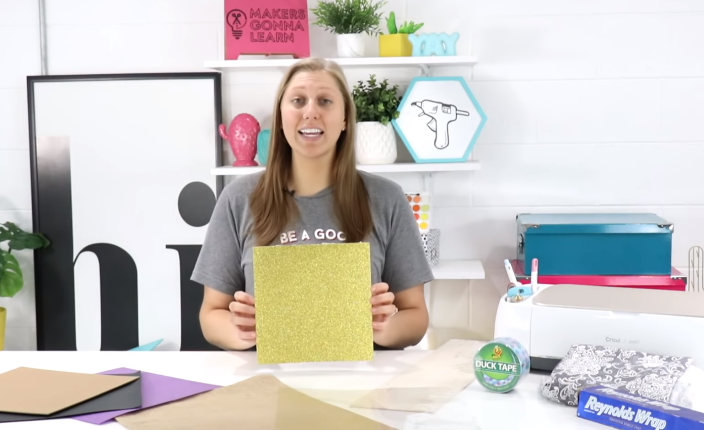 Glitter Cardstock
I want to start off with glitter cardstock. You might not think that your Cricut can cut this but it most definitely can. It doesn't even have to be the Cricut brand of glitter cardstock.
We found one that's a bit thicker and all we had to do was to turn our glitter cardstock setting up to a higher pressure. It cut flawlessly! Don't be afraid of the beautiful cardstock that you see in your local craft store because if you want to craft with it you totally can!
Quick facts: You can cut glitter cardstock with the Cricut Maker, Cricut Explore Air 2, and the Cricut Joy. With the Maker and the Explore Air 2, use your fine point blade. Use a StandardGrip mat for glitter cardstock.
Chipboard, Balsa Wood, Basswood
Next up are chipboard, balsa wood,and basswood. If you have the Cricut Maker with its adaptive tool system, cutting items like this is no problem at all. Sometimes, there are little hacks you can do with your Explore Air to cut some of the thinner woods too!
These materials are cheap and well-made so they are great to use in your die-cutting projects. You need to be aware that these materials will take a bit longer to cut but they are great materials to use for creating special home decor craft projects.
Quick facts: As already mentioned, you can easily cut one of these types of wood with your Cricut Maker along with other heavy materials. Use your Knife Blade and your StrongGrip mat. To cut wood with a Cricut Explore Air 2, we highly recommend that you stick with the wood veneer and other thin wood products that Cricut sells specifically for this use. Use a Cricut StrongGrip mat and your deep point blade.
Leather and Faux Leather
Our next items are leather and faux leather. We generally try and stay away from the thicker leather as it doesn't work as well. I do recommend if you're buying leather or faux leather for one project, always get an extra sheet and use it as a test sheet.
Cricut does sell their own leather products, but if you want to try other brands, doing a test cut is a great way to get your pressure settings just right before cutting your final project.
Leather is great to work with and there are so many uses for it! We love making jewelry with leather and it's great for many home decor craft projects too.
Quick facts: You can cut paper-thin faux leather and faux suede with your Cricut Explore Air 2, using your fine point blade and your StandardGrip cutting mat. To cut genuine leather with your Cricut Maker, you need to use your deep point blade and your StrongGrip cutting mat.
Felt
Another one is felt. You would be surprised how often we use felt in the craft studio. We make a lot of things out of it – felt flowers, pillows, and so much more. We even have an adorable little Tooth Fairy pillow made out of felt. It's so cute and the kids are going to love it!
Quick facts: You need to use the rotary blade with the Cricut Maker's adaptive tool system for most felt projects. Sometimes you can get away with your normal fine point blade or your deep cut blade but it will depend on the particular type of felt you're using. With your Explore Air 2, you will want to use only the thinner craft felt with your fine point blade. Don't forget; you'll need to use a fabric grip mat for felt projects too!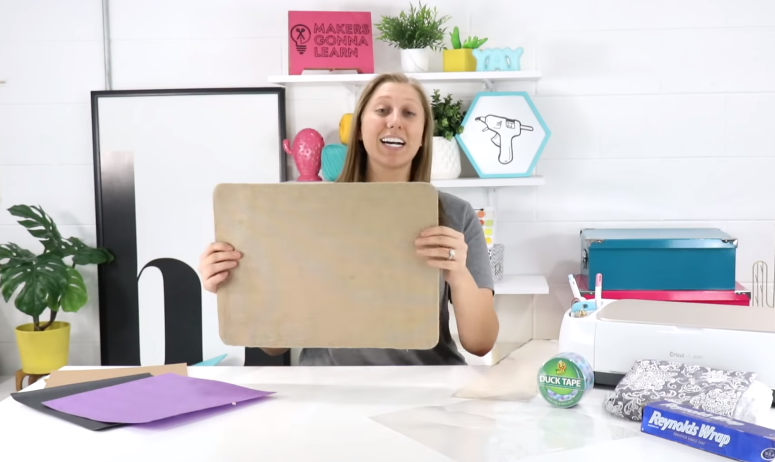 Burlap
I love cutting burlap. The Cricut Maker was definitely a lifesaver when I was creating the decor for my DIY wedding. It cuts burlap like a dream and made the projects so much quicker and easier to make! You are going to love the results you get.
Quick facts: With the Cricut Explore Air 2, you can cut bonded burlap with the FabricGrip cutting mat and the bonded fabric blade. With your Maker, you will use any kind of burlap, your FabricGrip mat, and your Cricut rotary blade.
Craft Plastic
Another thing is craft plastic. You can use this to make reusable stencils. How great is that to be able to create your own customized stencils? I have a video all about making reusable stencils and you can check that out here.
You can also use it for all sorts of different projects – card-making or any other projects where you need a clear overlay. Check out the plastic sheets that you can find at your craft store or dollar store and start cutting!
Quick facts: Use your Cricut Maker and your Cricut fine point blade (deep cut if it's a thicker plastic), and your Cricut StandardGrip Mat.
Duct Tape
Next up is duct tape. Duct tape comes in so many awesome colors and patterns and it will cut beautifully with the rotary blade. We love using it to add embellishments and fun accents to our craft projects.
Quick facts: We recommend using the rotary blade with the Cricut Maker. We have noticed that the fine point and Cricut deep cut blade tend to drag a little bit with the tape. Be sure to clean off any sticky tape residue from your rotary blade after using it.
Fabric
We LOVE cutting fabric with our Cricut machines, especially with the Maker. This is such an easy way to take some of the tedious work out of sewing projects, but don't think you have to sew to cut fabric with your Cricut.
There are so many no-sew projects you can make! We have even been known around Makers Gonna Learn HQ to use hot glue with some of our fabric projects but there is the iron-on tape or fabric glues that can be used as well.
Quick facts: We prefer to use our Cricut Maker with the FabricGrip mat and the rotary blade for cutting fabric. You can also use the Cricut Explore Air 2 with bonded fabric, the FabricGrip mat, and the bonded fabric blade with great results.
Vellum, Tissue Paper, and Crepe Paper
If you're a paper crafter, you're going to love cutting paper with your Cricut! Your machines can handle a wide variety of paper products, including really thin paper like vellum, tissue paper, and crepe paper. We've even heard of people cutting toilet paper with their die-cutting machine!
Quick facts: You can cut paper with your Cricut Maker, Explore Air 2, and Cricut Joy using your fine point blade and your LightGrip mat. If you're cutting very thin paper such as tissue paper, we recommend using your Cricut Maker with the rotary blade for best results.
Aluminum Foil
Finally, we have aluminum foil. Some people ask why would you ever want to use aluminum foil? Well, it's not really for a craft project as much as it is a great way to clean and sharpen your blade. If you take a sheet, lay it on your mat, and cut out a hundred circles, that blade will sharpen up really well.
Of course, you could cut pieces of foil to use as accents for your projects as well. It cuts really easily and you can make all kinds of shapes with it. If you string them together, they make a really fun reflective garland for New Year's Eve or other party occasions.
Quick facts – Use your LightGrip cutting mat and fine point blade to cut foil with your Maker or Explore Air 2.
It's always good to jump out of your comfort zone and try things that you otherwise wouldn't have tried. We have tested and other materials that you can cut with your Cricut but these are the 10 we use the most. Which materials are your favorites to use?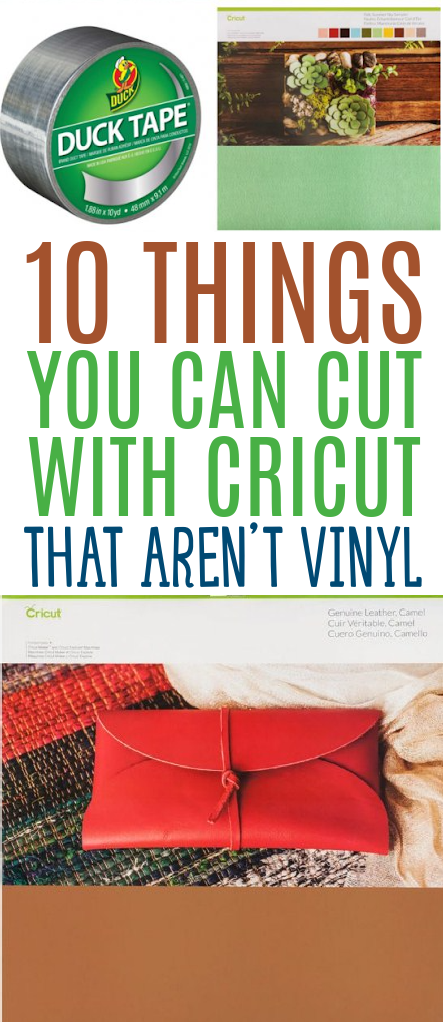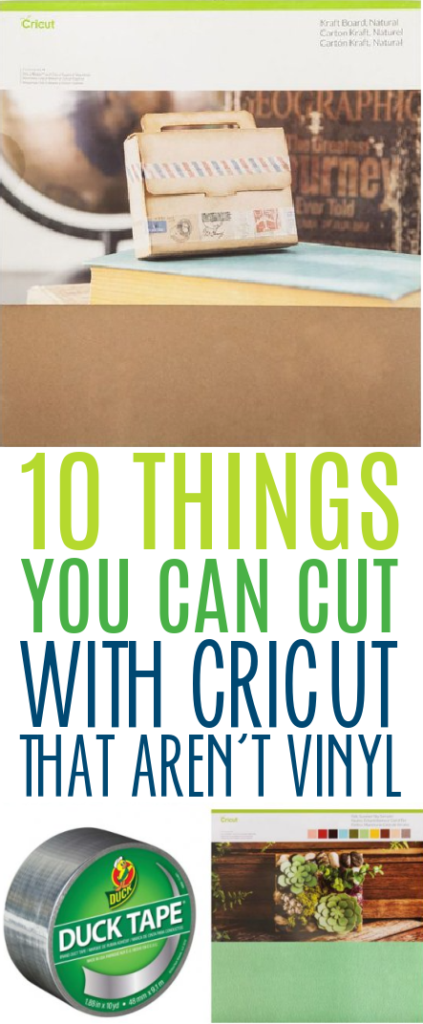 Tanner, Courtney, and the rest of the Makers Gonna Learn Team are all here because we love die-cutting and especially love sharing fun projects and tutorials with fellow makers. We are all great friends and are always having a blast when we are together- you will see this on camera, especially during live streams! We are here to inspire and support you in your crafting journey!