24 EASY Cricut Card Ideas
We have so many easy Cricut card ideas here in Makers Gonna Learn. Whip up a batch of them and keep them on hand so you can send out your own handmade cards whenever you want to!
The one we are making here today is our Happy Bee Day card. It's a bright and cheery way to say Happy Birthday to someone special.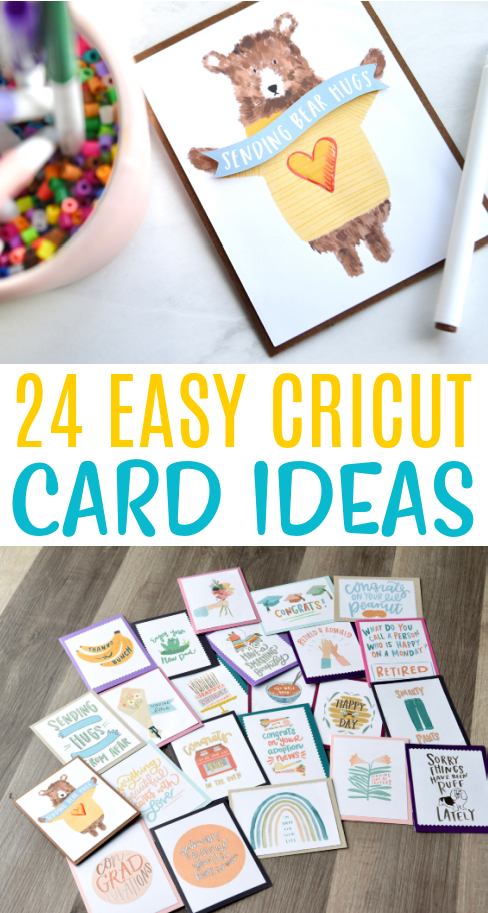 24 EASY Cricut Card Ideas
Disclosure: Some of the links below are affiliate links provided for your convenience. This means, at no additional cost to you, we will earn a commission if you click through and make a purchase.
Cut File Used:
Supply Links: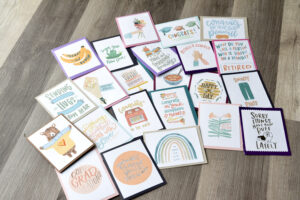 Step-by-step Instructions:
Measure the size of the card you'll be making.
Import the cut files you'll be using into Design Space. In this case, our file is a Print then Cut.
Grab a square and size it for the card base. You will need to unlock it so that you can make it into a rectangle the size of your card.
Then, we're using this same method to grab another rectangle to create a front panel for the card. These shapes will give you an idea of how to appropriately size your design so that it fits your card perfectly.
Move the cut file over to the square, size it, and arrange it the way how you want it to. Use Align to center it on your card.
Once happy with your design, click both the design layer and the layer for the front panel of your card in the Layers Panel, and choose Flatten.
Go ahead and click make it then send it to the printer. Remember that Cricut will add registration marks around your design. These are what your Cricut will read with its sensors so it can cut out your design properly.
Once finished printing, place your printed design on your cutting mat. Insert it into your Cricut machine and have it cut out.
Now, you can use your ATG gun to glue your card components together.
On some of our cards, we have used things like Glitter Glue and Glossy Accents to take them to the next level. You can also embellish the edges of your paper using various types of scissors like Pinking Shears or by using a paper distresser.
Tanner, Courtney, and the rest of the Makers Gonna Learn Team are all here because we love die-cutting and especially love sharing fun projects and tutorials with fellow makers. We are all great friends and are always having a blast when we are together- you will see this on camera, especially during live streams! We are here to inspire and support you in your crafting journey!