3D Paper Diamond
These 3D paper diamonds are so pretty! They make beautiful party decor. We think they'd be perfect for an engagement party, wedding shower, or bachelorette party.
In this video, we've got a step-by-step tutorial on how to cut these three-dimensional diamonds out of cardstock and then assemble them to make some pretty paper party decor. Display them as a centerpiece or string them together to create a banner.
3D Paper Diamond
Disclosure: Some of the links below are affiliate links provided for your convenience. This means, at no additional cost to you, we will earn a commission if you click through and make a purchase.
Cut File Used:
3D Diamond: https://makersgonnalearn.com/cut_files/3d-diamond/
Supply Links: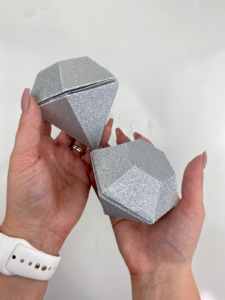 Step-by-step Instructions:
Due to the complex nature and visual components of 3D files, we recommend following along with the video as you assemble your project. You can always pause the video and re-wind as needed.
Tanner, Courtney, and the rest of the Makers Gonna Learn Team are all here because we love die-cutting and especially love sharing fun projects and tutorials with fellow makers. We are all great friends and are always having a blast when we are together- you will see this on camera, especially during live streams! We are here to inspire and support you in your crafting journey!