All Types of Cricut Vinyl Explained
Are you a Cricut craft enthusiast? If you are, you may find that sometimes the amount of knowledge you need in order to make all the craft projects with your die cutting machine you want can be overwhelming. From which blade to use to weeding vinyl and more, there's just so much to learn. That's why we're here to help you out with this post on All Types of Cricut Vinyl Explained!
If you've ever wondered about all the different types of Cricut vinyl and tips for using vinyl in your craft projects, you're not alone. Check out this very informative post all about the differences in Cricut vinyl. From Cricut vinyl to Cricut Iron-On, we're going to break them all down for you.
Want to know what else you can cut with your die cutting machine besides vinyl? Check out our top 10 favorite products to use with our Cricut machines that aren't vinyl.

All Types of Cricut Vinyl Explained
Once you've designed your craft project in Cricut Design Space, it's time to cut it out. It's so important to know about the different kinds of Cricut vinyl before you do so you can cut them out flawlessly!
The two most basic types of vinyl are the regular adhesive-backed vinyl and HTV or heat transfer vinyl. This second one is the kind that is mostly used for fabrics because it is ironed onto your surface (t-shirts, hats, tote bags and so on).
When you look for vinyl, remember to check the labels well so you're getting exactly the kind you want. These vinyls come in a wide selection of colors, matte or glossy finishes, and even in a variety of patterns.
Holographic Vinyl
Let's begin with the basic adhesive backed vinyl. One great type of vinyl is holographic. It gives such a fun effect and is just as easy to use as any other of these standard types.
One important thing to remember is that you need to choose the specific holographic vinyl setting when using this. In this way, it will adjust the speed and pressure accordingly.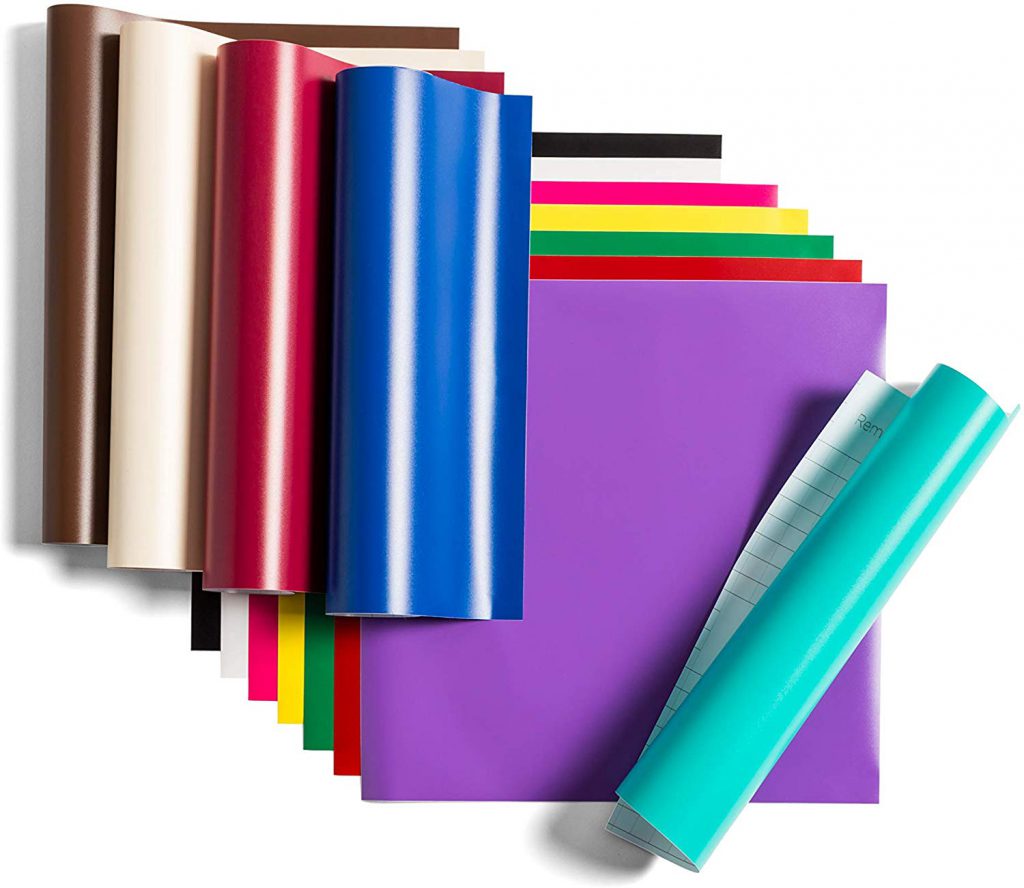 Cricut Premium Removable Vinyl
Be sure to check the labels carefully on the vinyl you're purchasing. There are so many different kinds! Removable vinyl is fantastic for wall and door decals and seasonal items that you might want to change out from time to time. We like to use this on signs because we are always switching those out!
Obviously, though, it doesn't hold up as well as permanent vinyl, so you wouldn't want to use this on a project needing long-lasting results. The removable vinyl is great for temporary projects as when you remove it, it doesn't leave behind a residue.
Cricut Premium Permanent Vinyl
Permanent vinyl is meant to be permanent just like the name states. It will hold up much longer than traditional vinyl and if you do decide to try and remove it, it is likely to leave behind a residue.
This should only be used with those projects where you are sure that you don't have any plans to switch it out at any time and you really want the results to last indefinitely.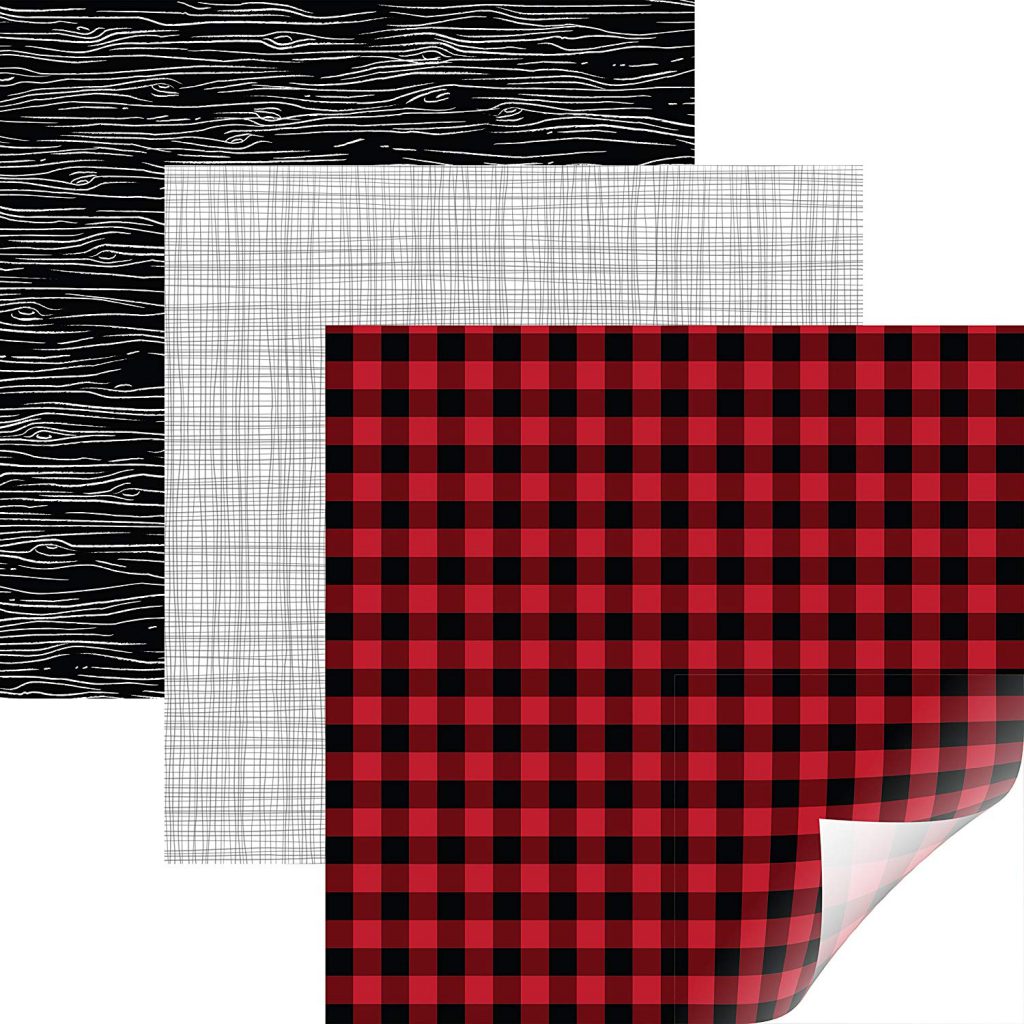 DID YOU KNOW? – With most vinyl, you're going to be able to use your Fine Point Blade and your StandardGrip Mat. With Glitter HTV, we do sometimes find that we need to use a StrongGrip cutting mat, especially is our green mat is not brand new.
Regular Vinyl
This is generally just labelled as "vinyl". It isn't permanent and it isn't removable. What does that mean? Well, as the types of go, removable is going to have the least amount of adhesion to it, regular will have a medium amount, and permanent will have the most.
This is a very versatile everyday vinyl and we use it more than any other kind. You will get some really nice results with it and for most craft projects you might want to make, it will be perfect.
Our biggest tip for this particular type of Cricut vinyl is that doesn't really like to lie flat so burnishing is going to be key for getting flawless results with your die cutting projects.
We like to burnish before weeding, from the front and back after applying transfer tape, and after applying the vinyl to our surface.

Glitter Vinyl
Glitter vinyl can add so much fun to a craft project! One important thing to note is that this is definitely NOT permanent nor is it considered removable. You do need to remember to change your settings (as you do with holographic) accordingly so it will cut beautifully.
I just love the quality of Cricut Glitter Vinyl – it's flake-proof and gorgeous! Just remember that you must use strong grip transfer tape with glitter vinyl. It's the only kind that will give you flawless results when it comes to the glitter vinyl.
Fun Specialty Vinyl Options
Now we have some really fun specialty vinyl to talk about. You might not even be aware that these exist but once you know about them, you're going to want to make all kinds of projects with them.
First up is window cling vinyl. Just think about all the fun ways you could decorate your windows and glass doors for various holidays and special occasions using this!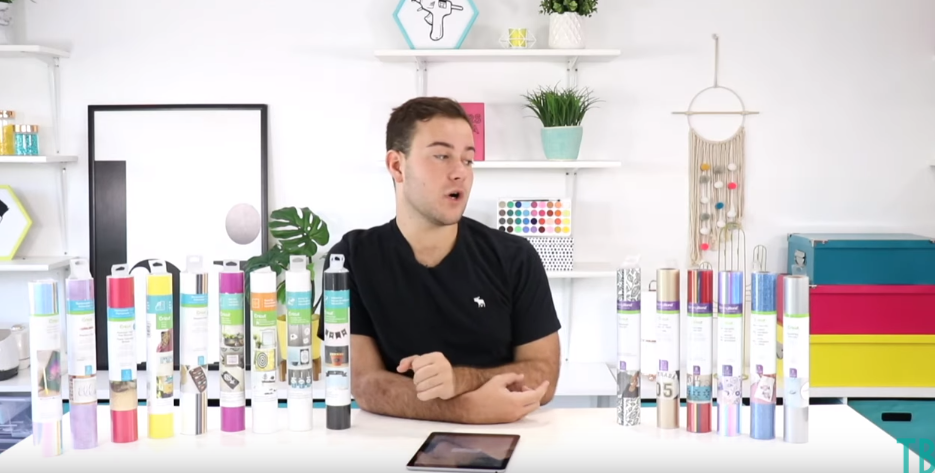 Then we have dry erase vinyl. This is a great option for making things like menu boards, meal plans, and chore charts. The chalkboard vinyl is a fun choice for these items too.
An important tip for using the chalkboard vinyl is that after you cut it, you should use a piece of chalk and rub it all over your vinyl piece. This helps kind of get the chalkboard started and makes it easier to write on from then on.
Cricut Iron On Vinyl (HTV)
There are so many different types of iron on vinyl vinyl to choose from. Of course, with this, you're going to need to use an iron, Cricut EasyPress, or heat press to adhere the vinyl to your surface.
As with the regular Cricut vinyl, there is a variety of colors and patterns to choose from. One really great choice for sports themed projects is the mesh vinyl. It's a really fun option!

Everyday Iron On
Next up, we have everyday iron on. This is the kind we use the most because it's your basic all-around heat transfer vinyl that works for the majority of projects. Remember though that this is not made to be used with stretchy materials. It's best for cotton and cotton-poly blends.
Everyday iron on vinyl is great for t-shirts and other non-stretchy materials and I use it all the time to iron on wood too!
Be sure to check out our amazing Cricut EasyPress Hacks for some great tips when using HTV.

SportsFlex HTV
Sportflex HTV is the vinyl you're going to want to choose if you're working with a stretchy fabric. Running shorts, bathing suits, workout shirts – any of those items that are stretchy need this vinyl so that your design will move properly with the fabric!
How to use Sportflex HTV on a bathing suit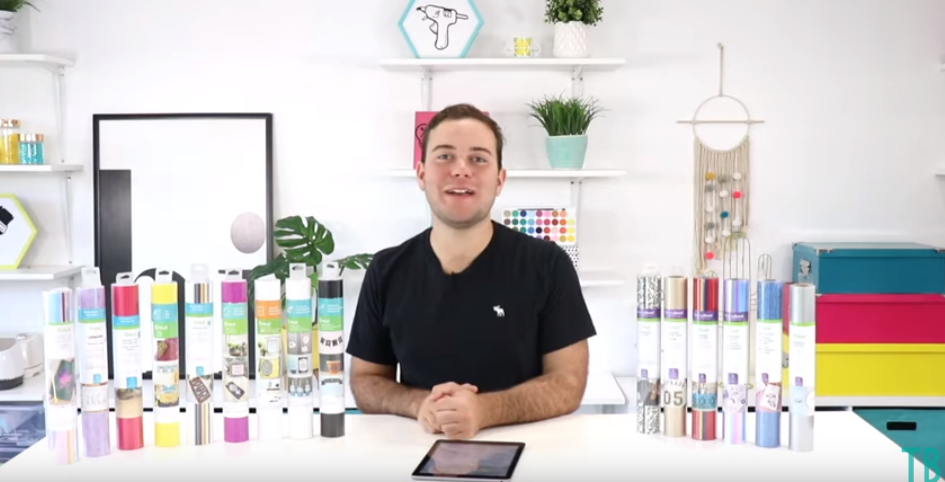 Specialty Iron On Vinyl
As with regular vinyl, iron on vinyl is also available in holographic and glitter. One thing I want to mention about the glitter HTV. If there is one kind of vinyl I'm more likely to waste, it's this! This vinyl is really really thick! So, you must make sure to select not just iron on but glitter iron on in your settings to get the deep cuts that you need!
Now that you know more about the different types of vinyl, what are you going to make next?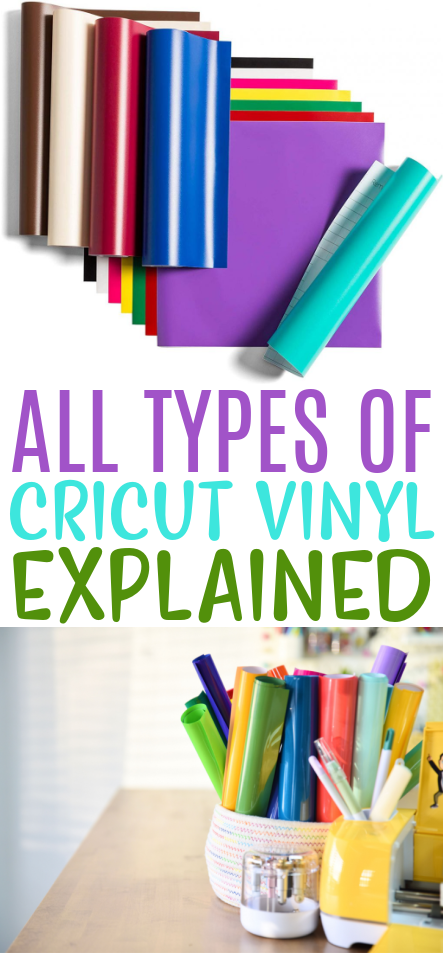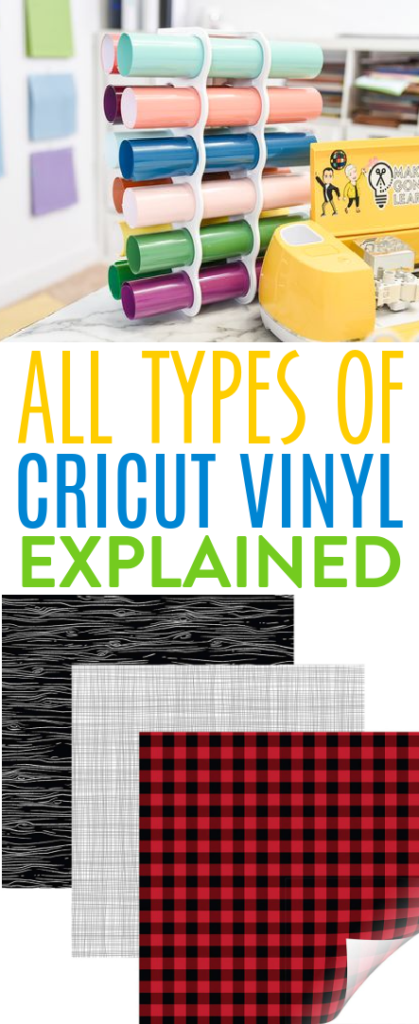 Tanner, Courtney, and the rest of the Makers Gonna Learn Team are all here because we love die-cutting and especially love sharing fun projects and tutorials with fellow makers. We are all great friends and are always having a blast when we are together- you will see this on camera, especially during live streams! We are here to inspire and support you in your crafting journey!