Beautiful DIY Christmas Banner With Cricut
Disclosure: Some of the links below are affiliate links provided for your convenience. This means, at no additional cost to you, we will earn a commission if you click through and make a purchase.
Make a beautiful and inspirational Christmas banner using a lovely font and some lines from a favorite Christmas carol. This is a gorgeous home decor item that is sure to become a treasured holiday decoration.
Hang in your home and watch guests ooh and ahh over it! You could also give it as a handmade gift that will be loved by the recipient.
Find more die cutting Christmas crafts here.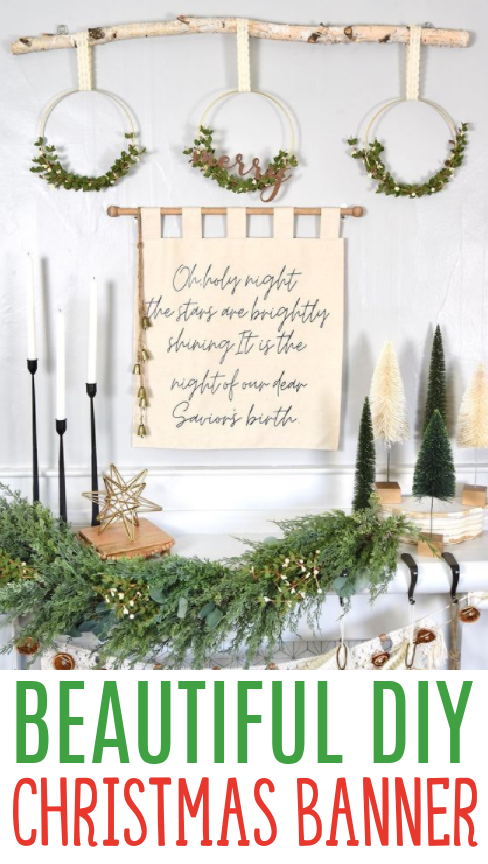 Beautiful DIY Christmas Banner With Cricut
Cut Files/Fonts Used:
Supply Links:
Duck Canvas (enough for a 23×23" finished sign with 2×5" hanging loops)
Step-by-step Instructions:
Adding your text:
Download the font from Makers Gonna Learn. Then, unzip the file and install it on your computer.
Grab a square from Basic Shapes and size it to 23 inches (or whatever size you want, but 23 inches works for us here).
Open a text box. Type in the words you want and change to your desired font. Normally, we would kern the font by adjusting the Letter Spacing. Sometimes that's all it takes, but with this font, we're going to need to do some manual adjustments as well. Select it all and choose Ungroup.
We're working on one word at a time and moving letters as needed. Once happy with a word, we're selecting the entire word and pressing Group. Repeat word by word. Once you have all the words in a line kerned, you can select all words in that line and press Group to group the whole line together.
Once all lines are grouped line by line, select them all and choose Align, Center Horizontally. Adjust your spacing between the lines as needed.
Arranging your text:
Select all of the text and choose Group. Move it over to your rectangle to make sure it's sized to fit well.
With all of the text selected, choose Weld. Now you can delete the rectangle that you used for visualization purposes. You could have just welded the top 3 lines together and then the bottom 2 lines together so it would be put onto 2 mats.
Now. this is not all going to fit on one mat so we need to make a few adjustments to make it work.
Or if you've welded the whole thing like we did, you can grab another square and size it so that it covers the last two lines of text. Select the text and the rectangle and choose Slice. Delete the slice results that you don't need.
Press Make It. Be sure to mirror your text and set your material to HTV (iron-on). Place your HTV on the cutting mat and load into the machine. Once it has cut, weed your design. Repeat with the second mat.
Heating your design:
Preheat the EasyPress Mini to 350 degrees, which is the second setting.
Lay out your design pieces on the banner. We have some of the backing/built in transfer tape overlapping letters on the second sheet so we need to work around that. We can lay them out to ensure that they are placed correctly and then pull up the second sheet while using the EasyPress on the first one. Or, we can take a pair of scissors and cut away around the design so that there is no overlap.
Place your EasyPress mat under the banner (it may not fit and so you will have to move it around as you work) and starting in the middle, begin heating your design.
Assembling the banner:
To attach the bells, we cut pieces of jute that are each double the length of the banner. Holding all of the pieces of jute together, fold them in half and make a simple knot at the top.
Tie a bell to the end of each piece of jute.
Grab the floral pick and cut 2 small pieces of it. Using a drill bit the same size as the picks, drill a hole in each end of the dowel. This is so we can attach the ball ends to the dowel. Put some hot glue in the holes and place a pick in each one. You can trim the pick pieces down as needed. Another option is to buy the dowel ends that have a much bigger hole that will fit perfectly on the ends of the dowel.
Slip the dowel rod through the loops of the banner. Then, hang the bells from one end of the dowel as well.
Tanner, Courtney, and the rest of the Makers Gonna Learn Team are all here because we love die-cutting and especially love sharing fun projects and tutorials with fellow makers. We are all great friends and are always having a blast when we are together- you will see this on camera, especially during live streams! We are here to inspire and support you in your crafting journey!