Beginner Hack For Ironing On Wood
You are going to love this incredibly easy beginner hack for ironing on wood. Of course, you can use HTV directly on wood, but sometimes beginners find that a little bit tricky. We'll show you a way to work around that and add a fun new look at the same time. You're going to love the adorable project we make!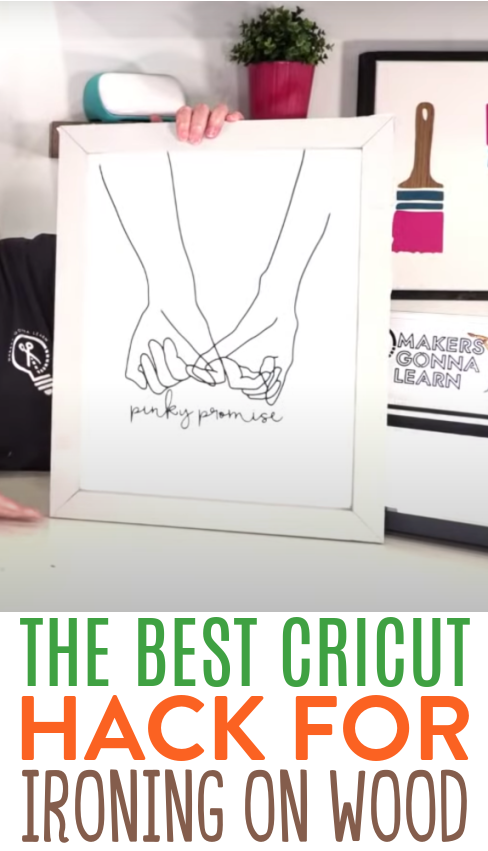 Beginner Hack For Ironing On Wood
Disclosure: Some of the links below are affiliate links provided for your convenience. This means, at no additional cost to you, we will earn a commission if you click through and make a purchase.
Cut File Used:
Supply Links: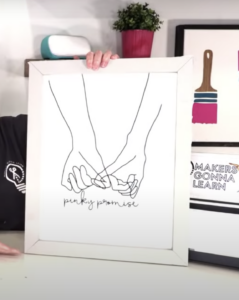 Step-by-step Instructions:
Use the spray adhesive to spray a light coat on the backing board.
Now, place the ironed towel or piece of fabric on it. Start from the middle and work your way out to smooth out the fabric. Cut off the excess fabric with scissors.
Place the board into the frame so you can correctly measure the space you have to work with for your design.
Import the cut file downloaded from Makers Gonna Learn to Design Space. Grab a square from Basic Shapes and resize it to the same size as your working space on your board. Move the cut file over to the square. Once you visualize what it would look like in the finished product, you can delete the square because you won't need it anymore.
Go ahead and click "Make It". Make sure you mirror your design (since we're using HTV) and select Everyday Iron-on for the material setting. We are also selecting More Pressure because our blade is a bit older and has been used for a while.
Choose to Continue to start cutting your design. Once cutting is done, trim away any excess vinyl so you can use it for a different project.
Start at one corner and weed away the vinyl from around your design. Once you have done that, you can weed the inner parts that need to be removed as well.
Put the frame on the board so you can arrange your HTV design as you wish. Once you are satisfied with it, then go ahead and heat it with your EasyPress. When you're finished, peel the HTV off slowly. You want to do a warm peel on this project.
The last thing you need to do is put them together using a staple gun at the back of the board.
Tanner, Courtney, and the rest of the Makers Gonna Learn Team are all here because we love die-cutting and especially love sharing fun projects and tutorials with fellow makers. We are all great friends and are always having a blast when we are together- you will see this on camera, especially during live streams! We are here to inspire and support you in your crafting journey!