Beginner's Guide to Sublimation Projects
Sublimation can be intimidating, but it doesn't have to be! In this Beginner's Guide to Sublimation Projects, we'll be sharing some beginner sublimation craft project ideas and amazing sublimation hacks and tips.
These ideas will make ALL of your future projects easier and more professional-looking. Sublimation crafts are the hottest trend around in the Cricut crafting world and we love teaching people how to sublimate! This informative article will help you get started.
Want to make mugs? We made some using an Air Fryer sublimation method!
Be sure to pin this Beginner's Guide to Sublimation Projects so you can refer back to it whenever you need it!
Beginner's Guide to Sublimation Projects
We're going to show you a few different ways to use sublimation printing with your Cricut machine and create some really beautiful and long-lasting projects. Let's get started!
Materials we're using:
Butcher's paper or freezer paper
Lint roller
What is sublimation?
With sublimation, you are generally working with polyester fabrics or sublimation blanks – things like coasters that have a coating on them designed to accept the sublimation ink well. Cotton doesn't work well for these projects. If you sublimate onto a cotton t-shirt without any additional steps, your design will simply wash away.
One of the best reasons to use sublimation when creating your craft projects – besides how pretty they are! – is that sublimation is permanent. No need for sealing your projects and no worries that they won't last. Instead of sitting on top of the material as a vinyl decal would, sublimation ink sinks right in and bonds with the surface.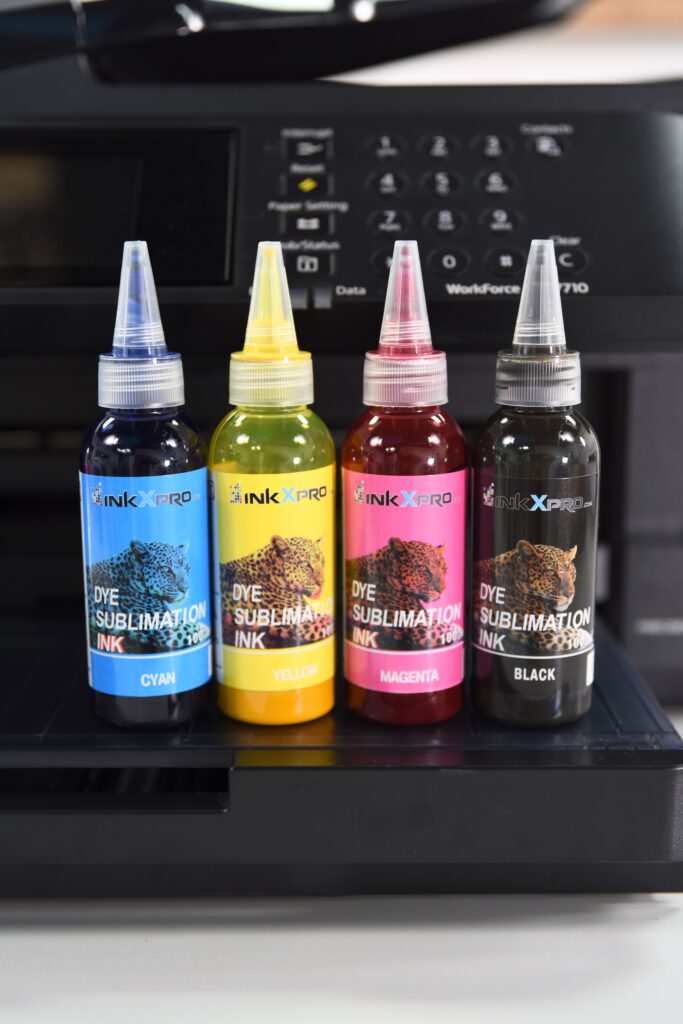 How does sublimation compare to Infusible Ink?
Cricut Infusible Ink sheets are sublimation sheets that you can print with a regular printer and then cut out with your Cricut machine. It's a great product but you are limited to the designs available from Cricut. With sublimation, once you have converted a printer to a sublimation printer, you can create your own designs!
Infusible Ink can be pricey, but startup costs for sublimation can be an investment of $300-400. We love sublimation and think it is well worth the cost, but it's important to take note of this before you dive in.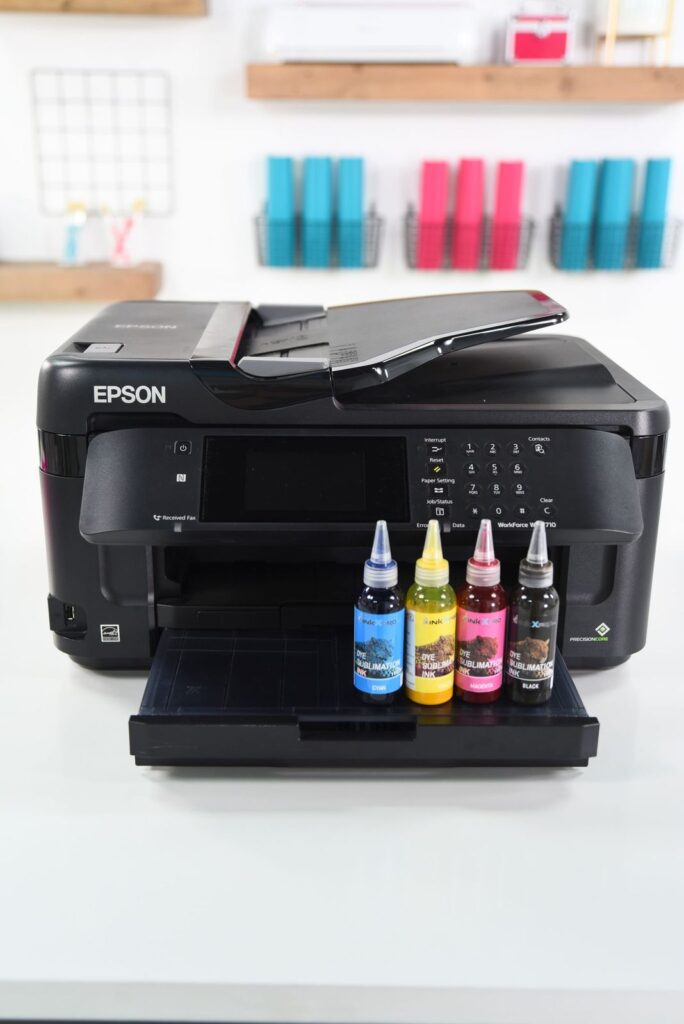 Sublimation printers
One of the keys to mastering sublimation projects is ensuring that you have the right equipment and supplies. We are using an Epson Workforce WF-7710 printer. We chose this one because it's so easy to convert it to a sublimation printer and because it gives us the ability to print up to 13 x 19″ sheets of paper.
You don't have to use this particular printer but it's important to note that not all printers can be converted for sublimation. You will need to investigate the printers you are looking at to see which ones you can use. Basically, any of the tank printers can be converted.
It is best to convert a printer that you have never used for other printing and then devote that printer to sublimation. You can purchase a sublimation kit. It will allow you to add sublimation ink to the printer and print out your designs. The conversion process is quite easy and there are only a few steps involved.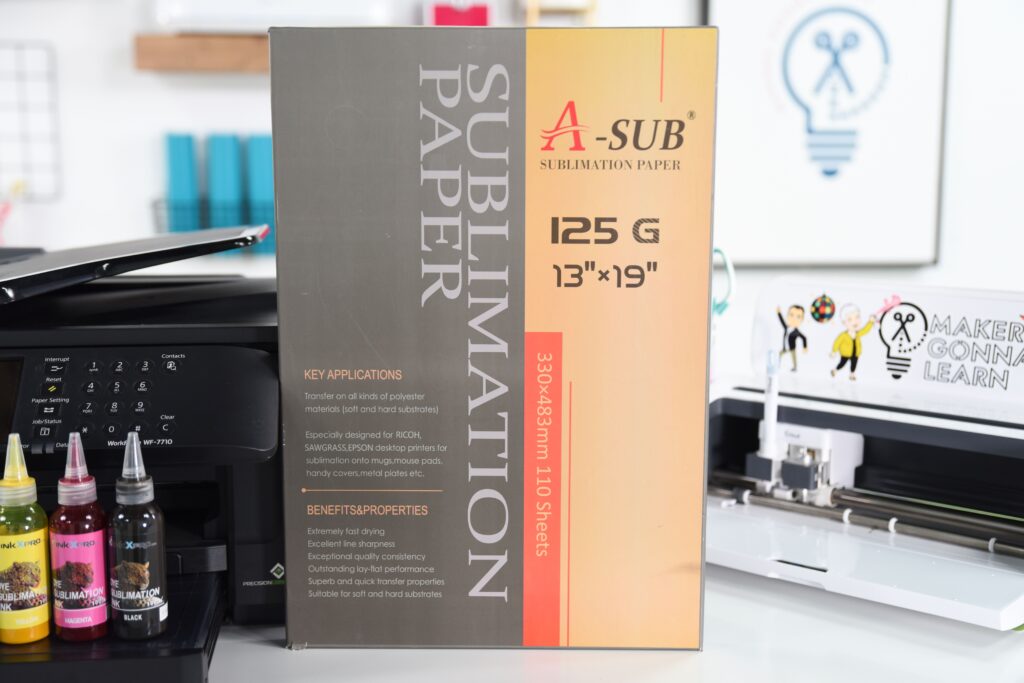 Sublimation ink
Keep in mind that sublimation ink has a shelf life of about 6 months. If you're going to be making a lot of sublimation craft projects, this shouldn't be an issue for you, but if it's only an occasional hobby, you'll want to remember this and keep track of when you purchase your ink.
Sublimation blanks
You can buy all kinds of sublimation blanks. You can use the ones for Infusible Ink from Cricut, but there are many other companies selling these as well. Be sure to read the reviews before purchasing.
You can find license plates, hats, shirts, coasters, pillow covers, tote bags, onesies, koozies, and so much more. One important thing to note is that it's best to work with white or very light-colored blanks. There are some hacks you can use with darker colors but in general, you'll be working with light colors.
Pro tip: there are products you can use to turn a regular blank into a sublimation one. In the video, we test out a sublimation spray on a cotton onesie to see how well that works.
Heat resistant tape
You are definitely going to want to have heat-resistant tape on hand. Any little movement of your sublimation design during the heating process and your project could be ruined. The tape provides that extra little bit of security in knowing that your design is firmly in place.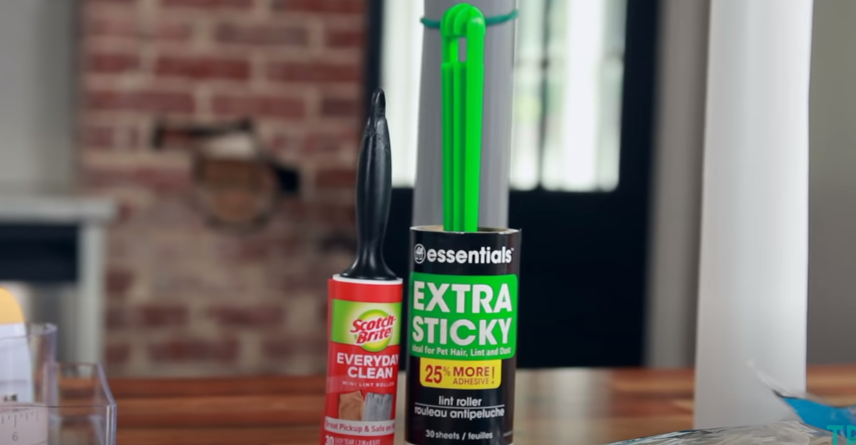 Lint roller
Remember earlier that we said that the sublimation ink actually infuses right into your fabric? This is why it's essential that you use a lint roller and go over your blank to ensure that there are no threads, hairs, lint, or other debris left on it. These would interfere with the ink bonding process and cause a craft fail.
As Tanner says, if there's lint, the ink is infusing into your lint instead of your blank!
Pro tip: We use the lint roller on all blanks, not just fabric.
Heating your projects
Usually, for Cricut projects, we rely on our Cricut EasyPress Mini. This is not a suitable heat source for sublimation crafts. You need a heat press that will cover your entire design all at once. This is essential for getting beautiful sublimation results.
We like using the largest Cricut EasyPress – the 10 x 12″ one. Bear in mind that if you're going to be making a lot of really large projects, you may want to look outside of the Cricut brand for a larger heart press.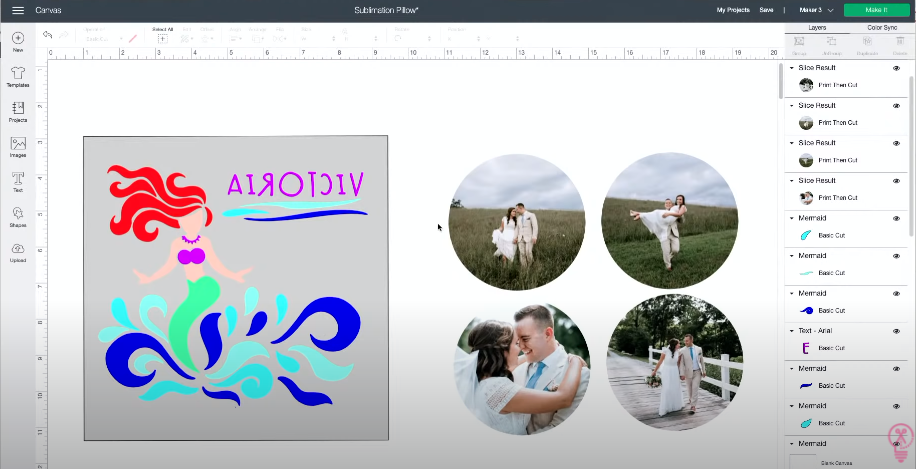 Creating our designs
We are working on two different designs in this tutorial. One of them is the mermaid design that will be placed onto a sequin pillow. The other is some of Tanner and Courtney's wedding photos that will be placed onto some coasters.
You can use any image that you'd like to create our sublimation projects!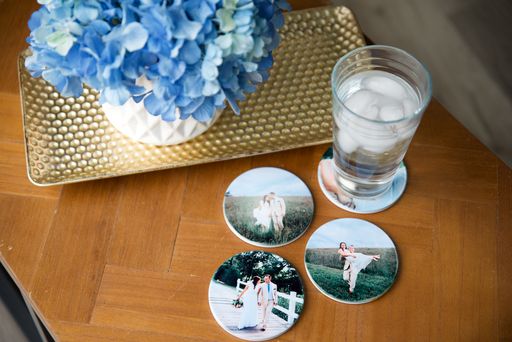 Coasters
For the coasters, we are pulling in some of our own personal photos. Create a circle the size of the coaster in Design Space to use as a gauge to cut the photos out to size.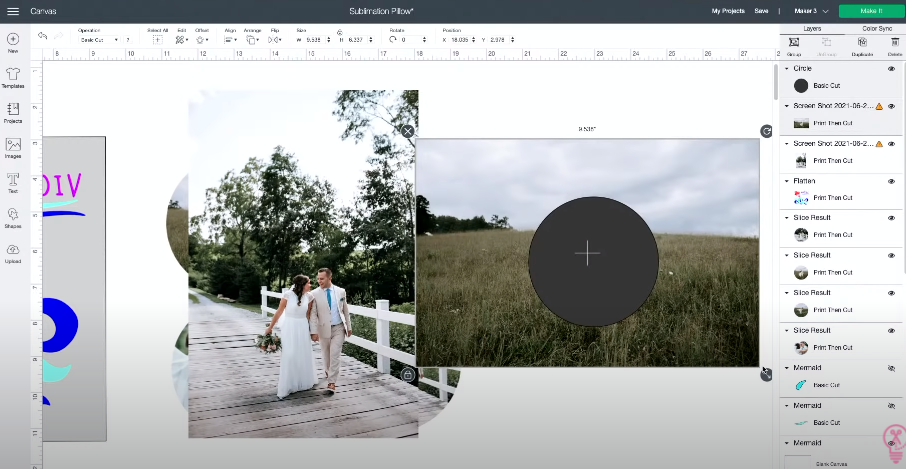 Place the circle on top of your image. Once you have your image sized as you'd like within the circle. select both layers and choose Slice. Delete the background and you'll be left with a round photo that fits your coaster perfectly.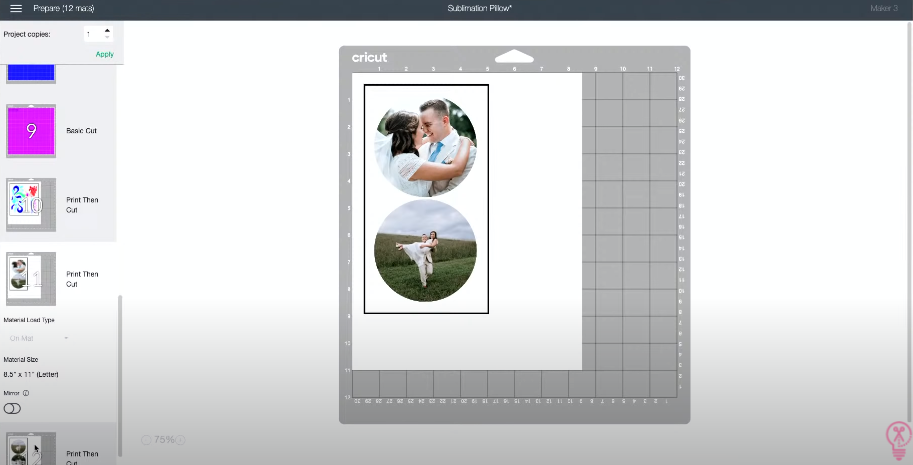 Click Make It. This is a Print then Cut project so you will be prompted to print out your design on your sublimation printer using sublimation paper. Note: we did mirror our designs so they would still be oriented the same direction as the original photos.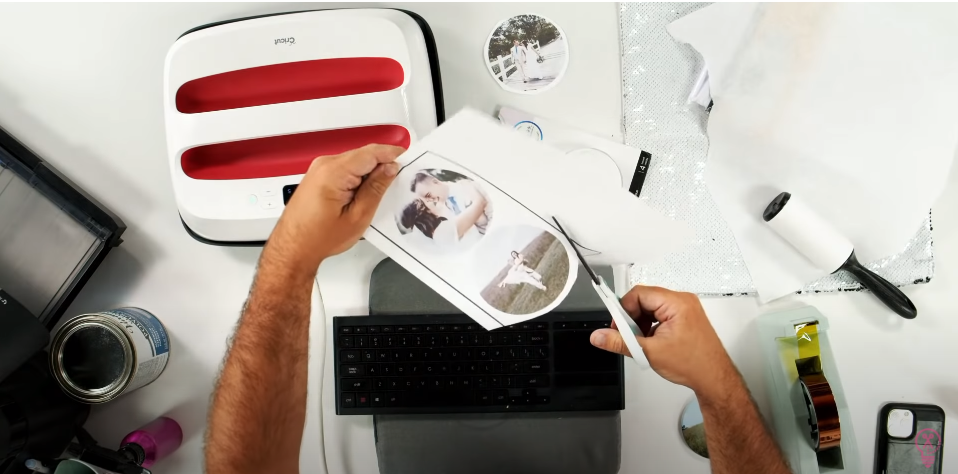 Once printed, we are cutting these out with a pair of scissors. We're making sure not to handle the designs too much, keeping our fingers away from them so we don't mess up any of the ink. Leave a little extra space around your design when you cut it out.
Remember to use the lint roller on each of the coasters before applying your designs.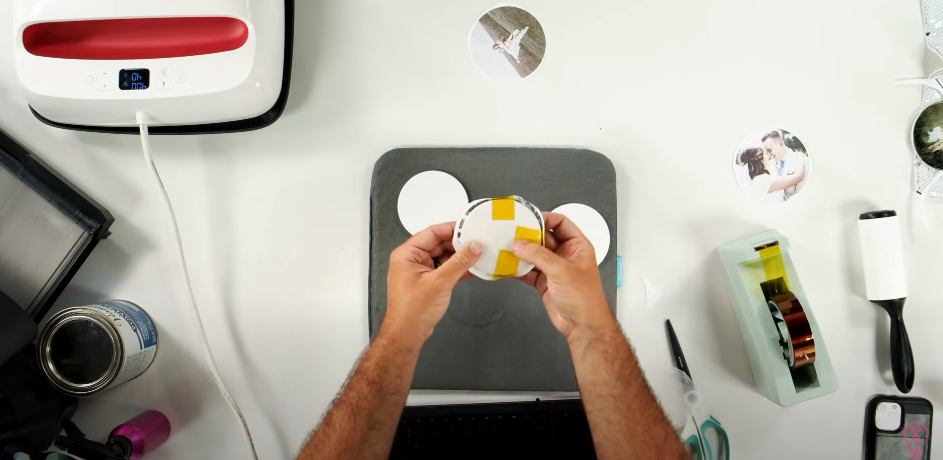 Place your design face down on the coaster and use some heat-resistant tape to hold them in place.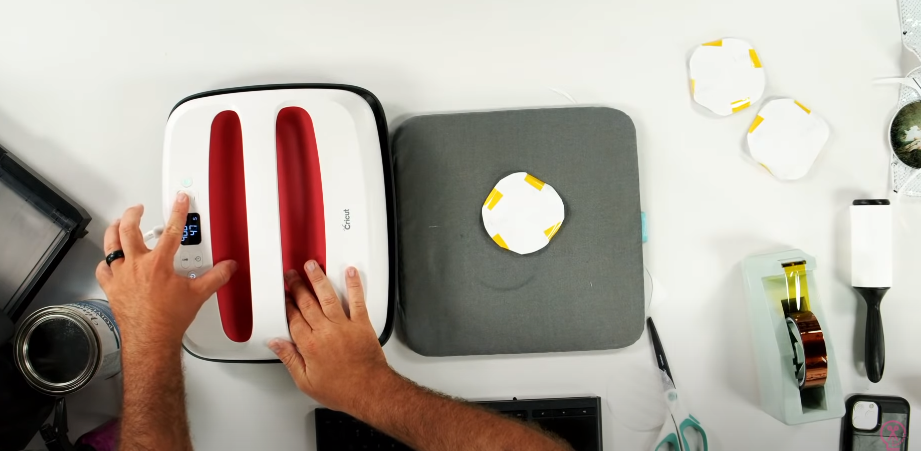 We preheated the Cricut EasyPress to 400 degrees. We're going to heat the coaster for 50 seconds. Apply some pressure as you hold the press down on your coaster. Although we forgot to in this video, you need to put butcher paper down on top of your coaster before you heat it with the EasyPress.
We could have ended up with the ink transferring onto the EasyPress and of course, our design may not turn out perfectly without that butcher paper. It's really important to use the butcher paper!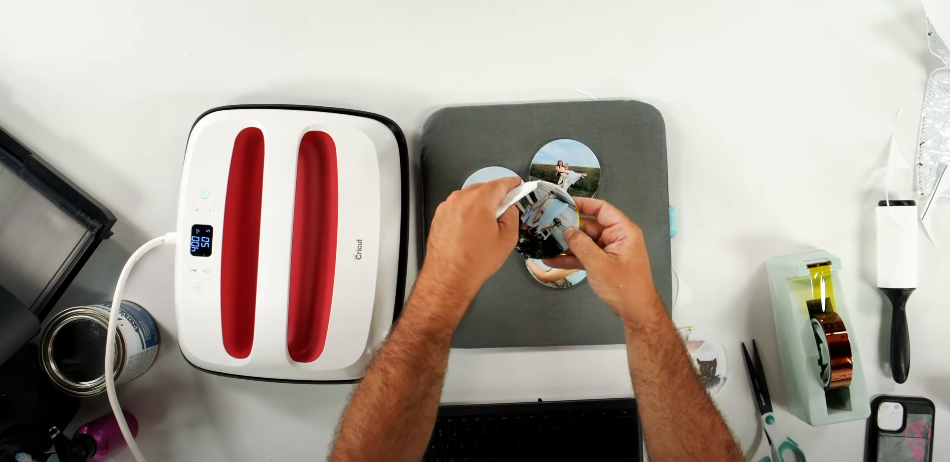 Allow the coasters to cool a bit (about 30 seconds or so) and then remove the paper and tape. These do not need to be sealed because you've used sublimation on them.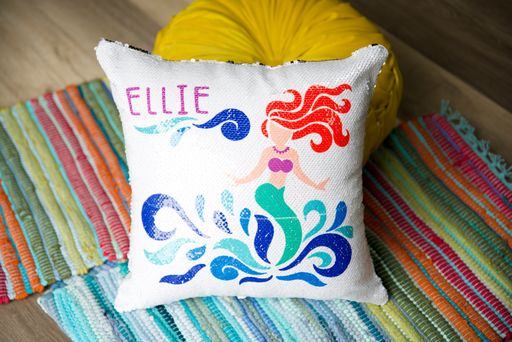 To make the pillow
For the pillow, we have pulled in the mermaid cut file and then are adding the name using the font Bubbles. We added a rectangle the size of our sequin pillow so we can use that as a guide for sizing our design accordingly.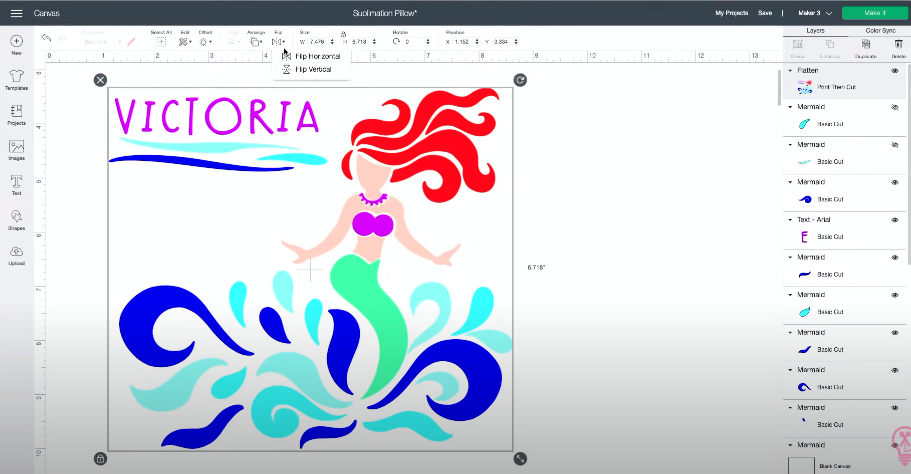 You will notice that this design is larger than Cricut Design Space is going to allow for a Print then Cut. We are really just using Cricut to create the design and then send it to the sublimation printer. So, we have a hack that we can use as a workaround.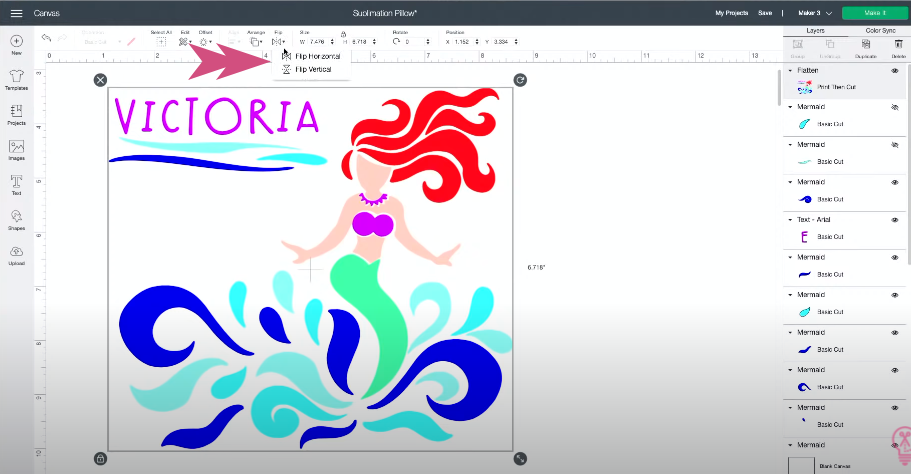 Because we are doing a workaround to bypass some of the Cricut restrictions, we won't be able to toggle on Mirror for our design. So instead, we can use the Flip function up in the toolbar.
Once you have flipped the design, you need to screenshot it.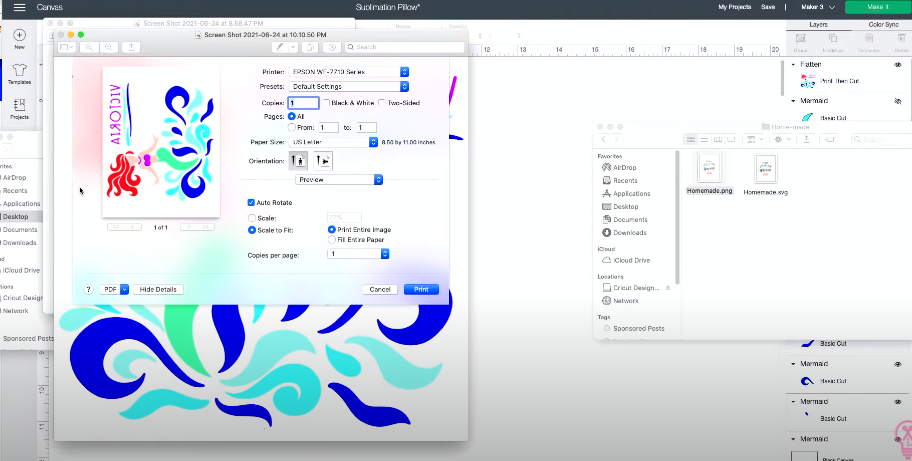 Now, you can click on the screenshot that you took and select Print to send that one to the printer. Don't forget to select your paper size – you can create a custom one as needed. We also like to increase the quality to Best.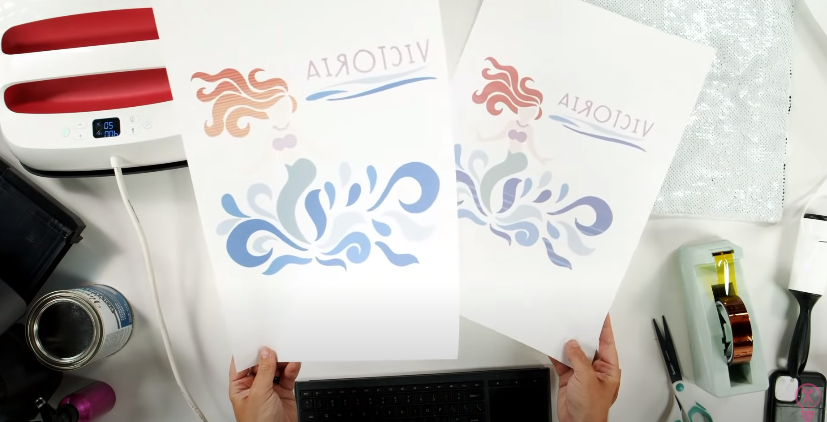 You can see in these two examples the difference between choosing "best" print quality and not.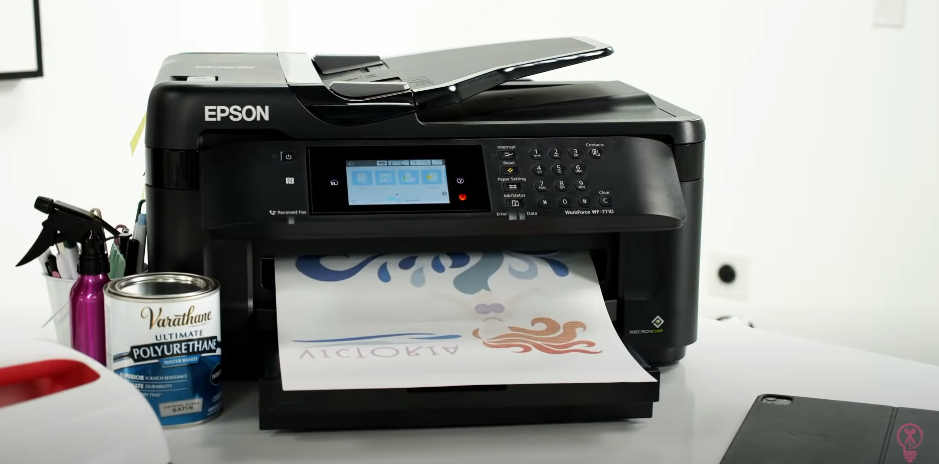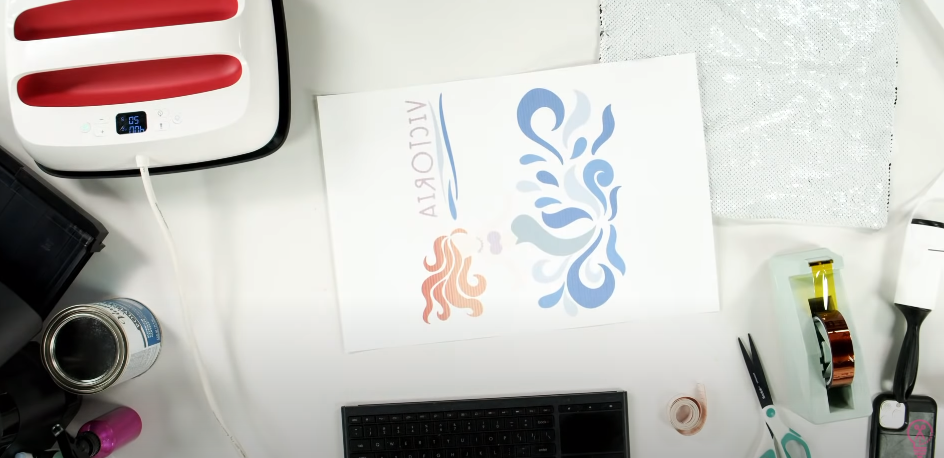 Pro tip: To save on supplies, you could add a couple of designs in that empty space above and below the mermaid design. Print them all out at once and then cut them apart to use for other projects.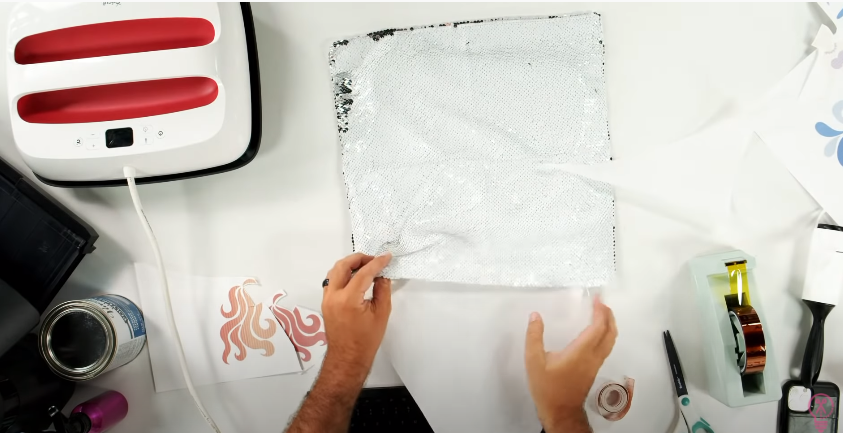 When working with items like pillow covers and t-shirts, be sure to place butcher paper inside to protect the other side just in case any of the sublimation ink seeps through.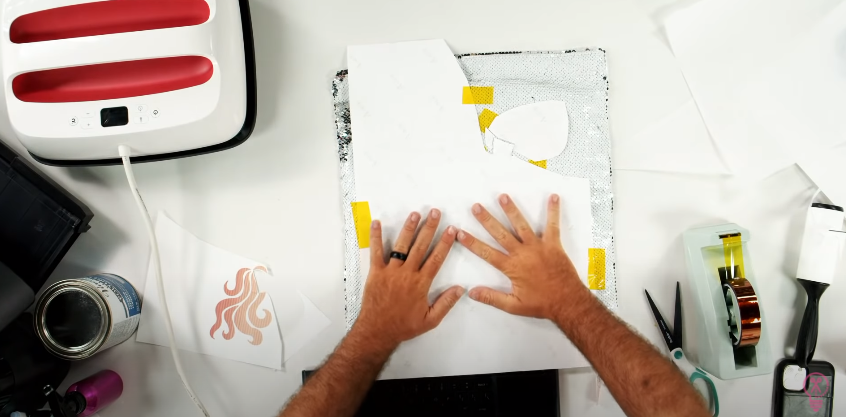 Tape down your design onto the pillow cover to hold it in place during the heating process. We heated our design for a full minute at 400 degrees and gave it a good amount of pressure to ensure that we have a good transfer of ink.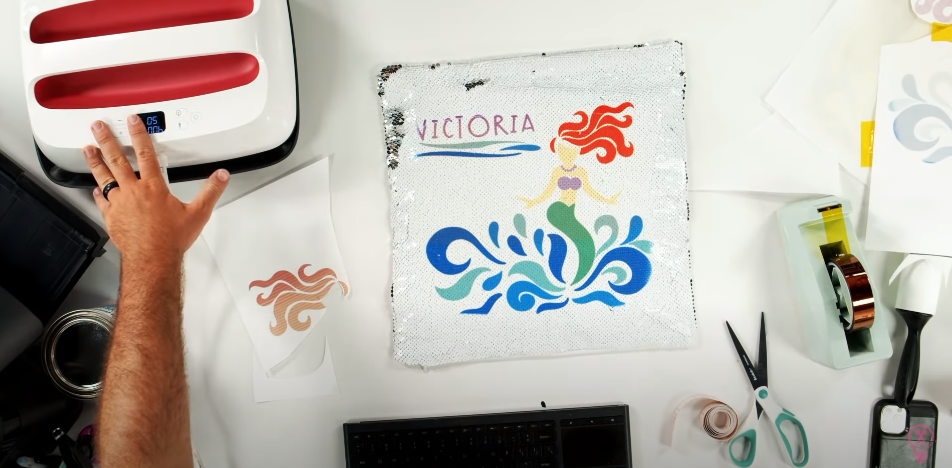 Important reminders:
Be sure that your heat press can completely cover your design and heat it all in one take. Trying to hit it again with heat in another area is risky.
Don't forget to use an EasyPress mat that is large enough for your whole design as well.
Make sure your design is taped down well. You don't want it to move at all during the process.
Remember to place butcher paper inside the pillow cover as well as on top of your taped down design before heating.
Check the ink levels in your printer before printing to ensure that you have enough ink for the project.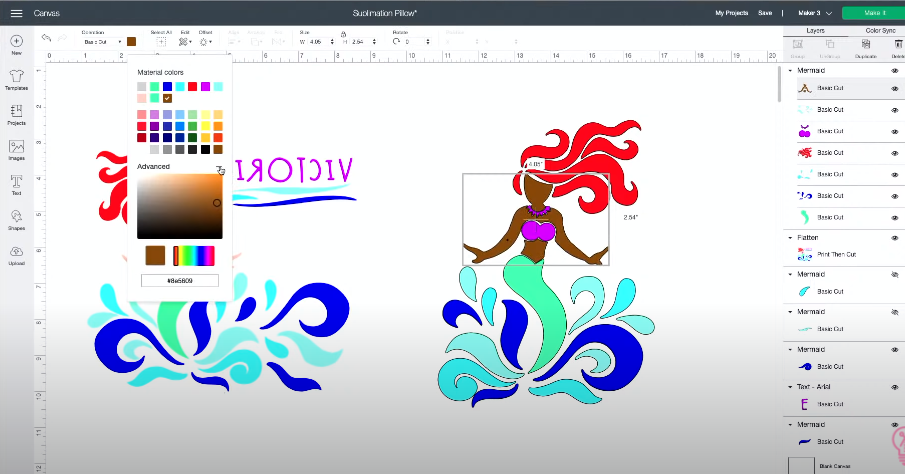 Pro tip: You can change the colors of any part of this design, including the skin tone. Simply select the layer you want to change and choose a new color in the top toolbar. Just remember that once you are happy with your design, you want to select the whole thing and choose Flatten to turn it into a Print then Cut.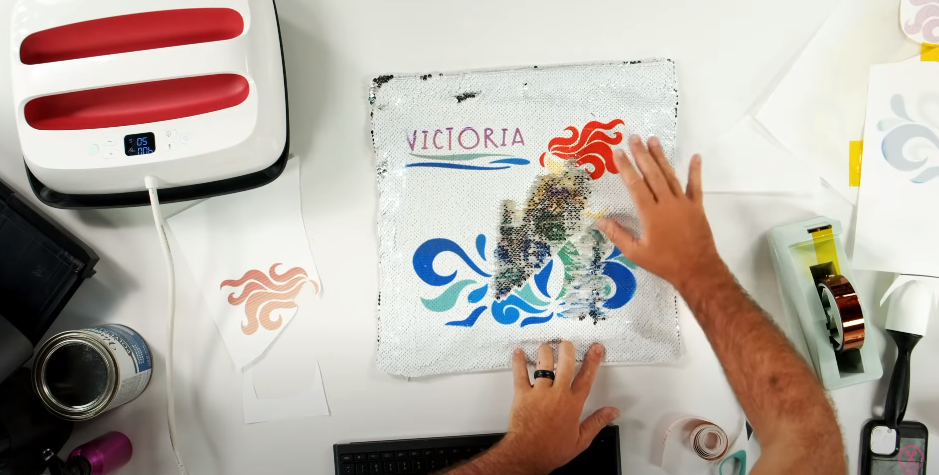 These sequin flip pillows are so much fun! You can flip the sequins either direction for a different look.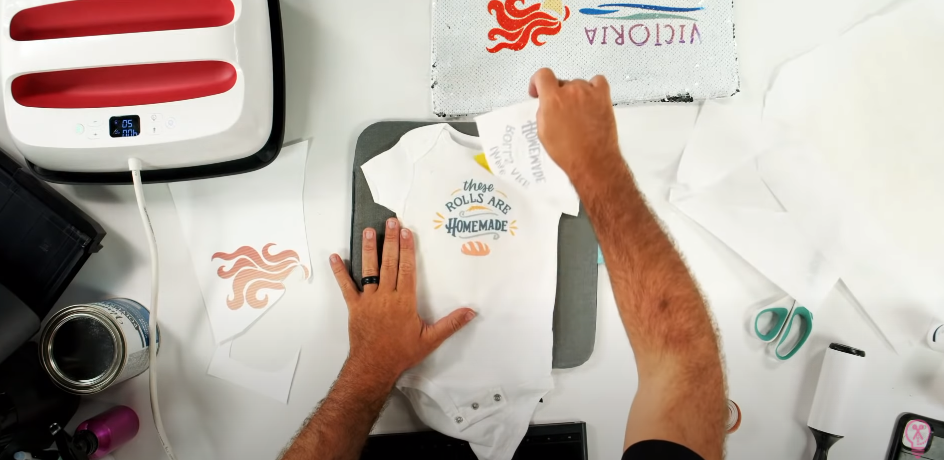 Making the baby onesie
Most of the steps here are the same as for other projects. The difference is that since we are using a cotton onesie, the first step is an additional one we have to take.
Spray the onesie (where the design will be) with sublimation spray.
Once thoroughly dry, place some butcher paper inside the onesie.
Go over the onesie with the lint roller.
Print out your design. Don't forget to mirror it.
Tape the design down onto the onesie using heat resistant tape.
Cover the design with more butcher paper.
Use EasyPress to heat for 50 seconds at 400 degrees.
Another post you might enjoy: All About the Cricut Mug Press
Be sure to refer back to this beginner's guide to sublimation when you start making your projects. It will be a handy resource for you!
Tanner, Courtney, and the rest of the Makers Gonna Learn Team are all here because we love die-cutting and especially love sharing fun projects and tutorials with fellow makers. We are all great friends and are always having a blast when we are together- you will see this on camera, especially during live streams! We are here to inspire and support you in your crafting journey!