Brush Stroke Print & Cut Mug
This brush stroke print & cut mug is super cute and colorful! We'll show you just how easy it is to make this. It makes a fantastic gift.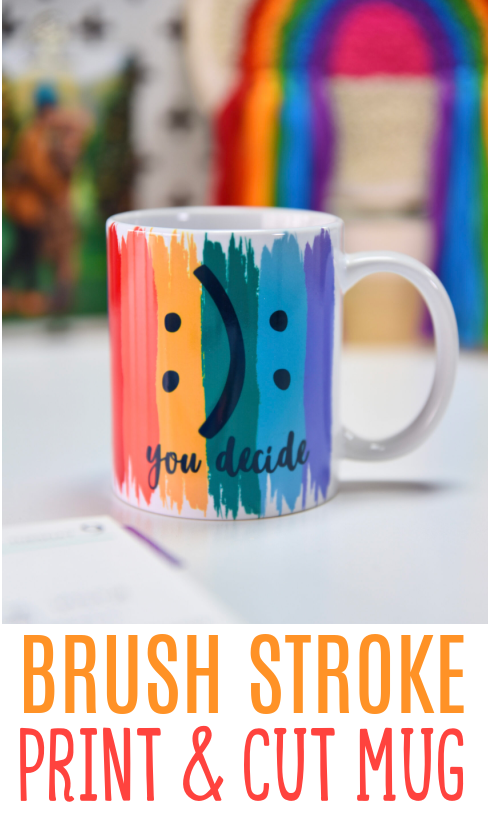 Brush Stroke Print & Cut Mug
Disclosure: Some of the links below are affiliate links provided for your convenience. This means, at no additional cost to you, we will earn a commission if you click through and make a purchase.
Cut Files Used:
Brush Strokes
Happy/Sad – You Decide
Supply Links: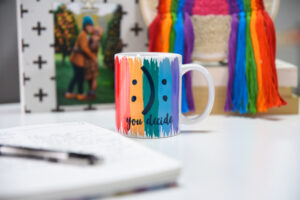 Step-by-step Instructions:
Using basic shapes, insert an 8.75×3.8" white rectangle
Import brush strokes cut file, duplicate, and place both on top of the white rectangle
Ungroup cut file and change colors to the desired color palette
Import the "you decide" cut file. Change colors to the desired color. Duplicate and place one graphic on the left side of the mug template and the other on the right side of the template
Select all the layers and flatten
Print image using sublimation printer and sublimation paper
Cut out using Cricut
Place cut sublimation on mug and tape down using heat-resistant tape
Place mug in the mug press
Once finished, carefully remove the mug and set it on heat resistant surface (like an easy press mat)
Once completely cool, remove tape and sublimation paper
Tanner, Courtney, and the rest of the Makers Gonna Learn Team are all here because we love die-cutting and especially love sharing fun projects and tutorials with fellow makers. We are all great friends and are always having a blast when we are together- you will see this on camera, especially during live streams! We are here to inspire and support you in your crafting journey!