When you can create your own stickers, the possibilities for craft projects are endless! You can add them to so many different surfaces to turn plain items into wow items.
Here, we are using them for personalizing some drink pouches with names and initials. Great for a party!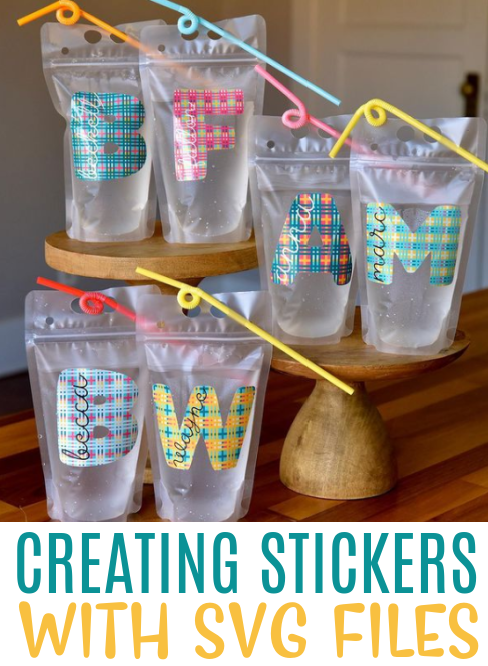 Creating Stickers with SVG Files
Disclosure: Some of the links below are affiliate links provided for your convenience. This means, at no additional cost to you, we will earn a commission if you click through and make a purchase.
Cut File Used:
Supply Links: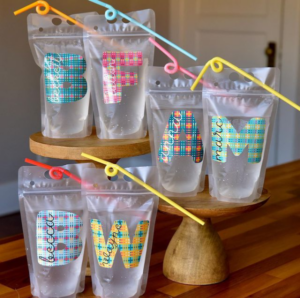 Step-by-step Instructions:
Import the cut file downloaded from Makers Gonna Learn into Design Space.
With the plaid pattern, you can go into the Layers Panel and start manipulating it if you'd like. For example, you could change some of the colors. Or if you find it too busy, you could hide some of the layers to change up the plaid design.
We are going to slice a letter out of the plaid design. A couple of important pointers: you cannot Attach the layers and then slice because you can only slice 2 layers at a time. You also cannot flatten the plaid design because you can't slice from a flattened design.
Type the letter you want to use in your chosen font. Duplicate your letter as many times as needed so that you have one letter for each layer of your plaid design PLUS 1 extra one.We have 6 letters total.
Now, we are going to select all 6 letters and choose Align, Center.
In the Layers Panel, choose one letter and then one layer of your plaid design. Select Slice. Remove the slice results that you don't need.
Repeat until you have finished all layers. One letter and one layer of the plaid design and select Slice. Delete unneeded results.
Now, select a different font and type a name to go with the letter. Kern the word by decreasing the spacing between the letters. Weld.
Change the color of your name to whatever you'd like and position it on the letter. Select every layer. Press Flatten.
It is now a Print then Cut project. Size it as needed. Click Make It and send it to your printer. We like to Add Bleed and Use System Dialog. In the system dialog, we like to increase the quality to Best.
Once printed on your printable vinyl, let it dry well. Then, place your printed design onto your Cricut cutting mat. Load it into your machine. Choose your materials back in Design Space and cut.
Flip your mat over and remove the mat from your design.
Peel off your design like and sticker and place it on the drink pouch.