Here we are back again to bring you the latest information on the Cricut JOY. We want to break down our Cricut Joy first impressions for you and talk about everything you AREN'T being told. The Cricut JOY is the latest machine to be released by Cricut and it's certainly creating a buzz in the crafting community.
As you may recall, I was at the launch party in Salt Lake City and got to see this new die cutting machine firsthand. On March 1st, the Cricut JOY became available on the market so I headed right over to Michael's to pick up a machine and some of the supplies to go with it. I want to share my first impressions of it with you today!

Cricut Joy First Impressions
One of the biggest questions everyone seems to have is "If I already have a machine like the Cricut Maker, do I really need the Cricut JOY?" We're going to talk about this today as we go through our impressions of the machine. As you may know, Cricut machines are an investment, so we want to be sure you have the best information available before making a purchase.
The first thing that really stands out is that the box for this machine is really small! It's about 9 1/2 inches by 7 1/4 inches. It really is a nice compact cutting machine. I think this machine is going to be great for people on the go – you're traveling or camping, and still want to be able to craft with your Cricut!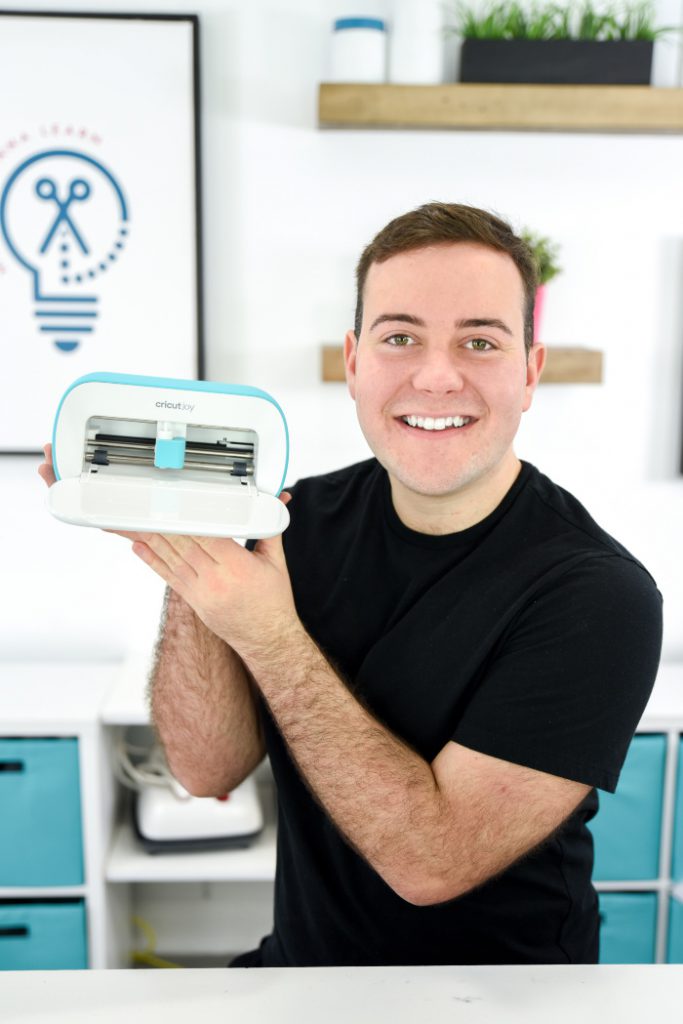 Unboxing the Cricut Joy Machine
You can easily hold the Cricut JOY in the palm of your hands. It's small, compact, and lightweight. The machine itself measures about 8 1/2 by 6 inches, making it really easy to transport.
By the way, Cricut has now partnered with Target stores! This means wider availability of Cricut supplies and we think the Joy would be a great fit in that particular market. This machine is well-positioned as a product for that person who has no prior experience in crafting.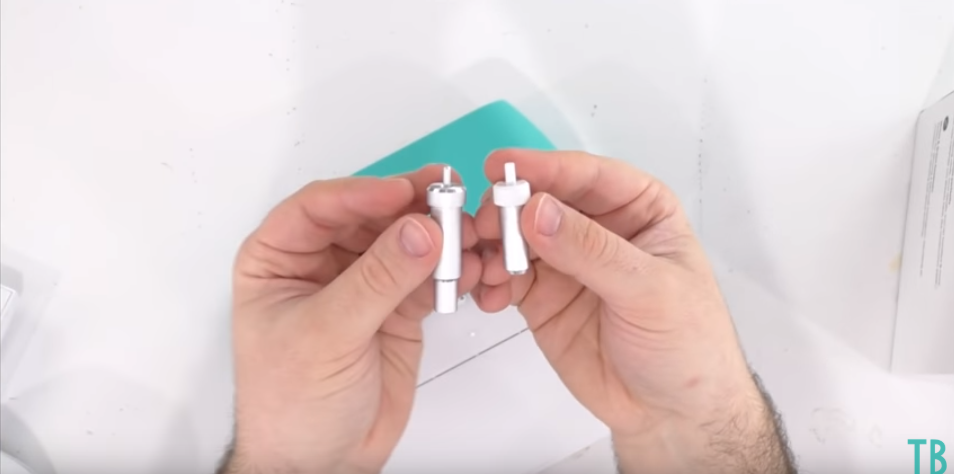 When you open up the machine, you will see that it has a new, different blade housing as compared with other Cricut machines. Check out just how much smaller this blade is! This machine comes loaded with the blade, but you can see just how easy it is to remove and replace it.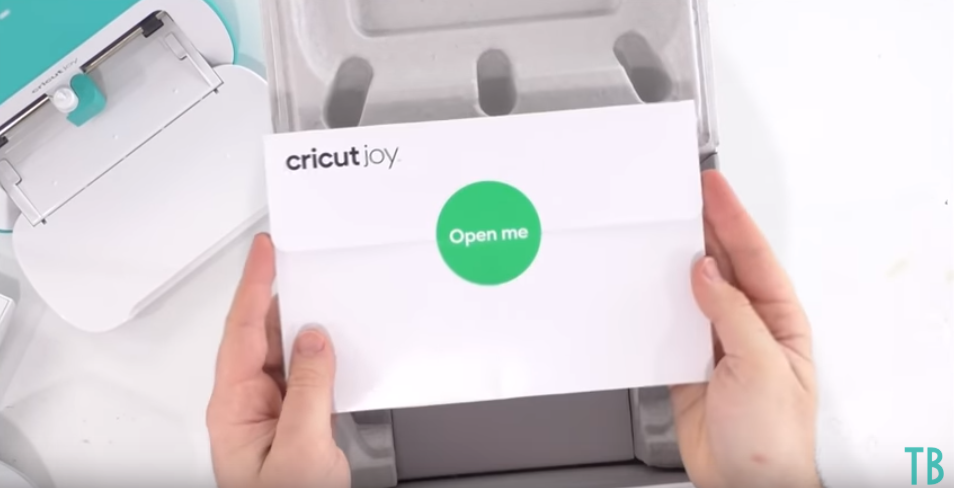 Besides the machine itself, what else comes in the Cricut JOY box?
Blade and blade housing already inside the machine
Warranty information
Safety information
Get started guide
Sample of Smart Vinyl
Standard Grip cutting mat
Fine Point Pen, Black (0.4 mm) (specifically for Cricut Joy)
Power adapter
Free 30-day trial membership to Cricut Access (for new subscribers)
50 ready-to-make projects online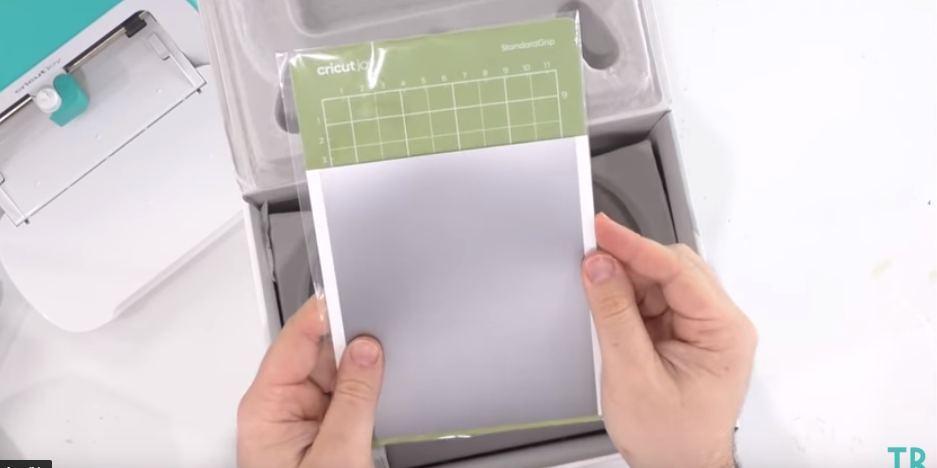 Cricut Smart Vinyl is an interesting new product that is available for the Cricut Joy machine. With Smart Vinyl, you don't even need to use a mat. We're really excited to try this out!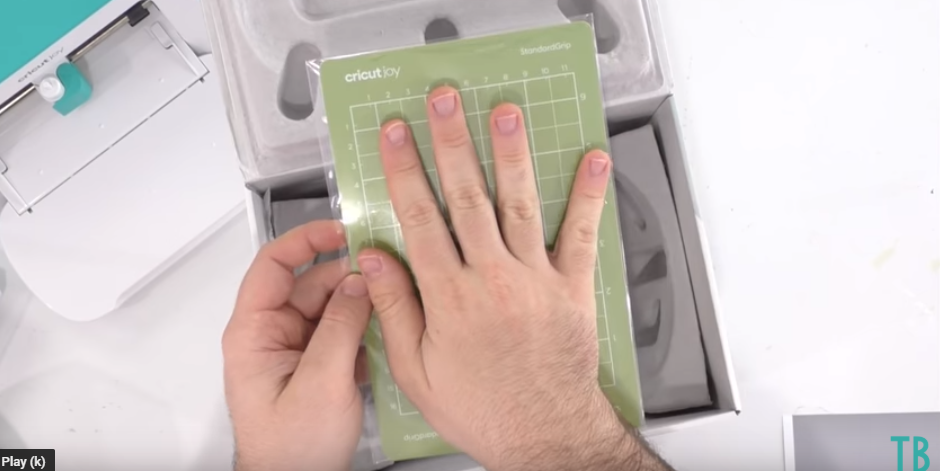 Note: This machine is designed to work really well for card-making (among other things, but it is well-suited for it). This is actually what we're hearing is the reason why many people are purchasing the Cricut Joy. It's important to note, though, that there is a separate card-making mat available for the machine.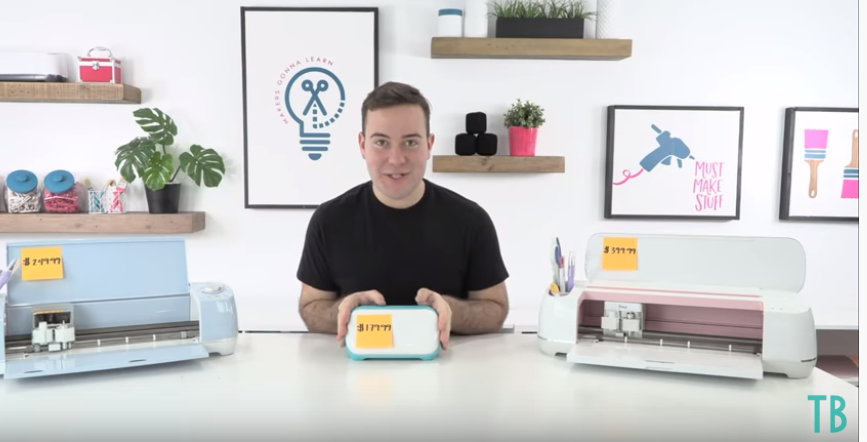 Looking at the Three Different Cricut Machines
We're going to do a quick comparison as to the price points between the Cricut Explore, the Cricut Joy, and the Cricut Maker machines. We love Cricut and we love using our machines. We use them every day!
However, we are aware that if you aren't a full-time crafter, you may need to look at which machine is most practical for you based on your needs and your budget. We love providing unbiased reviews to help you make your purchasing decision.
When we look at the Cricut Joy, we don't see it as being something that was made for existing crafters. That's not to say that you might not love working with it even though you already own an Explore or Maker – as we mentioned already, it could be great for crafting on the go!
For example, if you're a crafter who is traveling to a lot of events and perhaps, wanting to offer on the spot customization, this could be a great addition to your craft room though. But, Cricut seems to be targeting the non-crafters by offering them something that's small, compact, and easy to use.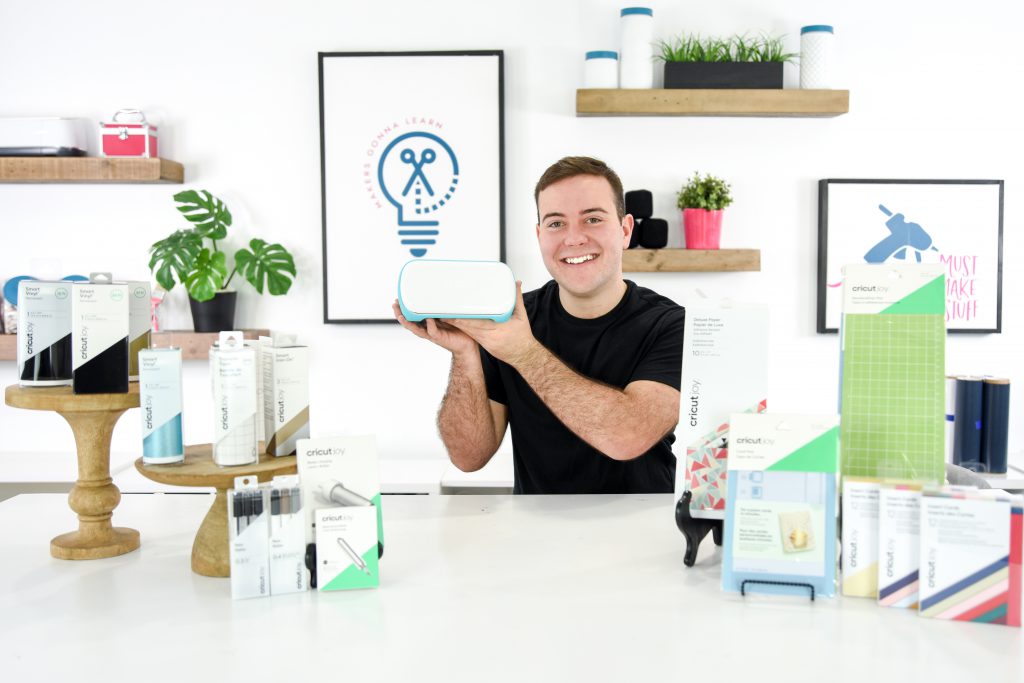 The Cricut Joy
The Joy is a great entry-level machine. It's perfect for the person who really has no crafting experience and isn't sure how much they want to make or for using more for projects around the house, than for general crafting. For example, I could see this being something purchased by people who are doing a big home organization project – making vinyl decals for organizing their closets and so on.
The cutting space on the Cricut Joy is 5.5 inches wide and can go up to 20 feet. There's a catch though. You cannot actually create a 20 foot long design. Instead, you're only able to create a design that is up to 4 feet long. You can then repeat that design to cut a length of 20 feet.
There is no USB connection so you will need to use the Cricut Joy with Bluetooth. When it comes to materials, you won't be able to cut any thick materials with it. You will need to stick to these 3 basic materials: Vinyl, Paper, and Iron On.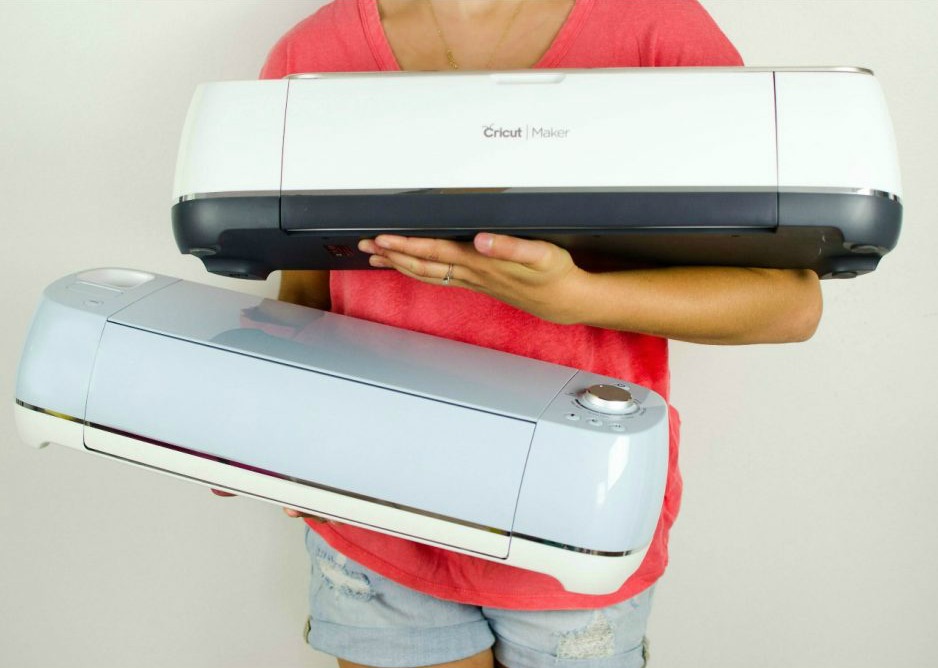 The Cricut Air 2
The Cricut Explore Air 2 sells for about $70 more than the Cricut Joy, but there will be plenty of times when you will be able to find an Air 2 for less money than the Joy. We think that if you are a crafter or know you want to become one, this is a better option for a first machine.
With this machine, you'll be able to cut 12 by 24 inch designs. If you're a crafter, we think you're going to "outgrow" your Cricut Joy machine pretty quickly and will easily start feeling limited by it. When you can spend the same amount or less on an Air 2, it makes sense to use to buy this over the Joy.
For just a little bit more money over the Cricut Joy, you're going to be able to cut not only the paper, vinyl, and iron-on you can use with the Joy, but also, things like chipboard, magnet sheets, and so much more.
The Cricut Maker
Of course, then there's the top of the line machine, the Cricut Maker. If you have a little bit more money to spend, this is the one we would recommend. It has the adaptive tool system and 10 times the pressure of the Cricut Explore, allowing you to cut even more materials than the Air 2.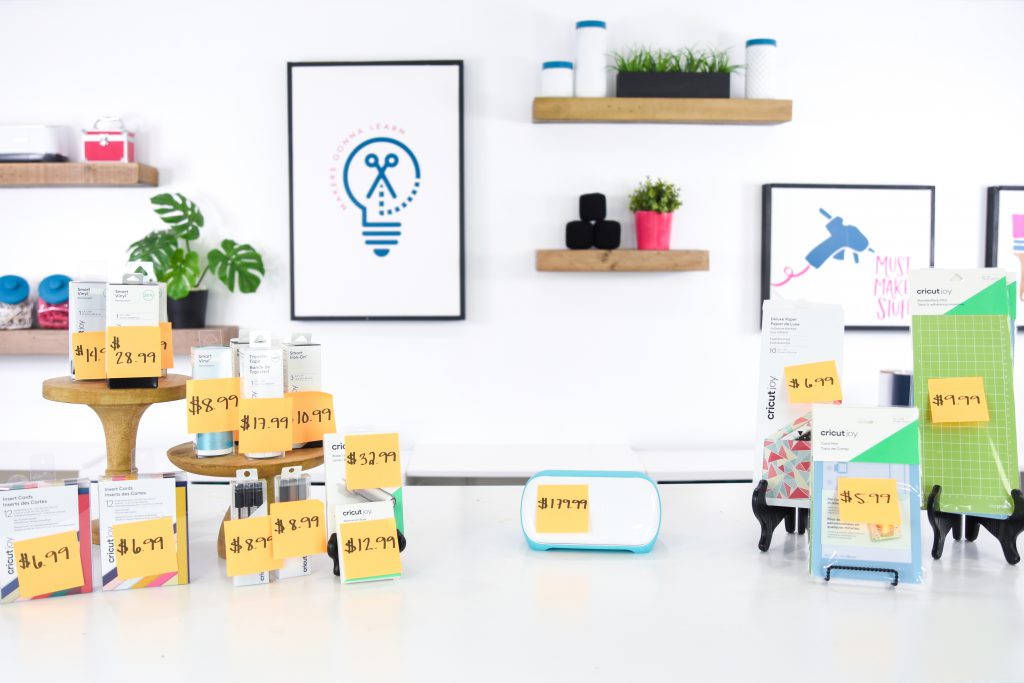 Cricut Joy Materials
Here you can see my haul from Michael's. There was a sale going on and even with the sale, my total came to over $400. Obviously, you don't need to purchase all of this to get started, but it can give you some perspective on approximately how much it will cost to get crafting with your Cricut Joy.
Important note: Bear in mind that the materials used for the Cricut Joy are not interchangeable with your other Cricut machines. You want to be mindful that it is its own ecosystem and you will be investing in both the machine and the materials for it separately from your other Cricut crafting.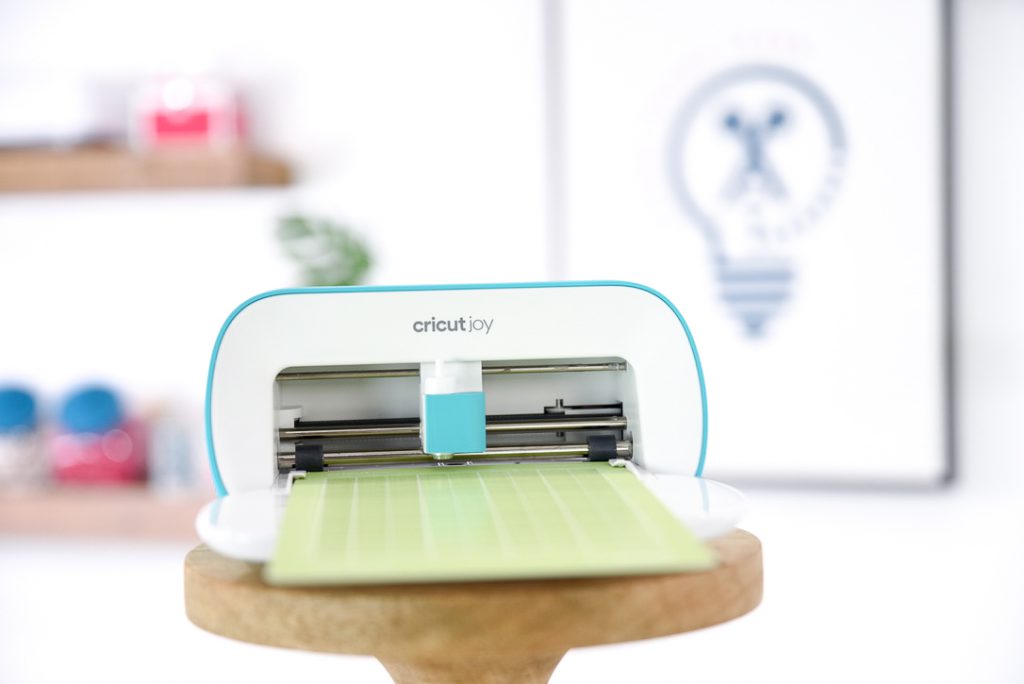 Cricut Joy Mats
When we look at the Cricut Joy mats, you can see that they have these two mats – both Standard Grip and Light Grip – which are 4.5 by 12 inches. They sell for $9.99 each currently at Michael's. Compare that to regular 12 by 12 inch Cricut mats, which sell for $12.99 for a two-pack. The basic Cricut Joy cutting mat is 4.5 by 6.5 inches and sells for only $1 less than the long mat – $8.99.
The new Cricut Joy card mat is $5.99. Other than the Smart Vinyl, I really think that the card mat is the most innovative part of the Cricut Joy. It makes creating beautiful custom greeting cards so easy.
Cricut Joy Deluxe Paper
The Cricut Joy Deluxe Paper comes in packs of 10 sheets, each 4.5 by 12 inches for $6.99. This is not just regular paper. It is adhesive backed. For a comparison, you can buy 10 sheets of 12 by 12 inch cardstock on the Cricut website for $7.99. It is not adhesive backed, however.
You will still need to use a LightGrip cutting mat with this deluxe paper. The paper is quite thick – like cardstock – and seems to be a really nice quality. It is something I'm definitely going to try out, but at this price point, I don't think I would budget this in as an everyday crafting essential.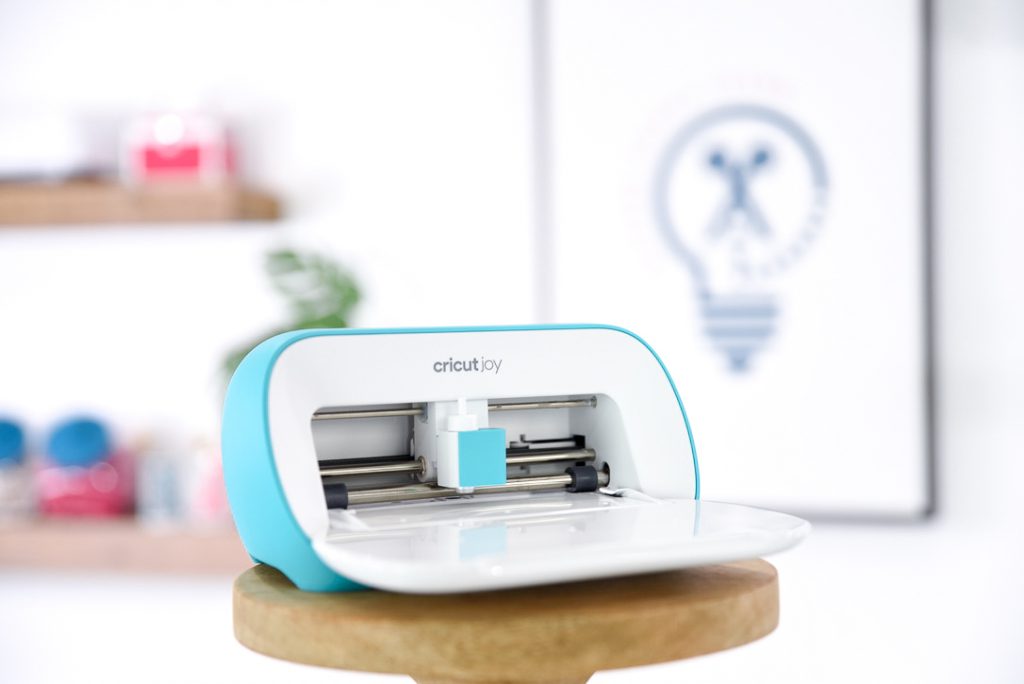 Cricut Smart Vinyl
With the release of the Cricut Joy, Cricut has also introduced Smart Vinyl. This is a permanent vinyl that only works in the Joy. It comes in 5.5 by 240 inches (1320 square inches) for $28.99. For comparison, you could buy 2 rolls of Oracal 651 vinyl that are 12 inches by 60 inches each (1440 square inches) for $5.50.
Of course, Smart Vinyl can be used without a cutting mat, but the price difference is certainly worth taking into account. And when you're thinking about which machine to purchase, you want to be thinking about the cost of materials to go with it as well.
Cricut Joy Transfer Tape
For the transfer tape, you're getting 5.5 by 240 inches for $17.99. Regular Cricut transfer tape is 12 by 120 inches for about the same price. Blades and blade housings also run about the same as for other Cricut machines.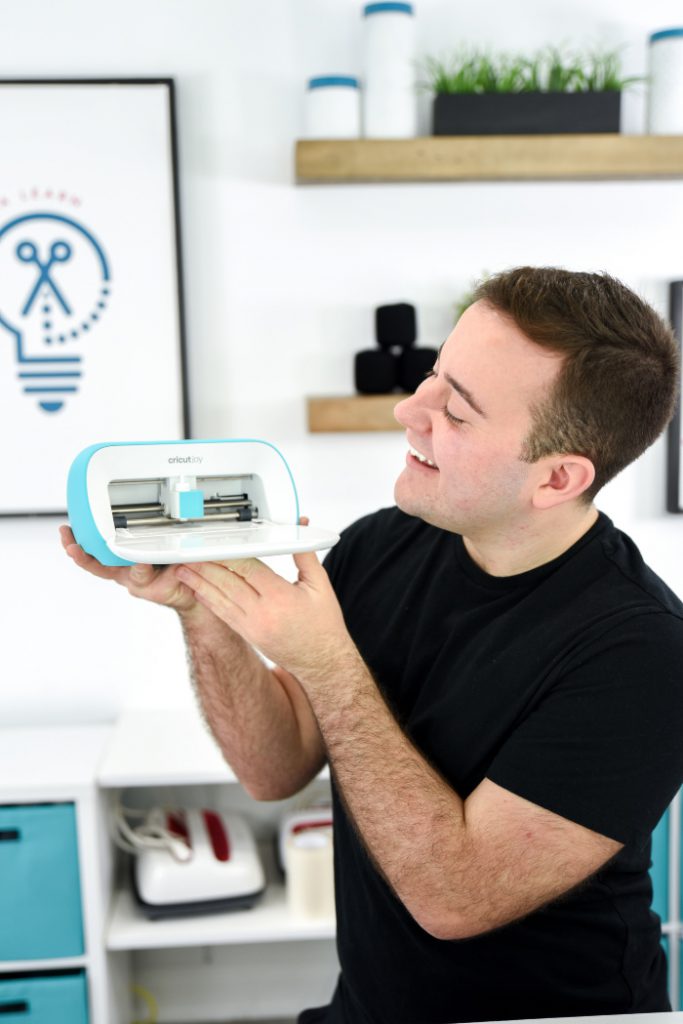 Cricut Joy Insert Cards
With the new Cricut Joy Insert Cards, you get the cards, the inserts (the paper you put on the back that doesn't get cut), and the envelopes. There are 12 in a package for $6.99.
These are actually something I might add into my everyday crafting. It's a decent price point (although you could make them cheaper for sure), especially considering that they have done a lot of the work for you when it comes to measuring and cutting.
Cricut Joy Iron On
The Cricut Joy Iron On is more expensive as well. You can buy it in a 5.5 by 24 inch sheet for $7.99 and 3 sheets with a size of 5.5 by 12 inches for $10.99. This is again the Smart Iron On which doesn't need a cutting mat, but if you compare it to regular iron on, you could certainly save some money.
Cricut Joy Pens
The Cricut Joy pens run about the same price as the regular Cricut pens.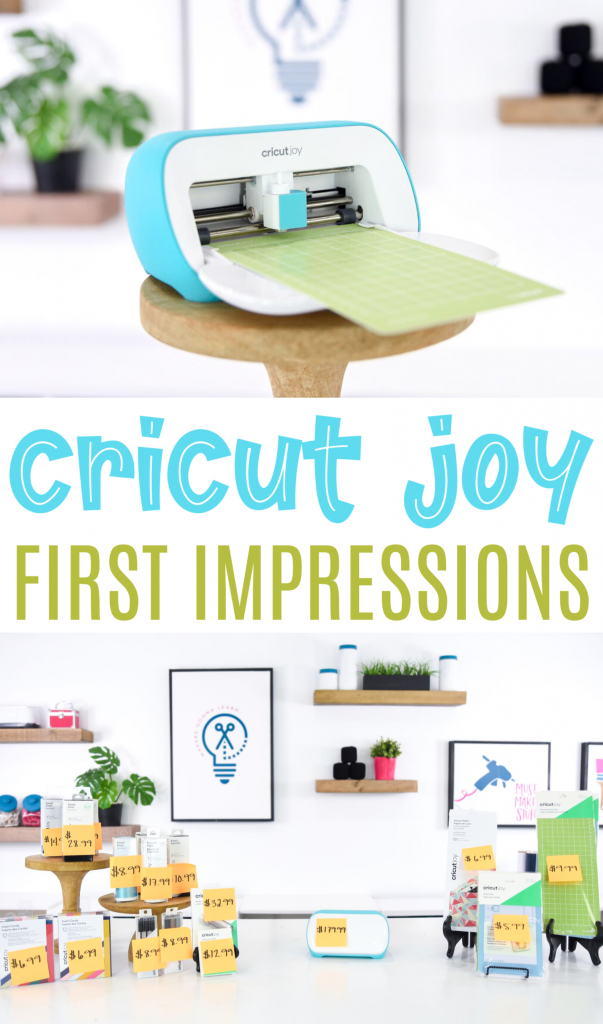 So, that's it. We hope we've provided you with some helpful information, breaking down the pros and cons of the Cricut Joy machine so you can be well-informed before making a purchase. We love Cricut and hope that this machine introduces many new people to world of crafting and die cutting!