In today's tutorial, we're going to teach you exactly How To Cut Chipboard With The Cricut Maker. We are going to use our knife blade today and have a lot of fun getting crafty with the Cricut heavy chipboard. This is something Cricut has developed to work exclusively in the Maker. They've made it 11 by 11, making it perfect to use with the Cricut Maker.
If you haven't tried using the knife blade yet, you're in for some amazing crafting! It opens up the possibilities to so many different die-cutting projects that you can make with your Cricut machine. You'll be able to cut many more materials than ever before. Chipboard, basswood, balsa wood, leather and other thicker materials are all available to you. Just think of the craft projects you could make!
How To Cut Chipboard With The Cricut Maker
Before we get started with the chipboard, let's talk about this amazing knife blade. Now, the knife blade does not come when you buy the Cricut Maker. It is an add-on tool that you can buy in the Cricut website or on any craft store.
Check out this adorable little cake stand that we made out of the Cricut Heavy Chipboard. This is a Make It Now project from Cricut and as you can see it's so adorable. It's the perfect project to make with the use of your Cricut knife blade and your Cricut Maker.
Today we're going to share our favorite tips and tricks for working with heavy-duty chipboard from Cricut. Let's start by gathering up our supplies.
Supplies needed:
The Cricut knife blade – we're going to put that into Clamp B
masking tape
chipboard of your choice. (Personally, I prefer using chipboard over wood just because in our research and testing, you get a much more consistent cut using the heavy-duty chipboard and it doesn't take as long!)
Preparing your Chipboard
It's really easy to prepare your chipboard. All you want to do is grab a sheet of chipboard and position it down onto your Cricut mat. I like to put it over in the left hand corner so you have a very large surface area to work with.
And then, we take the masking tape and go around all four edges of the chipboard. This is going to help position it and hold it down onto the mat.
Then the next thing is that you just want to take the knife blade and insert it into Clamp B. Simply place the part that's not with the plastic into the clamp – press it in and close the clamp. It's so easy to insert any of the tools into the adaptive tool system!
Working in Design Space
Now we're in Design Space. Go over to "Upload". We're going to scroll through our own library because we're using a file from our brand-new collection that is made especially for the adaptive tool system. We have a whole collection of cut files that we created to design and use for all of the different adaptive tools!
If you're a Makers Gonna Learn member, you must check out this collection! Head on over there now and download this file so you can make these coasters along with us!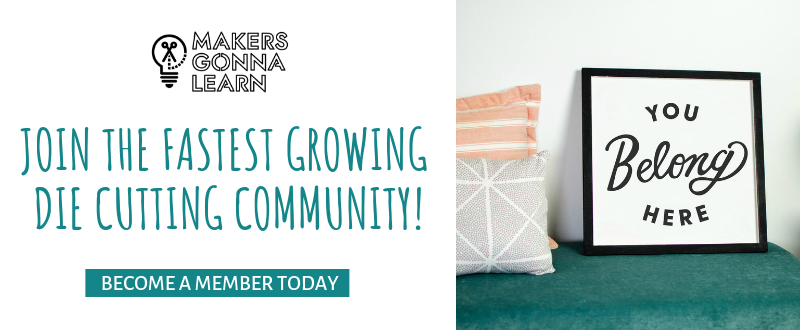 And if you're not a member, what are you waiting for? Members receive access to our cut files as well as special member pricing on our online Summits, a private members only Facebook group, exclusive project tutorials, printable guidebook, and more. The perks for our yearly members are EVEN better! Find out more about our Makers Gonna Learn memberships here.
This is our hexagon coaster cut file. We are going to cut this at 5.6 by 10 inches and then click "Make it". Then press continue.
Now we need to connect our machine so we're going to connect via Bluetooth. Once we have connected to our machine, we can set our material. Click browse all material and just type in heavy and you will find heavy chipboard. This is heavy chipboard 2.0 mm so be sure to select that and press done.
It will ask if you want to calibrate your knife blade. I like to do this when I first receive a new blade so since we've already done that, we're going to say no. It will then remind you to make sure material is no wider than 11 inches and is secured to a strong grip mat using masking tape on all four sides. You also need to move the star wheels all the way to the right.
So once you're good to go, you can load the mat and if you haven't done so already, load the knife blade in the clamp. Take note that you are going to have a longer cut time, so you need to be sure to keep your computer on throughout the whole cutting period. Be sure to turn sleep mode off so nothing interferes with your project! Once you're good to go press that flashing Cricut button.
After only 13 out of 20 passes, it was already popping up off the mat so our cutting is complete! We can pop the pieces out now. I like to take the masking tape off to make it a little bit easier to remove all the pieces.
As you can see, the masking tape doesn't interfere with cutting the project at all. Once you remove it, it's like it was never even there in the first place!
Now you can paint this and create a really awesome coaster! My tip here is to use a sealer before you try painting. I like to use a spray sealer with this type of project. If you don't seal before painting, the chipboard will just absorb and soak up your paint. It will take you coats and coats of paint!
Are you ready to start cutting chipboard with your Cricut maker and knife blade? I absolutely love the results of this and I think you are going to as well. What chipboard craft project will you make first?
If you'd like to get more information on getting access to our hundreds of different digital cut files as well as fonts and video training teaching you how to master your die-cutting machine be sure to check out our membership site Makers Gonna Learn. Happy crafting!