Create a Multi-Colored HTV Shirt
You are going to love this sweet multi-colored HTV shirt project! We'll take you to step by step through the quick and easy process. They're a great way to customize a plain t-shirt.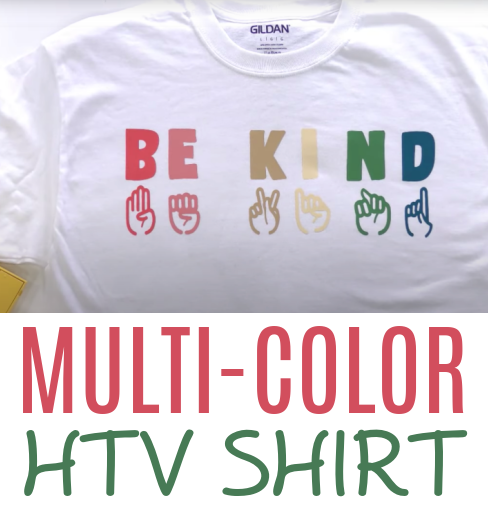 Create a Multi-Colored HTV Shirt
Disclosure: Some of the links below are affiliate links provided for your convenience. This means, at no additional cost to you, we will earn a commission if you click through and make a purchase.
Fonts Used:
Supply Links: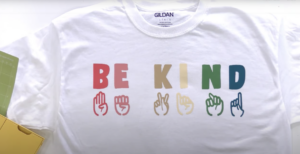 Step-by-step Instructions:
Download the fonts from Makers Gonna Learn. Unzip them and install on your computer.
Measure the spot of the t-shirt you are working with so you will know the amount of space you have to work with for your design.
Go to Design Space and open a text box. Type in whatever words you want. Select your text and change to the Bumblebee font. Duplicate that and change it to ASL font..
Grab a square then size it down and cover the first letter (but not the hand) of the ASL font. Select both the font and the square. Choose Slice.
Repeat this one by one until all of the letters have been sliced away from the hands.
Get a square again and cover the hand layer of each letter. You want one square for each hand. Select one hand and one square at a time and choose Slice.
After slicing, discard the sliced layers that you don't need.
Line up the hands with the corresponding letters you typed using the font Bumblebee. You can use Align and Center Horizontally to get them lined up perfectly. Once you are happy with the arrangement, select Attach (for each letter/hand combination).
If you'd like, you can now go into your Layers Panel and change the colors of the letters and hands.
Click Make It. Be sure to turn on Mirror as you will be using HTV. Set the material to Everyday Iron-On.
Place the HTV onto the mat and then load the mat into the machine to cut. Once they are all cut, burnish to the mat and weed your design.
Place the t-shirt on the EasyPress mat and iron the spot where you will be applying the design. You want it nice and smooth. Lay on your design and arrange them as desired. Use your EasyPress to heat and adhere to your design. Once finished, you can peel away the transfer paper and your design is complete!
Tanner, Courtney, and the rest of the Makers Gonna Learn Team are all here because we love die-cutting and especially love sharing fun projects and tutorials with fellow makers. We are all great friends and are always having a blast when we are together- you will see this on camera, especially during live streams! We are here to inspire and support you in your crafting journey!