Cricut Basics for Beginners
These Cricut Basics for Beginners are the things we wish we knew when we were first getting started as a Cricut owner. Cricut crafting can be so much fun, but when you're a beginner it can also feel overwhelming at times. There are a lot of things to learn and you'll find that you may have some questions about your Cricut you can't find the answers for.
That's why we're here. At Makers Gonna Learn, we want to offer you inspiration, motivation, and education when it comes to making die cutting crafts. So, let's jump in and talk about those thing we wish we had known when we were Cricut beginners.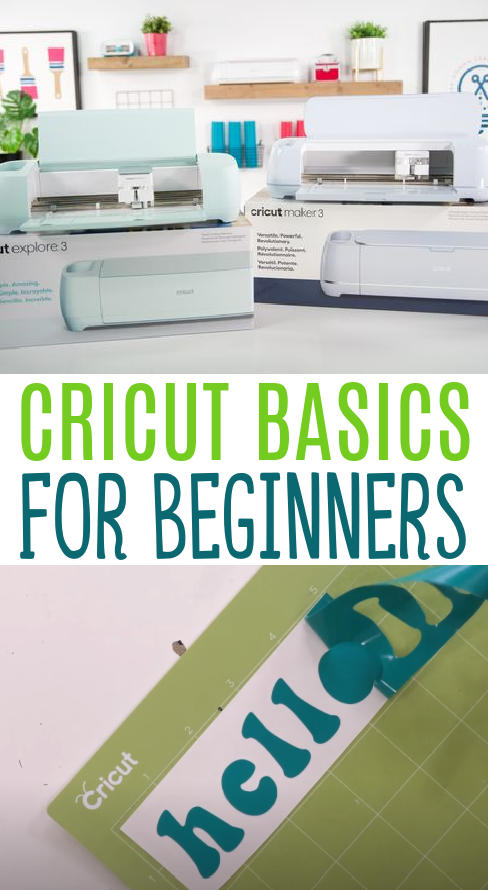 Cricut Basics for Beginners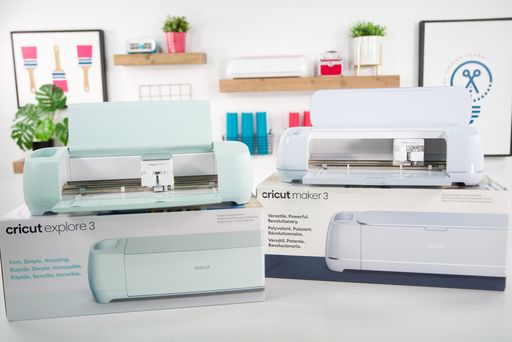 1 – You don't have to stick to Cricut brand only.
Just because Cricut makes amazing machines, doesn't mean that you're going to love everything they make. You don't have to remain loyal to the brand and only stick to their products. We have found some that we prefer for how well they work, the results we get, and often for the price point as well.
We are not fans of Cricut vinyl or iron-on vinyl. In addition, we have found weeding tools that work just as well as Cricut's (and in some cases, last longer) that are much cheaper.
You can even save money by making your own weeding tool with a mechanical pencil!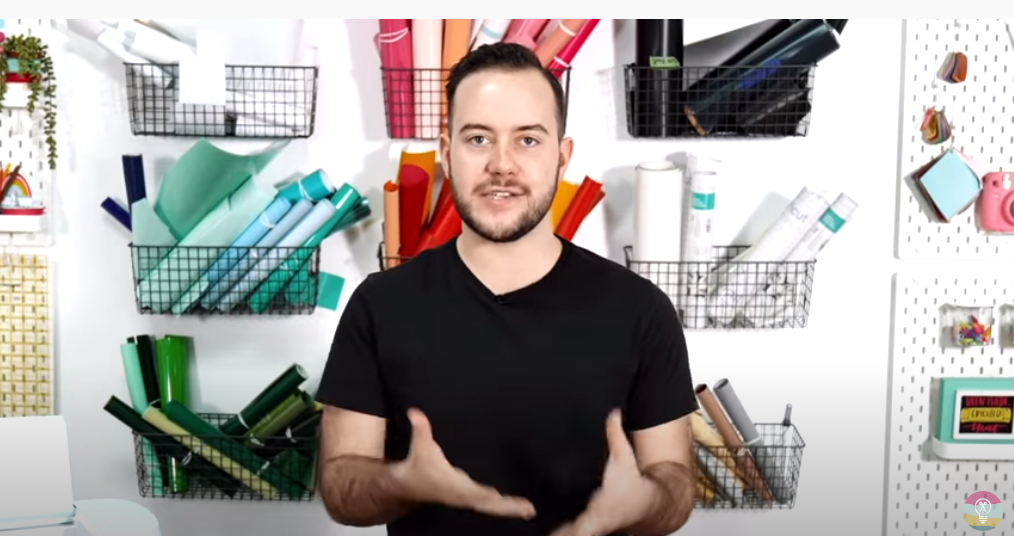 Products we love – both Cricut and non-Cricut: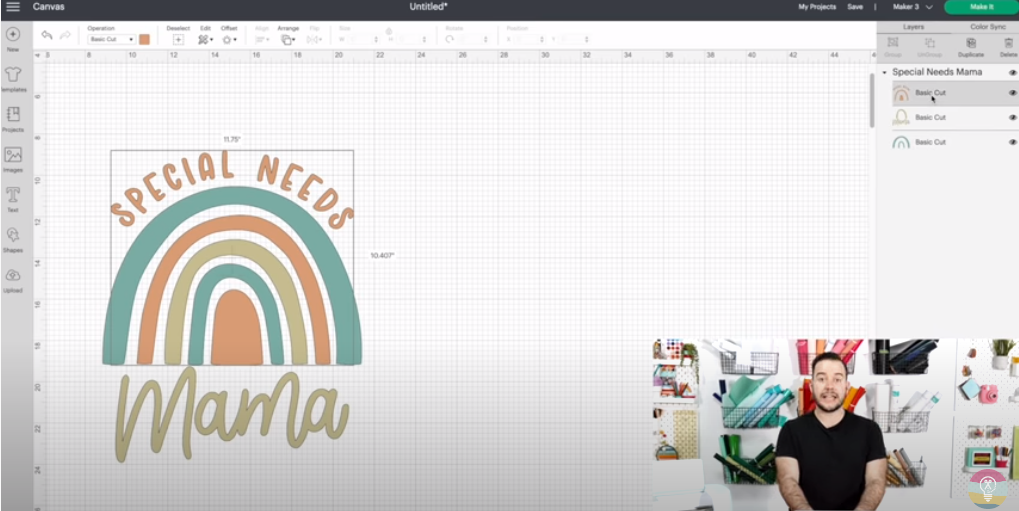 2 – Understanding the layers panel
Looking at the Layers Panel, you can see that this design is made of 3 layers. Each layer is a different color. The layers on this file are grouped together. When grouped together, your whole design can be moved around and sized as one.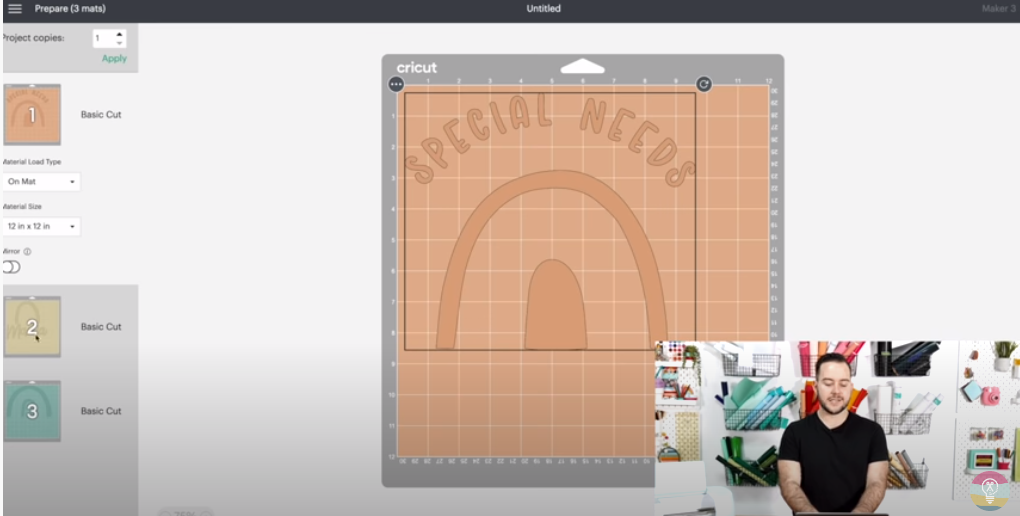 As you can see, once you press Make It, Cricut Design Space will sort each layer onto a separate mat for you, making it very easy to cut and assemble this design.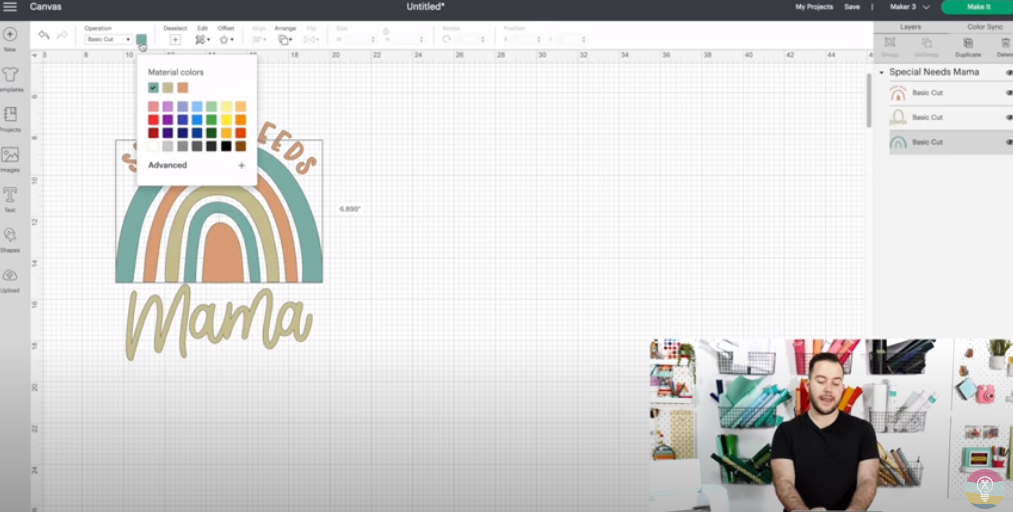 The Layers Panel also makes it easy for you to change the colors of a design. Select a layer in the Layers Panel. Head to the color palette and select a new color.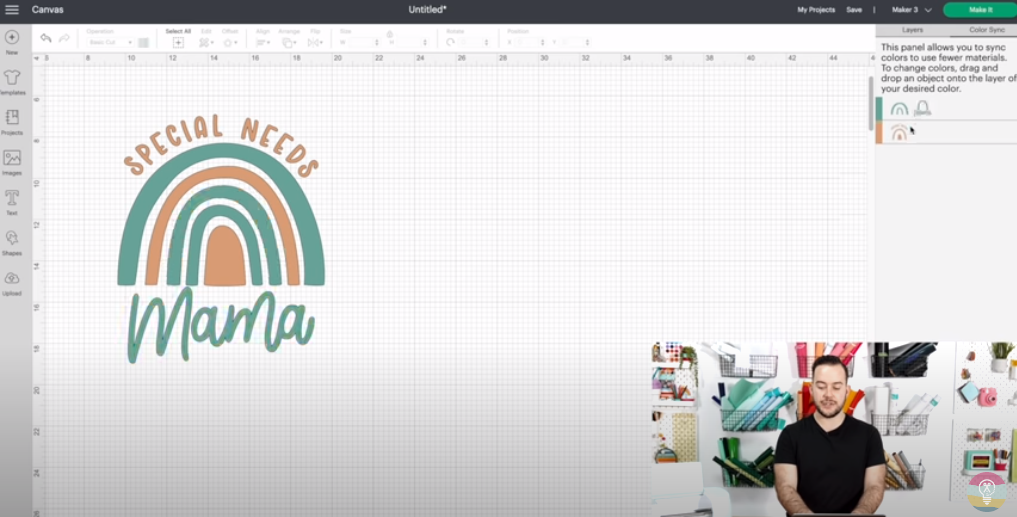 If you want to make the whole thing one color, you can use Color Sync. After clicking on Color Sync, you can then drag the layers to the one with the color you want them to be.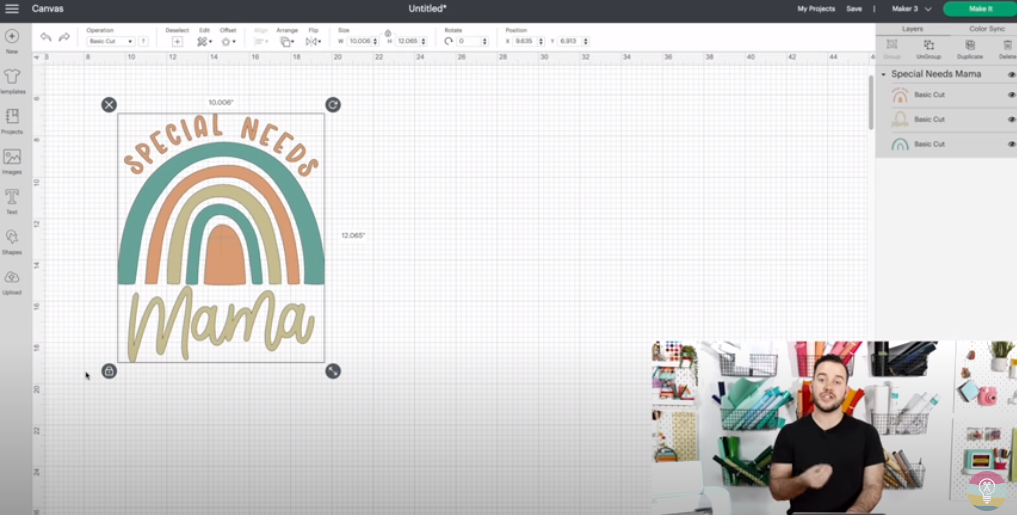 How to tell what you've selected in the Layers Panel
You will know that you've selected layers in the Layers Panel because they will turn a darker gray color. You can see that your entire design is selected because you'll see the X (delete), Rotate, Stretch, and Lock icons around it.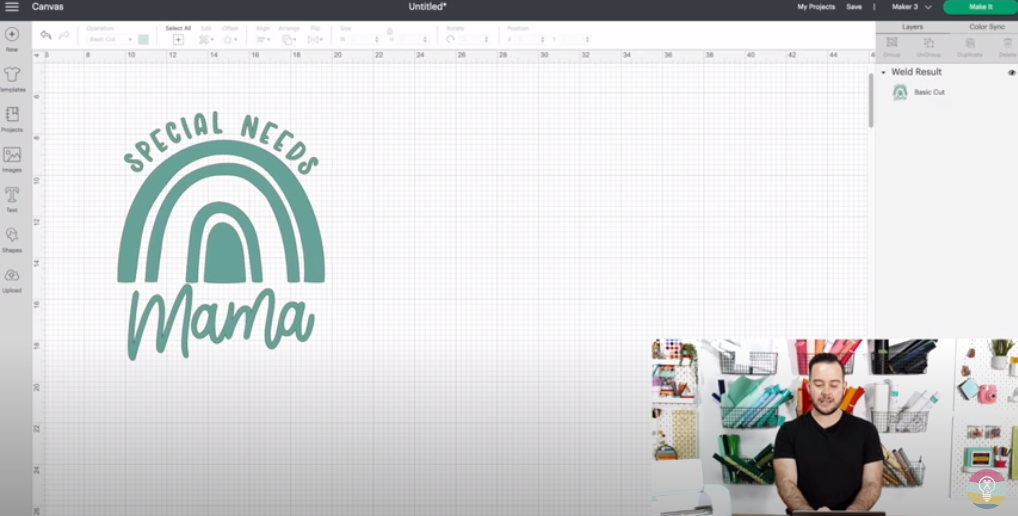 Another way to make your design all one color is by selecting all the layers and choosing Weld.
Since the Layers Panel organizes your layers for you, we advise you to check the panel if you are having any difficulties with your design. It will show you exactly what is going on with your design. You can often see exactly where the problem is and fix it quickly with one quick glance at the Layers Panel.
3 – Understanding Group vs. Attach vs. Weld
These three tools are ones that can make or break your Cricut project.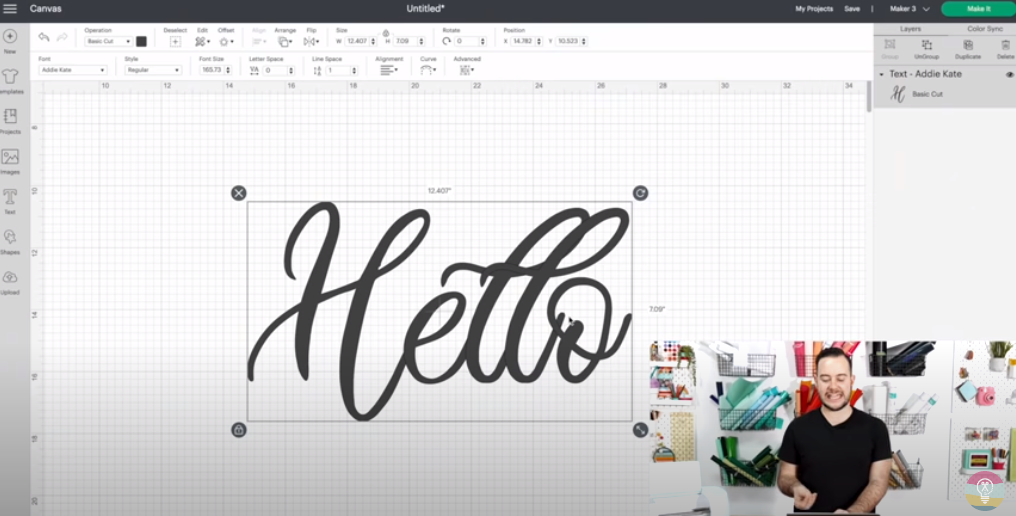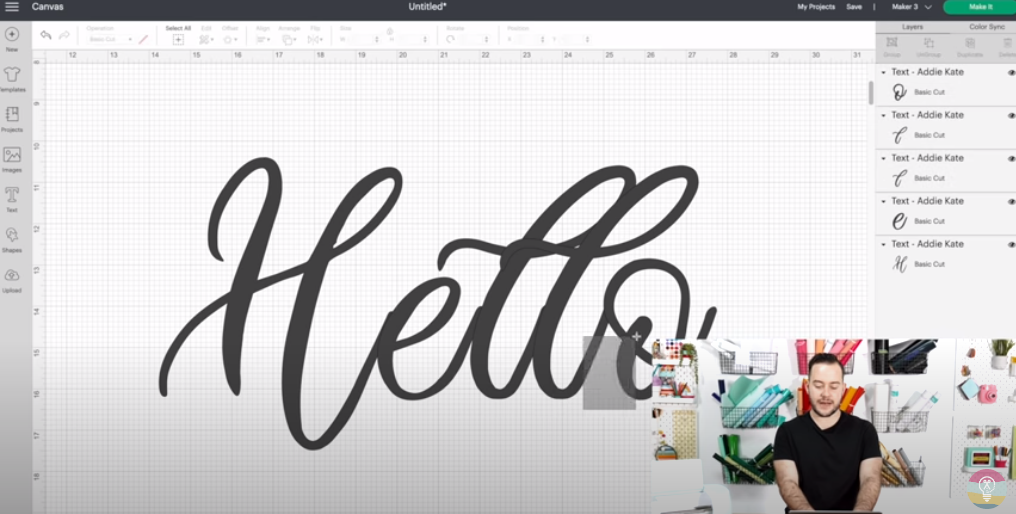 Once again, let's look at the Layers Panel to see what we've got going on here. In the first image above, you can see that this word is all one layer. We selected the word and pressed Ungroup. In the second image, you can see that after ungrouping, each letter is a separate layer. You can now move them independently of each other.
With the letters as separate layers, you can manually kern them. Kerning means looking at the spacing of the letters in the word and moving them as needed. So, once you've kerned the word, what now? Should you use Group, Attach, or Weld?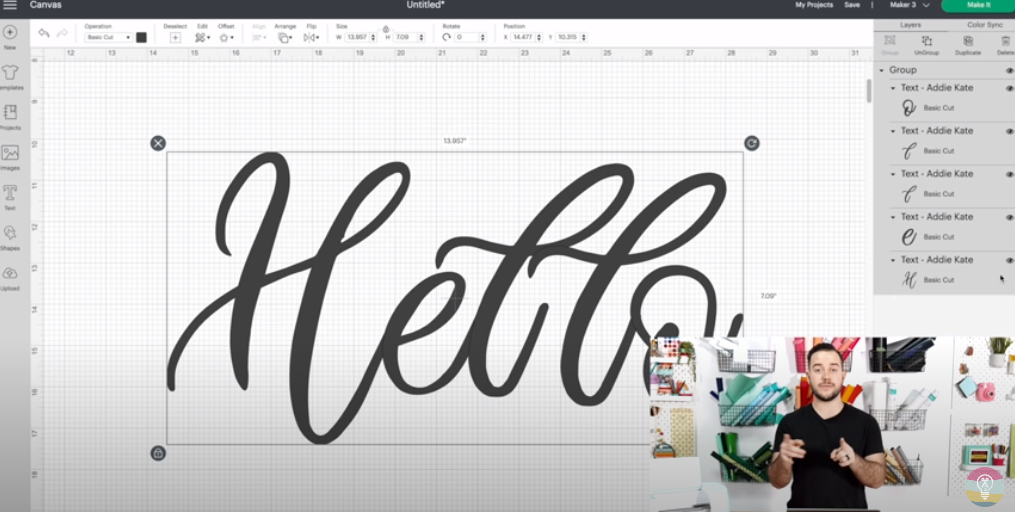 GROUP
If you group them, you will see that they are joined and held together on your Design Space mat. However, when you check the Layers Panel, you will see that they are still separate layers there. What does that mean?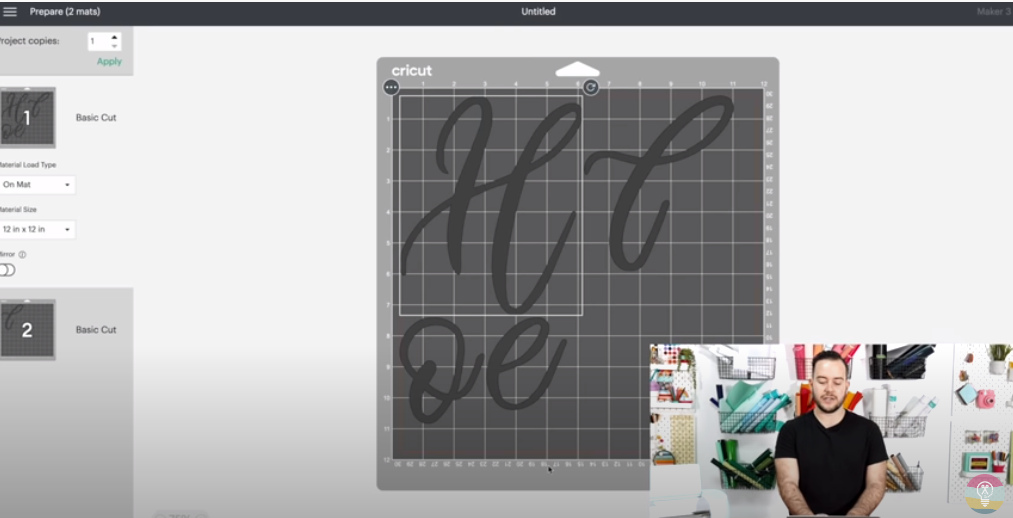 As you see, when you press Make It and the word is sent to the mat, it is no longer held together as one word. The letters are individual layers and so they are place on the mat in such a way as to make the best use of the mat space. So, grouping will hold things together for the purposes of working in Design Space, so you can move and resize as one, but they will not stay together on the cutting mats.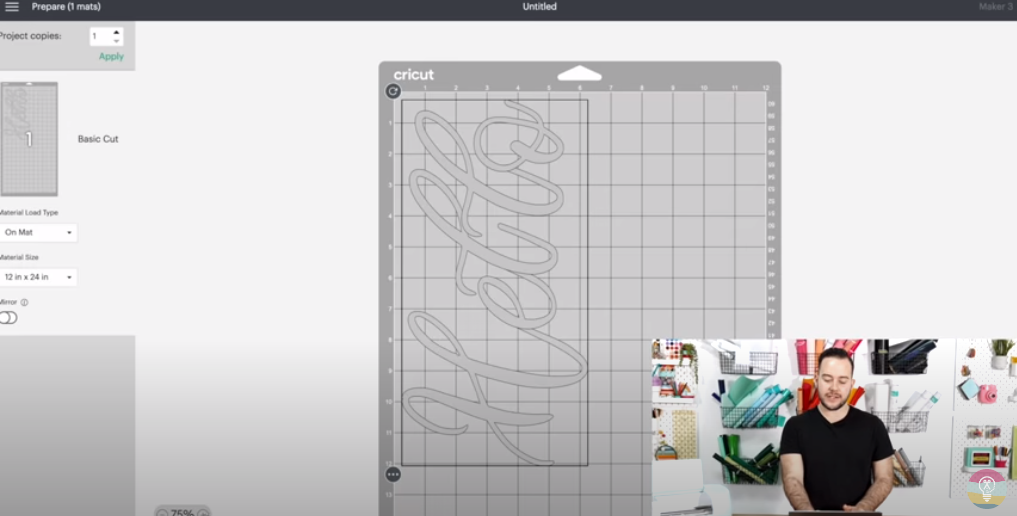 ATTACH
If you use Attach, not only will the word be held together as one in Design Space, but it will also stay together on the mat as well.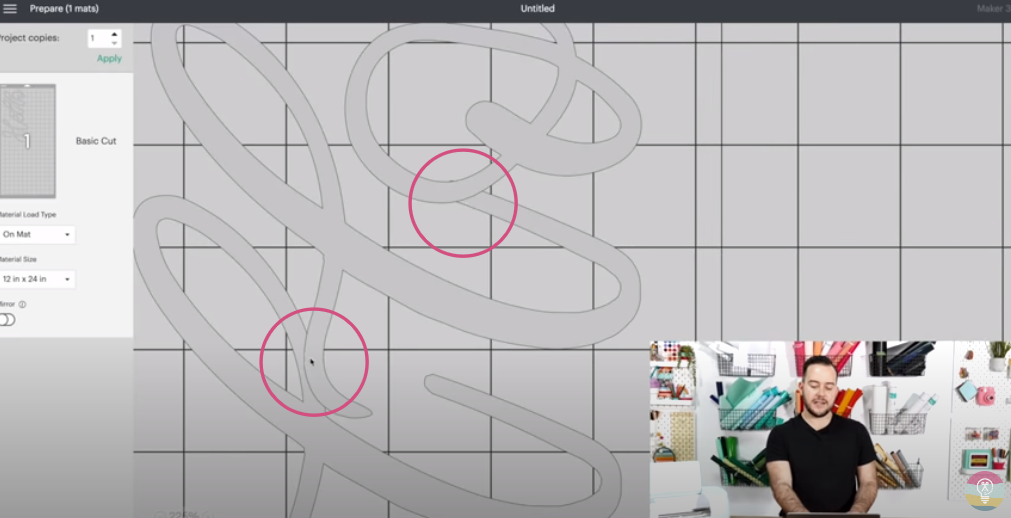 However, if you zoom in more closely, you can see that we have a few issues. Each place that one letter crosses over and overlaps another, the Cricut is going to cut along those lines. This is not what we want.
So, with cursive text, you don't want to hold them together for cutting using Attach. Attach is great for holding multiple images that aren't touching together. But for script lettering, you want it to look seamlessly joined together.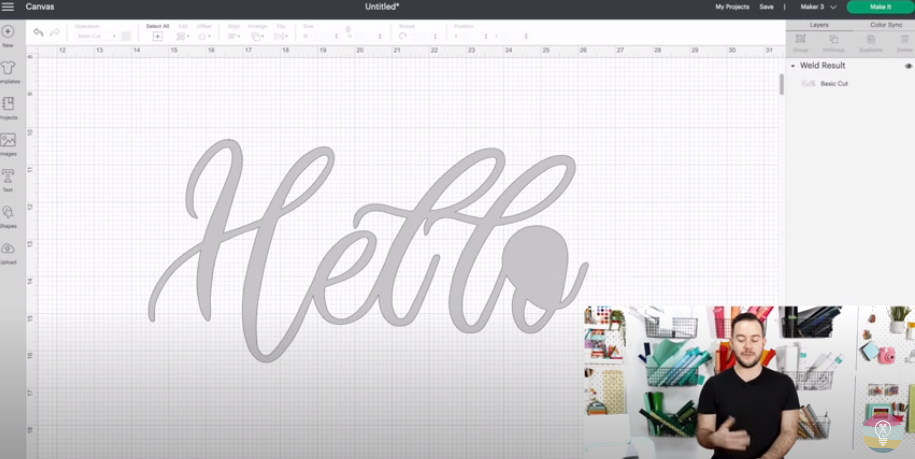 WELD
Weld changes your design from multiple to one single layer (check the Layers Panel!). That eliminates any of the overlapping issues because it is now joined together seamlessly.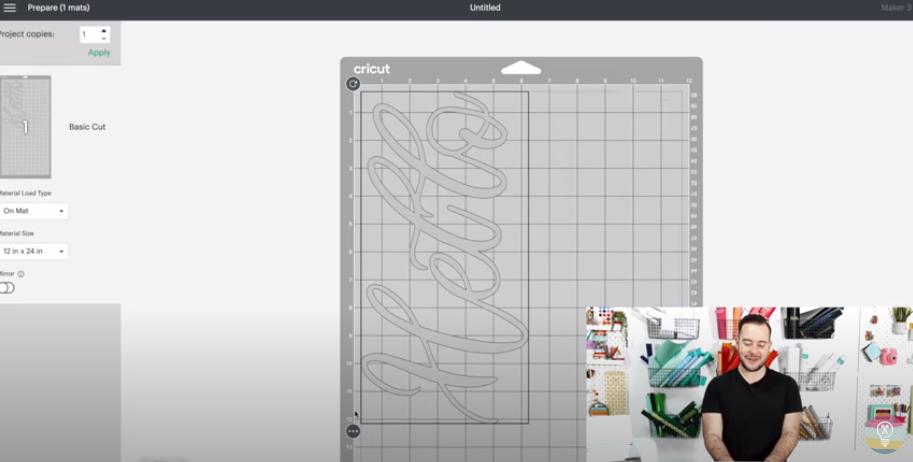 If you take a close look at your welded word, you won't see any overlaps anymore. It will cut perfectly as one word, just the way you want.
4 – When to use vinyl or heat transfer vinyl
Knowing when to use regular adhesive vinyl or heat transfer vinyl is another important thing to know as a Cricut beginner.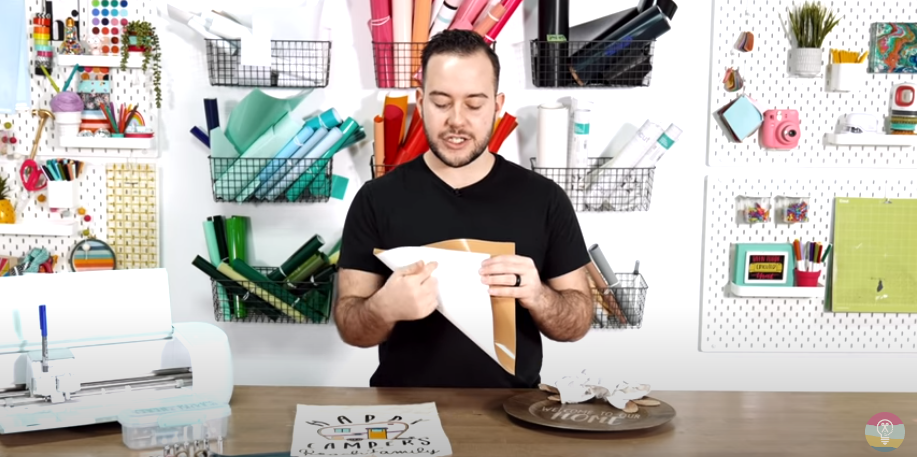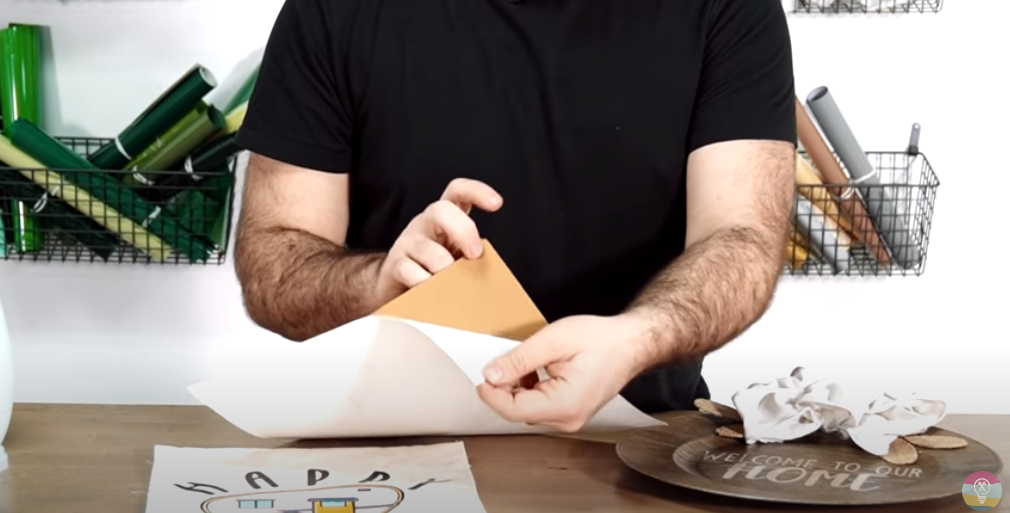 Adhesive vinyl is like a sticker. When you look at the back of adhesive vinyl, you can see the backing. Peel up the backing and you'll see the adhesive on it.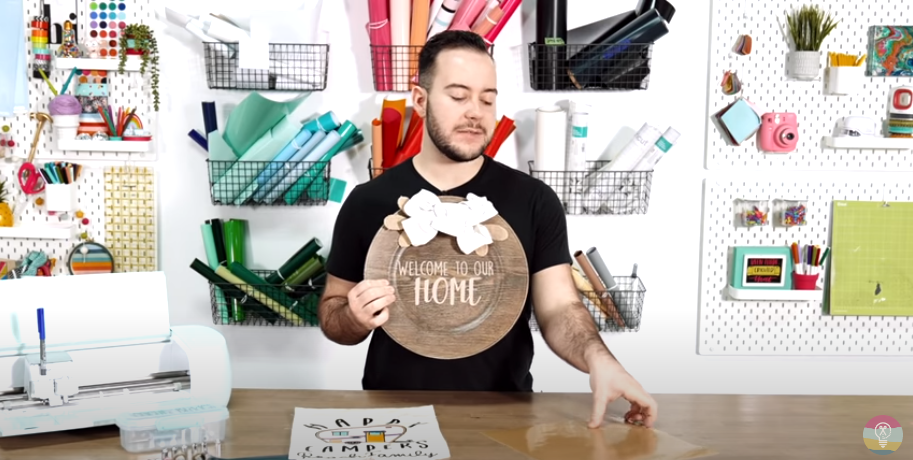 We like to use adhesive vinyl on things like this charger plate, cars, wood, mugs, and many other items.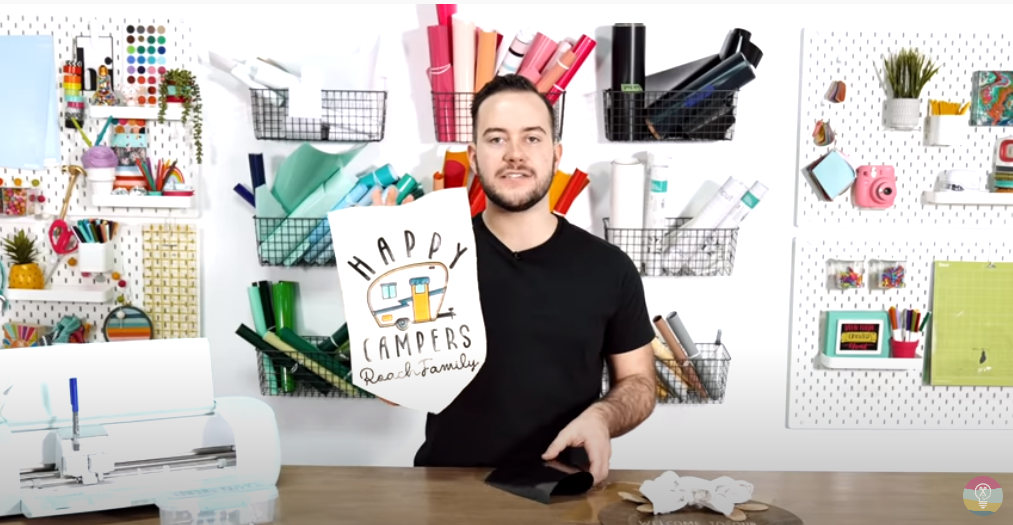 Heat transfer vinyl (or iron on vinyl as Cricut calls it) was made for use on fabric. So, this is your option when you want to adhere vinyl to t-shirts, hats, hoodies, shoes, garden flags, and more. We even use iron on with wood and get great results!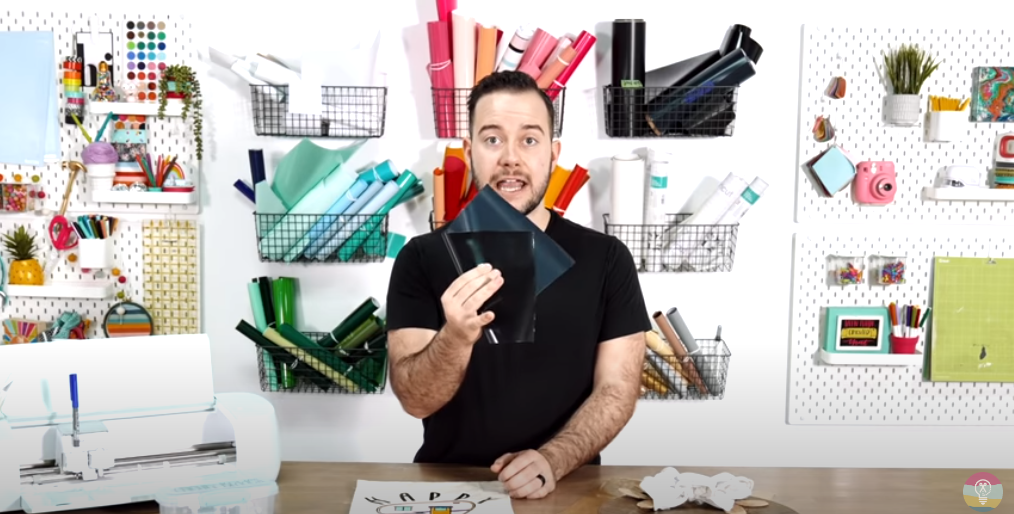 Heat transfer vinyl (HTV) has a dull side and a shiny side. The shiny side is the built-in transfer tape. (With adhesive vinyl you have to use a separate transfer tape you add yourself). As the name suggests, the adhesive is heat activated (so you need to use a heat press with it). Because it's heat activated, it is a bit more durable and we find it weeds a little more easily too!
Always remember to put the iron-on vinyl shiny side down on your mat and be sure to mirror your design in Cricut Design Space after pressing Make It. This will cut out your design backwards which is exactly what you need to do with HTV.
5 – How to weed easily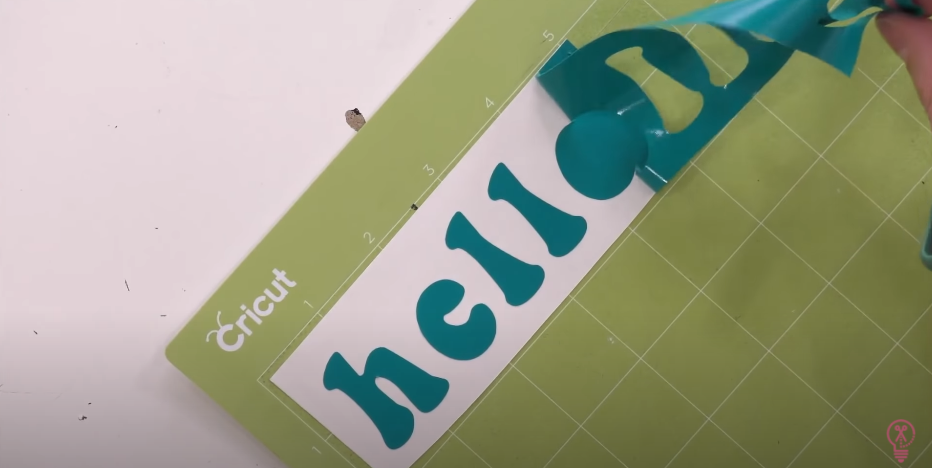 If you're going to be a Cricut crafter, you're going to be doing a lot of weeding. Weeding means to remove the negative vinyl from your design so you are only left with the part that you will be adhering to your blank (the surface material like a shirt, mug, or wooden sign).
Work slowly. Vinyl is quite forgiving but you don't want to accidentally pull up a part you need. Practice weeding until you find the rhythm that works for you. If you are having any difficulties, try a different weeding tool. We all have our preferences as to which tools work the best for each of us.
Pro Tip: Don't throw away the negative vinyl until you're sure you have all the pieces of your design that you need.
6 – Understanding the difference between the blades and the adaptive tools
There are a lot of Cricut blades and adaptive tools. It's so helpful to understand the difference between them.
Fine Point Blade
The fine point blade is the one that most Cricut crafters use the most. It comes with the machine and is perfect for basic cutting tasks like vinyl and HTV.
The fine point blade is really easy to replace. It's magnetic so you simply press the button on top of the housing and pull it out. Then just pop a new one in. Also, we like to remind beginners to check their blades and make sure there's no debris stuck in them as this can affect the quality of your cut.
Other blades available: Deep Point Blade, Bonded Fabric Blade, Rotary Blade (Maker only), and Knife Blade (Maker only).
Adaptive Tool System
The Adaptive Tool System is only available for the Cricut Maker or Maker 3. With the Quick Swap Housing System, you can simply press the button and swap out the different tools/blades that are used with the Adaptive Tool System. These include: the scoring wheel, double scoring wheel, debossing tip, engraving tip. perforation blade, and wavy blade.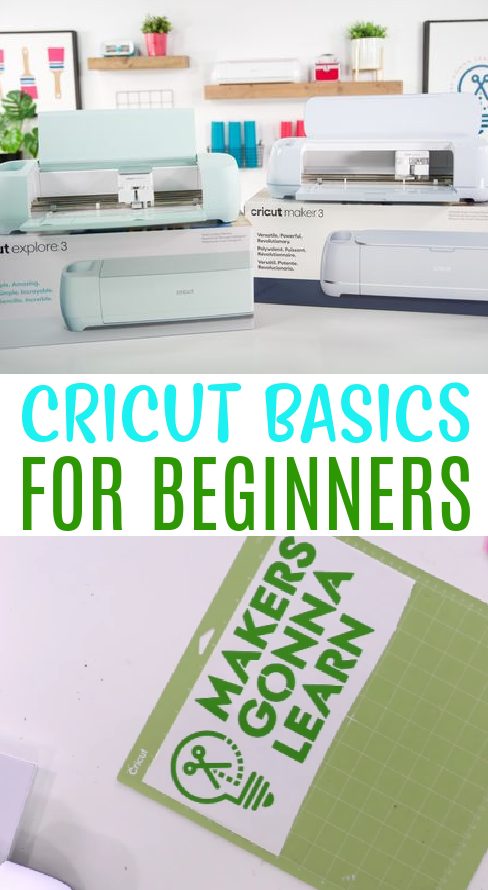 Tanner, Courtney, and the rest of the Makers Gonna Learn Team are all here because we love die-cutting and especially love sharing fun projects and tutorials with fellow makers. We are all great friends and are always having a blast when we are together- you will see this on camera, especially during live streams! We are here to inspire and support you in your crafting journey!