Cricut Cake Topper Tutorial
Have you been wanting to make a cake topper using your die cutting machine? We have a fantastic Cricut Cake Topper Tutorial for you today that you are going to love.
No more paying for a cake topper – you can make your own! It's so easy to do and you can customize it in whatever way you want to. Birthday, baby shower, wedding, Christmas – no matter the occasion, you can make a DIY cake topper that is perfect!
If you're making cupcakes, be sure to check out these custom Cricut cupcake wrappers!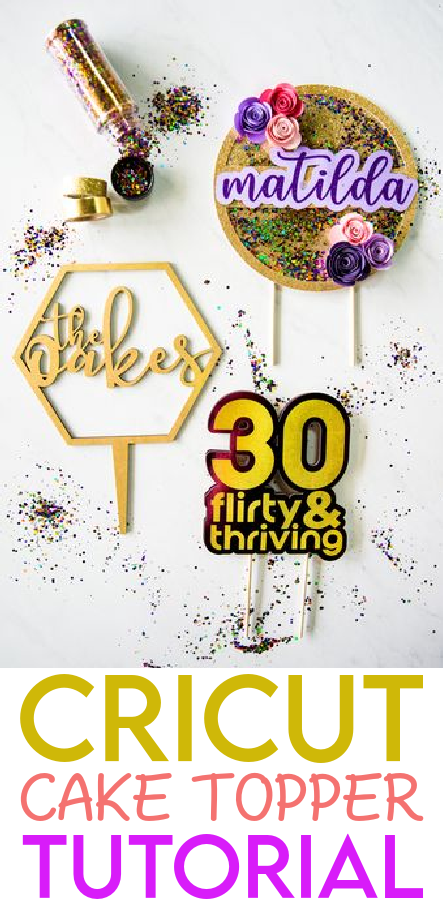 Cricut Cake Topper Tutorial
In this video and blog post, we are going to show you how to make a cake topper with Cricut. We'll also share two other Cricut cake topper ideas that will inspire you to tap into your creativity and come up with some amazing cake topper designs of your own!
Pssst – if you're a Makers Gonna Learn member, rumor has it that Becca is going to be showing you how to make the shaker cake topper in one of our Member Only Lives. If you're not yet a member, what are you waiting for? We have Member Only projects and video livestreams every single week.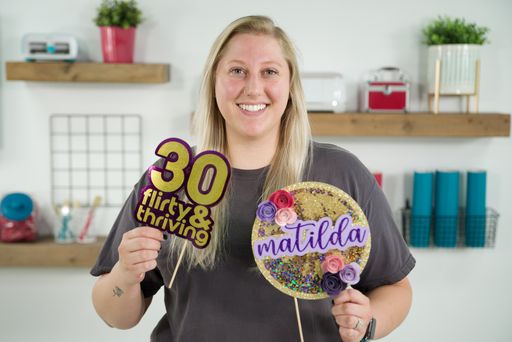 Supplies Used: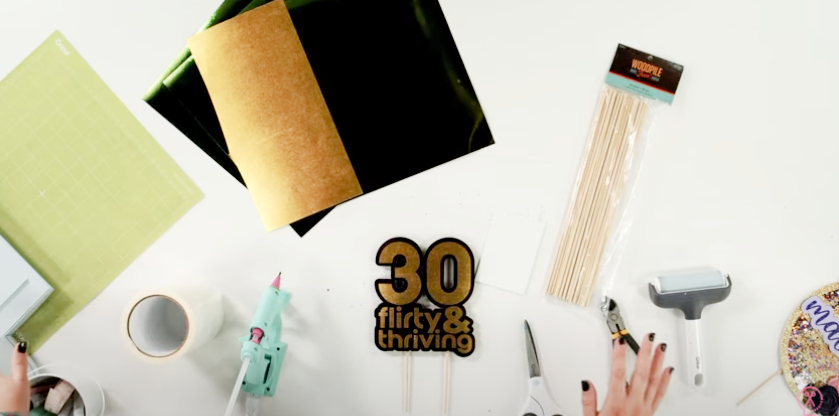 Font Used:
Circles Font: https://makersgonnalearn.com/fonts/ci…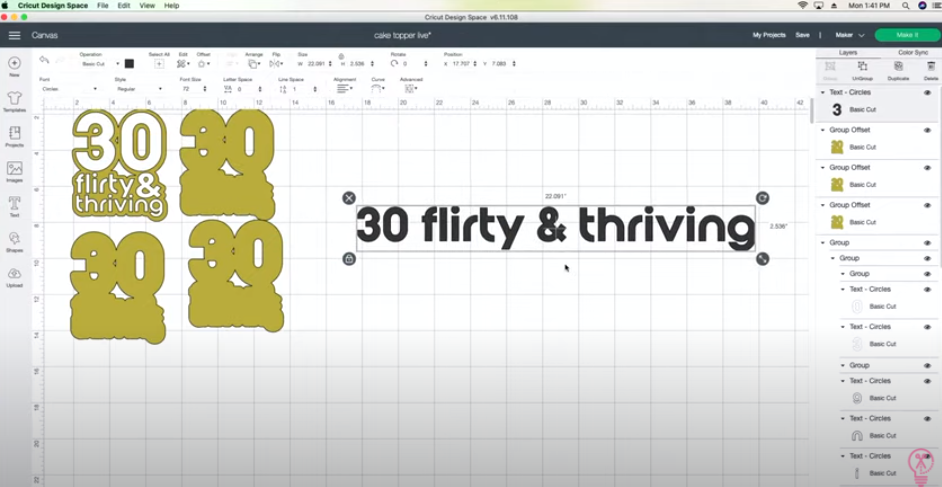 Working in Cricut Design Space
Type in the text you'd like to use for your cake topper. We're using a movie quote from 13 Going on 30, but you can use whatever you'd like. You'll notice in the finished topper, the "30" and the ampersand are both larger than the rest of the text.
When you want to play around with different sizes of text in a design, it can be a bit tricky to get it to look right. One of the things we look at is any parts of the text that are "different" then the rest. Flirty and thriving are both words, but 30 and the ampersand stand out as being different, so these are the ones we will make bigger.
Ungroup the words and resize as desired. Don't forget to consider the size of the cake when making your topper so that it fits well on it.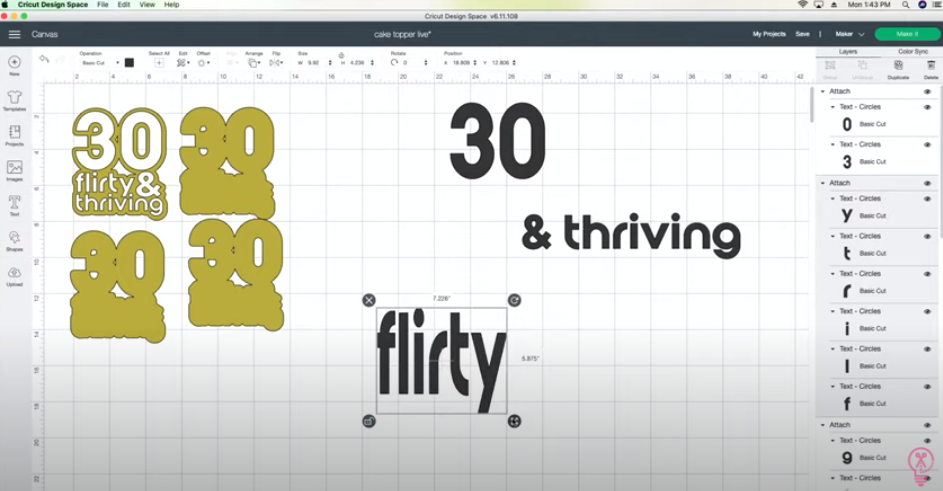 You can even unlock each word and change the aspect ratio to make the words a bit skinnier or chunkier. We suggest working slowly, a little bit at a time when doing this. It's easy to make the words so skinny or so chunky that they're hard to read.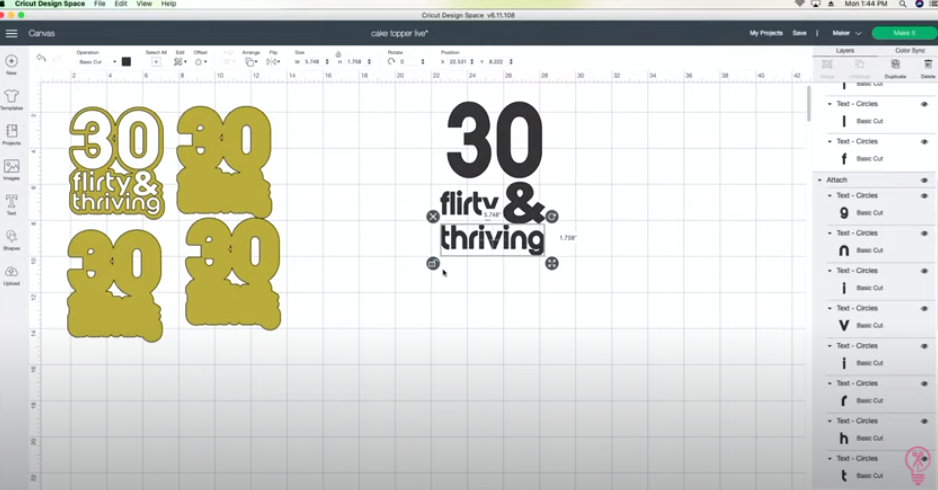 Arrange the words in your desired layout. To make the words line up, once we had the word "thriving" sized as we wanted it, we looked at the width of it up in the toolbar. Then, we selected both "flirty" and the ampersand and made sure they were sized to the same width. Repeat with the 30. This helps even out your entire design.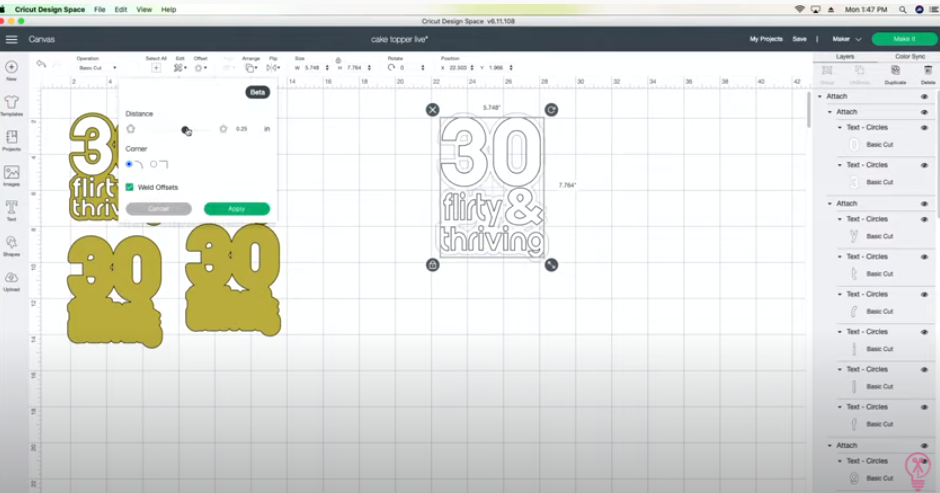 Select your whole design and choose either Attach or Weld. We then changed ours to white to help it stand out better when making the drop shadow on it.
Click on Offset. It will automatically add an offset of about 0.25. You can drag the slider to increase the size of the offset as desired.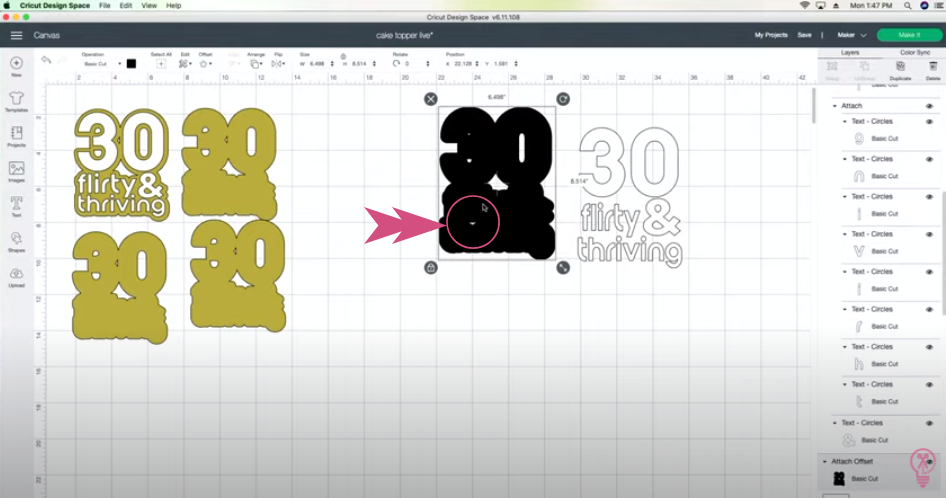 When you look at your offset, you may seem some small sections that are going to be cut out which you would prefer to keep solid.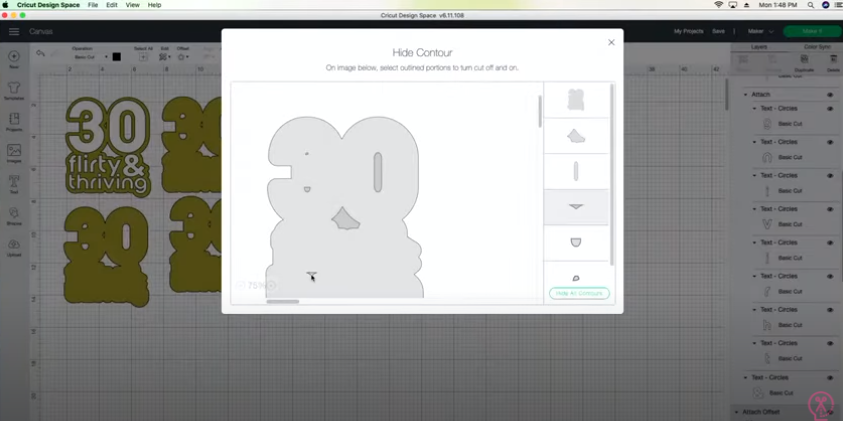 Click on any of these areas in Contour to remove them and make them part of the solid offset. This is personal preference but do keep in mind that the more tiny pieces your Cricut has to cut out, the longer it will take and the harder it will work. If they don't enhance your design, you might as well contour them out.
Duplicate the offset layer so that you have 4 of them in total.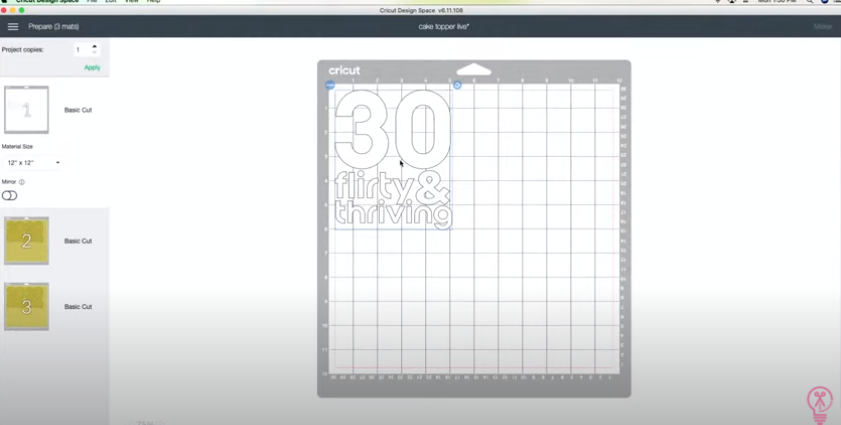 Cutting out your cake topper with Cricut.
Click Make It.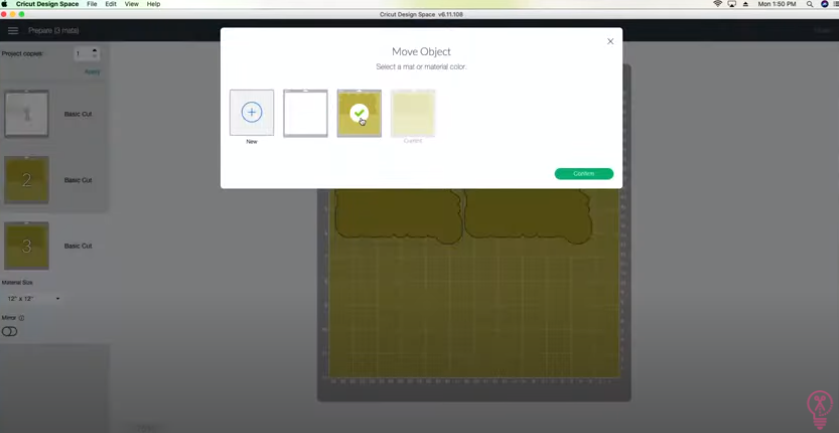 Design Space has placed our items on three mats and we think they would actually fit on two. So, we are clicking Move Object and moving them over and arranging them to get them to fit if possible.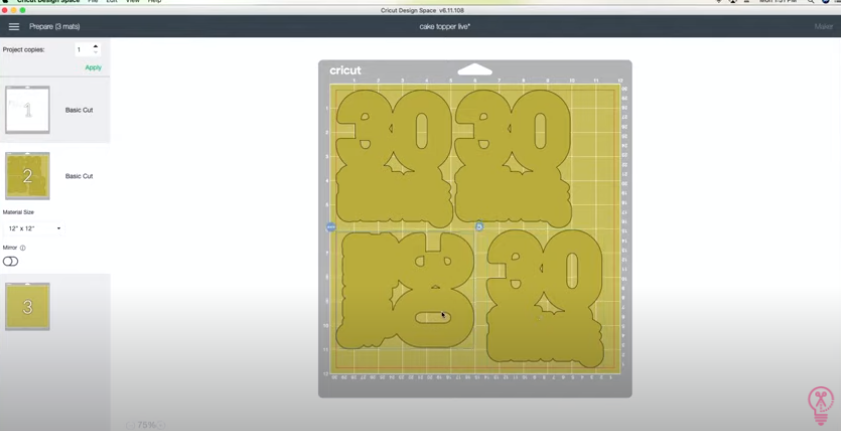 Click Continue and choose your materials. For the white part, we're cutting it from Premium Permanent Glossy Vinyl.
Pro tip: We find that with this vinyl, we always have to choose "more pressure" to get it to cut all the way through.
For the green part, we are choosing Holographic Foil Kraft Board.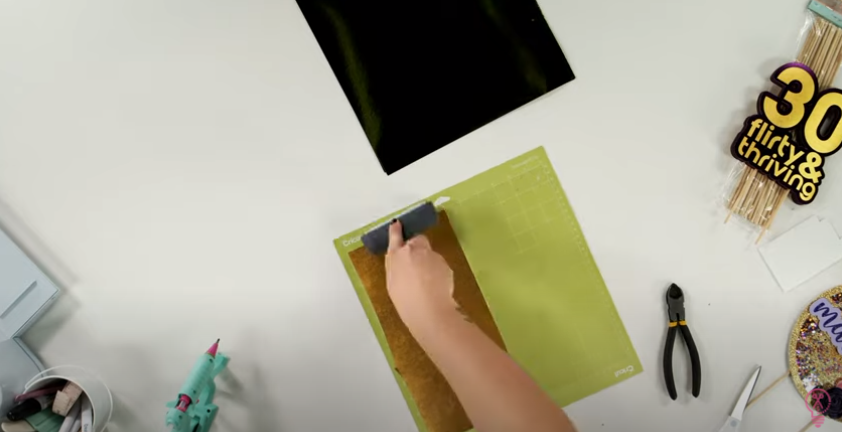 We're using a brayer to apply and adhere the premium vinyl to the cutting mat.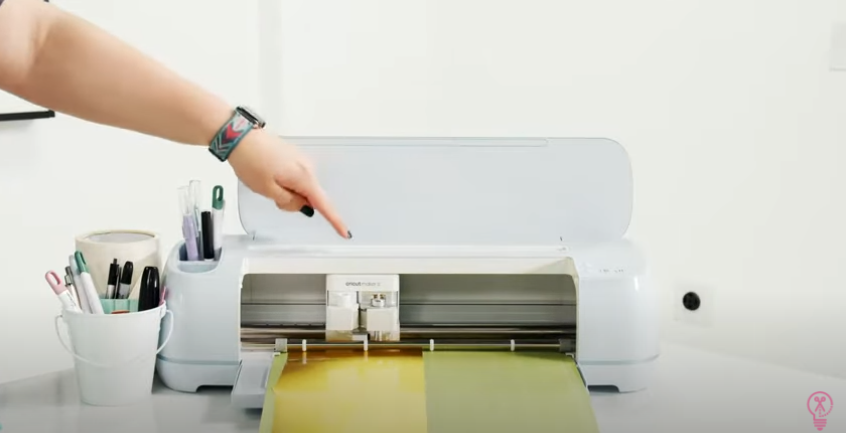 Load the mat into your machine and cut out your design.
Notes: We are using the Cricut Maker 3 for this project. There are a couple of things to note about it that are different from the Maker. 1) You can't load the mat before choosing your materials in Design Space anymore. 2) Once you load the mat and press the button, your machine will run the mat through the machine to measure your material. Then, you have to press the button a second time to start the cutting process.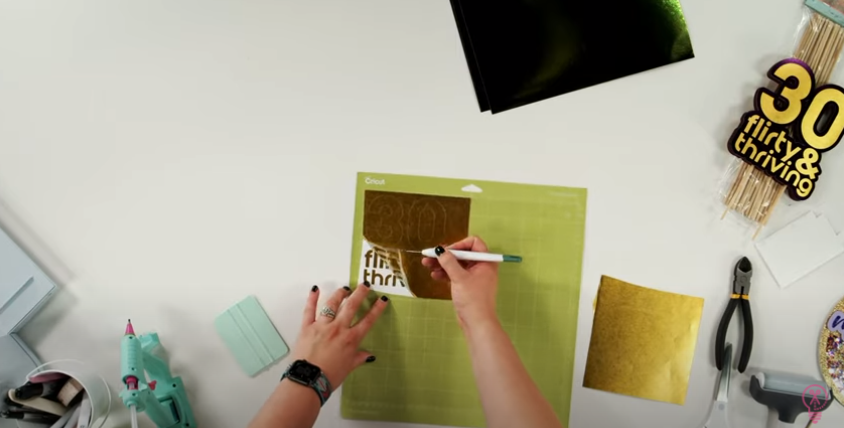 Weeding and Assembling Your Cake Topper
Once cut, trim away the excess vinyl with your Cricut TrueControl Knife. Then, burnish the vinyl design to the cutting mat. This will aid in the weeding process. Using a weeding tool, pick up one corner and weed away the negative space around your design.
Pro tip: remember to weed out the centers of any letters as needed. Don't throw away your weeded vinyl until you check for all letters and make sure you have everything you need. The dot over a letter "i" commonly goes missing so that's one to especially look out for!
Apply transfer tape over your design and burnish. Because we're using masking paper transfer tape and it isn't completely transparent, we're trimming around the design and cutting out the center of the zero to make it easier to line up with the drop shadow.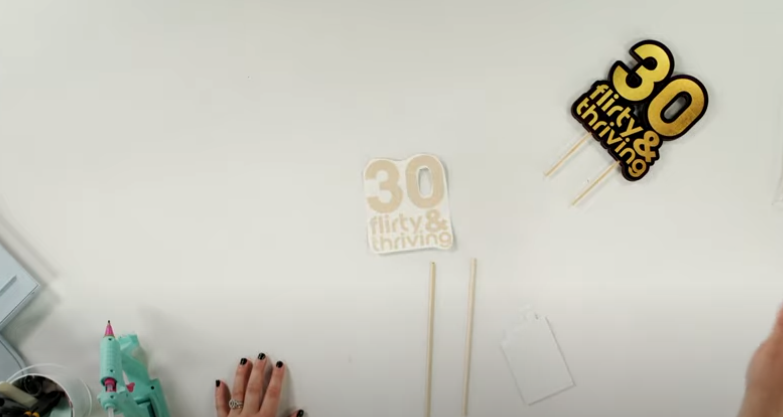 Apply your Kraft board to your cutting mat using the brayer to adhere it well. Go ahead and load that mat and cut out those offset pieces.
While waiting for those to cut, you can cut down your skewers to size. Bear in mind that if your cake topper is a little on the heavy side, you need to make the skewers long enough that they will help support the weight.
Pro tip: Remember that those skewers are going right down into the cake. If you want to paint them, You're going to need to use something that is food-safe.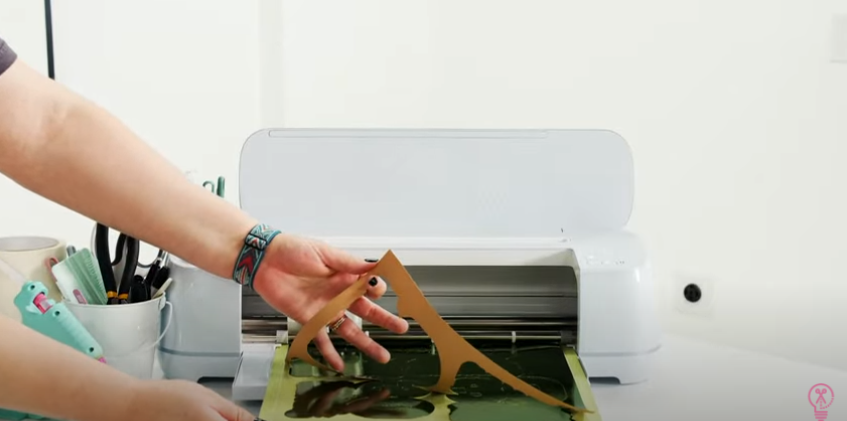 The Kraft board will take a bit of time to cut as it will make two passes since it is a thicker material. Before removing the mat from the machine, check to make sure that it has cut all the way through. If not, press the button again and it will recut on the same cut lines.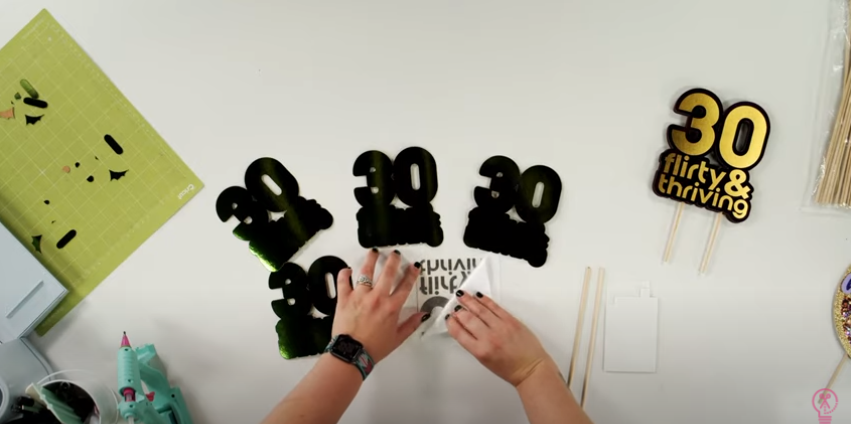 Burnish the vinyl from the back and then remove the backing. Do this slowly and carefully to avoid lifting up any of the vinyl.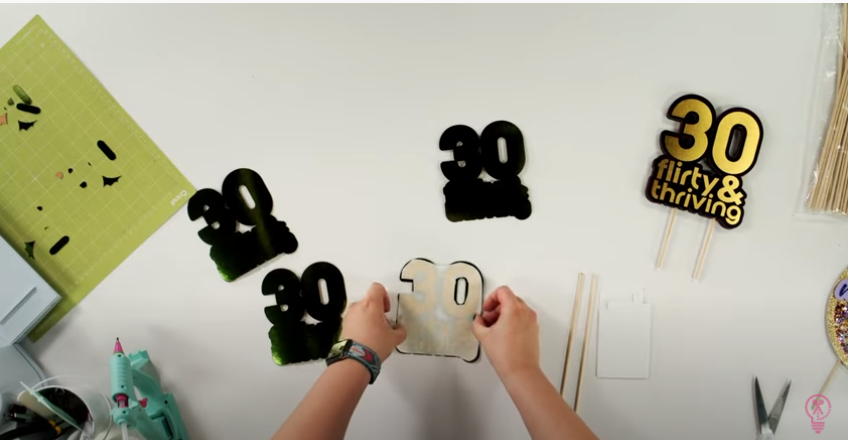 Place your vinyl down on one of the offset pieces. Burnish from the center out. Be gentle since this is paper. Peel away the transfer paper.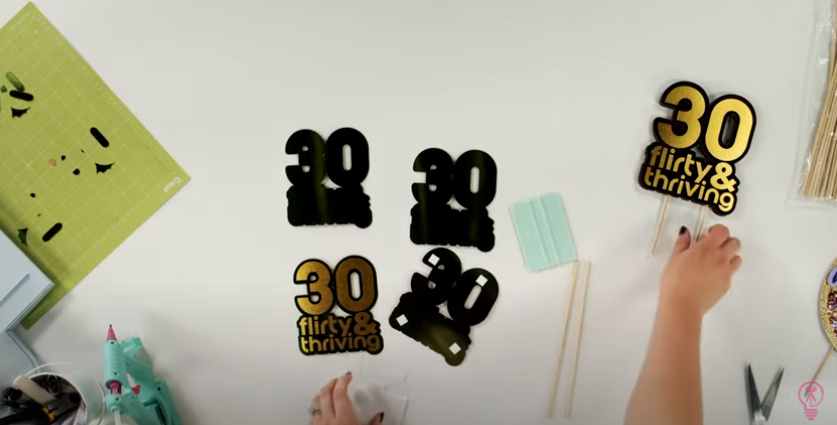 Put some adhesive foam on one of the offset pieces. This is going to glue two of the pieces together and add some dimension to the project as well. Place another of the offset pieces on top of the layer with the adhesive foam.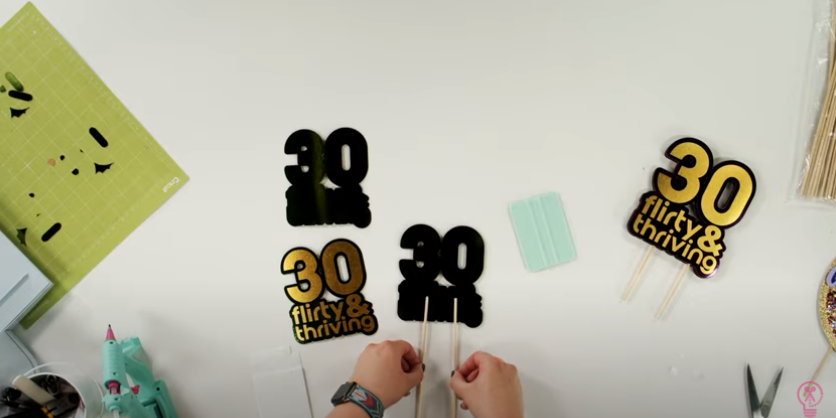 Hot glue the skewers on top of that piece. Then, add more of the adhesive foam squares. Top that with another offset piece.
Put down one last layer of adhesive foam and finally, your last piece which is the offset layer that has the vinyl adhered to it.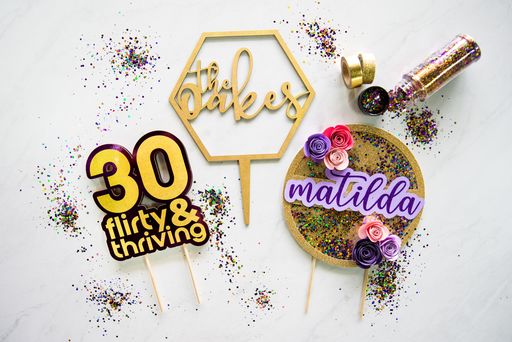 There you have it! A gorgeous cake topper made with your Cricut machine! We can't wait to see yours. Share them on social media with hashtag #MakersGonnaLearn. And don't forget to pin this post to Pinterest so you can refer back to it!
Tanner, Courtney, and the rest of the Makers Gonna Learn Team are all here because we love die-cutting and especially love sharing fun projects and tutorials with fellow makers. We are all great friends and are always having a blast when we are together- you will see this on camera, especially during live streams! We are here to inspire and support you in your crafting journey!