Cricut Christmas Ornaments 101
Merry Christmas in July! It's never too soon to start getting ready for the holiday season. As crafters, we know that we need to start early so we have time to put all our creative ideas into action. If you're a Cricut beginner, this Cricut Christmas Ornaments 101 post is going to help you jump in and start making some fun Christmas decorations.
You're going to love the Cricut hacks and ideas we share in this post. What type of Christmas ornament will you make first?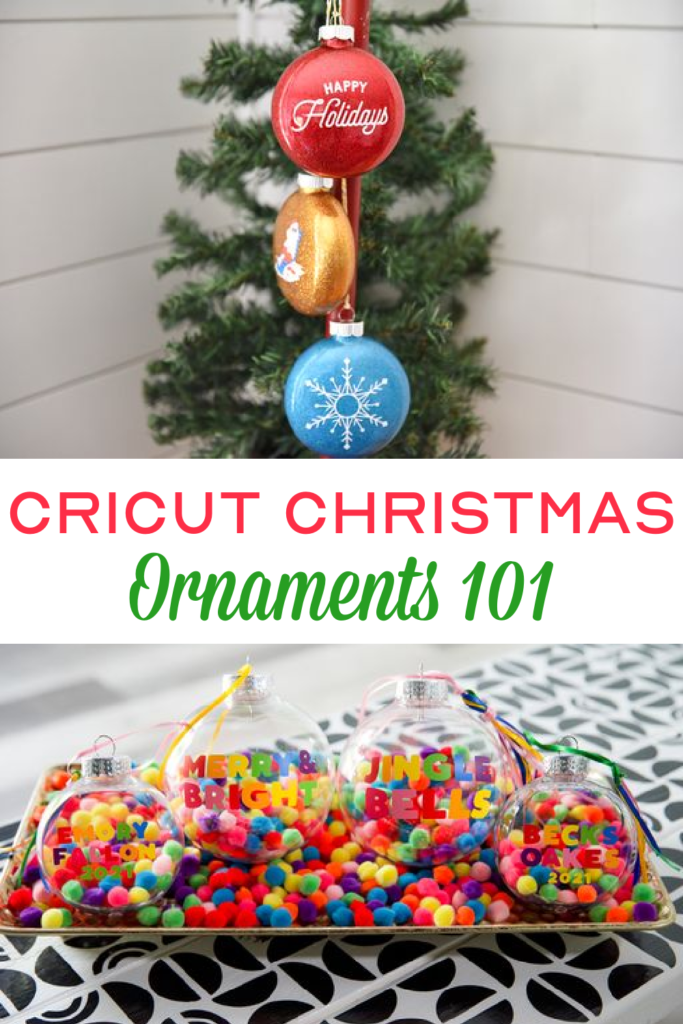 Cricut Christmas Ornaments 101
There are many different types of Christmas decorations you can make with your Cricut. Here at Makers Gonna Learn, we have made some really cute Print then Cut ornaments as well as some from felt, vinyl applied to glass and plastic, iron-on vinyl applied to wood, and more.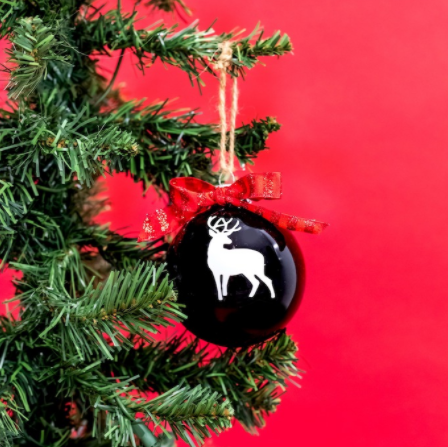 When it comes to painting glass or plastic ornaments, you may have found it difficult to get professional results. We've tried painting the outsides of these types of ornaments and it was tricky to get the paint smooth and streak-free. In addition, adding vinyl on top of the paint didn't give us the polished, long-lasting craft project we were looking for.
The process is the same for glass or plastic, but we find it not only much easier to store plastic ornaments, but in homes with pets and children, they are much a much safer option as well.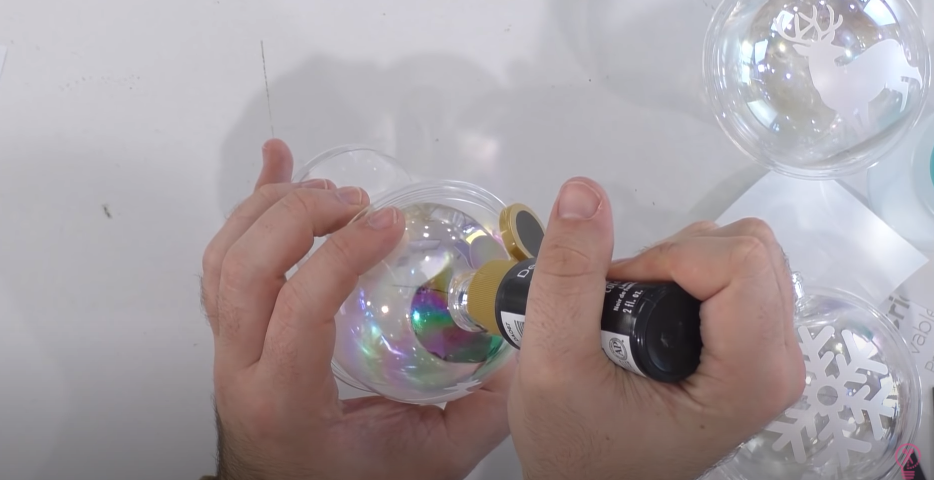 With this painting technique, we are painting the inside of the ornaments. Remove the hanger part of the ball (the place where you add ribbon or a hook). Pour in some paint. You don't want to add too much at first. Carefully swirl the paint around to start coating the inside of the ornament.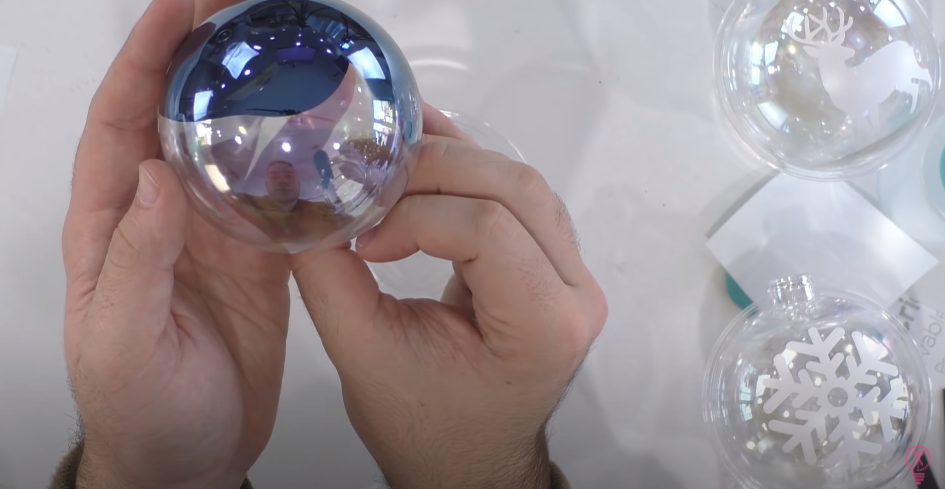 Once you see how much of your ornament you can coat with that amount of paint, you can add some more. Again, swirl it around. Repeat this process until the inside of the ball is well-coated with paint.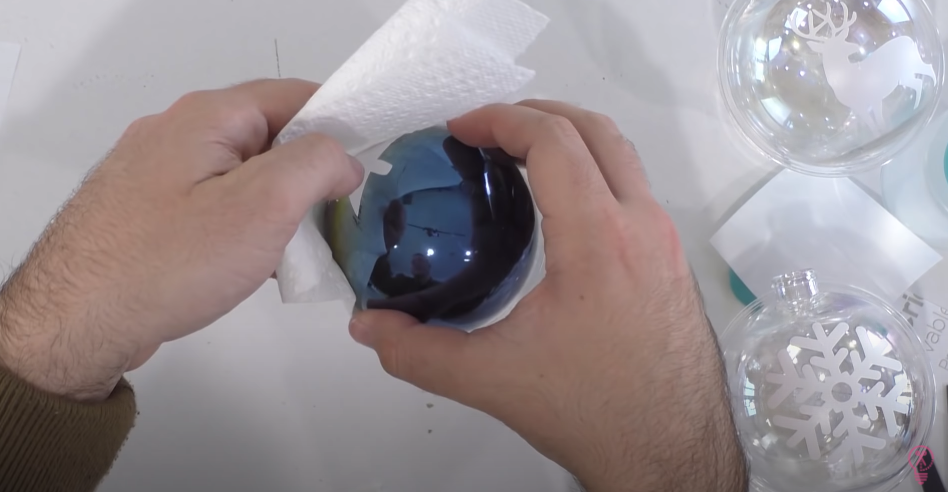 Once the ornament is thoroughly coated with paint, place it upside down in a disposable cup to drain out any excess. This helps to ensure that the ball is evenly coated with paint and that none will accumulate in the bottom of it.
Your vinyl decal can be placed on the ball before or after the painting process. If you placed it on there before painting, be sure to protect it by covering it with a piece of paper towel as the paint drains into the cup.
Let this dry overnight for best results. Place the hanger part back into the ornament.
CREATING YOUR DESIGN
With any project, ornaments included, you always want to begin by measuring your surface. So, in the case of ornament balls, use a measuring tape to measure the area where you want to place your design. We always recommend measuring twice just to be sure!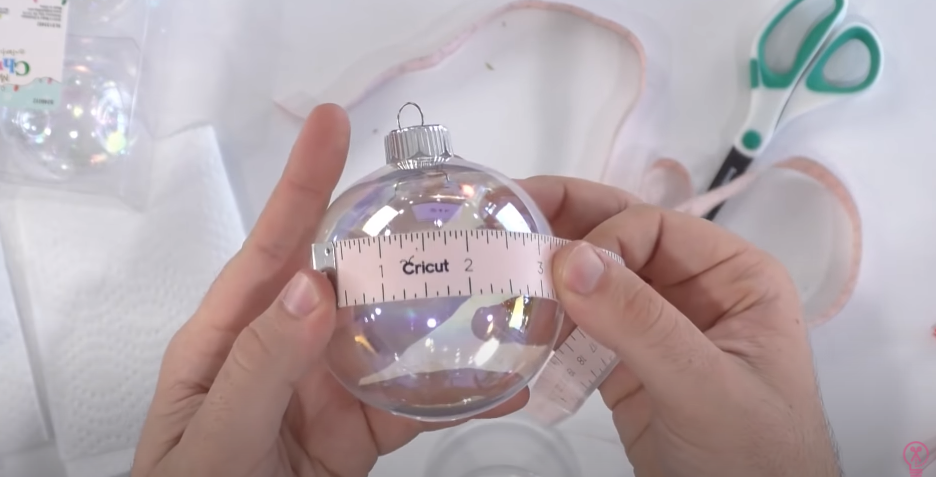 PRO TIP: You want to keep your design fairly small. If you try to wrap it too far around your ornament, it can be difficult to get it to lay flat and get the flawless results you're looking for. You could also use flat ornaments to make it easier if you prefer. We do also have some tips below that will help when applying vinyl to rounded surfaces.
Once you've sized your design in Cricut Design Space to fit the available space on your ornament, you can use your Cricut machine to cut your design. Remember to burnish your vinyl down to the mat before weeding. This makes weeding on the mat easier and helps to hold the vinyl down as you weed away the excess.
APPLYING VINYL TO CURVED SURFACES
Apply a piece of transfer tape over the top of your design. We like to use the masking paper transfer tape most of the time, but especially for these ornaments. It works really well with just the right amount of stickiness, in particular for rounded surfaces.
Once you've placed the transfer tape over the design, be sure to burnish it. This will help the tape to stick really well to the design. Flip the mat over and peel it up away from the design. Burnish again from the back.
Next, you want to trim away any excess transfer tape from around the design. Then, peel away the backing.
Now, this is one of our favorite Cricut tips. Cut some slits around your design being careful not to cut into the design. These slits will help give you some leeway to place down the design smoothly and evenly on the rounded surface of the ball.
CLEANING THE SURFACE
Before you place the vinyl onto the ornament, it's really important to clean the surface well. This helps your vinyl design adhere much better and helps prevent it from peeling up. If you want a successful craft project that lasts, it's crucial that you don't skip this step.
For non-porous surfaces like glass or plastic Christmas balls, use rubbing alcohol on paper towel to clean off dust, debris, and oils from your fingertips from the ornament.
PLACING YOUR DESIGN
You may want to put something under the ornament that will help hold it in place and keep it from rolling as you apply your design. Then, using the taco method, gently fold the design in half (without creasing) so that you can place the middle of it down onto the ornament first. Slowly adhere the vinyl to the rest of the ornament, moving from the middle out. This can help to prevent any wrinkles or bubbles from forming.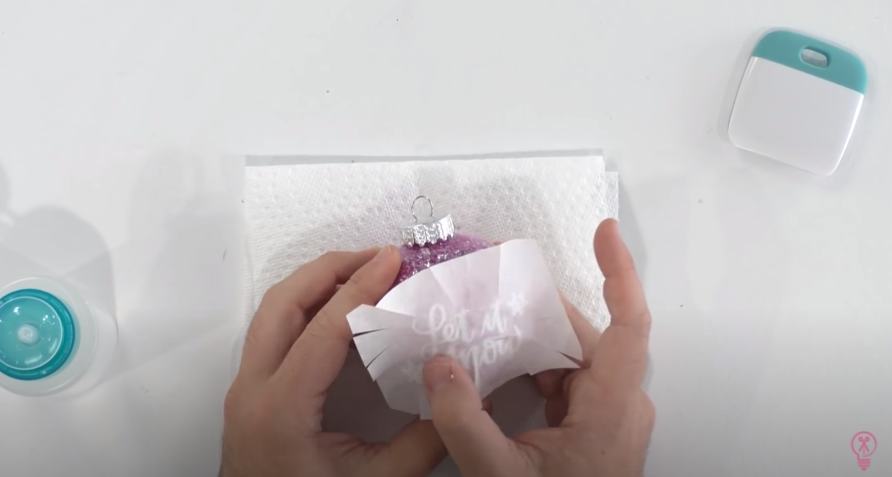 Remember, you've got those slits you cut around the design that you can make use of to make sure that the vinyl lays flat against the ornament. The transfer tape may wrinkle, crease, and overlap, but your design will go on smoothly.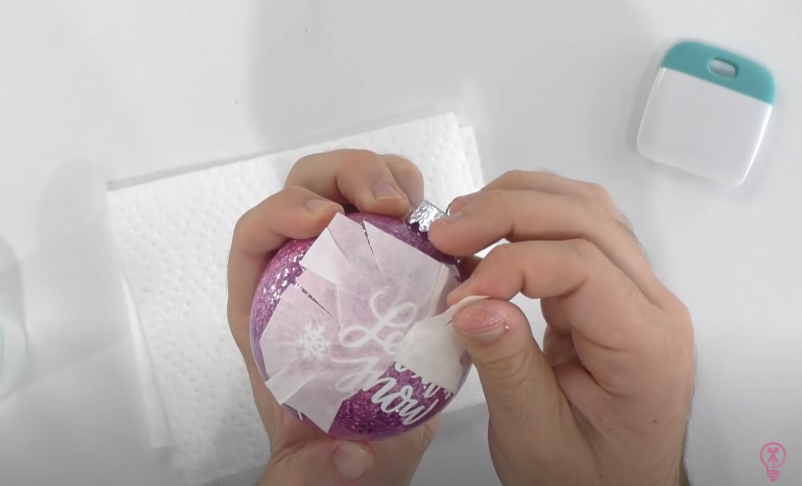 One of the other advantages of using the paper transfer tape and cutting the slits is that now you can carefully peel up the transfer tape, working in sections to ensure that your design stays well adhered.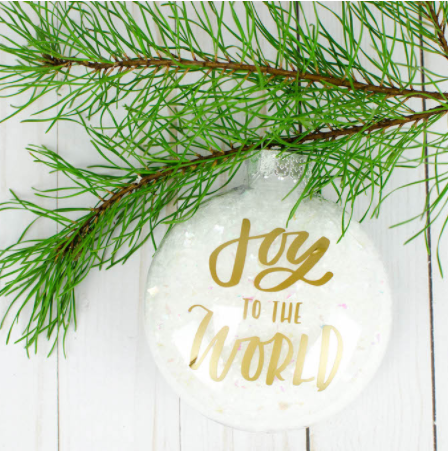 Add ribbon as an ornament hanger if you wish to finish off your Christmas ornament.
OTHER CRICUT CHRISTMAS ORNAMENT IDEAS:
IRONING ON WOODEN ORNAMENTS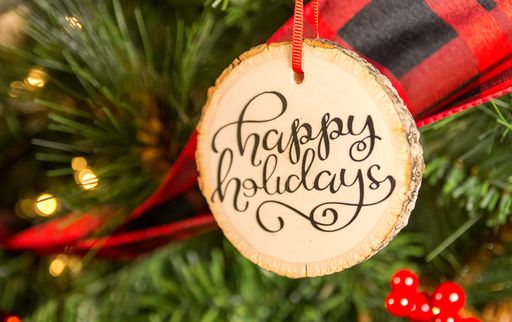 CARDSTOCK LETTERING ON CHALKBOARD LOOK EMBROIDERY HOOP ORNAMENTS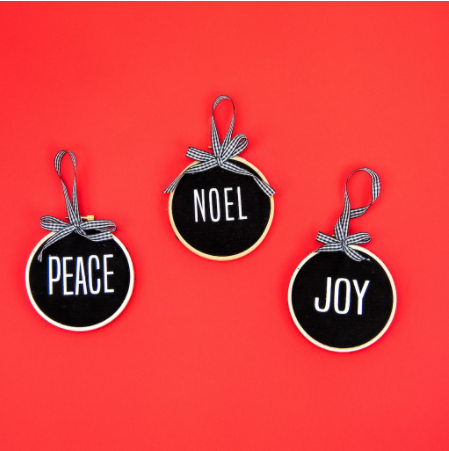 FELT AND EMBROIDERY ORNAMENTS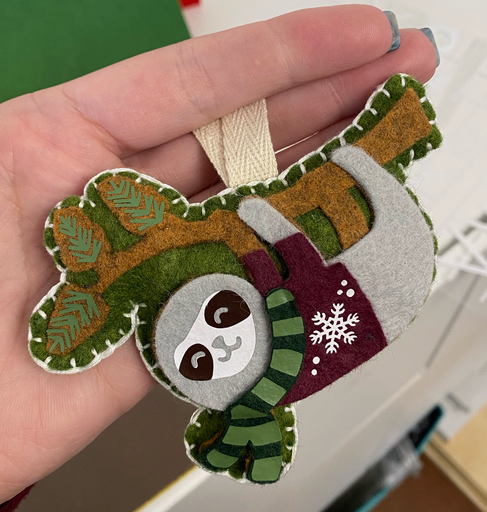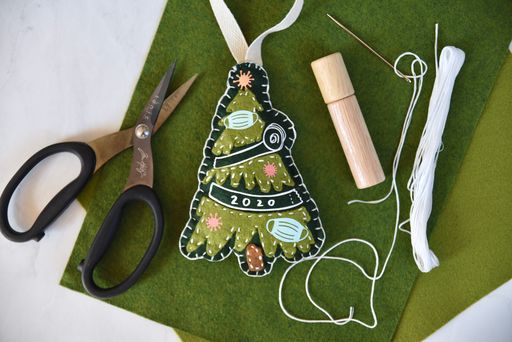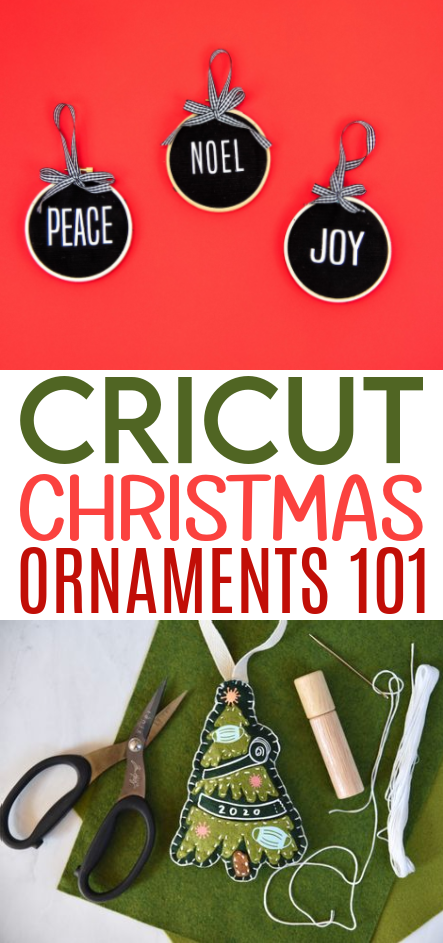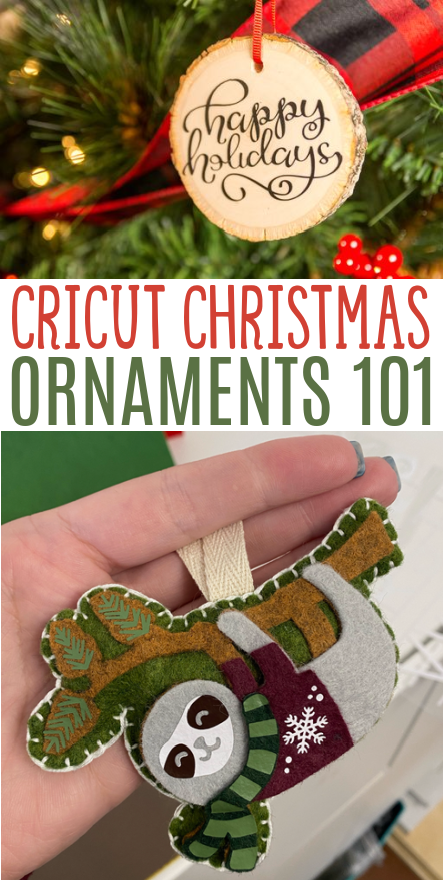 Tanner, Courtney, and the rest of the Makers Gonna Learn Team are all here because we love die-cutting and especially love sharing fun projects and tutorials with fellow makers. We are all great friends and are always having a blast when we are together- you will see this on camera, especially during live streams! We are here to inspire and support you in your crafting journey!