Cricut Design Space Complete Guide
We have some fantastic Cricut Design Space tips and tricks to share with you. In this Guide to Cricut Design Space, we want to show you some of the amazing things that you can do with your Cricut machine.
If you're a Cricut beginner, you might be feeling a bit overwhelmed by all of the Cricut Design Space features that are available and all of the beautiful craft projects you can make with them.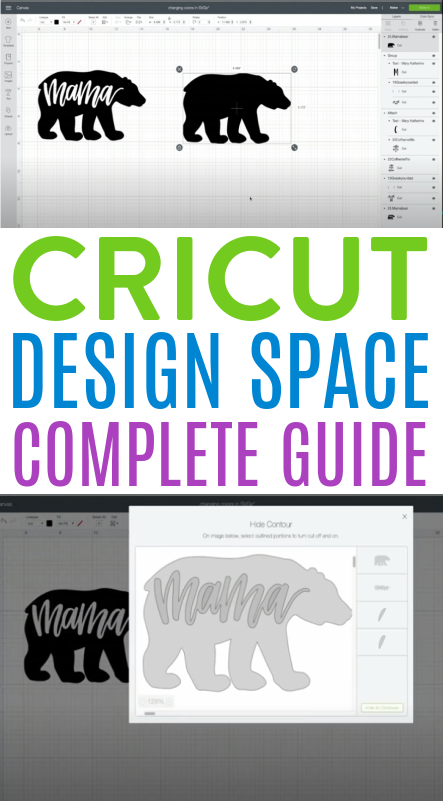 Cricut Design Space Complete Guide
To get started, let's talk about importing files and fonts into Cricut Design Space. If you want to be able to use the thousands of fonts and cut files available as part of your Makers Gonna Learn membership, you need to be able to download them from our site and then bring them into Design Space to use.
Once you understand how to do it, it becomes second nature, but it can be tricky to figure out at first. We've got a full tutorial here:
How to download and use 3rd party files and fonts in Cricut Design Space
Now that you have downloaded some files and you know how to import them into Design Space, it's time to start working with them. A couple of tricks you might want to know about to make your canvas (the workspace in Design Space) easier to work on.
SET UP YOUR DESIGN SPACE CANVAS
These are optional, but they can be handy for some people or some projects to make the canvas more user-friendly.
Turn Grid Lines On and Off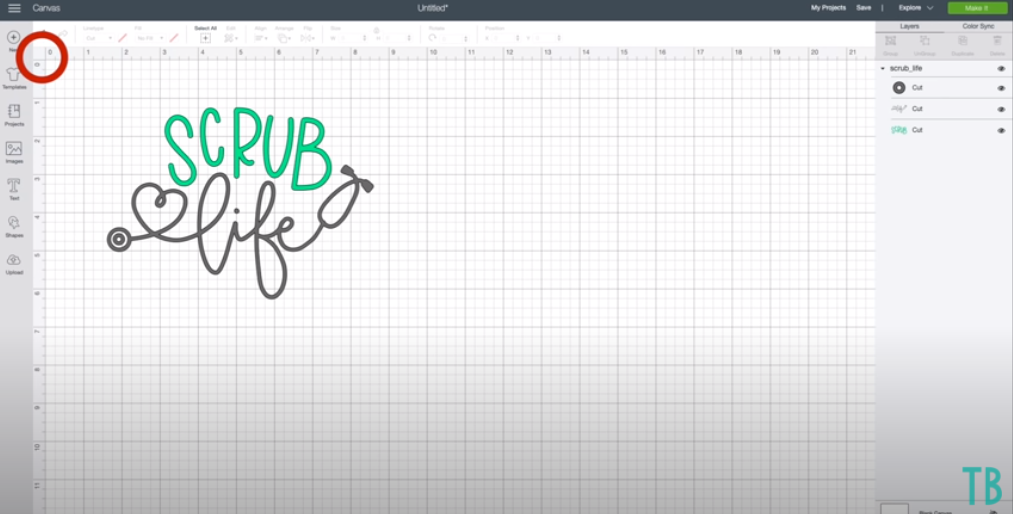 By default, Cricut Design Space will show grid lines on your canvas. These can be really helpful in lining up your designs. Sometimes though, you may want to remove them.
Just below the Undo button, you'll see an empty square as indicated in the image above. If you click in that square once, you will remove the smaller grid lines. That will leave behind the large grid appearance.
If you click in that square twice, you'll remove all grid lines completely. Repeating those actions will add your grid lines back in.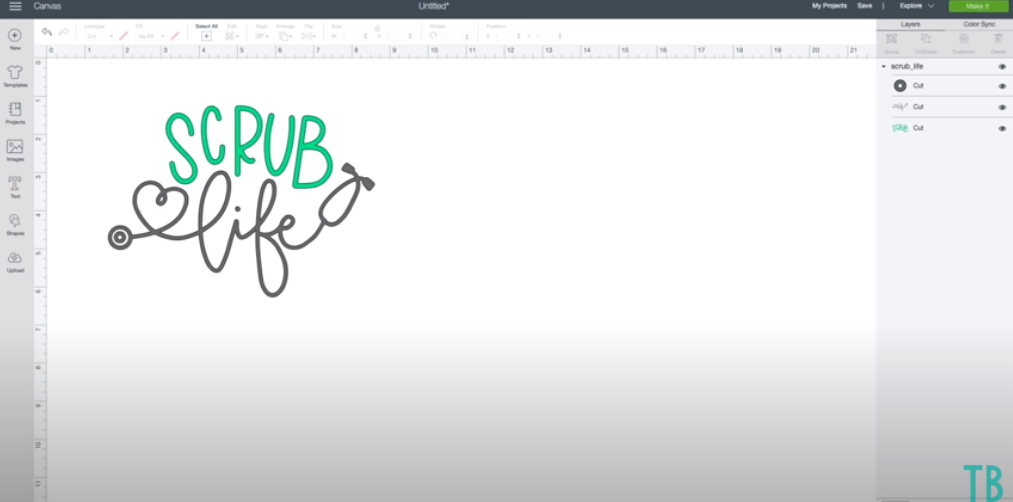 Change the Canvas Color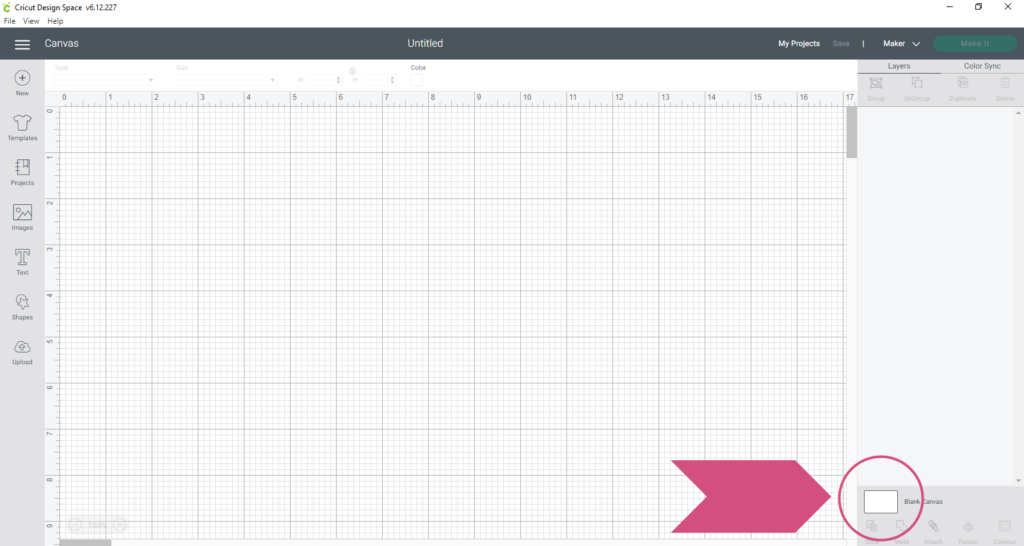 Your canvas, by default, will have a white background. There are times, like when working with a white design, that a colored background is better. To change it, there is a rectangle in the lower right section of Design Space that says Blank Canvas. Click on that rectangle.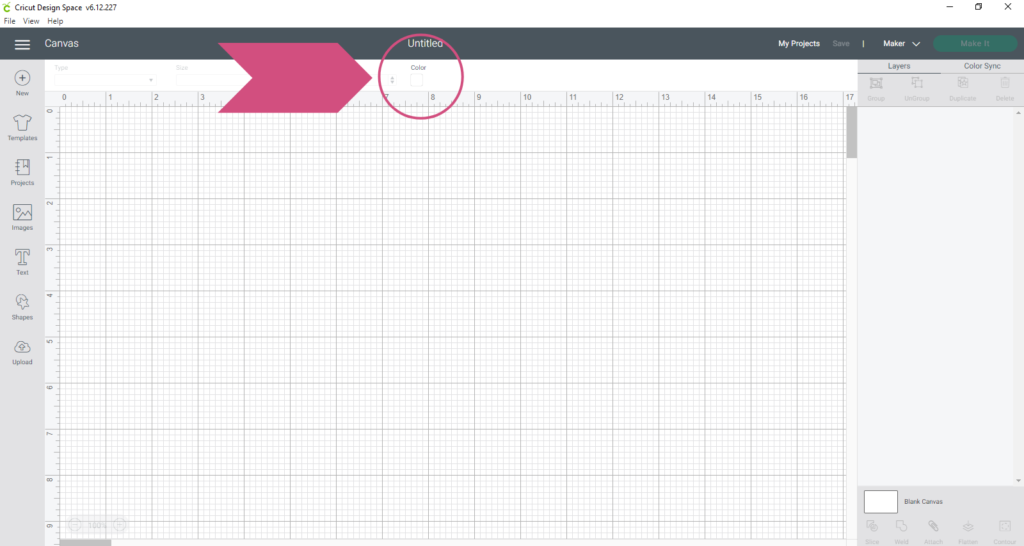 Click on color at the top of Design Space and a palette will open where you can choose the color you want.
Zoom In and Out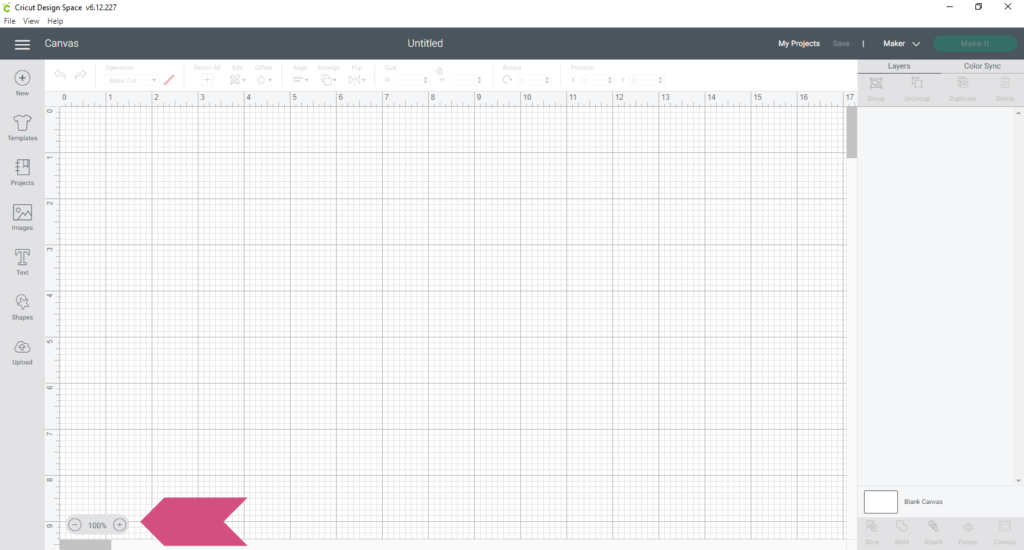 To zoom in and out in Design Space so that you can see your entire design or zoom in to see the details of a section of your design, simply hover your cursor down in the lower left corner of your canvas. The zoom option will pop up and you can change it there.
BASIC DESIGN SPACE FUNCTIONS
Duplicate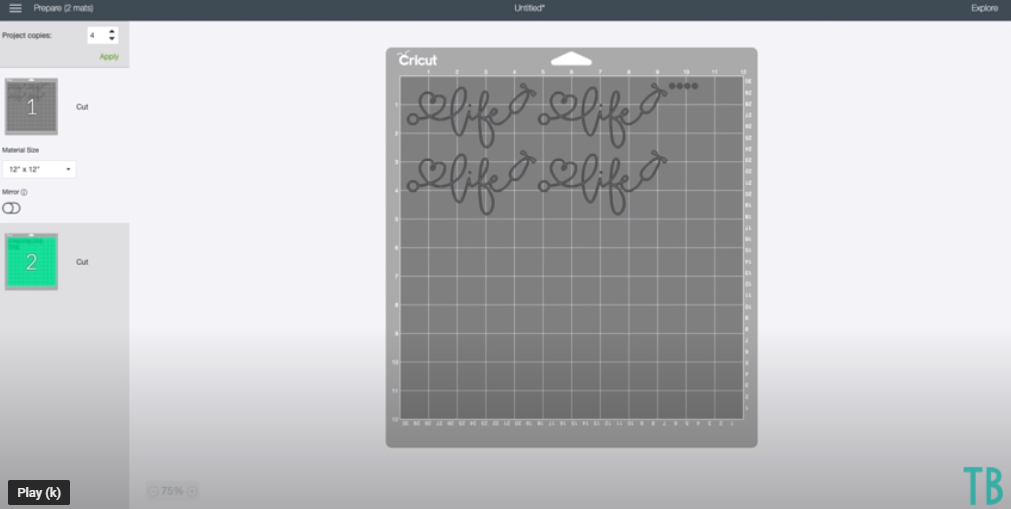 There are multiple different ways to duplicate designs in Cricut Design Space. One of our favorites is done after clicking "Make It". If you look in the upper left hand corner of your screen, you'll see the option to change the number of copies there.
Rotate
To rotate your design, simply click the arrow in the upper right hand corner of that layer. Sometimes. though, it can be difficult to line up perfectly this way.
If you hold down the shift key on your keyboard and then click the arrow, you'll see that it will rotate in steps that sort of lock in place. This can help you line it up perfectly at certain angles (90 degrees, for example).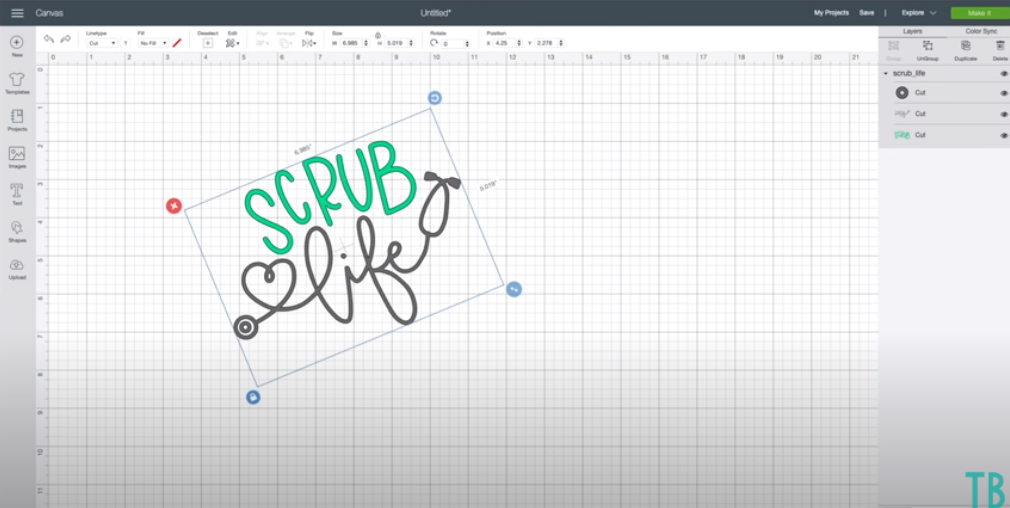 Using Offset
The offset tool is an amazing way to add a border around your design. To use it, simply select your design, and go up to the top menu and select Offset. From there, you can increase the size of the offset as desired. You can also choose whether you want square or rounded corners. Click Apply.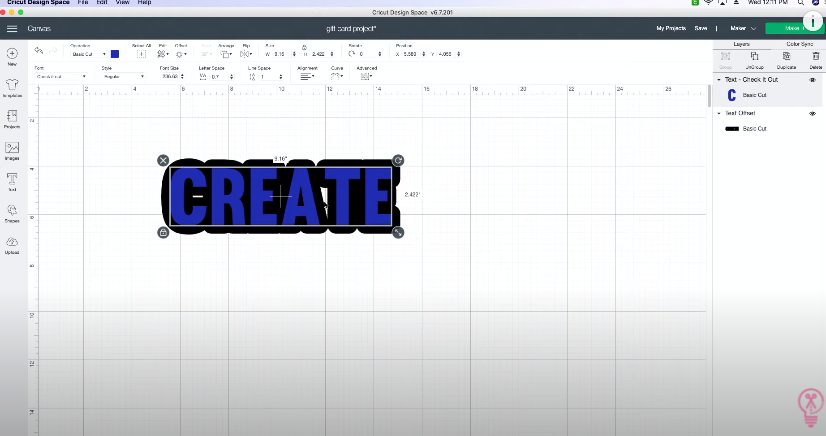 You can find more details on how to use the Offset tool here.
Weld, Attach, and Group
It's really important to know how and when to use Weld, Attach, and Group. Group allows you to hold your design together on your Design Space canvas so that part or all of it can be moved around as one.
You can think of Attach as being more like using a paper clip. It holds things together and keeps them together in the correct order on your cutting mat. Welding is kind of like using Super Glue to join them together. Even more than that, it joins them together seamlessly – as if they were never separate to begin with.
Group and Attach can easily be undone. Welding is permanent unless it is the very last action you have taken. Then you can use Undo.
Pro Tip: Duplicate and hide before welding.
With welded fonts or other design elements, we often like to duplicate them and then hide them before we actually weld. This is really important because once you weld and make other changes, you won't be able to go back and undo the weld.
Duplicating it before welding is like having an insurance policy in case anything goes wrong. It allows you to have a copy hidden away that you can go back to as needed to make any changes. This is also a great idea if you're planning to use the design again, perhaps personalizing it to several different names. For example, hello Rachel, hello Courtney, hello Tanner.
Adding a Shape
We like to add shapes to our design in Cricut Design Space for several reasons. One reason is that sometimes we like to build our own designs out of basic shapes.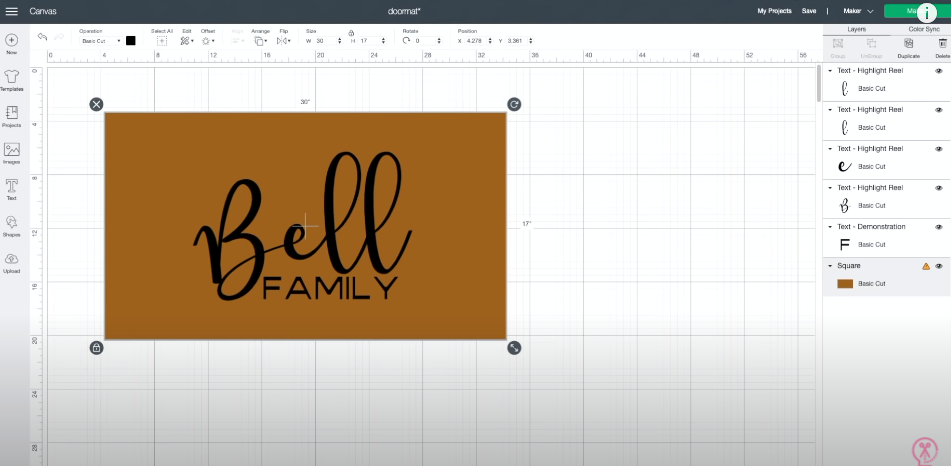 Another great reason for using them is to mimic the blank that we're going to be using for our craft project. Use a shape to roughly represent the surface you'll be putting your design on.
This really helps with sizing and placing designs on your project. Because you have a representation of the finished project in Design Space, you can easily visualize how it will look and be sure to cut out your design in the right size.
Slice and Contour
Slice and contour allow you to customize cut files by removing parts of them. You can slice away a layer or contour out a few elements.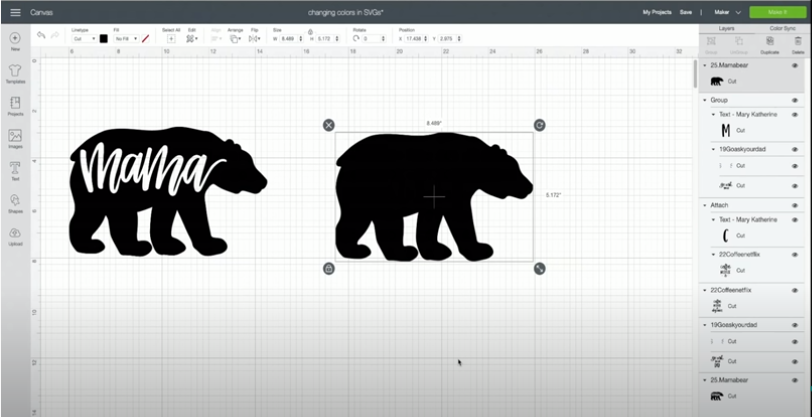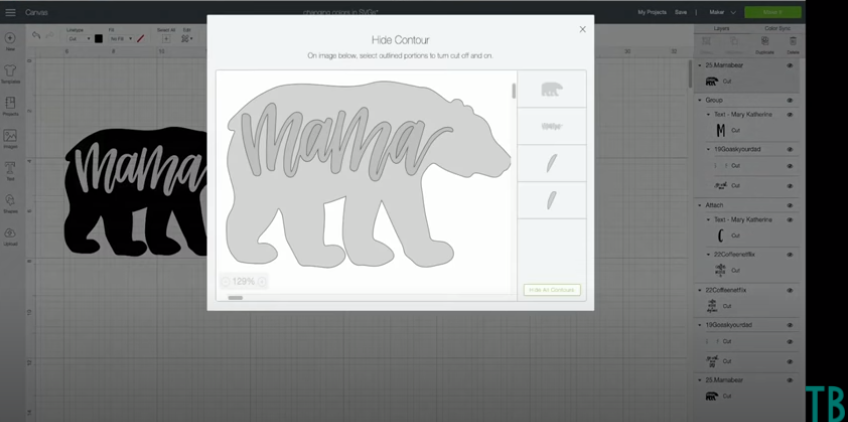 You can also use Slice to create new designs. For example, you can slice a circle in half to made a semi-circle or you can put some text on top of a shape and cut out the letters. There are so many ways you can use these two tools.
Learn more here: How to slice and contour
Using Flatten
If you want to turn cut files into Print then Cut projects, you need to know how to flatten.
Flatten is one of the easiest Design Space functions to use because it only does one thing. It takes a multi-layered design and turns it into a single-layered design while keeping the colors of all the original layers.
Learn how to change the colors in your cut files here.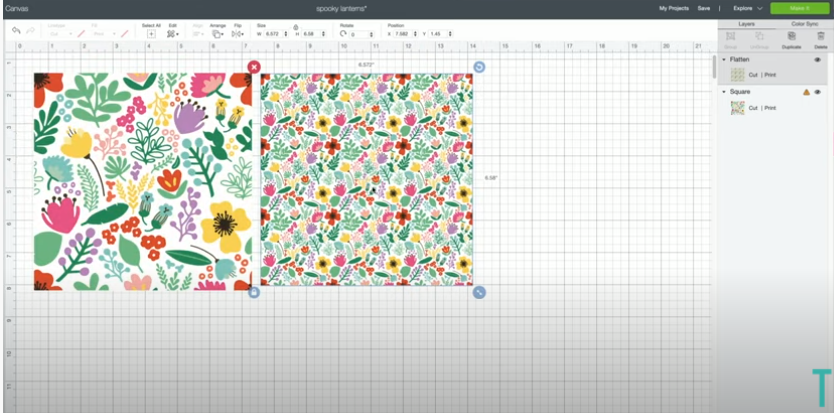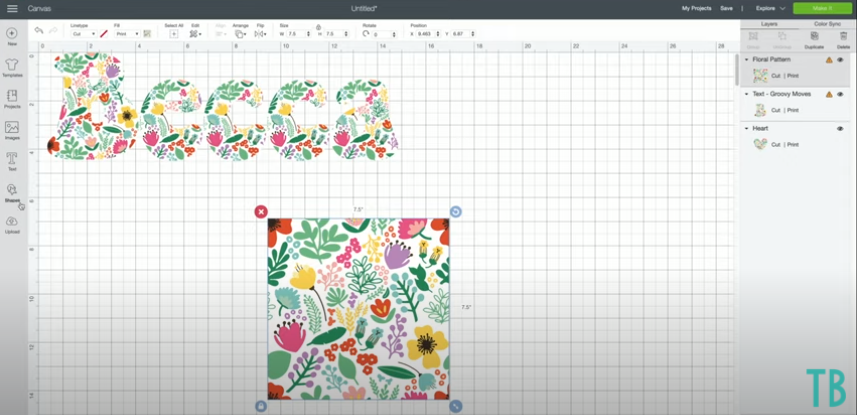 How to create a repeating pattern
How to use patterns in your designs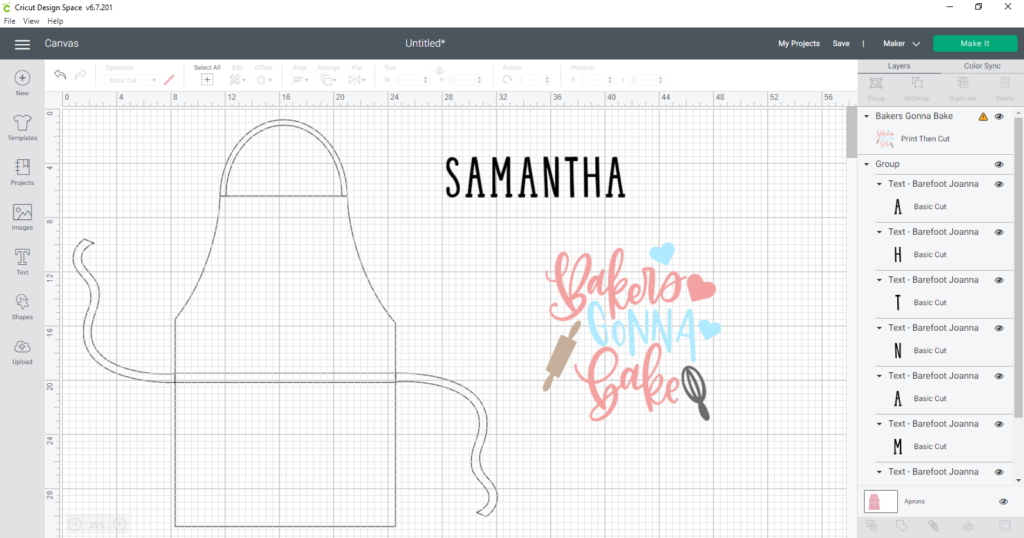 Using Templates
Along with using shapes in Design Space to mimic your craft blank and make it easier to place and size your project, Cricut also has some built-in templates available in Design Space.
You can choose from some standard items and sizes for things like aprons, mugs, tumblers, onesies, and more. If you want to use templates, check out this post: How to use templates in Design Space
Be sure to check out this post for a fun idea: How to turn a drawing into an SVG
WORKING WITH TEXT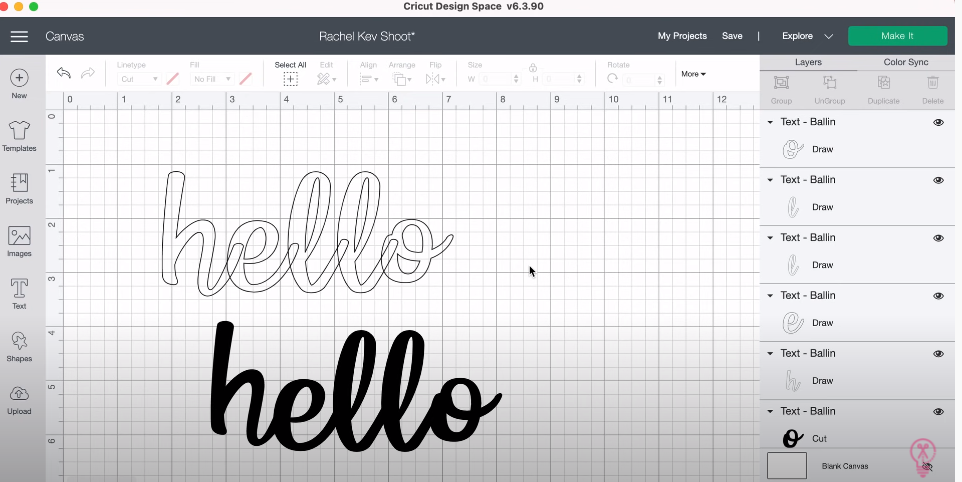 Kerning Your Fonts
When we talk about kerning fonts, we're referring to changing the spacing between letters in a text, specifically with cursive letters so you can join them together.
We used to do this manually, but with one of the latest updates to Cricut Design Space, most script fonts are automatically kerned for us. Sometimes though, you still need to do some manual kerning by decreasing the letter spacing and ungrouping the letters so you can move them as needed.
How to Curve Text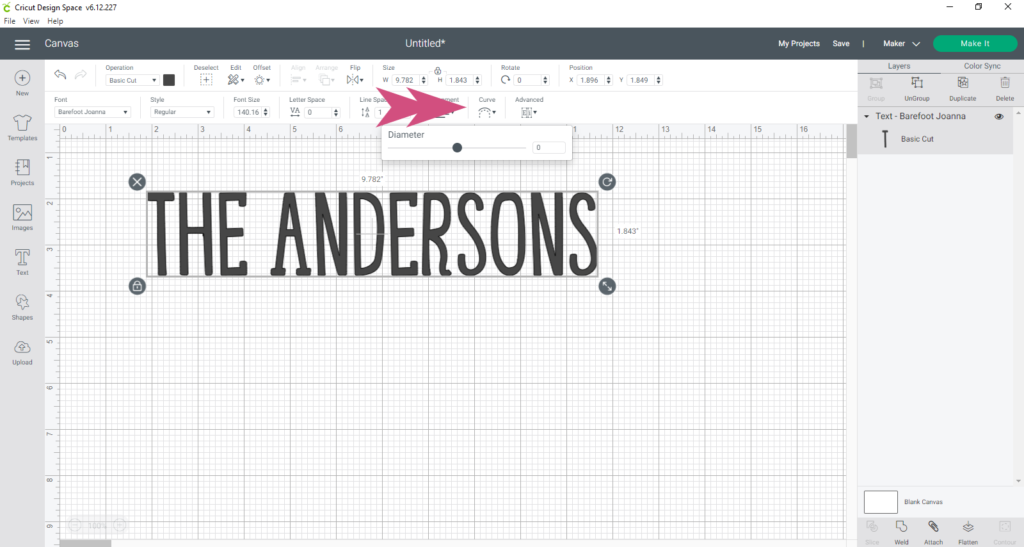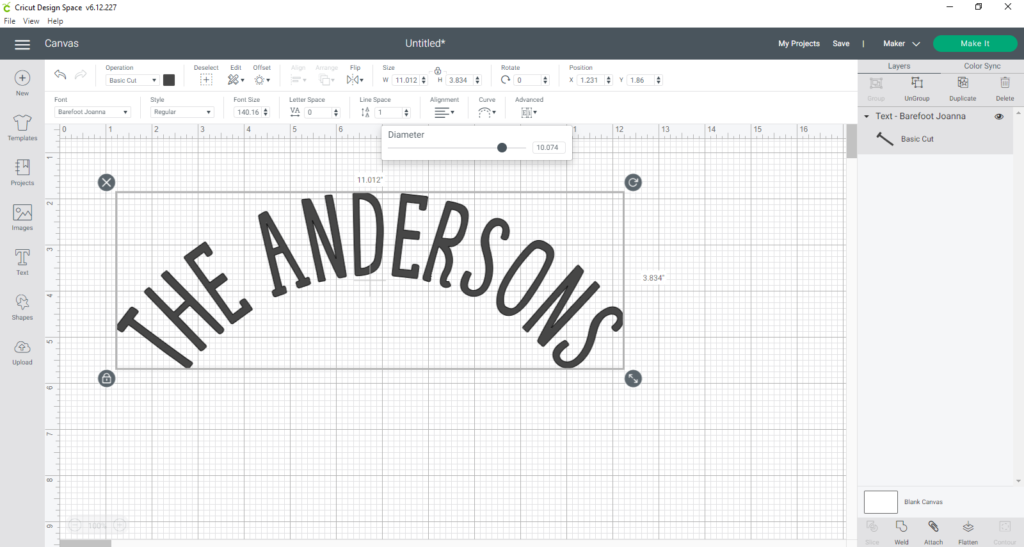 It's really easy to curve text in Design Space. Simply select the text and go to the top menu to choose Center. A slider will open up allowing you to curve the text whichever way you'd like.
More important font tutorials you might need: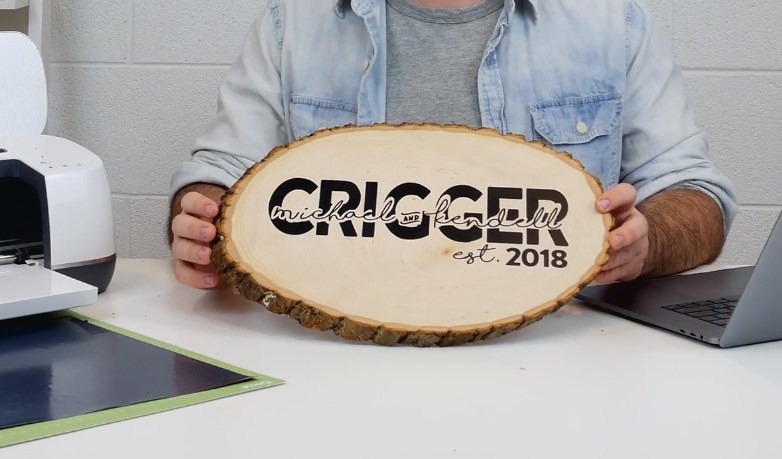 How to draw and write with your Cricut
Does Design Space keep filling in centers of your fonts? Here's how to fix it. – How to correct the number one Design Space glitch
CUTTING YOUR PROJECTS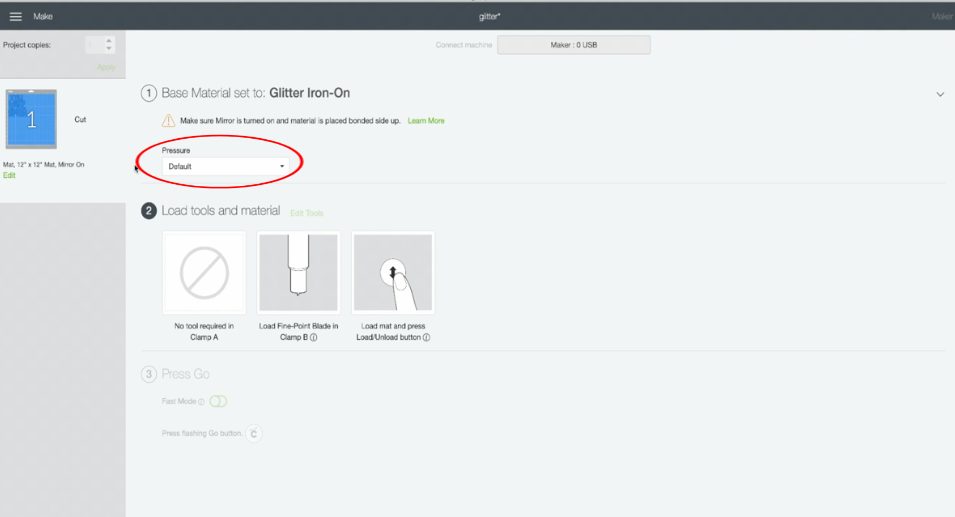 Changing Pressure Settings
With some specialty blades, you can't change the pressure settings. However, with the basic blades such as the fine point and deep cut blades, there will be times when you want to change the blade pressure.
In general, with a brand-new blade, we often find that we need to change from Default to Light Pressure. When a blade is used and starting to get dull, changing to Heavy Pressure can help you get more life out of your blade before you have to change it.
Not sure what pressure to use? >>> How to determine the best cutting pressure
Using Fast Mode
Fast Mode is a function available on Cricut Maker and Cricut Explore Air 2 machines. It allows you to cut and draw up to 2 times faster than usual. After you have clicked Make It and loaded your cutting mat, you'll see that there is a toggle switch for Fast Mode.
When it comes to our team, some of us love to use Fast Mode and others aren't as fond of it. You might want to experiment to see whether it's useful for you or not. We do not recommend using fast mode for any delicate materials or intricate designs.
Fast Mode is not available on the new Cricut Maker 3 and Cricut Explore 3 machines. Instead, it is able to automatically choose the best cutting speed for your project.
Changing the material size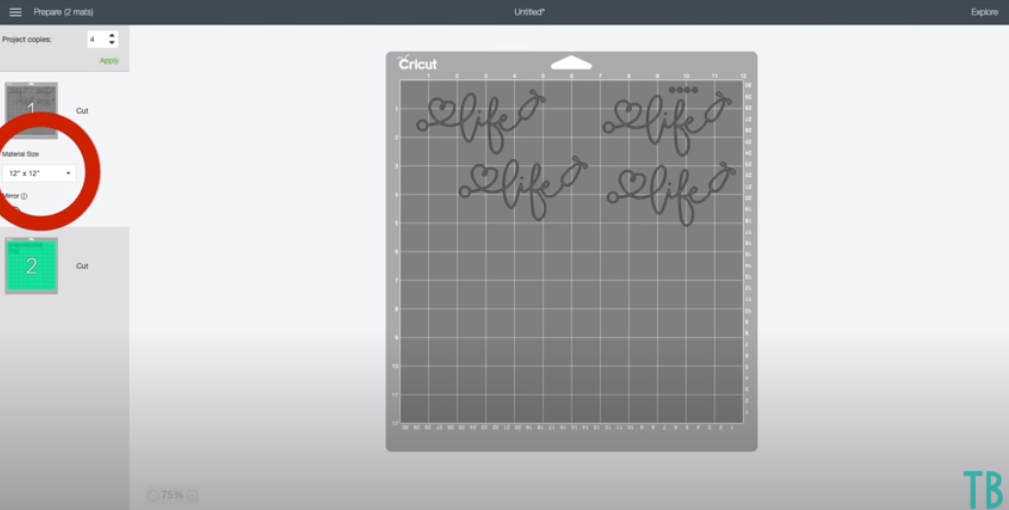 Right below your mat over on the right hand side and just above the "Mirror" toggle, you'll see where you can change your material size.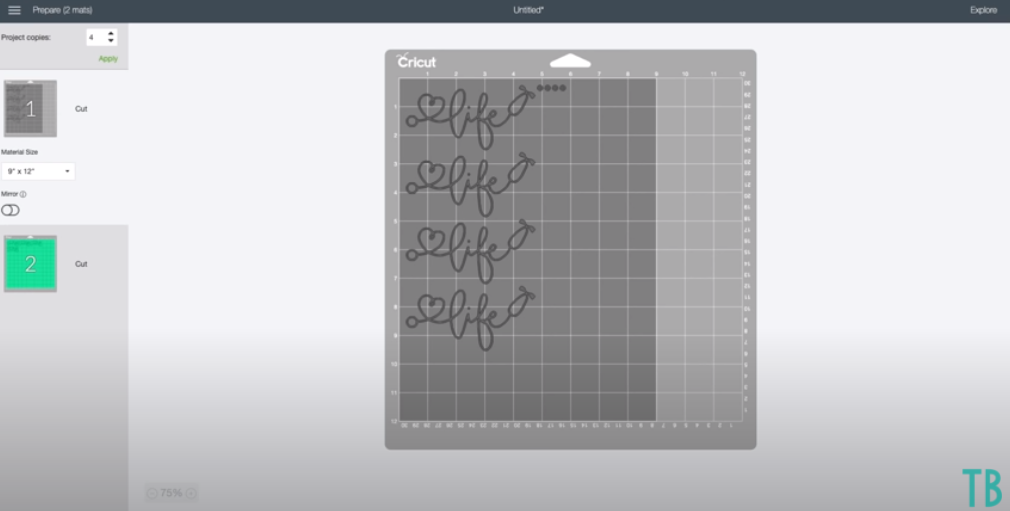 Design Space will automatically move your designs to match the chosen size of your materials!
If you're working with scraps of vinyl, you might want to try out using Snapmat. With your iPad, you can use Snapmat to take a photo of your cutting mat and better place your designs (especially if they're somewhat odd-shaped) on it. It can also help you to line up materials that you want to write on.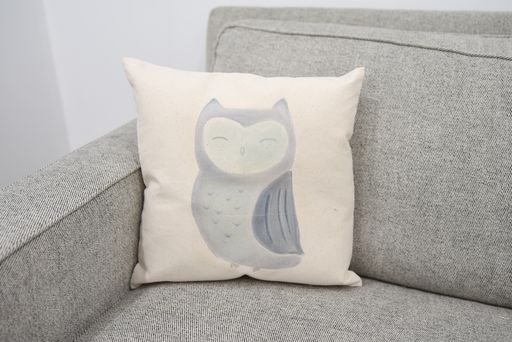 PRINT THEN CUT
Print then Cut allows you to print out a design with your printer and then use your Cricut machine to cut it out. We touched on this previously when we talked about Flatten.
With some designs, they are so intricate and have so many colors that to cut all of the layers out of vinyl would be really tedious and time-consuming. This is a great technique for creating greeting cards, stickers, and many other craft projects.
We have lots of resources to help you learn more about Print then Cut.
How to create larger than size Print then Cut projects
How to improve the quality of your Print then Cut projects
OTHER THINGS TO KNOW ABOUT DESIGN SPACE
Saving Your Designs
We highly recommend you save your designs just in case you ever want to use them again (or to open them up and make changes to them). If you're working on an intricate design, we suggest you save every 10 minutes or so, just in case anything goes wrong – Design Space crashing, your computer crashing, and so on.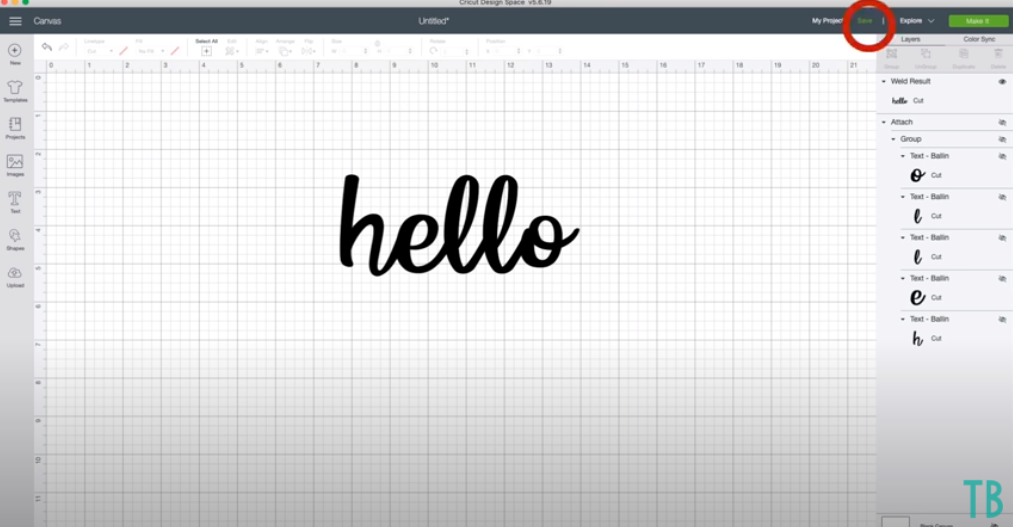 When you're ready to save your design (and it's a good idea to in case you want to use it again), go to the upper right corner of your screen. Once you click on Save, you'll be able to name your design so that it's easier to search for later.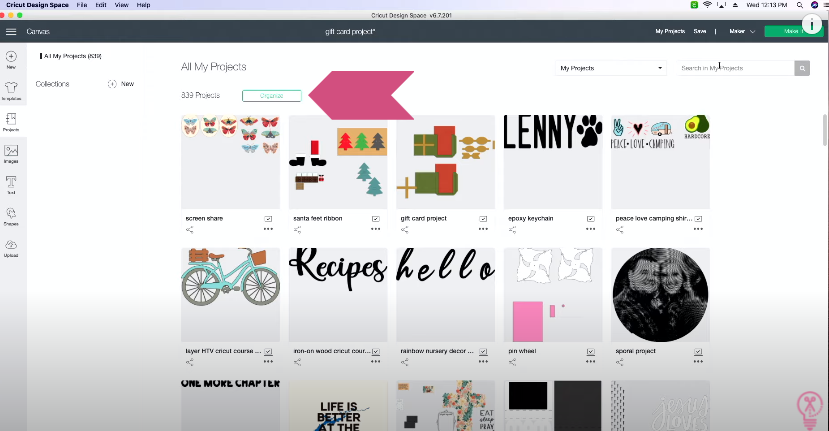 Organizing your projects
You could always save your projects in Design Space and then search for them, but now you can organize them. Simply click on the Organize button and click on the projects you want to group together to select them.
Press Next and choose New Collection. Name your collection and press Create.
Favorite Your Most-Used Materials
When you go to select your materials in Design Space, if you haven't yet favorited any materials, it will show you popular materials instead. By selecting materials you use most and adding to favorites, it makes it faster to choose them when making a project.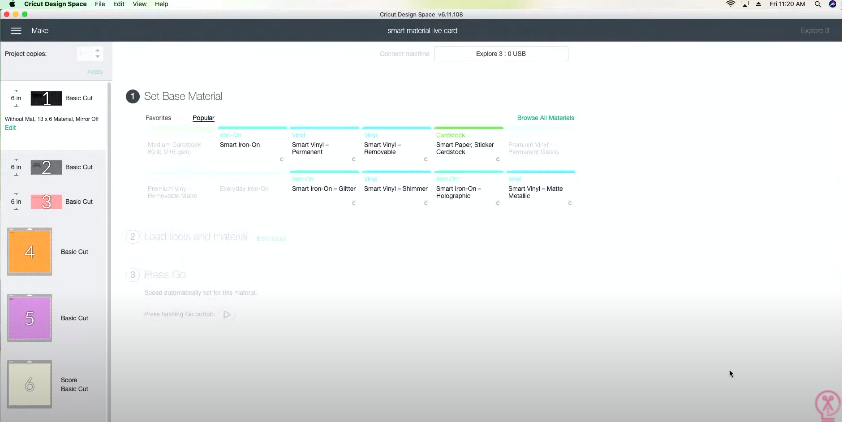 Browse all materials or search for what you want and click the star to favorite them.
Wow. There is a lot of information here. This is a GREAT post to pin to your Pinterest account so you can refer back to it anytime you need to. Do you have any other questions about Cricut Design Space? Let us know and we'll be happy to answer them!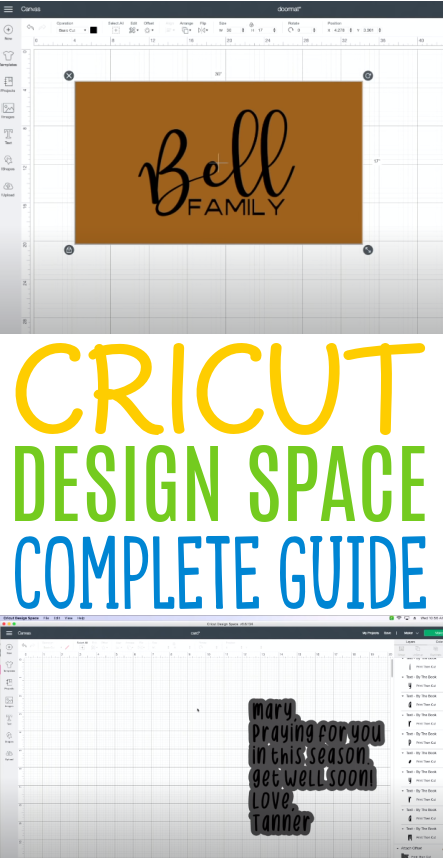 Tanner, Courtney, and the rest of the Makers Gonna Learn Team are all here because we love die-cutting and especially love sharing fun projects and tutorials with fellow makers. We are all great friends and are always having a blast when we are together- you will see this on camera, especially during live streams! We are here to inspire and support you in your crafting journey!