Cricut Design Space Tour
Whether you're a Cricut beginner or you simply want to get all caught up on the latest Cricut Design Space news, you're going to want to check out this Cricut Design Space Tour. We're going to walk you through the app and show you the basics of what you need to know to get started and use it effectively.
If you want to master your Cricut machine, you need to start by learning about Cricut Design Space. Fun fact: Did you know that you can download the Design Space app even before you get your machine? It's a great way to start seeing what it's like and how to use it while you wait for your machine to arrive.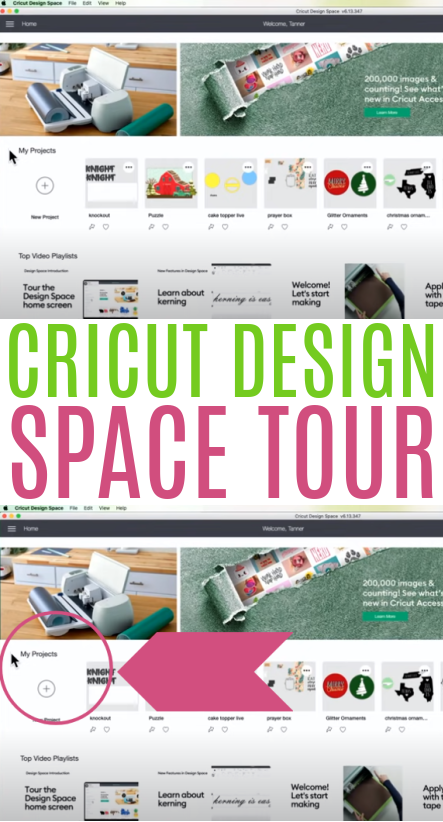 Cricut Design Space Tour
To begin our Cricut Design Space Tour, here is the home screen for Cricut Design Space. It is now a stand-alone app on your computer. It is completely free to use the designing software and you don't even need to own a Cricut to download it. You simply need to set up a Cricut account.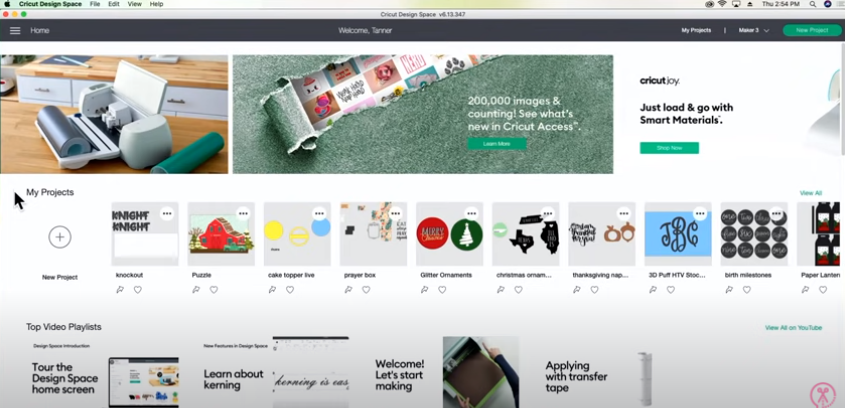 Sometimes, people get confused and think they need to pay because they aren't clear on the difference between Cricut Design Space and Cricut Access. Within Design Space, you can use Cricut Access but it is optional. This means that you can pay for a subscription to Cricut Access and then you're able to use fonts and cut files from Cricut.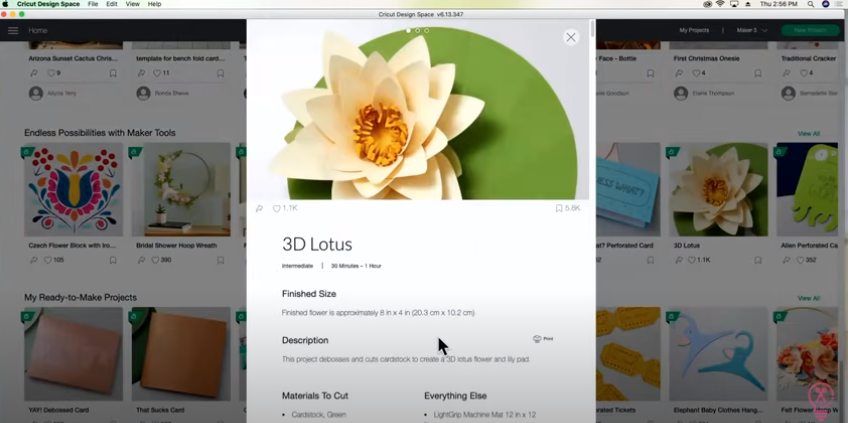 not very good instructions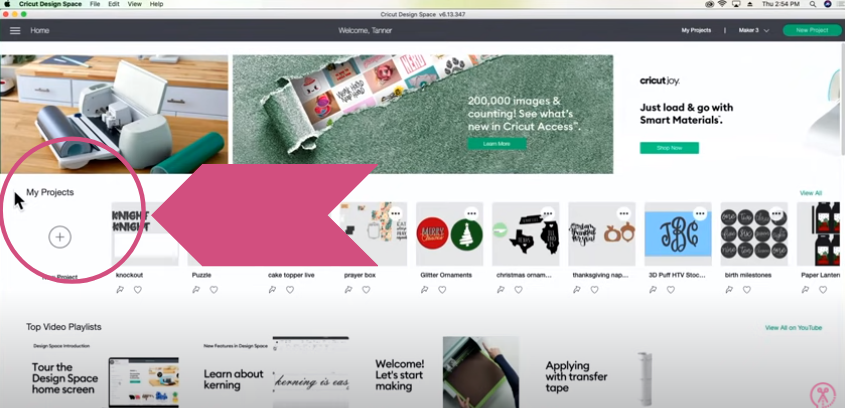 Go to My Projects to create a new project or to find previous projects you have saved.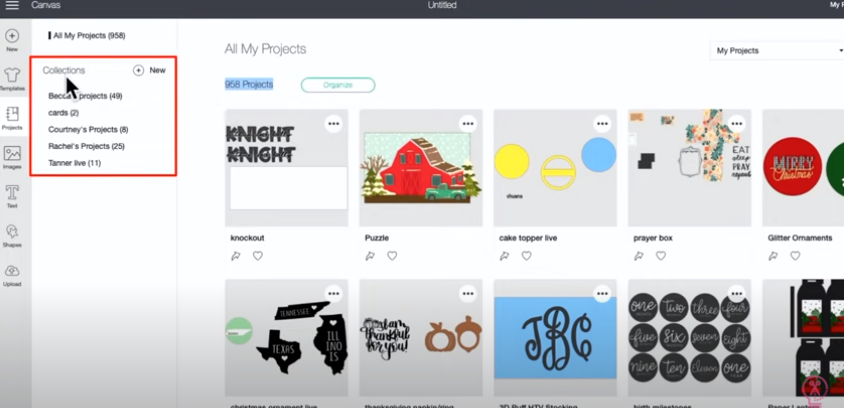 A recent addition to the My Projects section is Collections. You can now sort your projects into categories to make it easier to find them. Note: If you don't have Cricut Access, you can only create five collections.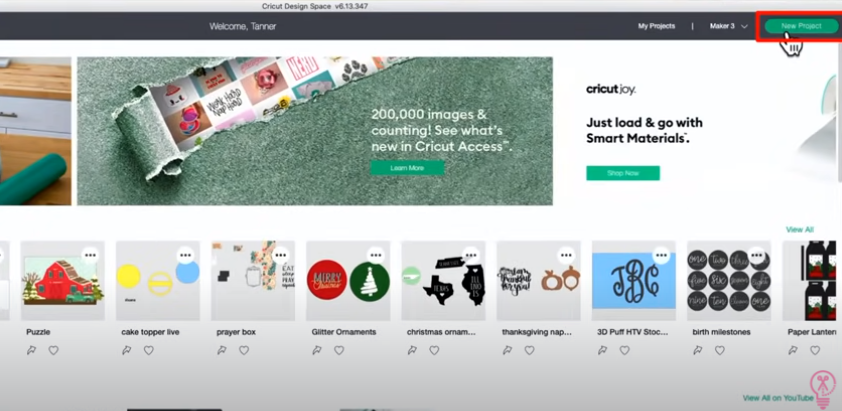 To start a new project, you can click the button in the upper right hand corner.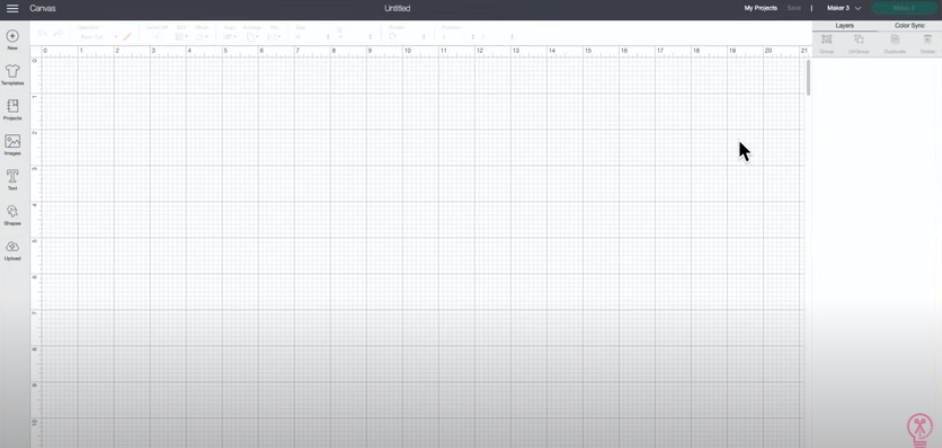 This workspace that opens is known as your canvas. It is where you will create the designs for your Cricut craft projects.
Pro tip: The canvas does not represent what is actually on your cutting mat. It's for you to design and visualize your project.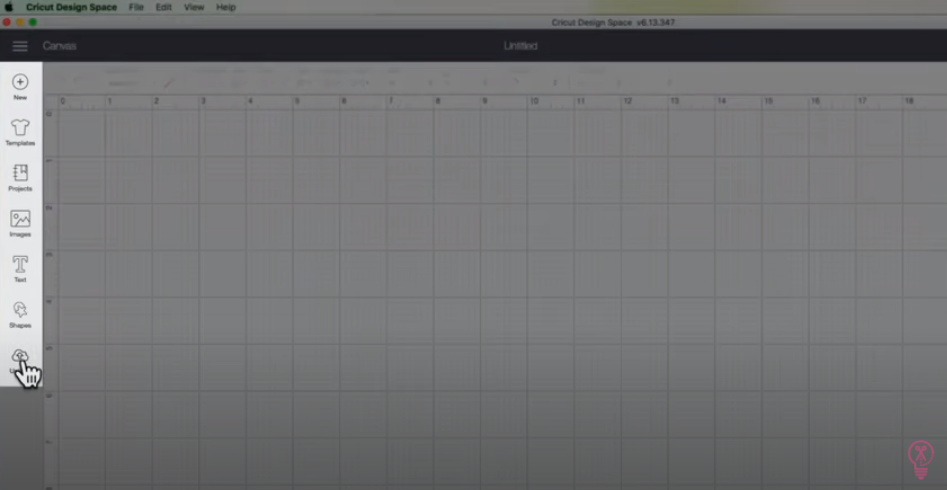 LEFT HAND SIDEBAR
In the left hand sidebar, starting at the top you'll find: New, Templates, Projects, Images, Text, Shapes, Upload.
New:
Click on this to start a new project. If you want to keep what's already on your canvas, be sure to save it first. Here you can choose to Save, Replace, or Cancel.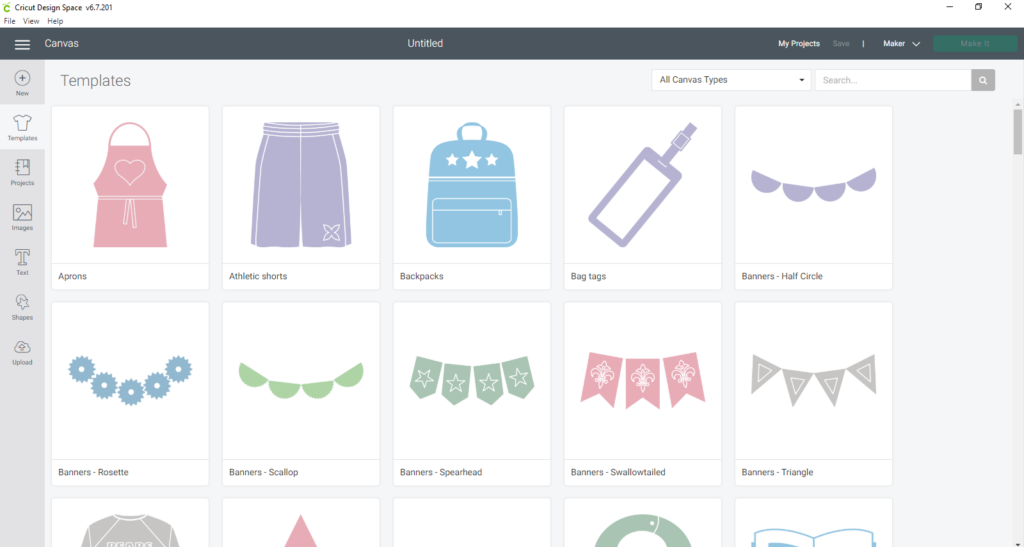 Templates:
You can choose this to find a selection of Cricut templates that will help you size your projects appropriately. There are a wide variety of choices there including onesies, aprons, chairs, backpacks, even your slow cooker and so much more! We tend to have our own preferred method of sizing our designs, but some people find these templates very handy.
Pro tip: In Design Space there are several different ways of doing things. You may also see Cricut crafters showing you different tips and techniques. Try these out and then find the ones that work the best for you!
Projects:
This will take you to the Projects area. This is where you will find your saved projects as well as projects that Cricut has to offer in Cricut Access.
Images:
Here is where you'll find single images available from Cricut Access.
Text:
Clicking on this will allow you to open a text box and type in words.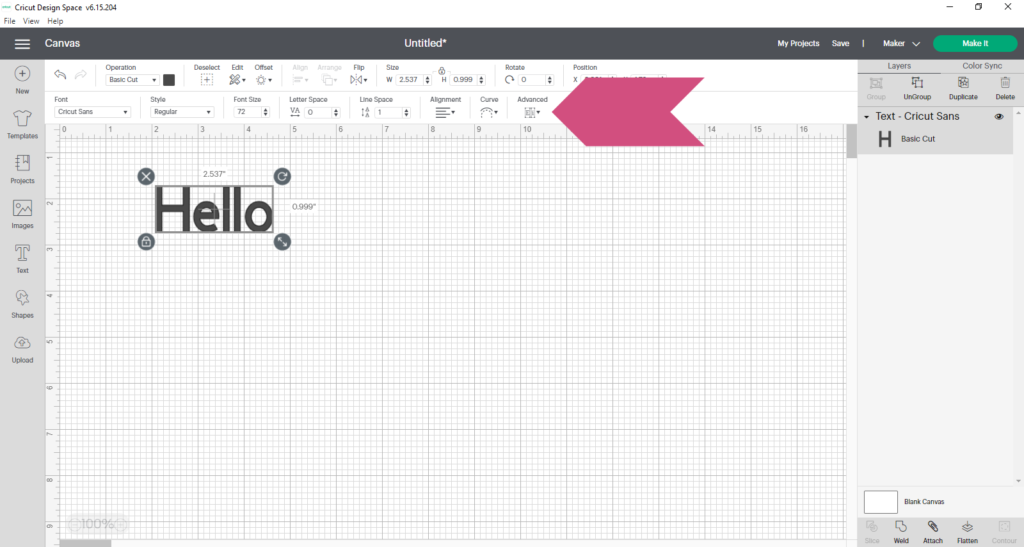 You'll see that when you add a text box, a text menu also opens up in the top toolbar. On the top menu, you'll find Letter Spacing where you can move letters closer together or further apart. In addition, there is Line Spacing. If you have more than one line of text, this allows you to move them closer together or further apart.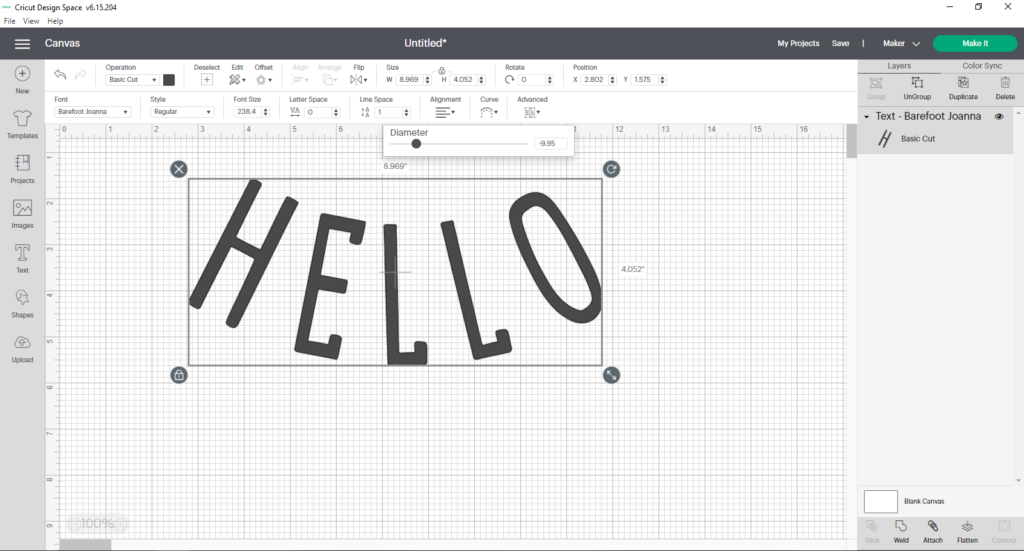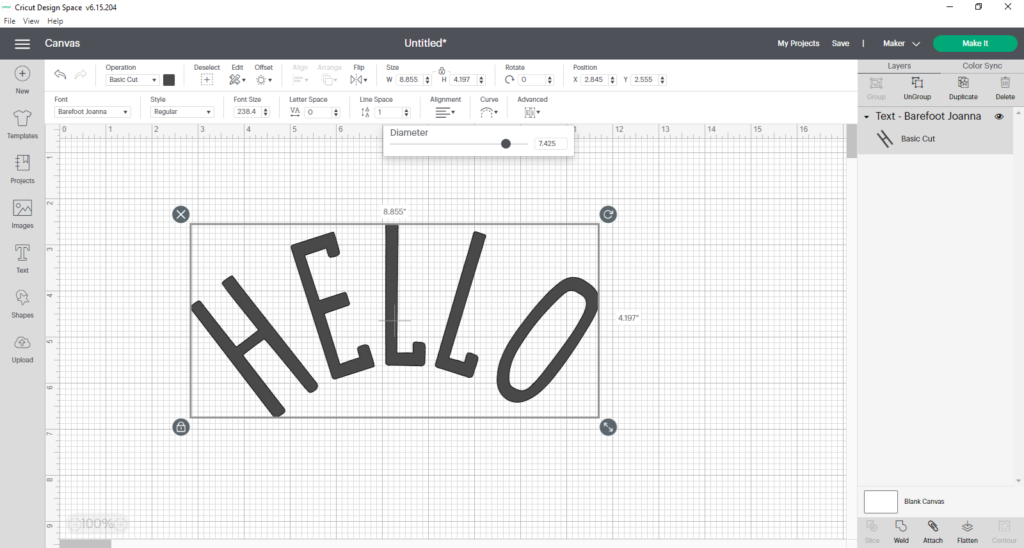 Next is Align, where you can align and center your text. To the right of Alignment is Curve. Here, you can curve your text up or down.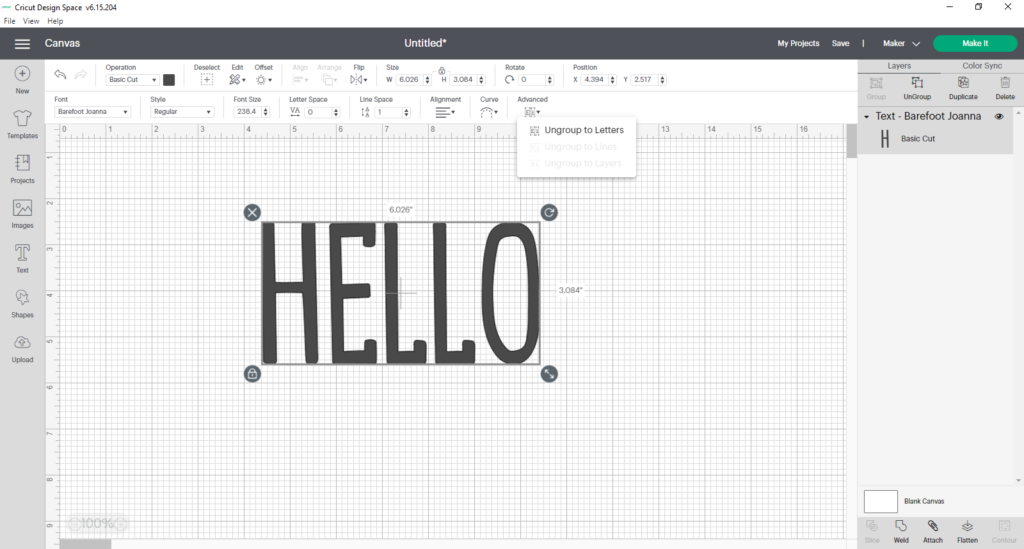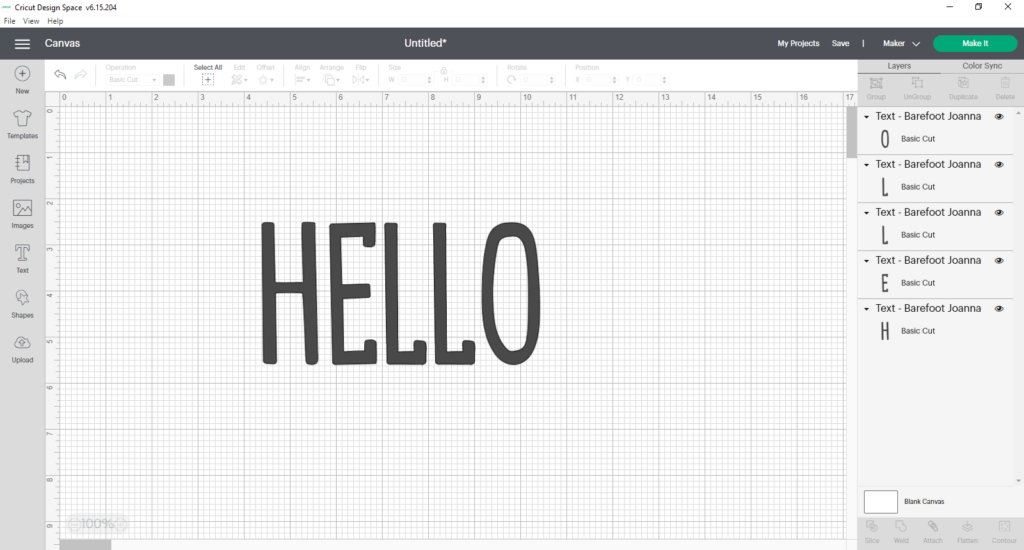 Finally, you have Advanced where you can Ungroup to Letters. Once you do that, you'll see that the letters in the word are now each their own layer.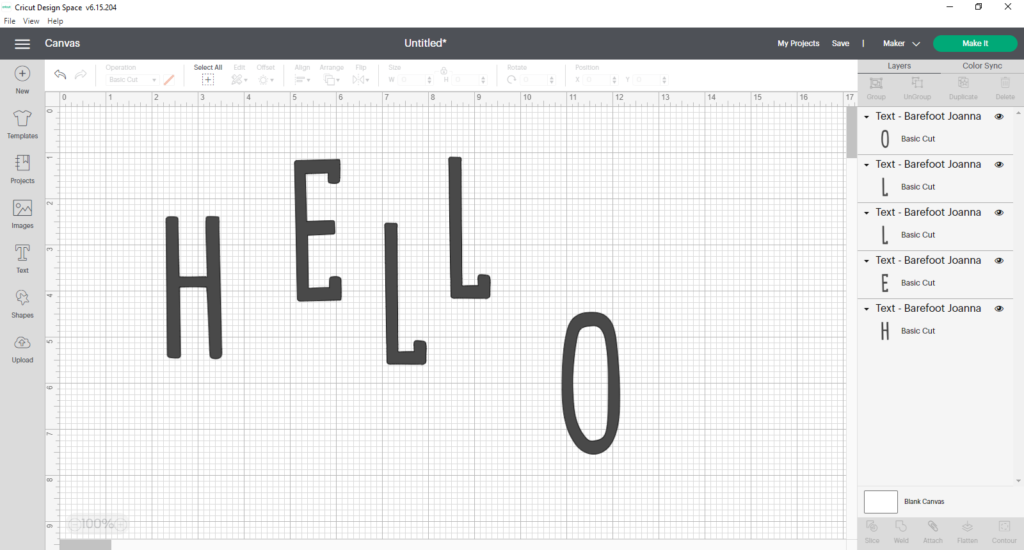 Once ungrouped, you can move each of the letters around independently of each other.
Moving back to the left hand sidebar menu:
Shapes:
After Text is Shapes. This is where you can select one of the basic shapes and add them to your canvas in Design Space. You can use shapes to build your own design or to represent the background you'll be placing your design on. This will help you visualize what the finished project will look like and help you size it properly.
There is no rectangle, but to create one, you can unlock the square and change the size of the sides. You can also unlock the circle and stretch it out to make an oval.
You'll notice that one of the options is a score line. This is how you can add a score line to your design and then using your scoring tool to add that line to your materials, for example when making a greeting card out of cardstock.
Upload:
This is where you can upload third party cut files, images, and fonts into Cricut Design Space, such as those from Makers Gonna Learn. Once you've uploaded it once, you don't have to upload it again. It will be there for you to use in the future.

LAYERS PANEL
The Layers Panel is something we like to refer to often. Here you can check and see just how Design Space has set up the layers of your design so you can ensure that you're successful every time.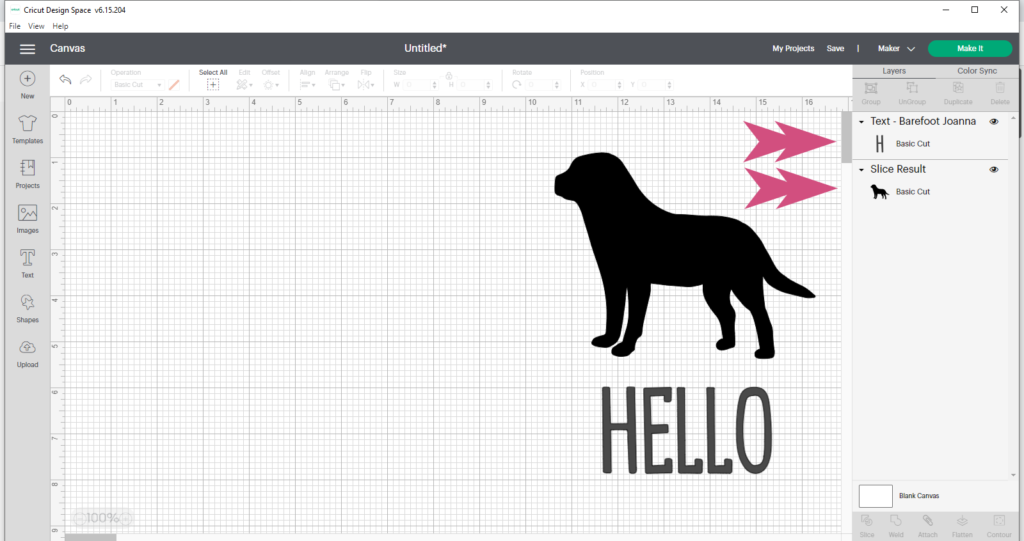 You can see, by checking the Layers Panel, that in this design we currently have two layers. One for the dog and one for the word "HELLO".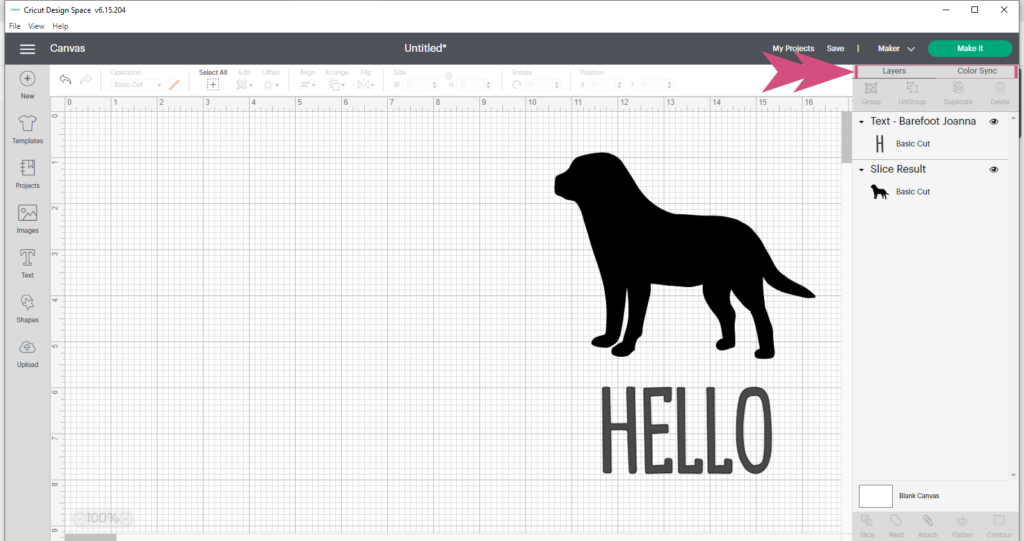 Color Sync
Along with layers, you'll also find Color Sync in the Layers Panel.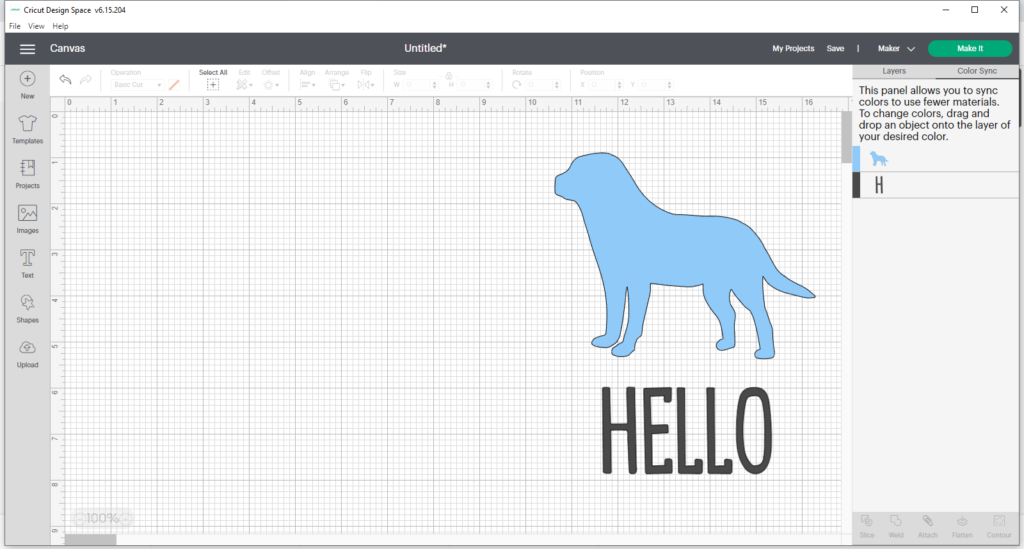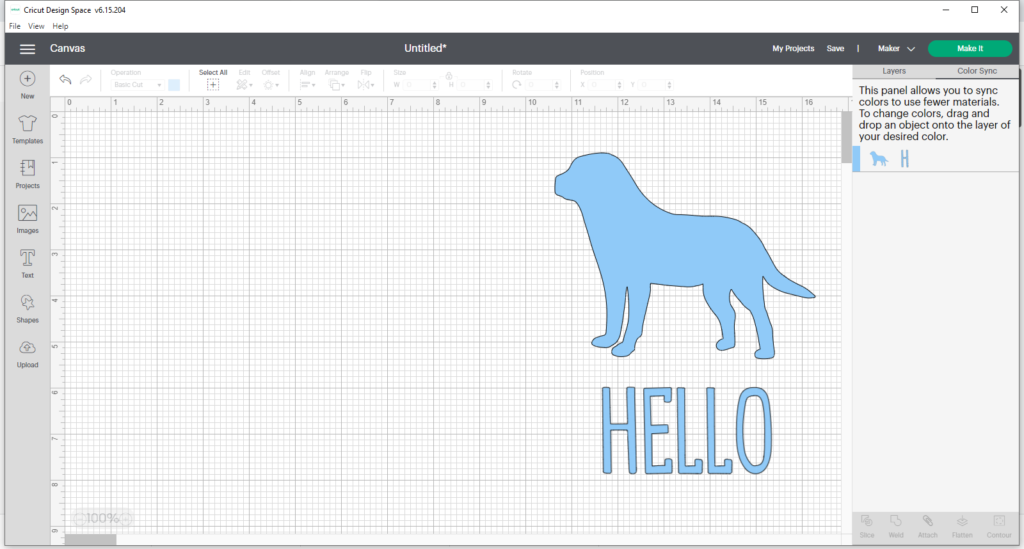 By dragging one layer to the other in Color Sync – for example, dragging the Hello to the Blue dog layer – you can match colors in your design.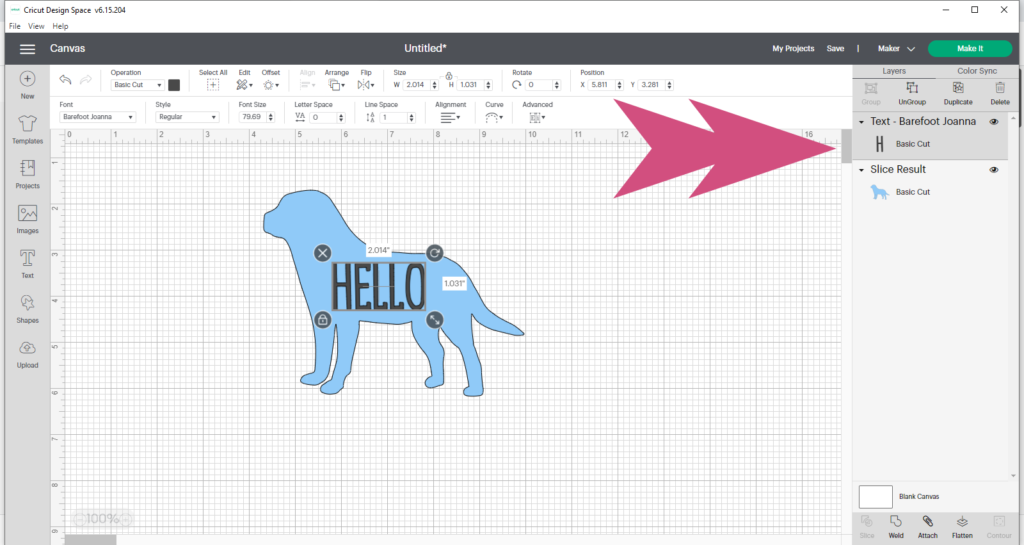 You can see that we have selected Hello. To double check what layers are selected or not, you can look in the Layers Panel. Selected layers are grayed out.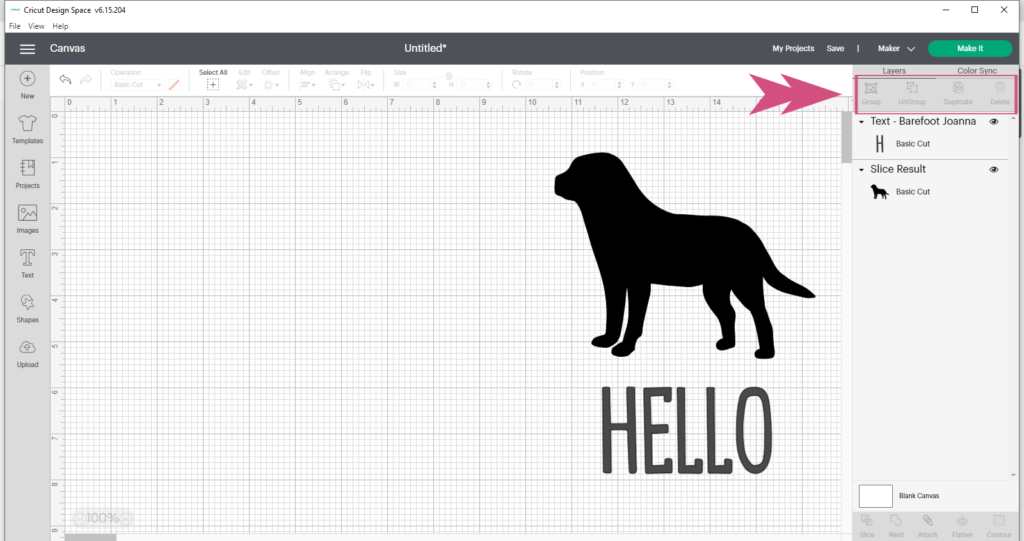 At the top of the Layers Panel, you'll find Group, Ungroup, Duplicate, and Delete. Grouping only keeps your design together on your canvas but not when you cut it out. Ungroup is obviously how you can then ungroup the layers of a design. Duplicate and Delete are self-explanatory.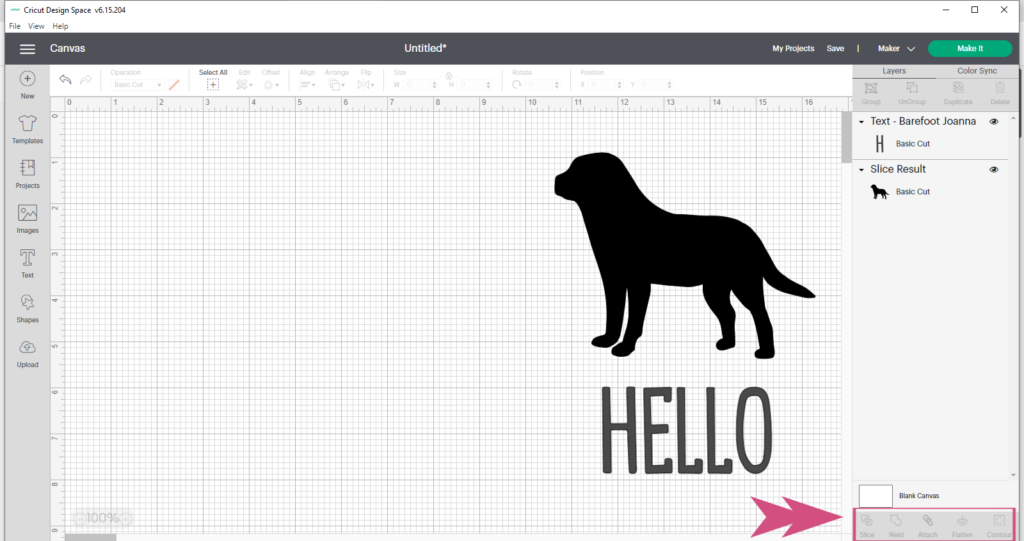 At the bottom of the Layers Panel, you'll find Slice, Weld, Attach, Flatten, and Contour.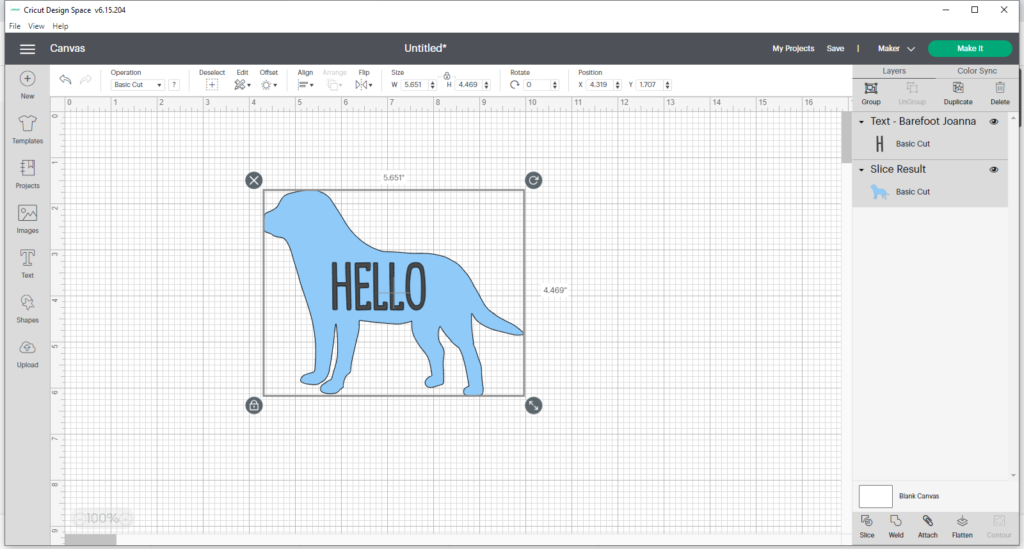 Slice
Slice is like using a cookie cutter. You can use it on two layers of your design. In this case, we're going to slice out the word Hello from the dog.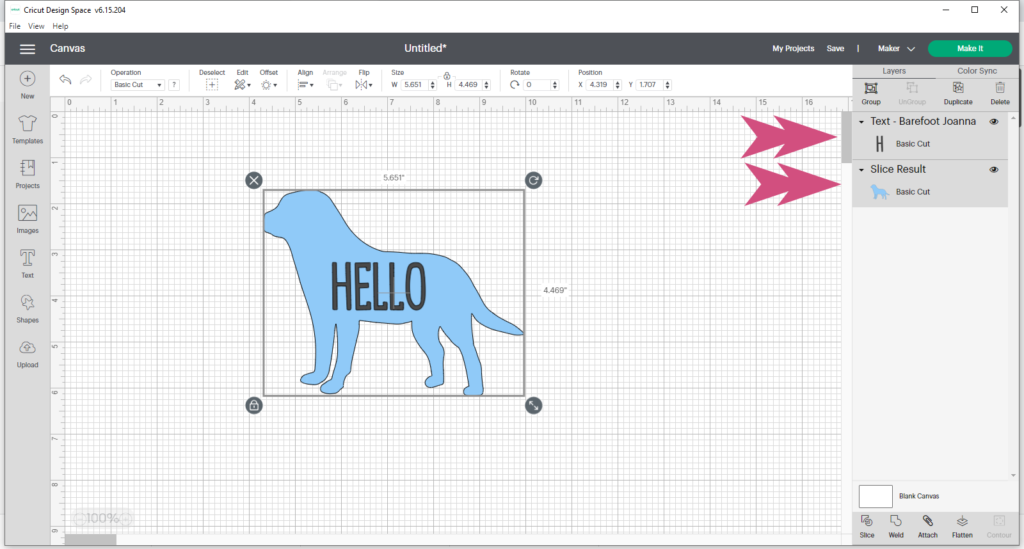 To slice, you need to select both layers. You can see in the Layers Panel that both the dog and the word Hello are selected. Then, click Slice.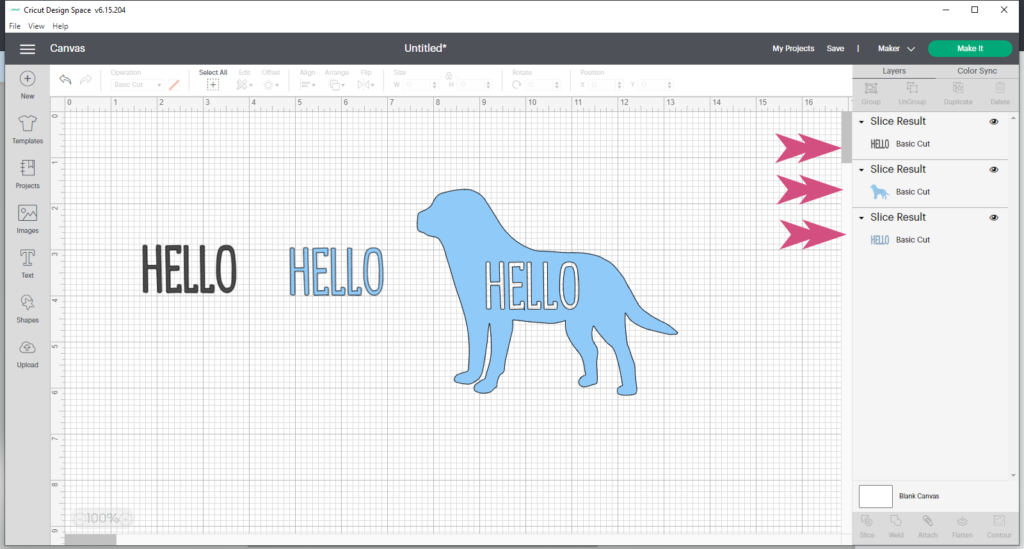 In the Layers Panel, you can see the slice results. Delete the ones you don't need.
Weld
Weld is one of the tools available in Cricut Design Space that allows you to join things together.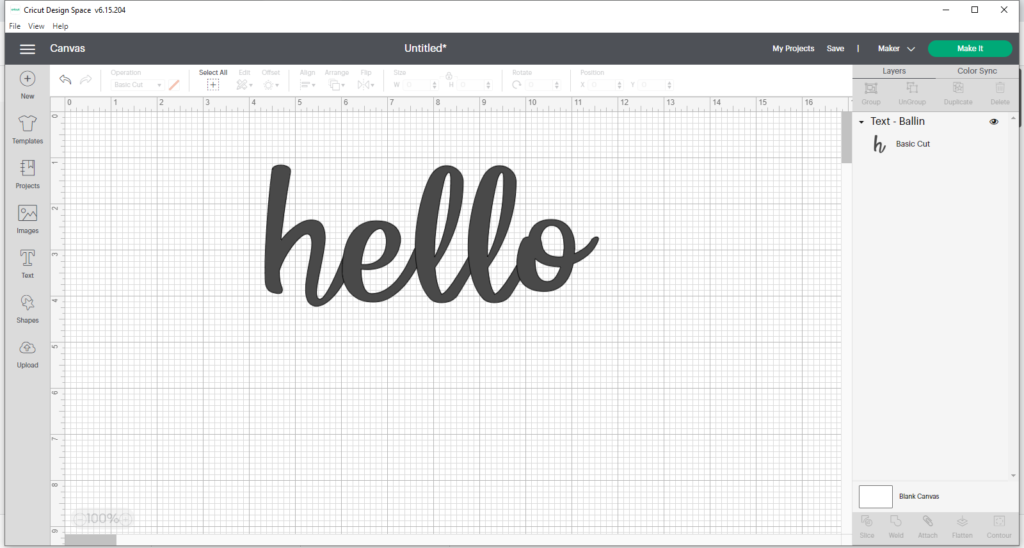 When you have a word like this with the letters touching, you will need to Weld them together before cutting.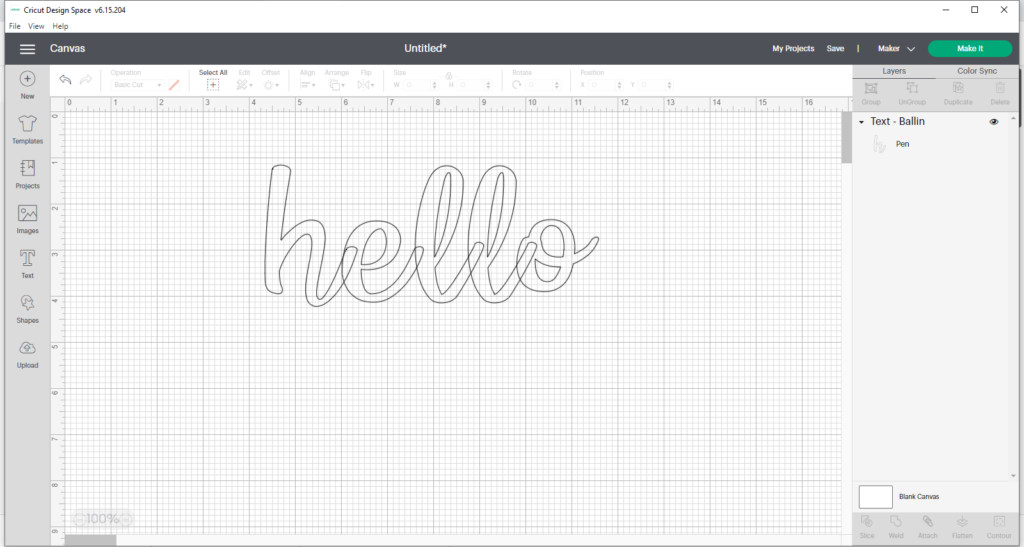 You can see here that prior to welding, the letters are still considered separate layers. So, where they're touching each other, it will cut out each of those overlapping parts separately.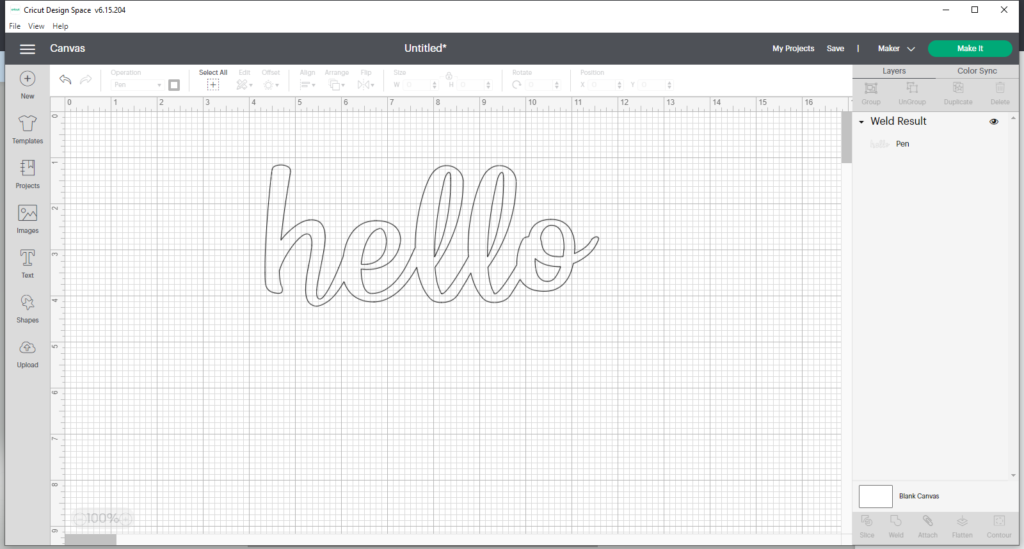 After welding, it's like one continuous line with no overlap. This will cut your word out perfectly.
Attach
Attach is another way of joining words and images together. This is useful for ones that aren't touching.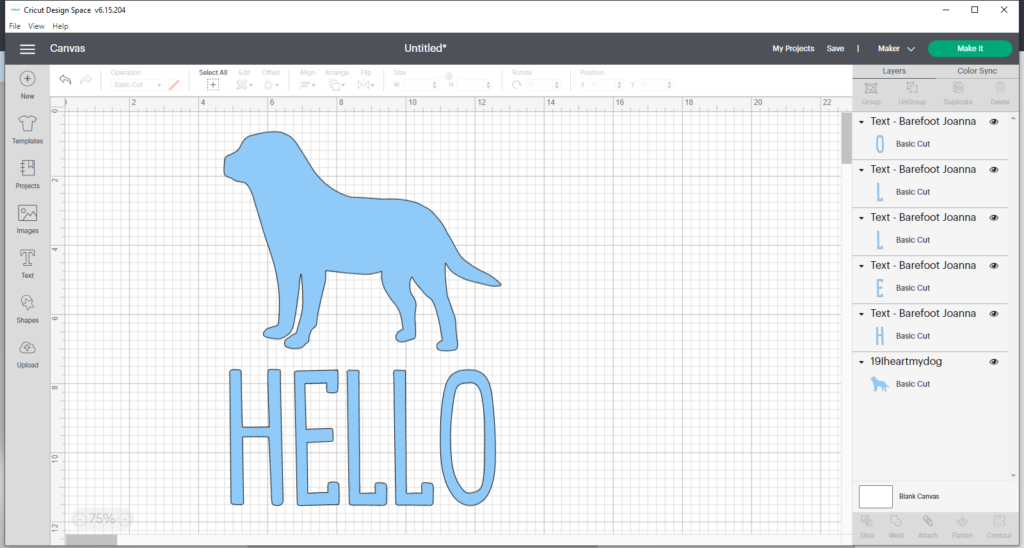 Remember that just because something looks just right on your canvas doesn't mean it will cut the way you want it to.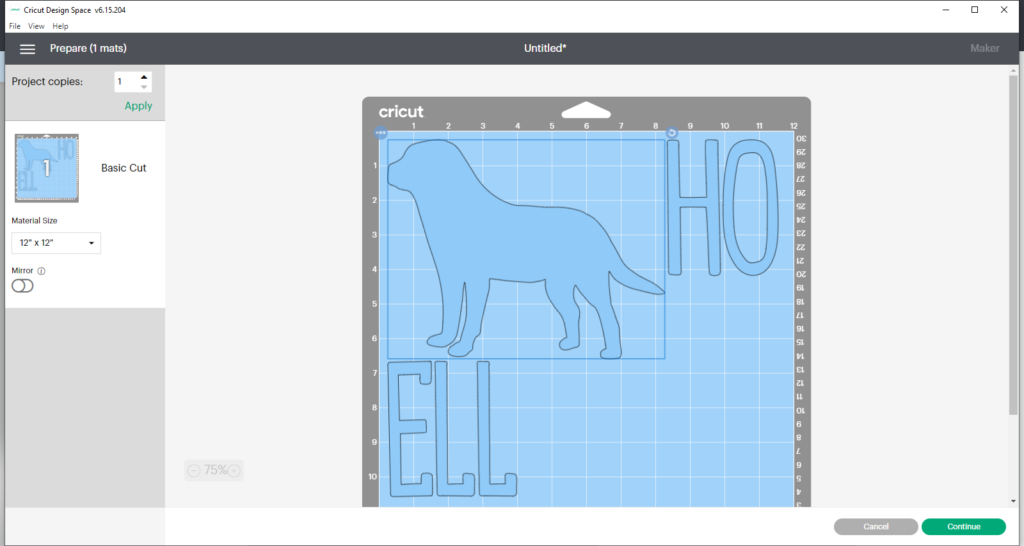 As you can see, if you don't Attach or Weld your designs, Cricut is going to try to place them in such a way as to preserve as much material as possible.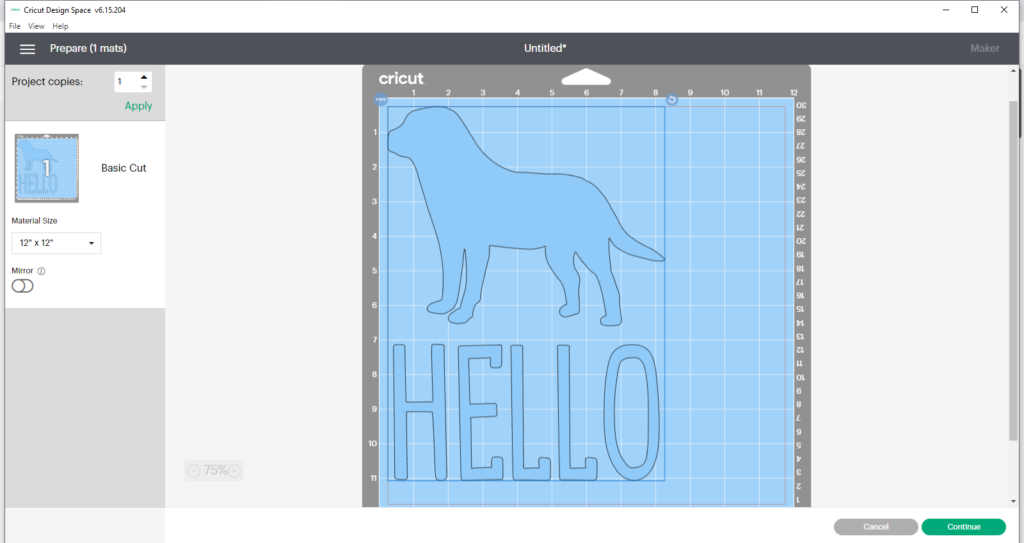 By selecting all of the layers and using Attach, we can keep our design together on the canvas and for cutting.
Flatten
Flatten is how you can take a multi-layered design and turn it into one layer. You can then use it for Print then Cut projects.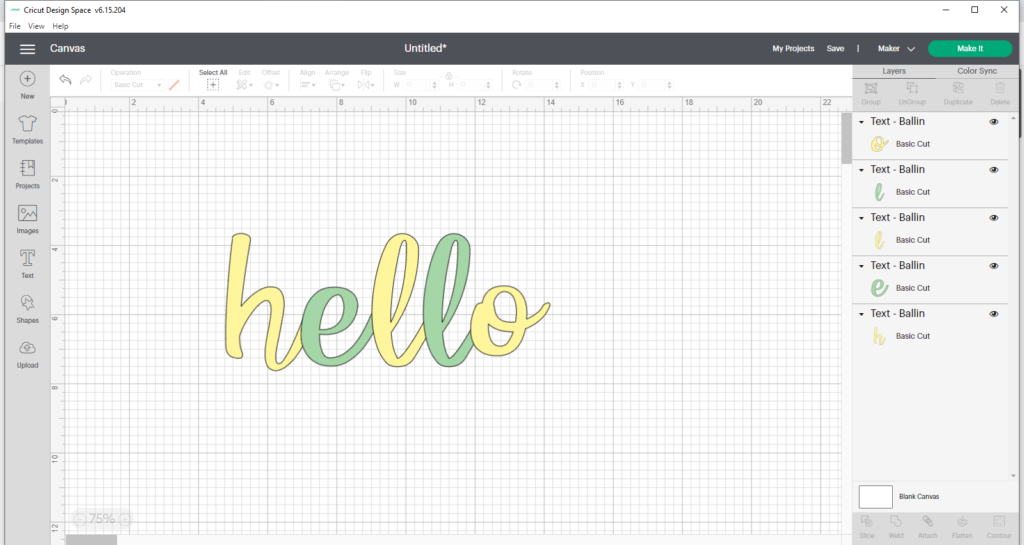 Here we have a multi-colored word.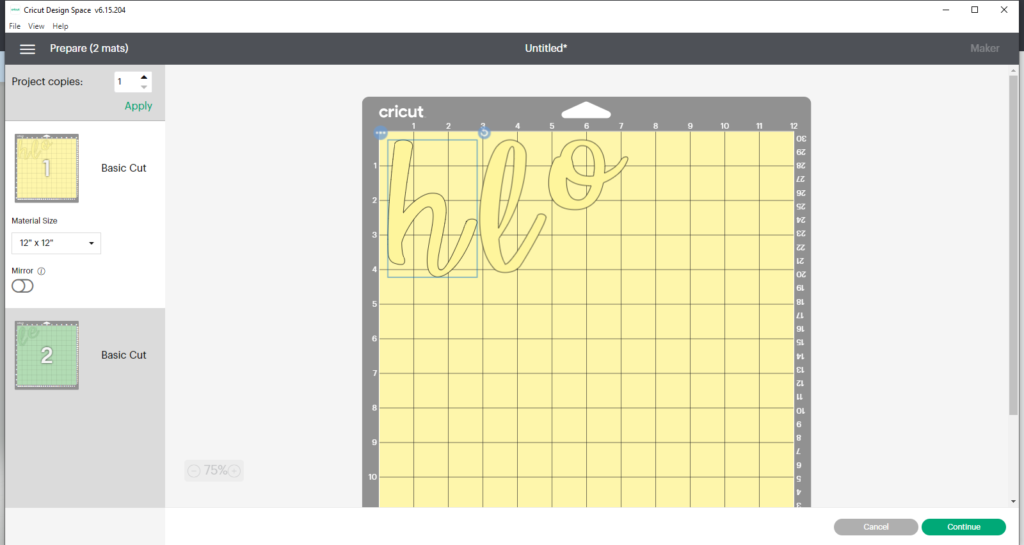 If you were then to click Make It and try to cut out this design, Cricut Design Space is going to place each color on a separate mat.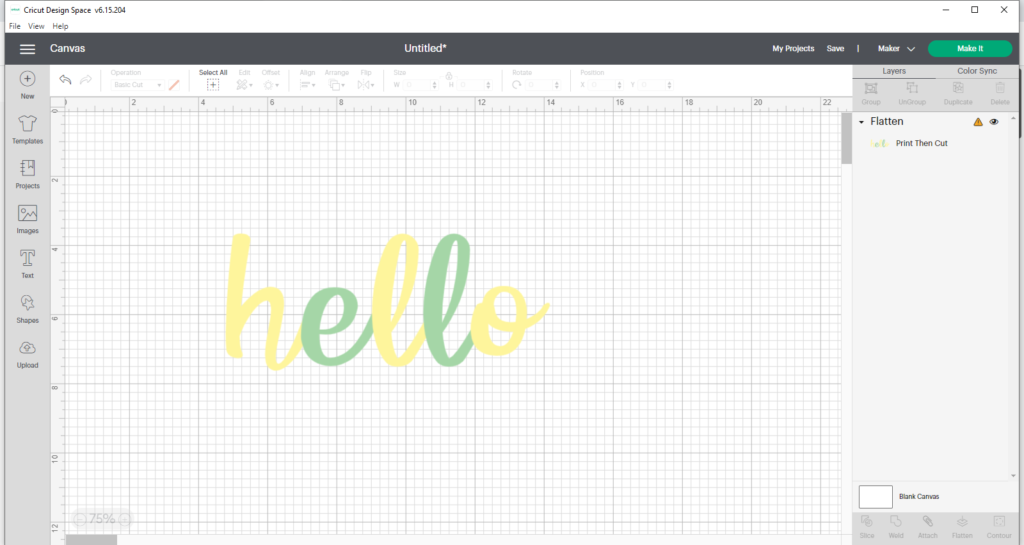 If you select the whole word and then click Flatten, it will go from multiple layers to one. This turns it into a Print then Cut design.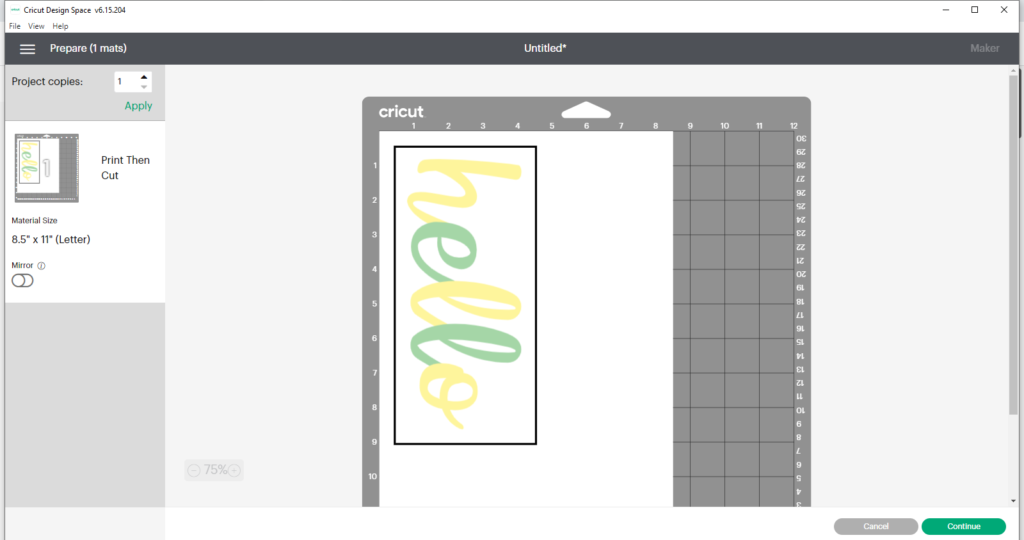 Then, when you click Make It, Design Space will send it to be printed on your printer first and then it can be cut out with your Cricut.
Contour
Contour is one way you can customize a cut file.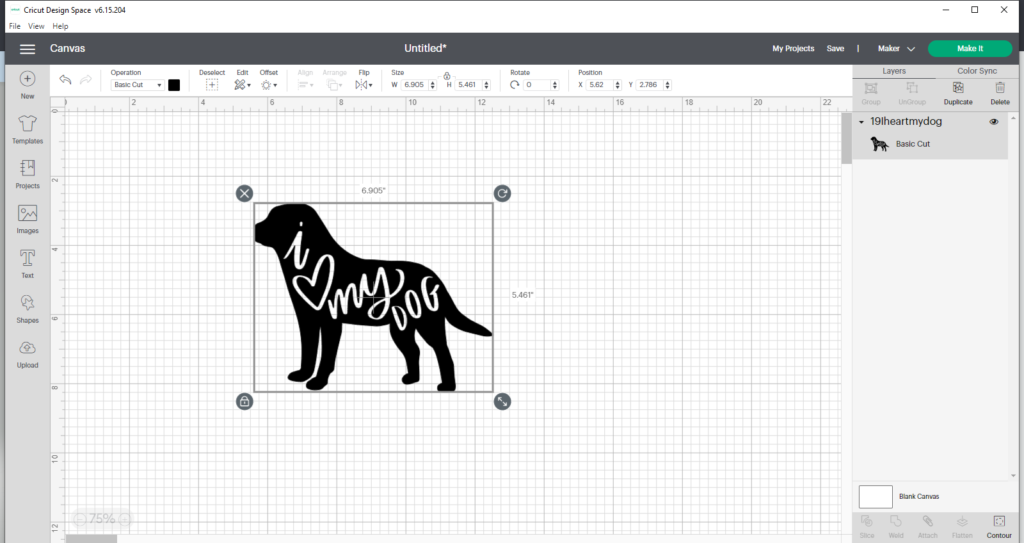 Let's say we want to remove the words from this dog cut file. Select the image and then click Flatten.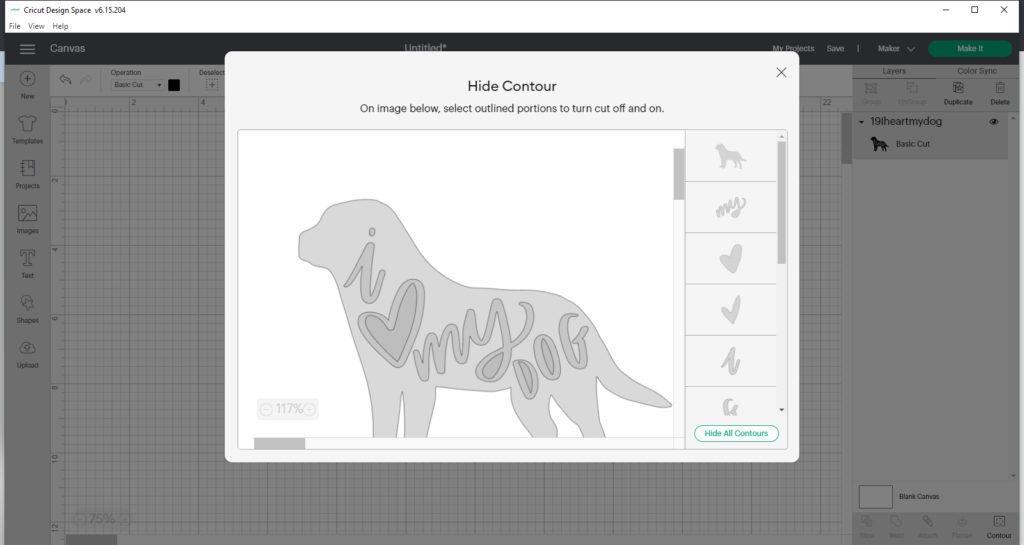 A screen will open up showing you the various contours of this design.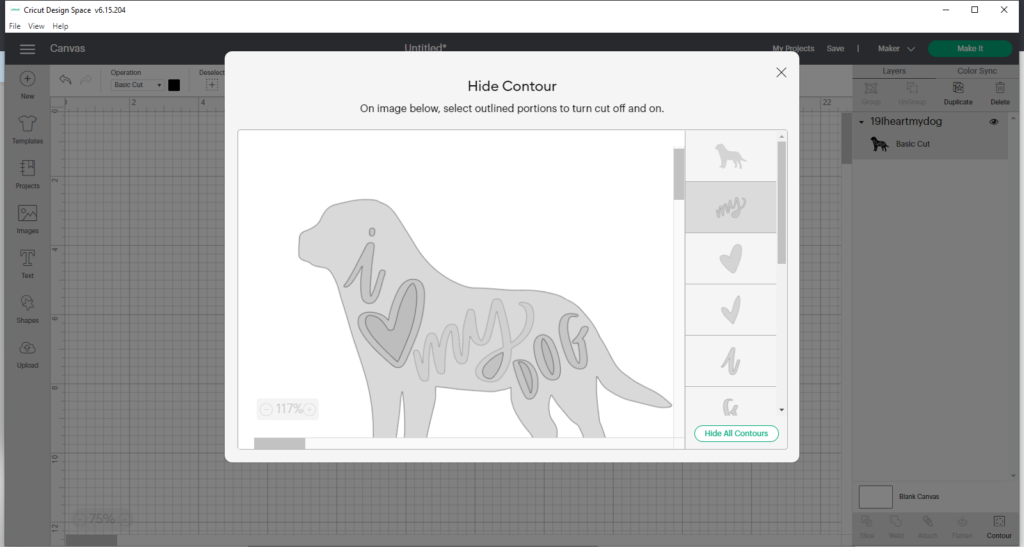 You can start clicking on each of these to remove them from your design. As you click on them, they will get grayed out. We clicked on the word "my". You can remove or keep whatever parts you'd like. For example, maybe you'd like to get rid of the words and keep the heart.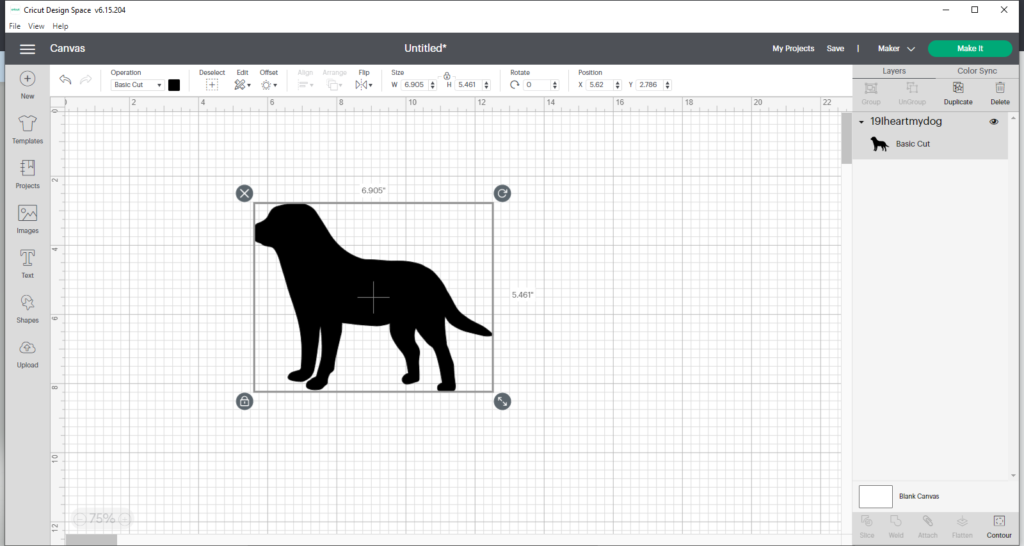 We chose to eliminate all the words. Now we can use this cut file as it is or we could add new words or other designs to it.
TOP MENU BAR

Operation
On the top menu bar over to the left, you'll see Operation. This is where you can change what your machine is going to do. By default, it's set to Basic Cut. In the dropdown, you can change that to a wavy cut or perforated cut. You can also choose Draw and select Pen, Foil, Deboss, Engrave. And finally, there's an option for Print then Cut.
Undo/Redo
Just to the left of the Operation menu, you'll find the Undo and Redo arrows.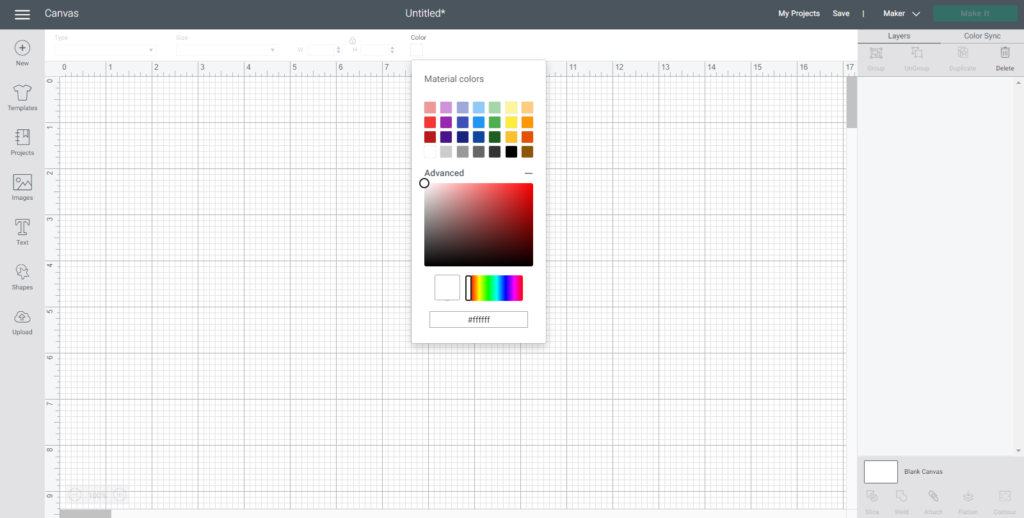 Color Selection Tool
The square to the right of the Operation menu is where you can change colors. Click on the square and a color selection tool will open.
Deselect
Next, you'll find the Deselect button. This is one of the ways you can deselect layers on your canvas.
Edit
With the Edit tool, you can Cut, Copy, and Paste.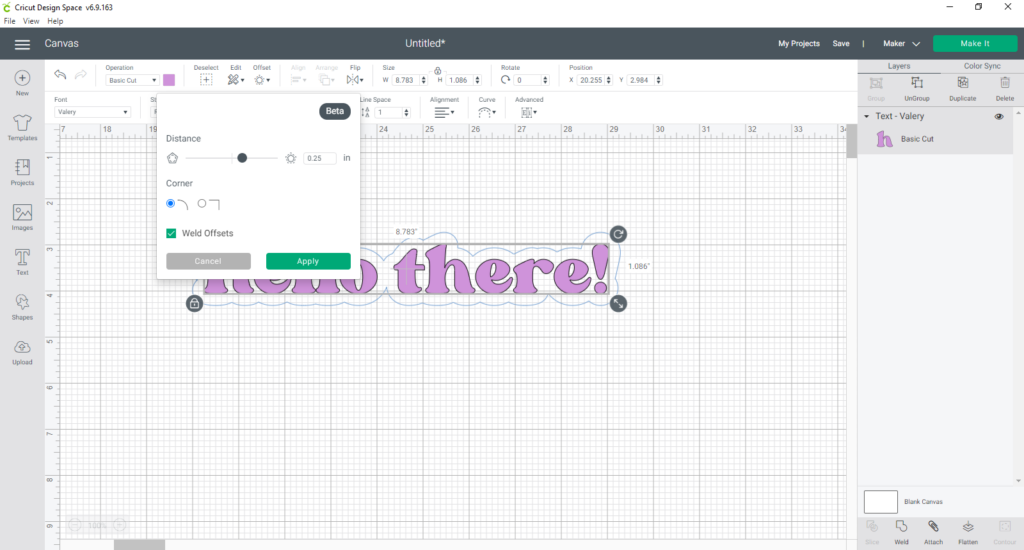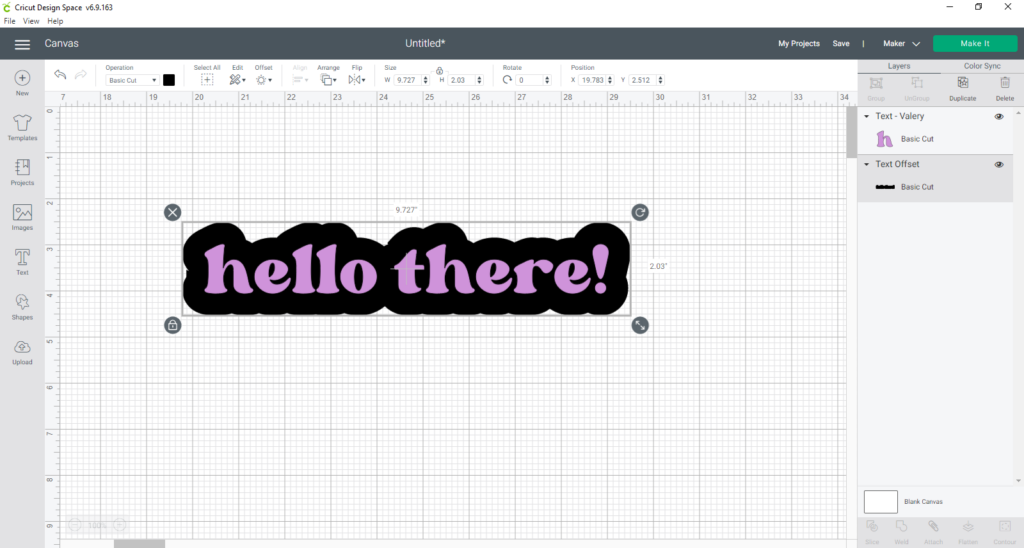 Offset
Next up is the Offset tool. With this you can add an Offset (border of sorts) around your design. You can move the slider to add the Offset around the outside of the design or on the inside of it. You can adjust how big you want the Offset to be and change the color of it if you'd like.
You'll find more detailed information on how to use Offset here.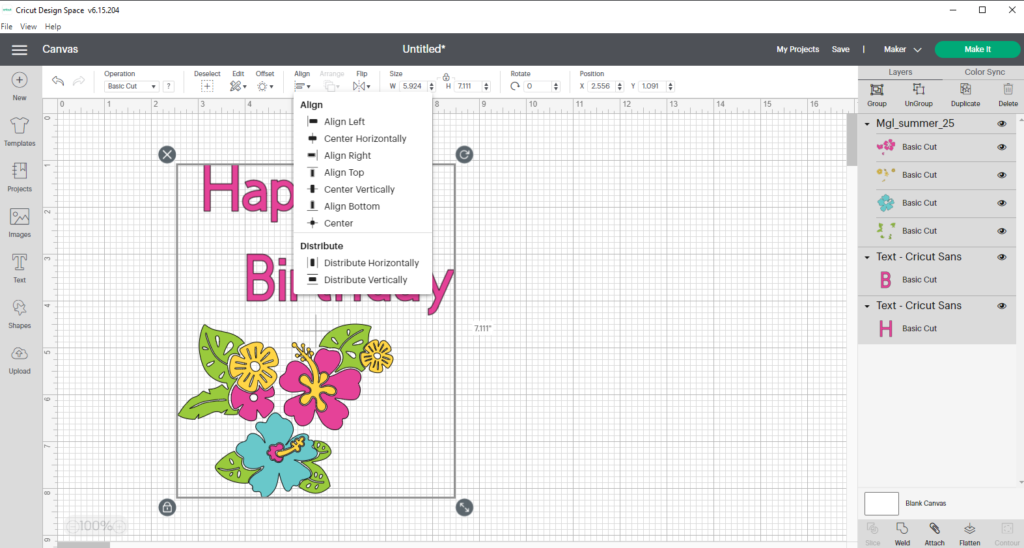 Align
After Offset, you'll find Align. Select the design elements you want to align and click the Align button. A dropdown menu will open and give you options.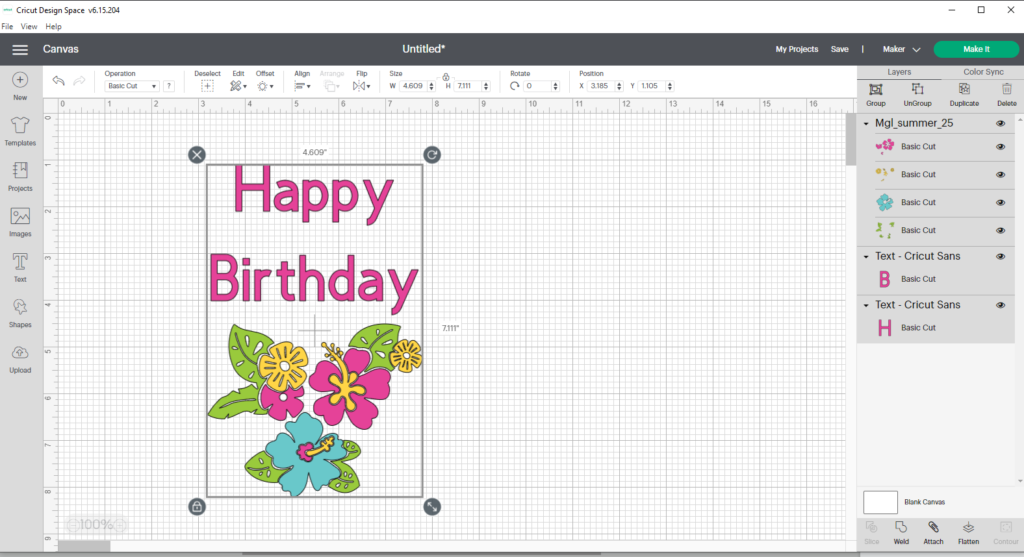 For this example, we chose Align Center Horizontally to line up the three elements in our design.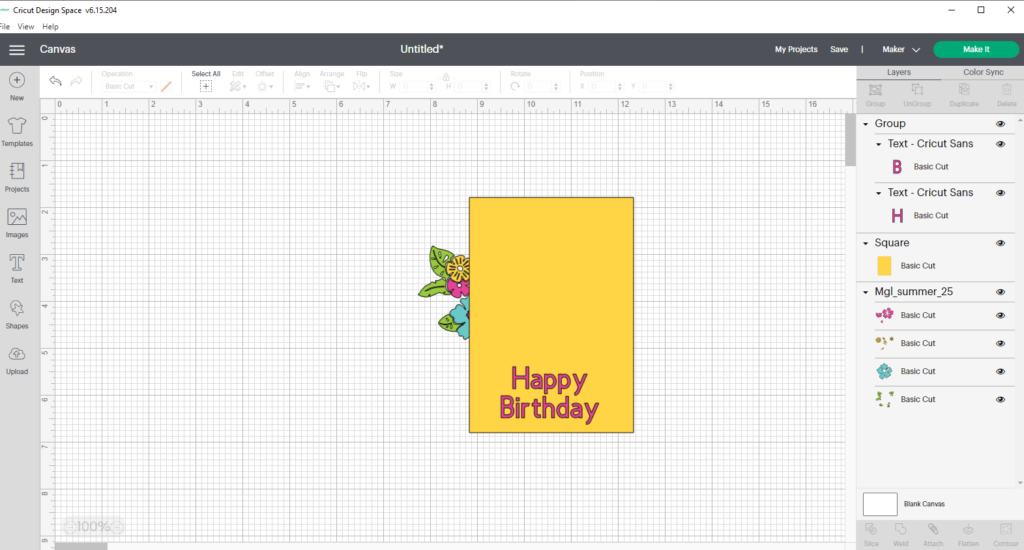 Arrange
To the right of Align is Arrange. You can see in the image above that we were trying to arrange the flowers on this birthday card but they moved behind it.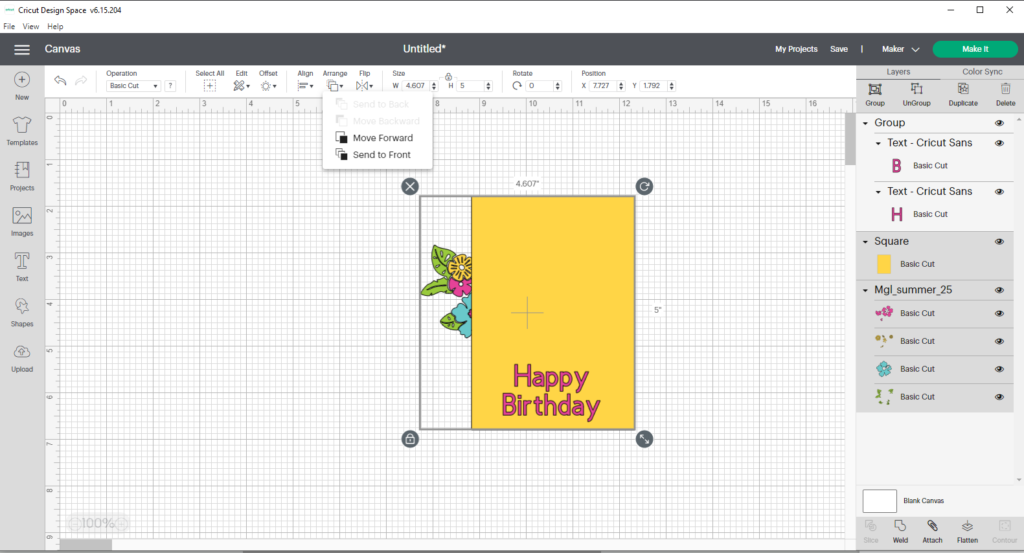 Select the layers you want to arrange. Again, there's a dropdown menu and this will allow you to move the items forwards or backwards as needed.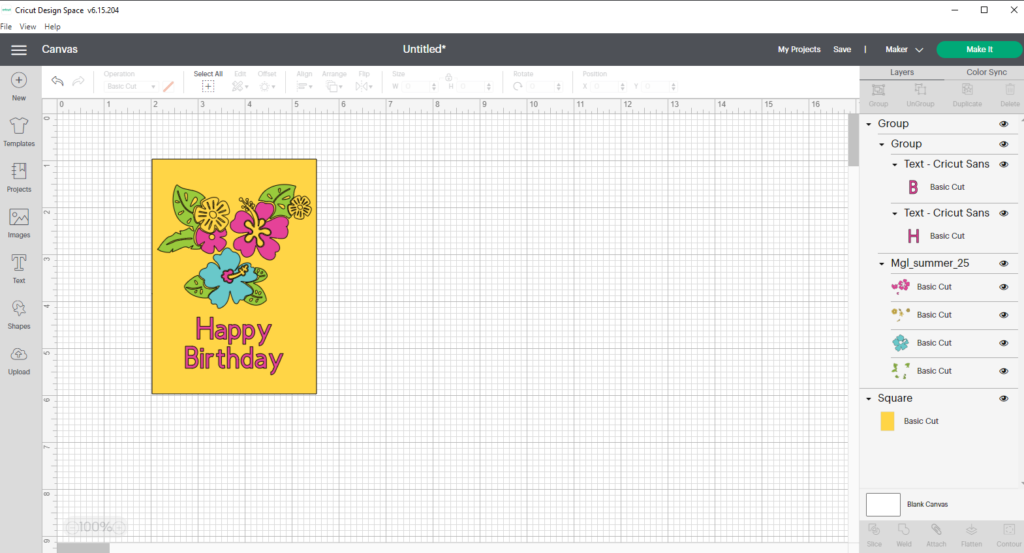 Now, you can see that we've been able to move the flowers to the front of the card as desired.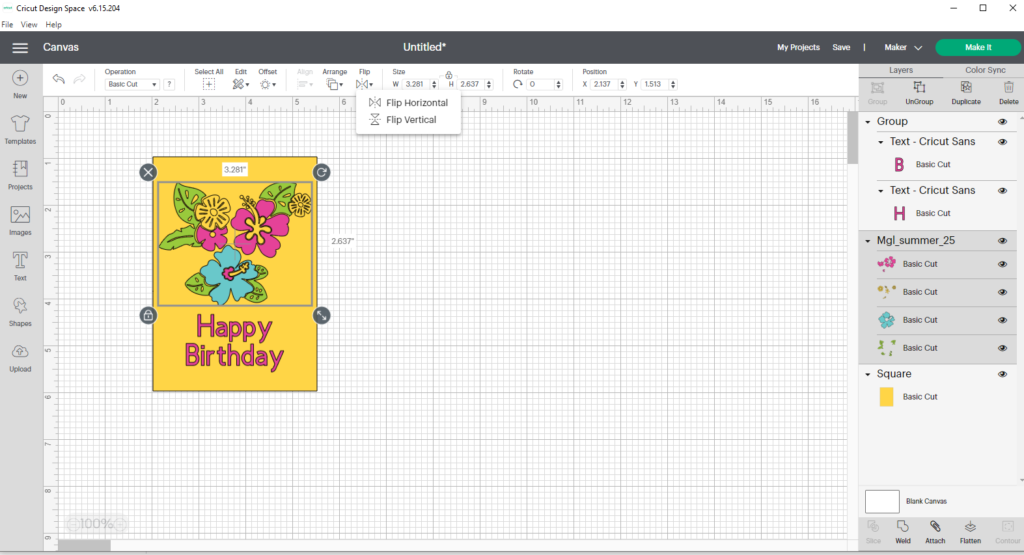 Flip
Next up is Flip. With the dropdown menu there, you can either flip horizontally or vertically.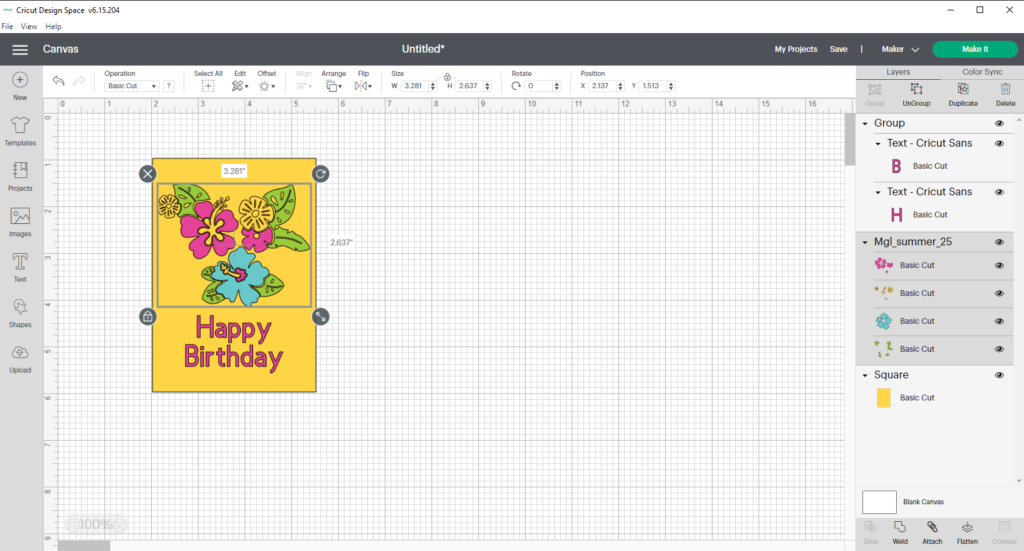 Here you can see where we selected the flowers and chose Flip Horizontally.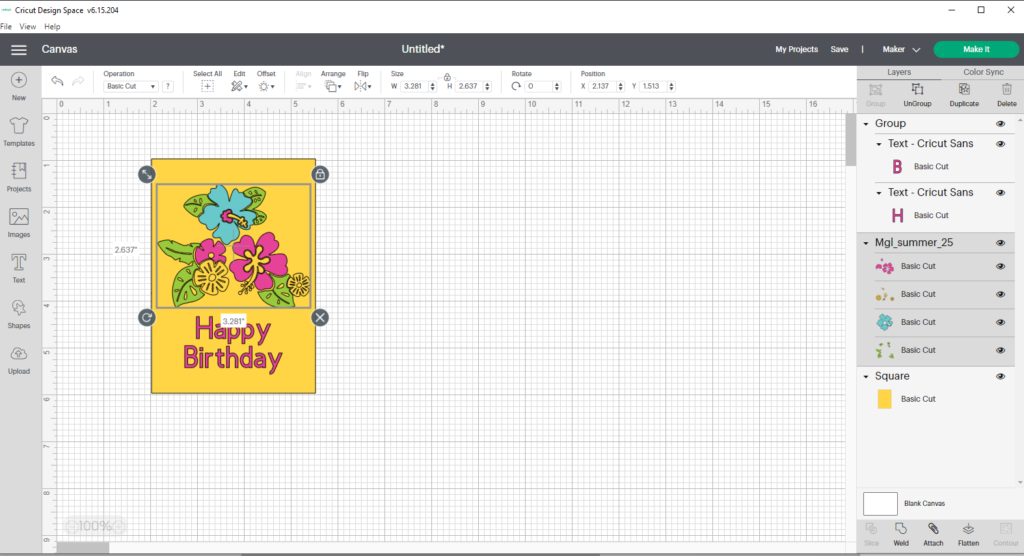 Here we chose Flip Vertically.
Size
We most often resize things by dragging the text box or image to make it larger or smaller. However, if you want a very specific size, you can type the dimensions into the size tool in this top menu. Remember that by default it is locked to maintain the aspect ratio so if you don't want to keep that ratio, you'll need to unlock it first.
Rotate
To the right of size is Rotate. You can rotate elements of your design here or by clicking the circular arrow right on the text box or image and dragging it around.
Position
Finally, we have Position. Here is where you can use the X and Y axes to place elements in a specific position on your canvas. We rarely, if ever, use this tool.
CLICKING MAKE IT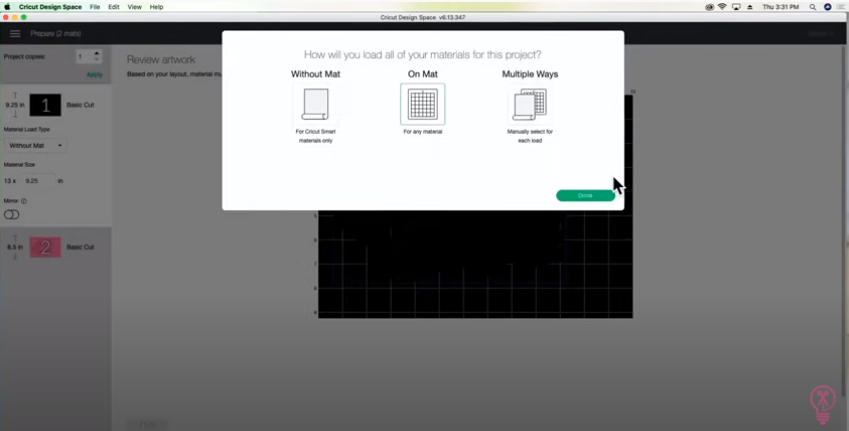 Once you click Make It, with the new machines (Cricut Maker 3 and Explore 3) you'll need to choose whether you want to cut on the mat or do matless cutting.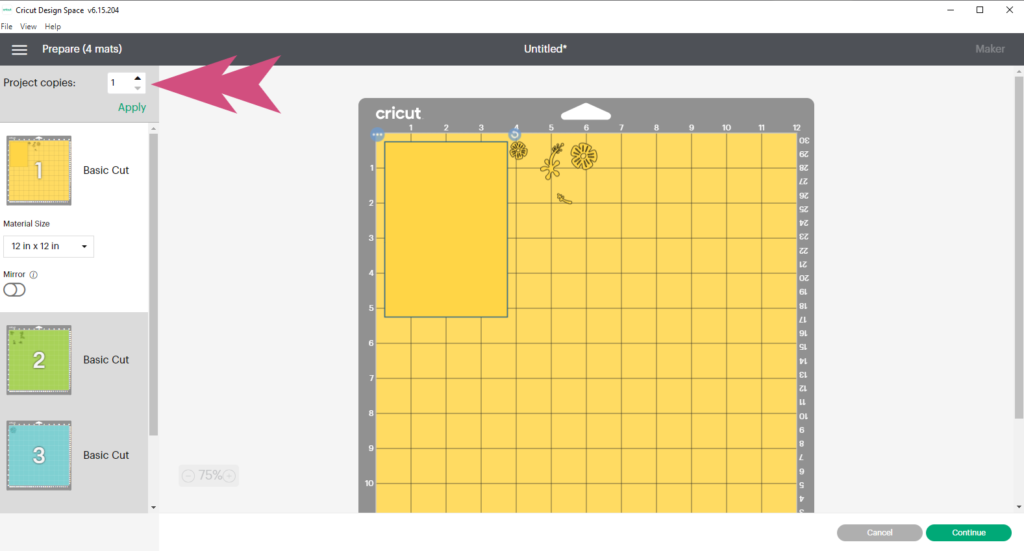 On the next screen is where you can increase the number of project copies you're cutting as well. This is great if you're making something like invitations or other items you want multiples of.
We hope you enjoyed this updated 2021 Cricut Design Space Tour for beginners.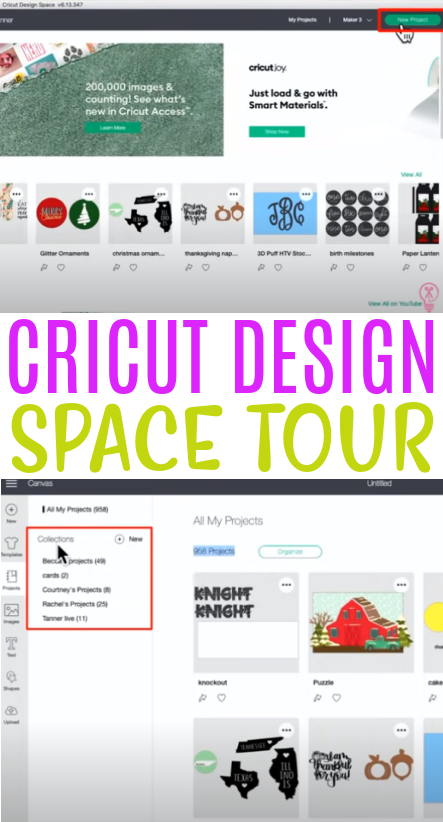 Tanner, Courtney, and the rest of the Makers Gonna Learn Team are all here because we love die-cutting and especially love sharing fun projects and tutorials with fellow makers. We are all great friends and are always having a blast when we are together- you will see this on camera, especially during live streams! We are here to inspire and support you in your crafting journey!