Cricut Infusible Ink on Wood
Have you ever tried using Cricut Infusible Ink on wood? When we first heard about it, we were intrigued by the idea. Would it work? Would the results be what we were hoping for?
So, in this tutorial, we are trying out using Infusible Ink on wood surfaces and sharing all of our Cricut hacks for how to have the most successful craft projects possible! Check it out.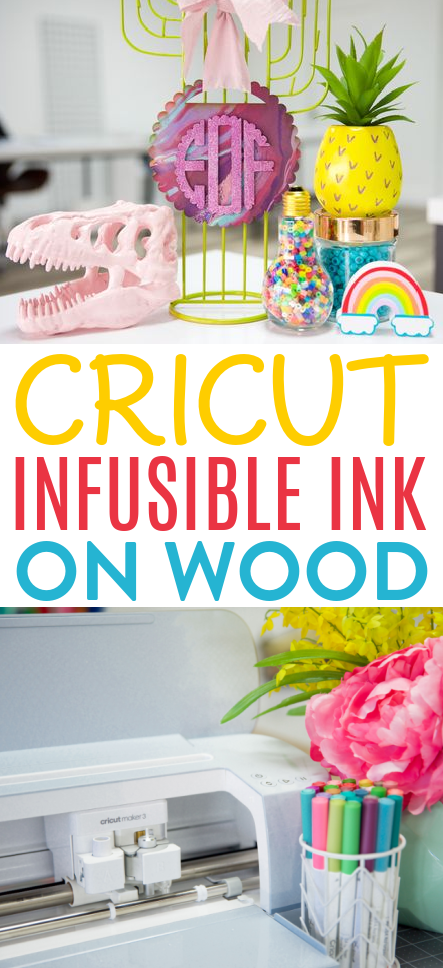 Cricut Infusible Ink on Wood
We love sharing our best Cricut tips and tricks with you so that you can make flawless projects with your die cutting machine.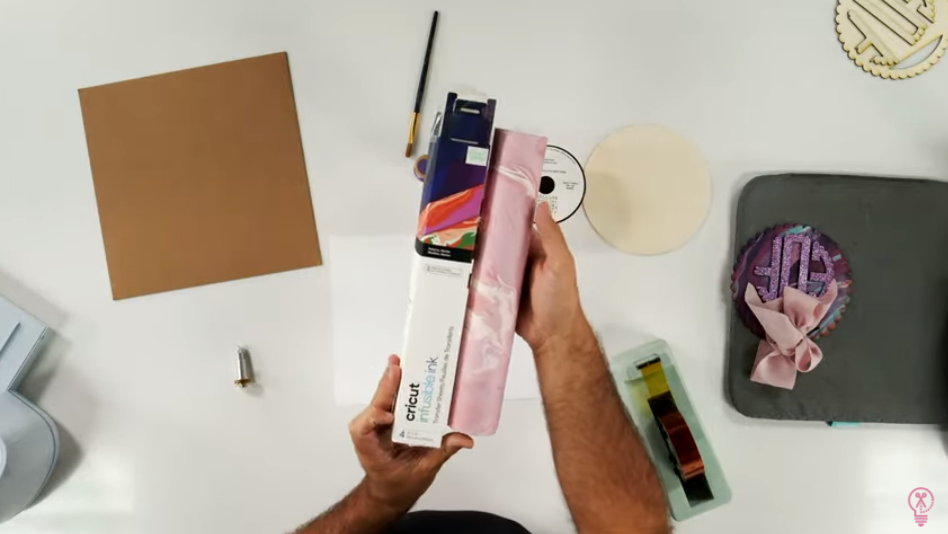 Supplies Used:
Font Used: Scalloped Monogram

STEP BY STEP TUTORIAL
Working in Design Space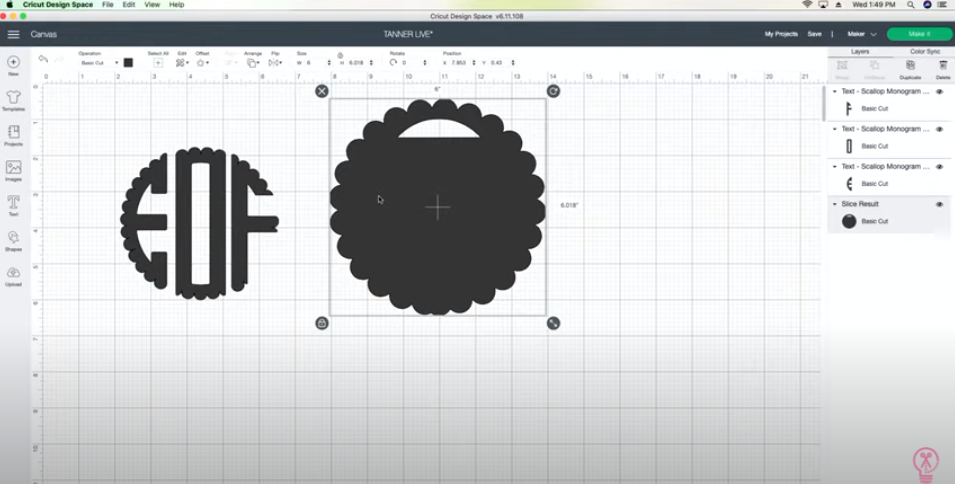 We're going to begin in Cricut Design Space. We like to start by creating a shape to mimic the shape and size of the surface we're working with. In this case, that's a wooden sign.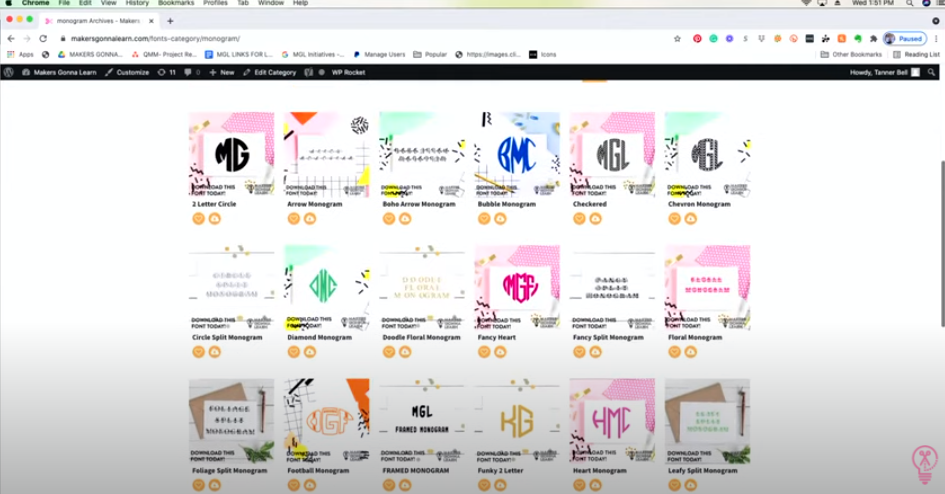 When you download the monogram you want to use, remember that it comes in 3 files. There is one for the center letter, one for the left, and one for the right. You can find more detailed information on working with monograms here.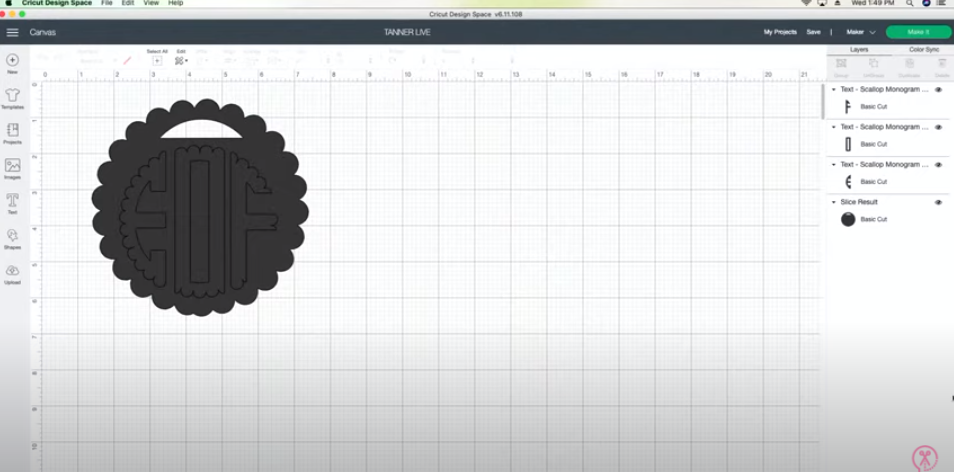 Place and size the monogram to fit the sign. This is where creating a shape to represent your finished sign can be so helpful.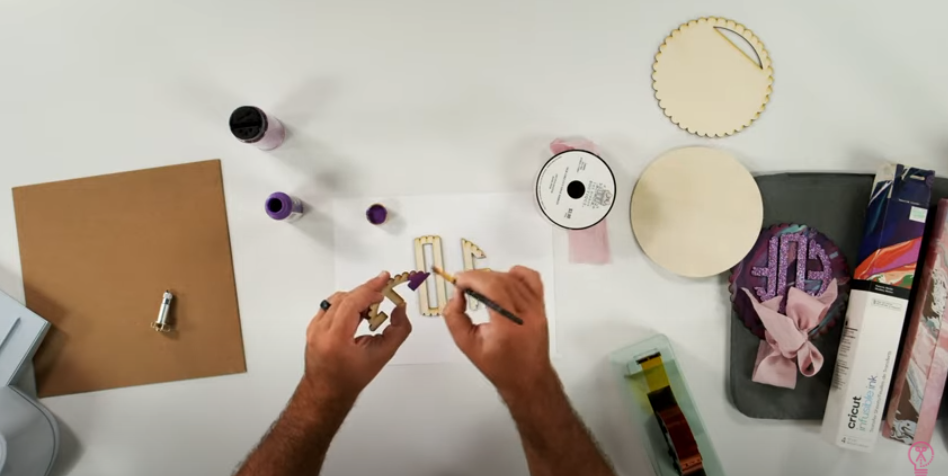 Working on the letters and sign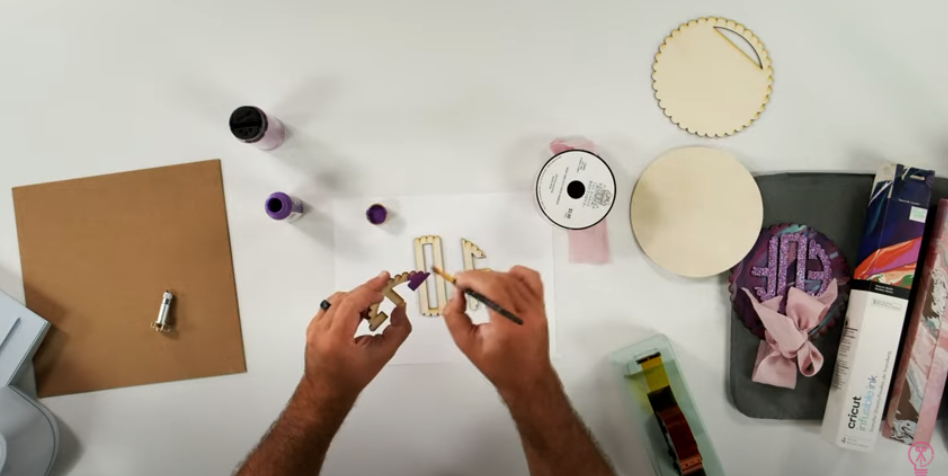 We have cut out the letters with chipboard and our knife blade. If you're working with a Cricut Explore machine, you can always use a thinner material like cardstock or Cricut Kraftboard.
Next, we're painting the letters so we can apply the glitter to them. Shake off the excess and save for another use.
Pro Tip: You might normally reach for something like Mod Podge to cover the letters and then sprinkle the glitter on top of that. We advise you to use paint as your glue. Choose a paint color that is as close to the color of the glitter as possible. This gives much better coverage and your finished project will look so much more professional.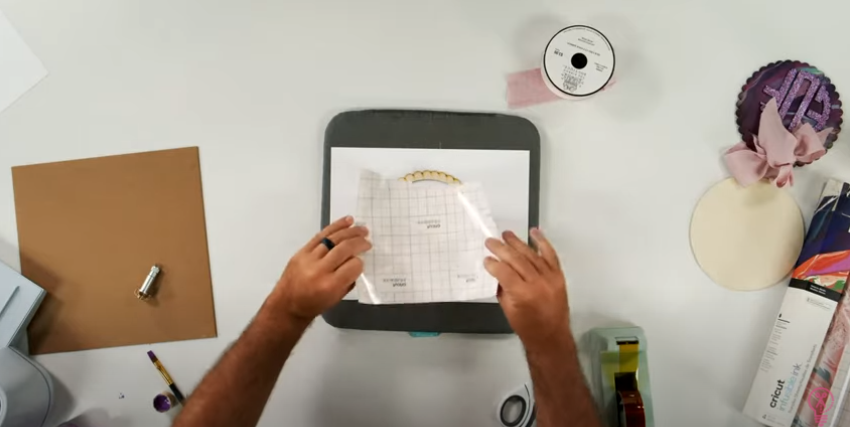 Preheat your EasyPress to 400 degrees. Cut a piece of Infusible Ink to fit your wooden sign. Place a piece of paper down on your EasyPress mat to protect it from the ink. Lay the Infusible Ink facedown on the wooden sign.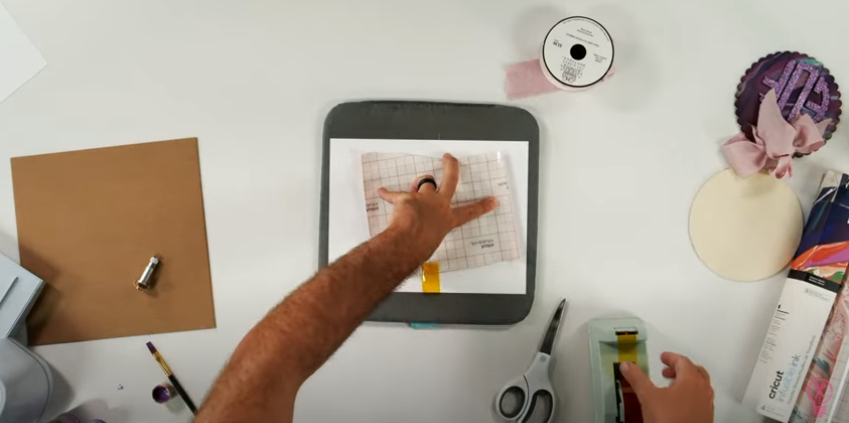 Use heat resistant tape to hold the Infusible Ink in place so it doesn't move or curl up while you're trying to heat it with your EasyPress. Place the EasyPress down and heat for 50 seconds. Give it some good pressure but don't move the EasyPress.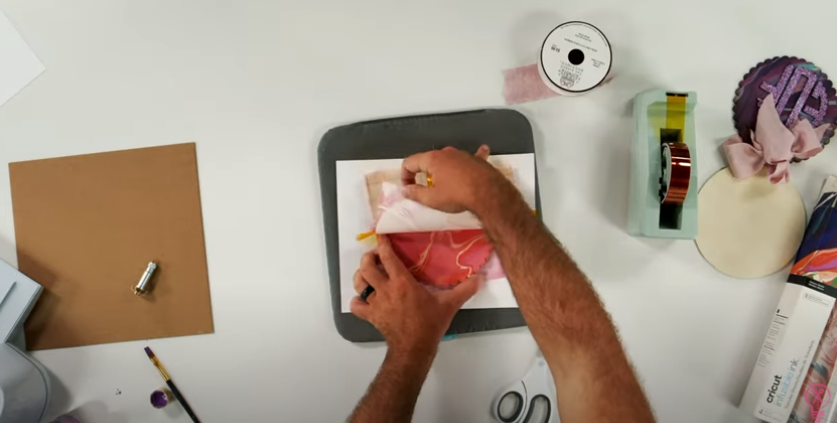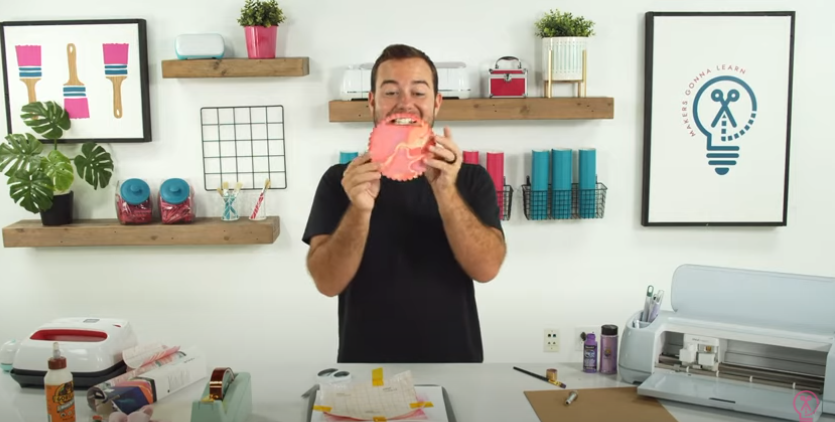 Allow it to cool down. Remove the tape and lift off the Infusible Ink. Note: we didn't treat the wood with anything prior to applying the Infusible Ink. This was just plain wood and it turned out beautifully.
Pro Tip: You want to work with an unpainted, unstained, unfinished, porous wood so that it will accept the ink well.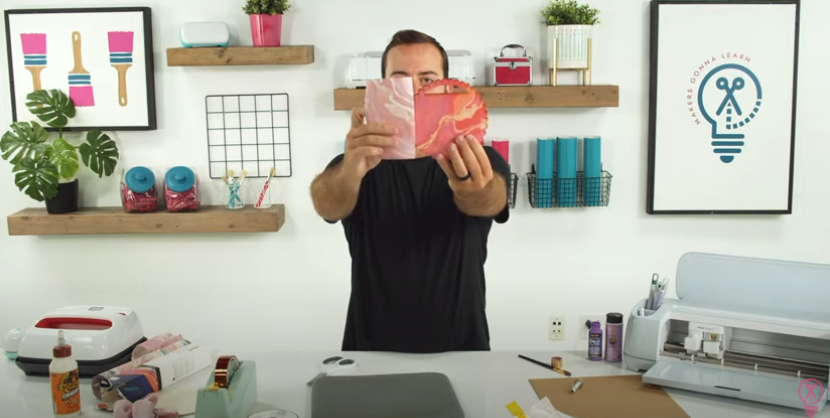 Important reminder: Remember that the sheet of Infusible Ink will look quite a bit duller than the finished project once the heat has been applied to it.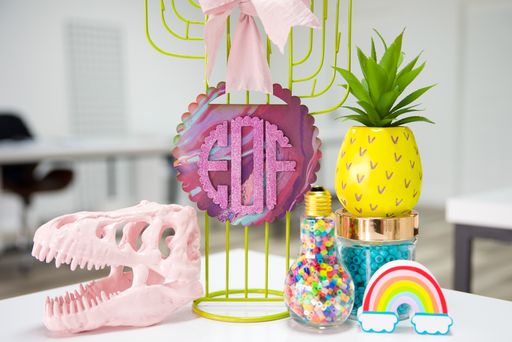 Glue the letters onto the wooden sign. Add your ribbon and bow and you're all set!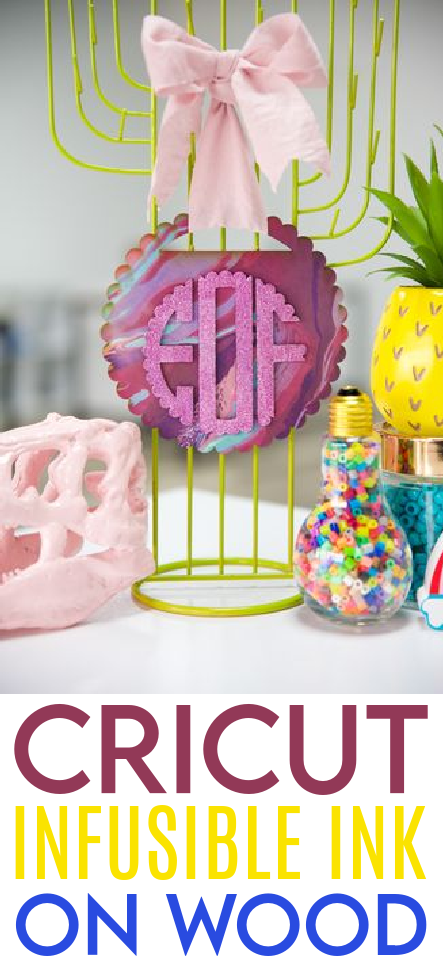 Tanner, Courtney, and the rest of the Makers Gonna Learn Team are all here because we love die-cutting and especially love sharing fun projects and tutorials with fellow makers. We are all great friends and are always having a blast when we are together- you will see this on camera, especially during live streams! We are here to inspire and support you in your crafting journey!