Cricut Machine Bunk
Need extra storage space in your craft room? Lateral storage space is essential when creating an efficient and perfectly organized area! This Cricut bunk enables you to house two Cricut machines while saving valuable work space!
Only have one Cricut? This bunk is still a fantastic idea as it will enable you to display and store your most used craft supplies over your Cricut for easy access and efficient use of space!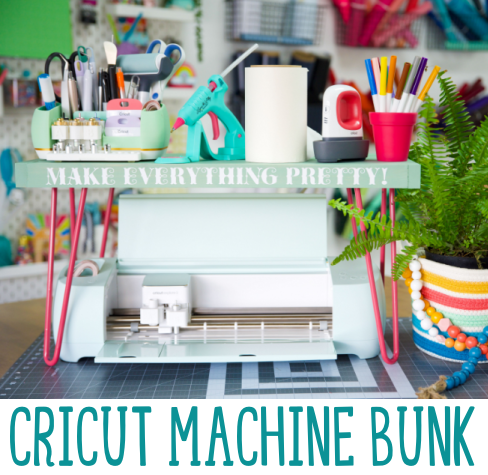 Cricut Machine Bunk
Disclosure: Some of the links below are affiliate links provided for your convenience. This means, at no additional cost to you, we will earn a commission if you click through and make a purchase.
Font Used: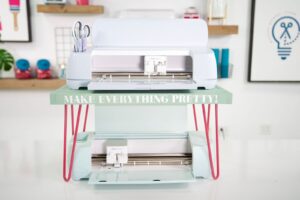 Supply Links:
1×2″ lumber (10 pieces cut to 23″, 2 pieces cut to 13.5″)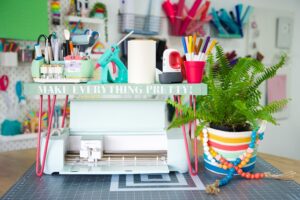 Step-by-step Instructions:
Spray paint hairpin legs with mambo pink spray paint
Create a "frame" of bunk top by turning to 23″ and the 2 13.5″ pieces of cut lumber on their sides. Form a rectangle with the pieces and clamp the corners together.
Use a nail gun to shoot nails into the lumbar securing your "frame" pieces together
Place the remaining 23″ pieces inside the frame flat side down. Once all pieces are in the frame, use a nail gun to shoot nails from the outside of the "frame" into the inside pieces.
Paint bunk top and let dry.
Install hairpin legs on the underside of bunk top using a drill and 1 5/8″ screws
Use MGL Tuscan Sun font in the design space to create desired text. Cut saying out using premium vinyl material setting
Weed excess vinyl and use transfer tape to transfer vinyl onto the front panel of the bunk top
Tanner, Courtney, and the rest of the Makers Gonna Learn Team are all here because we love die-cutting and especially love sharing fun projects and tutorials with fellow makers. We are all great friends and are always having a blast when we are together- you will see this on camera, especially during live streams! We are here to inspire and support you in your crafting journey!