Cricut Must Haves 2021
If you have been following us for a while, you will recognize that these are some of our tried-and-true favorite craft products that we use all the time in our professional craft studio. However, what you might not know is that we continually try out new products, putting them to the test to see if any of them stand up to our all-time favorites. These are our Cricut Must Haves for 2021 – old favorites and a few new discoveries!
One of the more recent Cricut products to release was the Cricut Mug Press. We're still testing it out and sharing our results here and on Youtube. We can't wait to learn more about it and teach you our tips and tricks for using the Cricut Mug Press.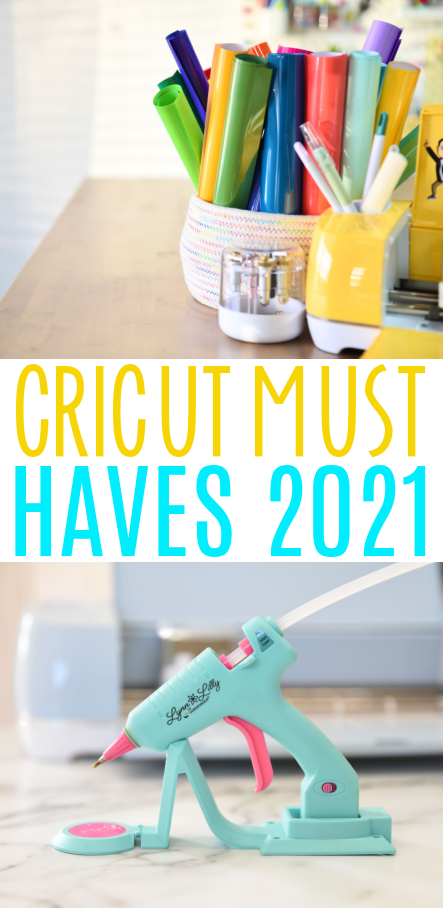 Cricut Must Haves 2021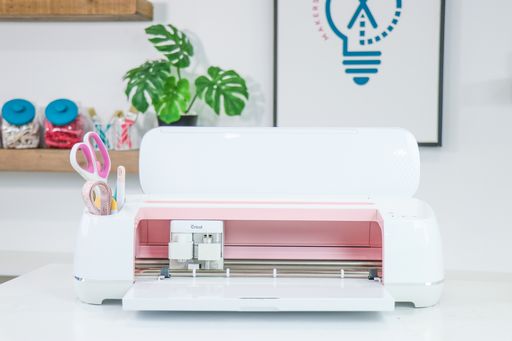 Cricut Maker
We love all of our Cricut machines, but we definitely think that the Cricut Maker is a must-have item for our craft studio. When it comes to die-cutting, there is nothing it can't cut. The Cricut Maker is the top-of-the-line machine for the Cricut brand and it gets a lot of use in the MGL studio.
If you're trying to choose which Cricut die-cutting machine to buy, we've broken down the pros and cons for each machine, but if you want the one that does it all, that's definitely the Cricut Maker.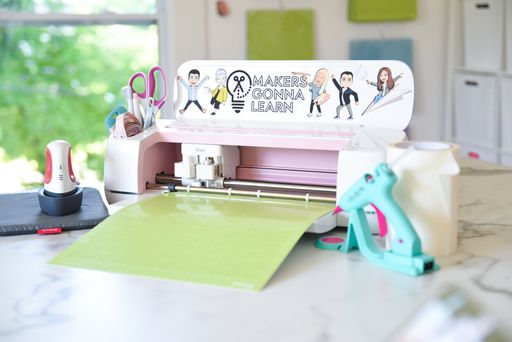 Nicapa Cutting Mats
Recently, we put a few different brands of cutting mats to the test. When it comes to an overall standard grip mat, we are really pleased with the Nicapa cutting mat.
It works really well for us and is more affordable than the Cricut StandardGrip cutting mat. We use standard grip mats more often for our craft projects than any other kind. As they get a bit older and "broken in", we mark them as "LightGrip" and use them in place of buying the specific Cricut brand LightGrip mats.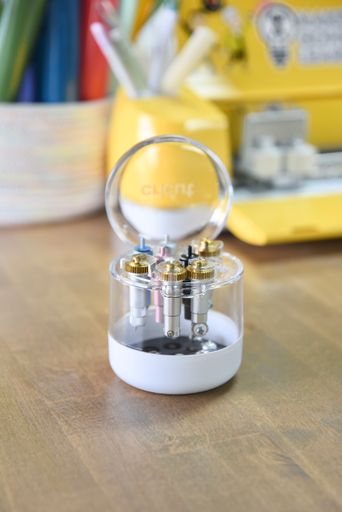 Cricut Tool Caddy
The Cricut Tool Caddy is so handy for keeping our blades and tools organized and safe. They're all in one spot and easy to find!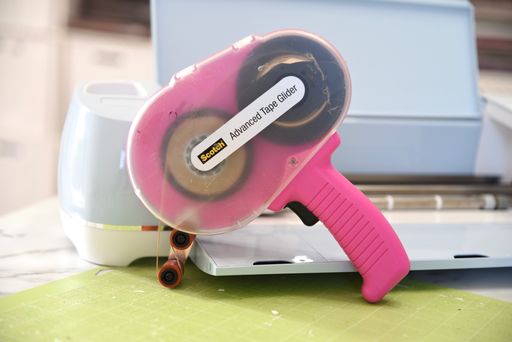 Scotch ATG Gun
We've had one of these Scotch ATG guns in the MGL headquarters for over 10 years now (since before the MGL HQ even existed!). ATG stands for Advance Tape Glider. It is perfect for card-making, paper crafts, and anything along those lines.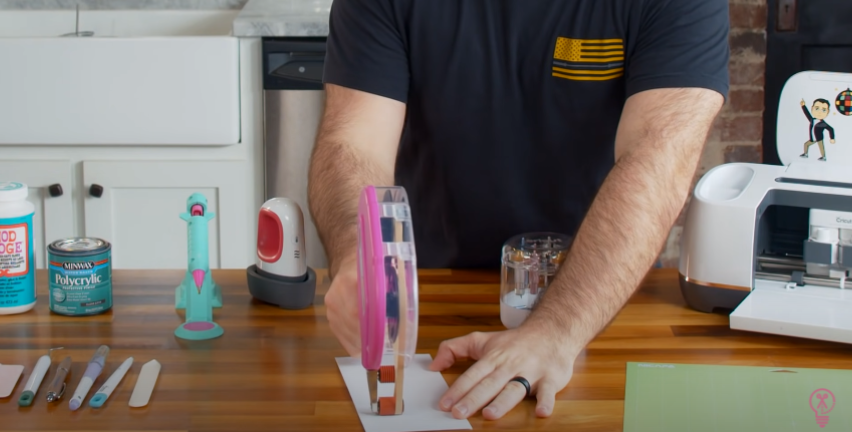 This adhesive applicator is easy to use, economical, and each roll lasts a long time.
It's a dry adhesive so there's no dry time. It's instantly sticky! If you apply it to cardstock and oops, you put it in the wrong place, it's easy to rub off without ruining your project. Yet, it holds your projects really well.
Many people are intimidated by refilling the ATG gun but just check out our helpful video and we'll show you how easy it is.
Bone Folder
A bone folder helps create really crisp lines when making folded projects like greeting cards. If you are a card maker, you need this tool! You can use an old gift card in a pinch, but this works even better and they're very inexpensive.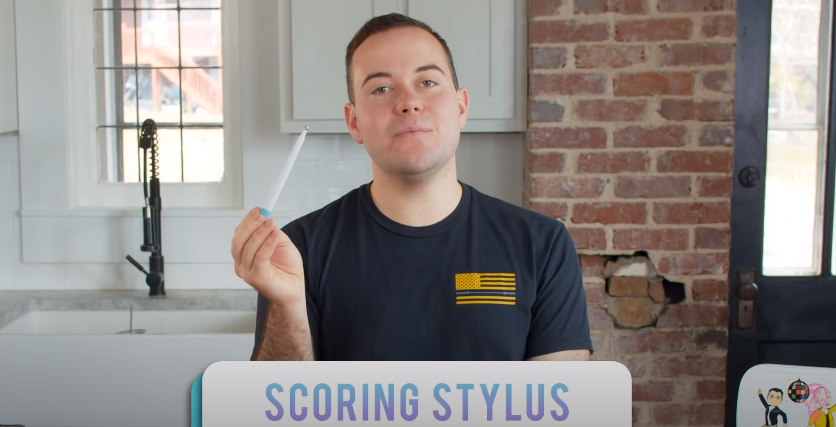 Scoring Stylus
Here's another essential tool for all of the paper crafters and card makers out there. The scoring stylus can be used in either the Cricut Maker or the Cricut Explore Air. The Scoring Stylus goes into Clamp A, meaning that unlike the Scoring Wheel for the Cricut Maker (which goes into Clamp B), we don't have to stop partway through the project and switch it out for our fine point blade.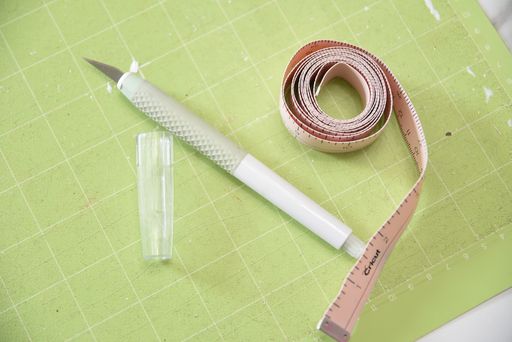 Cricut TrueControl Knife
The Cricut TrueControl Knife is one of our all-time favorite tools. We love that it has this really great ergonomic handle that makes it so easy to use. It is also designed not to roll off your work table, making it much safer than many other craft knives.
One of our favorite features is the touchless blade changing, another great safety feature. Finally, it is super sharp and works really well! You can keep the housing forever and just change out the knife blade as needed (which isn't very often – they last for a really long time!).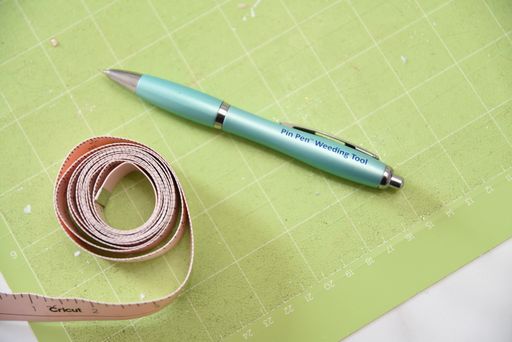 Pin Pen Tool
The Pin Pen tool comes from 143Vinyl. It's a weeding tool with a bit of a difference. It looks like a regular pen but when you click it, it has a little needle in place of the pen tip.
This is perfect for weeding tiny parts of your design, like the insides of letters in your text. Think about how handy this would be for an intricate design like a mandala.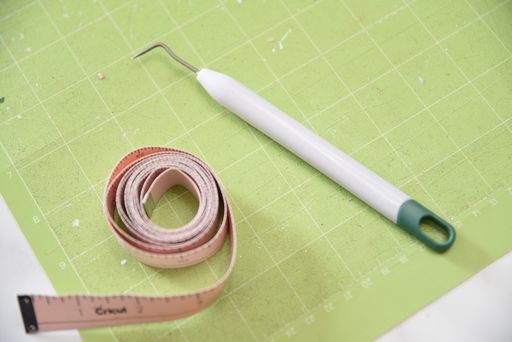 Our Favorite Weeding Tool
We found this off-brand weeding tool on Amazon and it has quickly become a favorite in our studio. This is great for the bigger pieces and outer edges of your project.
This is similar to the ones you can buy from Cricut, but we find these are a bit sharper and more durable, whereas the Cricut ones tend to bend over time.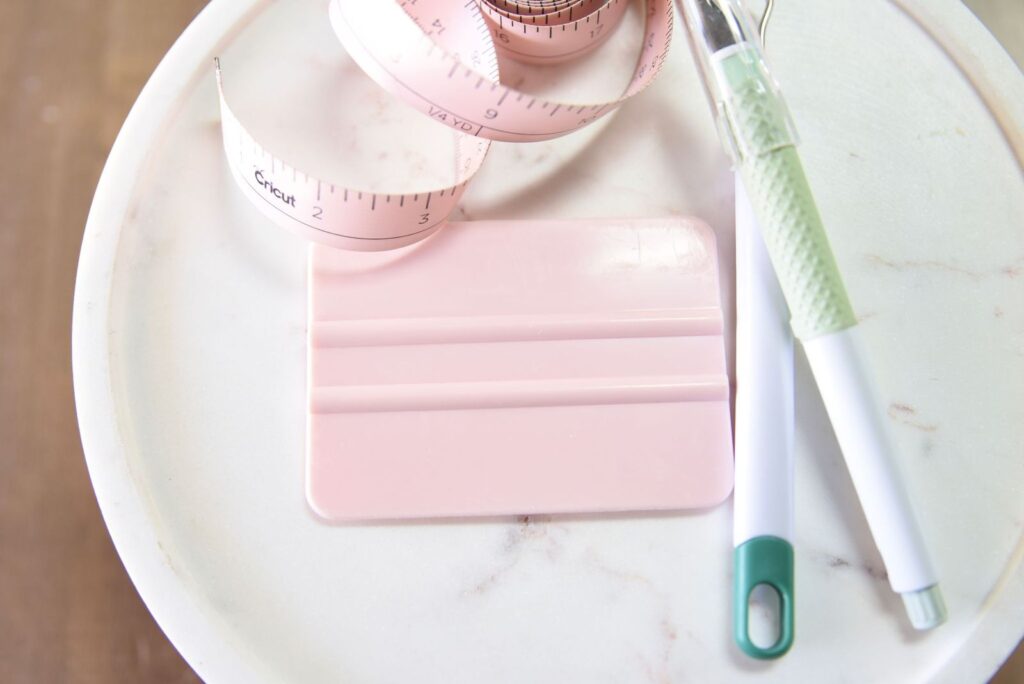 Our Favorite Burnishing Tool
This is a simple scraper tool (squeegee) from 143Vinyl. It's so inexpensive but it's the best tool we've ever found for burnishing our Cricut craft projects.
Cricut also makes a scraper tool, but this one is less expensive and we find it lasts longer. It has a little more flexibility to it than the Cricut one and that little bit of give helps us burnish our projects without damaging them.
Because the Cricut tool is so stiff, it has a tendency to break off at the corners and then can tear the vinyl as you burnish it.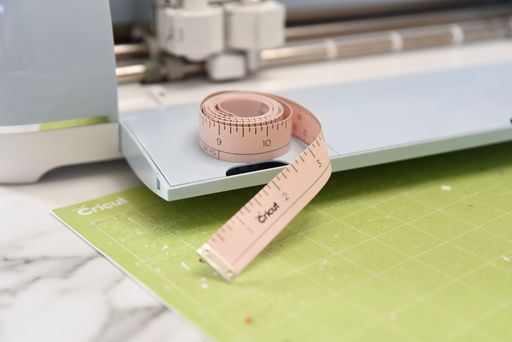 Measuring Tape
People sometimes scoff at this suggestion, but we find that a good measuring tape is essential! Our motto is always measure twice (or three times!) and cut once.
Many times when we have had a craft fail in the past, it's because we didn't take the time to measure and verify those measurements. So, we ended up cutting out a design that didn't fit on our blank. Or that was too small to look good on the shirt we were making. This wastes time, energy, and materials!
We prefer a measuring tape over a ruler because it can wrap around items like tumblers and mugs as well as measure straight flat surfaces like picture frames.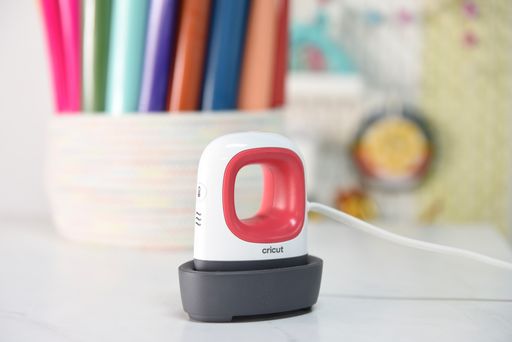 Cricut EasyPress Mini
We've talked about all of the various models before and how to choose which EasyPress is the best for you. If you've watched many of our videos, you will see us singing the praises of the Cricut Mini EasyPress over and over again though.
If you can only get one, the Mini EasyPress is the one we consider our all-purpose heat press because it works for the majority of what we make. It is really affordable and so versatile. We love the control we can get with it and we get amazing results every time.
This is probably the #1 must-have item we would suggest out of all of these!
PS – recently we tested the Cricut EasyPress Mini vs. the Dododum Mini Heatpress. Be sure to check out the results!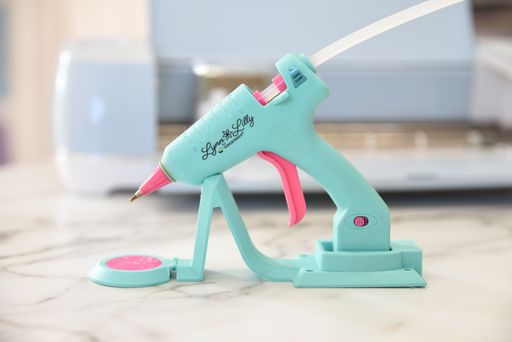 Lynn Lilly Hot Glue Gun
The Lynn Lilly hot glue gun from Surebonder is our go-to glue gun! You can use it wirelessly for up to 2 minutes or attach the cord directly to it and use it like a standard glue gun.
We love the precision tip on it! It helps us get into those small spaces without leaving behind giant globs of glue. It takes the mini hot glue gun sticks but it's just a bit bigger than a typical mini glue gun making it quite comfortable to work with.
Our Favorite Craft Sealants
We have a few different craft sealants that we like to use depending on the type of project we're making.
Minwax Polycrylic – If you use a soft brush, this leaves behind very few brush strokes and gives great protection to your Cricut projects.
Dishwasher Mod Podge – This is an amazing way to make your project dishwasher safe. The only drawback to it is that it requires a cure time of 28 days, but after that it is food safe and dishwasher safe.
Minwax Fast Drying Spray Polyurethane – This is so handy since it simply sprays on. Be sure to use in a well-ventilated area.
You can find out more guidance on which sealer to choose here.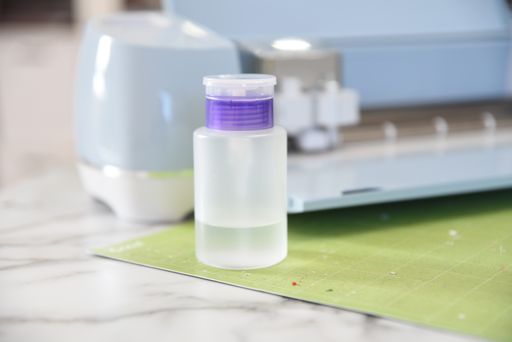 Alcohol Pump Bottle
These little alcohol pump bottles are so handy! We find them at the dollar store or Amazon. Simply press your paper towel on it 1-2 times and then you can use it to clean your non-porous surfaces before applying vinyl to them for a much better adhesion.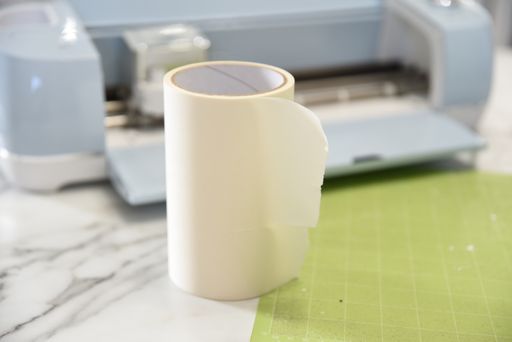 Masking Paper Transfer Tape
You will save a ton of money using this masking paper transfer tape. It works well for most projects because while sticky, it's not overly sticky giving it just the right amount of adhesive to transfer your vinyl designs without damaging them.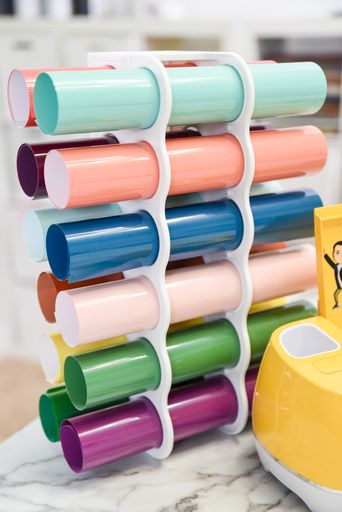 Starcraft Vinyl
We love Starcraft vinyl. It's a premium vinyl that performs really well time after time. They have a wide selection of colors available and we get great results from this product. It makes all the difference in crafting more easily and in the durability of our finished projects.
Siser EasyWeed Heat Transfer Vinyl
For HTV, Siser EasyWeed is still our favorite. Again, it's easy to use and holds up really well on finished projects. We can teach you more about the different kinds of vinyl and when to use them. Once you find the right vinyl, it's going to make your crafting so much easier and more successful!
Wondering about the best blanks to use with your Cricut projects? We've got you covered there too!
What are your Cricut must-haves? Tag us on social media with hashtag #MakersGonnaLearn and let us know. We'd love to try them!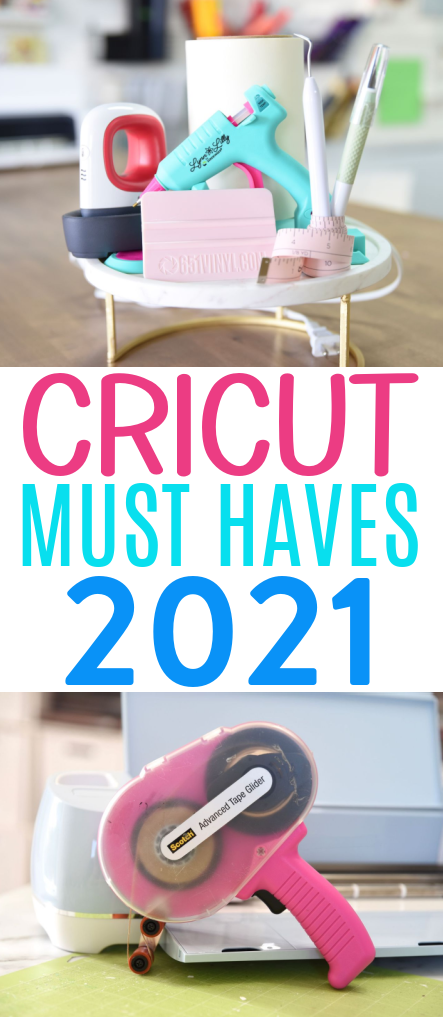 Tanner, Courtney, and the rest of the Makers Gonna Learn Team are all here because we love die-cutting and especially love sharing fun projects and tutorials with fellow makers. We are all great friends and are always having a blast when we are together- you will see this on camera, especially during live streams! We are here to inspire and support you in your crafting journey!