Cricut vs. Silhouette: What You Need to Know
If you're in the market for a die-cutting machine, you may be wondering whether you should get a Silhouette Cameo or a Cricut Maker. We're going to have a look at both Cricut vs. Silhouette and break down the differences and similarities for you.
Both of these die cutting machines are great additions to any craft room. They can save so much time when it comes to creating beautiful craft projects and can even open up a whole new side business for you. Crafts made with either a Cricut or Silhouette machine are quite popular! You can even make personalized, custom-made designs for your customers!

Cricut vs. Silhouette: What You Need to Know
Similarities between Cricut and Silhouette Machines
Both of these machines can be used with wireless Bluetooth technology as well as through a USB cord. They are simple to use, portable machines. Each of them cuts quickly and precisely. You'll be able to find tons of free and paid designs available for Cricut and Silhouette. You can also upload your own designs.
Silhouette Cameo and Cricut Maker both come in an array of colors, can cut a variety of materials (although as you'll see, the Cricut can cut more), and can use both blades for cutting and pens for sketching.
Now let's take a look at the differences: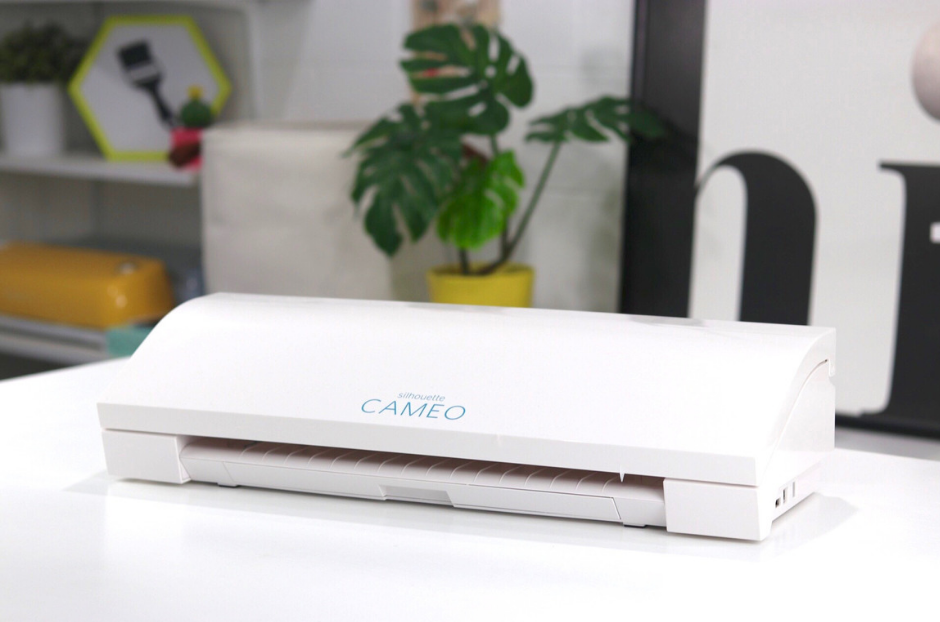 Silhouette Cameo 3:
Autoblade technology is available.
Controlled with a small touchscreen.
Can cut material up to 2 mm thick when using the deep cut blade.
Maximum cutting size is 12 inches wide by 10 feet long.
Cutting force of 210 gf.
Has a tool storage compartment.
Must upgrade from the free Silhouette Studio software to the paid Designer Edition in order to upload SVG files. You can upload DVX files with the free version.
Weighs 14 lbs.
The Cameo is usually priced at about $100 less than the Maker.
Is able to cut: vinyl, paper, specialty patterned papers, cardstock, vellum, iron-on heat transfer material, fabric (when using our Interfacing products), sticker paper, select fabrics (depending on their thickness of course) with fabric stabilizer, select felt products, wax paper, freezer paper, and fun foam.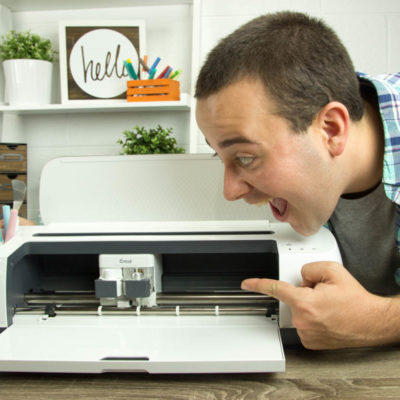 Cricut Maker:
Can cut material up to 2.4 mm thick.
Controlled with physical buttons.
Maximum cutting size is 11.5 by 23.5 inches.
Cutting force of 4000 gf.
Has 2 tool storage compartments resulting in a larger capacity than the Cameo.
Can upload SVG files without any upgrades.
Weighs 30 lbs.
Usually priced about $100 more than the Cameo.
Has a rotary blade and knife blade available and can handle a larger variety of materials than the Cameo including: Acetate, acrylic felt, adhesive foil, double-sided adhesive sheet, aluminum foil, bamboo fabric, permanent adhesive birch, boucle, broadcloth, burlap, burn-out velvet, calico, canvas, cardstock (including adhesive backed), cashmere, cereal box, chalkboard vinyl, chambray, Chantilly lace, chiffon, chintz, chipboard, colored duct tape and duct tape sheet, construction paper, copy paper, corduroy, corrugated cardboard, cotton, craft foam, crepe paper, damask, denim, double knit, dry erase vinyl, duck cloth, extra heavy weight fabrics, eyelet, faux leather and suede, felt, flannel, fleece, flocked paper and iron-on, foil paper and poster board, freezer paper, gauze, gel sheet, glitter cardstock, vinyl, and other products, grocery bag, grosgrain, heat transfer, interlock knit, iron-on, jersey, kraft board, leather, linen, lycra, magnetic sheet, matboard, mesh, moleskin, muslin, nylon, oilcloth, organza, paint chip, handmade paper, photo paper, plastic canvas, parchment, plastic packaging, poster board, rice paper, satin silk, seersucker, sticky notes, suede, taffeta, tattoo paper, terrycloth, tissue paper, tulle, tweed, vellum, velour, velvet and velveteen, vinyl, washi sheet, wax paper, window cling, wrapping paper, and much more!
Cricut Design Space is said to be easier to use than Silhouette Studio. Some have also found the initial setup of the Cricut to be easier than the Silhouette.
Faster cutting than Silhouette Cameo – in some tests has been shown to cut 3 times faster.
Has a built-in shelf to hold your smart phone or other device. Because it has a 3 amp power cord, you can charge your smart phone or iPad with the port on the Maker while the machine is turned on. The Cameo only has an output of 1.25 amps.
If you purchase the adapter, you can use physical cartridges with it. This isn't really that important a factor since Cricut has announced that they are retiring the cartridges and won't be making any more, but if you already have some from an older Cricut model, you could continue to use them with the Maker.
Which die cutting machine should you buy?
While they are both great machines, we think the Cricut Maker is the winner by a landslide. For the additional $100, you get so much more. (And remember, to come closer to performing like Cricut Design Space, you'll need to purchase a Silhouette Studio upgrade!)
It can make deeper cuts than the Silhouette Cameo, cut a much wider variety of materials, and makes those cuts a good deal faster. In addition, we find the Cricut to be easier to set up and easier to use.

Which machine is your favorite?
Tanner, Courtney, and the rest of the Makers Gonna Learn Team are all here because we love die-cutting and especially love sharing fun projects and tutorials with fellow makers. We are all great friends and are always having a blast when we are together- you will see this on camera, especially during live streams! We are here to inspire and support you in your crafting journey!