DIY Birthday Badge
This fun birthday badge tutorial will teach you everything you need to know for recreating your own festive badge to wear while celebrating life's most fun moments! Adapt this project for any occasion needed!
For birthdays, anniversaries, award ceremonies, and bachelorette weekends, the options are endless for creating a custom badge with your Cricut and some basic craft room supplies!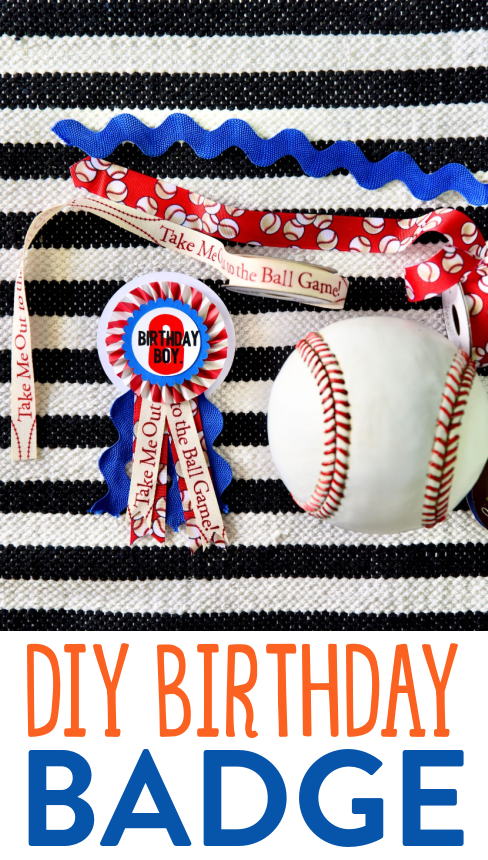 DIY Birthday Badge
Disclosure: Some of the links below are affiliate links provided for your convenience. This means, at no additional cost to you, we will earn a commission if you click through and make a purchase.
Fonts Used:
Supply Links: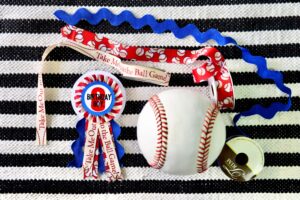 Step-by-step Instructions:
1 – In Design Space, add a circle (from basic shapes) and duplicate for a total of 4 circles.
2 – Size one circle to 3.5 (change color to white).
3 – Size one circle to 3″ (change color to red -this circle is a representation of the accordion folded layer you will add. You do not need to cut this circle, it's simply for design reference).
4 – Size one circle to 2″ (change color to blue). To create the scalloped edge for this circle, add a text box and insert 25-30 period punctuation marks. Select a font (like MGL's Circles) that has a round period punctuation. Kern periods so that they touch and then curve the text to create a complete circle. Place the curved text on top of the blue circle and size so that it overlaps creating a nice scalloped edge. Weld the text box and blue circle together and size to approximately 2.2″.
5 – Size the remaining circle to 1.7″ (change color to white).
6 – Insert a text box and select MGL's font "Variant". Type in the number 8 (or whatever number your birthday boy/girl is celebrating). Size the number to fit on the 1.7″ white circle.
7 – Insert another text box and select MGL's font "variant". Type in the birthday boy/girl's name and size to fit over the # on the 1.7″ white circle.
8 – Click make it. Load mats with appropriate material and choose the correct material setting. Once cut, weed vinyl and apply a transfer tape.
9 – Using your scoring board/paper trimmer, cut two 8″x1.5″ strips of red and white striped paper. Score each strip every 1/4″. Once scores are complete, accordion folds each strip of paper.
10 – Using ATG, connect the two strips to form a ring and then flatten the ring to form the fanned circle. Add hot glue to the center of the fanned circle to keep it all together.
11 – Layer Vinyl on the 1.7″ circle.
12 – Use ATG to add a 1.7″ circle to the top of the scalloped circle.
13 – Use got Glue to add the scalped circle to the fanned circle.
14 – Cut ribbons to size and arrange them on the top of the 3.5″ white KraftBoard circle. Glue ribbons to KraftBoard.
15 – Glue fanned circle on top of the ribbons/kraft board layer
16 – Use hot glue to add a bar pin to the back of the badge
Tanner, Courtney, and the rest of the Makers Gonna Learn Team are all here because we love die-cutting and especially love sharing fun projects and tutorials with fellow makers. We are all great friends and are always having a blast when we are together- you will see this on camera, especially during live streams! We are here to inspire and support you in your crafting journey!