DIY Cricut Card For Summer
I'm so excited to show you How To Make A Faux Shaker Card. They're lots of fun and always bring a smile to the faces of the recipients. You can make this as a card or a tag. Be sure to add this DIY Cricut Card for Summer to the list of summer projects you're planning to make. Let's get started!
We're going to download the "Geometric Pineapple" cut file from Makers Gonna Learn Summer Collection onto our desktop and upload its SVG file into Cricut design space. Next, we're going to resize that to fit onto our tag.
Now, we're going to grab a square and make it longer. Then, we're going to duplicate that square and add it to the first one. As you can see, this is how we'll be sure that the pineapple fits within the rectangular tag.
Select both of them and weld them to create one shape and make sure your pineapple fits perfectly. We're going to create a sentiment using our text and type "Hey". Once that is typed up, we're going to go and grab our font from Makers Gonna Learn. You can access these as a yearly member. We'll make it a little bigger. Then, we'll go to advance and split those up. We can kind of scoot the letters together and then weld them for it to be a complete word.
We're going add a little circle to our tag. Just make sure that the pineapple tip isn't going to cover that circle. Go ahead and click cut.
We're going to cut the pineapple and the "hey" from black. Once we have the pineapple and the "Hey" word, you're going to need some foam adhesive. We're going to begin by trimming part of the foam adhesive into really thin strips that fit in the back of the pineapple. We just need to add a few pieces.
Now, we're going to come in with a pencil and mark where we're going to put the pineapple. We want to be sure that when we add our other adhesive and sequins it won't be in the way of the foam strips.
We're going to use some clear glue and add some sequins. Once you've added some sequins for the main part of the pineapple, tap them down to really get them to stick to the adhesive. Then, shake off the excess sequins.
With a pencil, lightly draw in the edges on the top part of the crown of the pineapple. Apply your glue and use an assortment of green sequins to create the pineapple crown. Once again, tap those on and shake off the excess.
Now, come in with the pineapple we've cut out, remove the backing on the foam strips, and place that over your arrangement of sequins. Since the glue is still wet, you can move them around if needed. Next, we're going to add some more foam adhesive to the "Hey" and adhere it to the pineapple. Then, we're going to add some gold and copper Nuvo drops to our word.
Other options you could use for this: Try Stickles or use some watercolor paint. If you want to use more paper, you can cut the "Hey" out of a different cardstock instead, but I really wanted the "Hey" to really pop out. There you have it! You can add a tag to the top and make this as the perfect touch for a little summer gift using the Summer Collection from Makers Gonna Learn.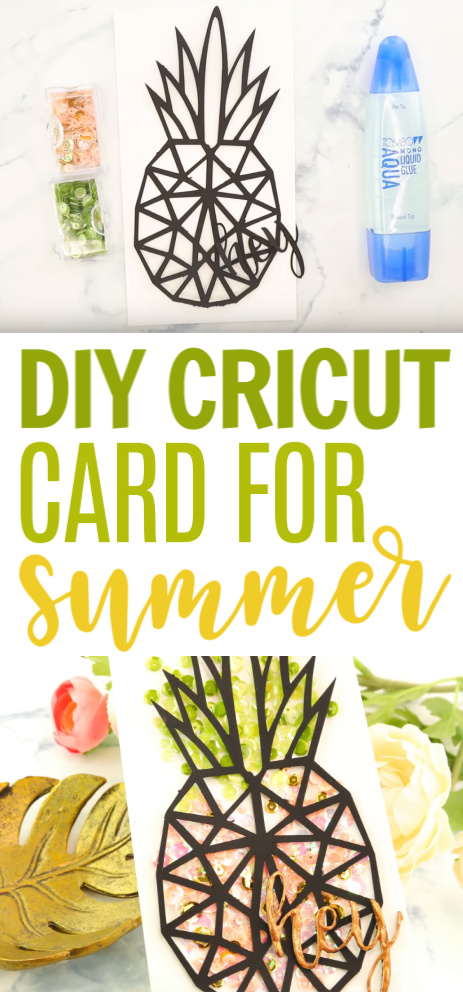 Tanner, Courtney, and the rest of the Makers Gonna Learn Team are all here because we love die-cutting and especially love sharing fun projects and tutorials with fellow makers. We are all great friends and are always having a blast when we are together- you will see this on camera, especially during live streams! We are here to inspire and support you in your crafting journey!