DIY Disney Ears Tutorial
Are you a Disney fan? We just love making Disney craft projects with our Cricut machines. These adorable custom Mickey ears are a great project for any Cricut owner – Cricut beginner or Cricut pro! You're going to love this DIY Disney Ears Tutorial – you can even make them with either a Cricut Maker OR a Cricut Explore Air 2.
The Cricut tips and hacks you will learn in this Mickey ears headband blog post and video tutorial will help you not only with this fun craft project but with other Cricut projects you want to make. You're going to love putting your own spin on this project. We can't wait to see what you come up with.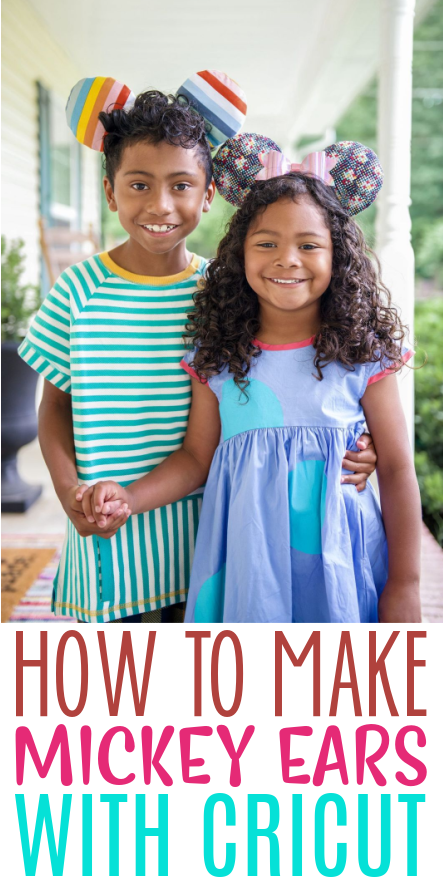 DIY Disney Ears Tutorial with Cricut
We are making both Mickey Mouse and Minnie Mouse ears. These are perfect for your upcoming vacations or just for Disney fans who want to wear them for parties or movie nights or any other day they choose. Just think how much fun it will be to have your own custom Mickey ears to wear!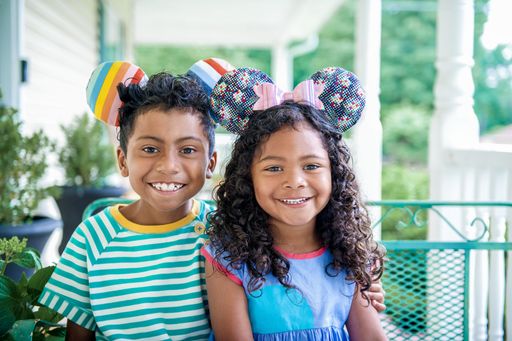 We have two versions of these Disney ears for you today. We will show you both a sewn version and a no-sew version so anyone can make their very own mouse ears with their die cutting machine. Remember, you can use either your Maker or Explore Air 2 for making either one of these versions.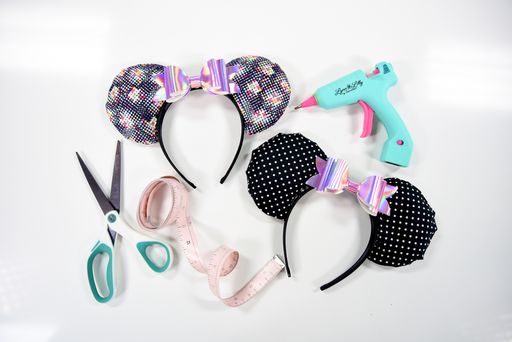 Materials we used:
Grab your FREE Mickey ears headband cut file here!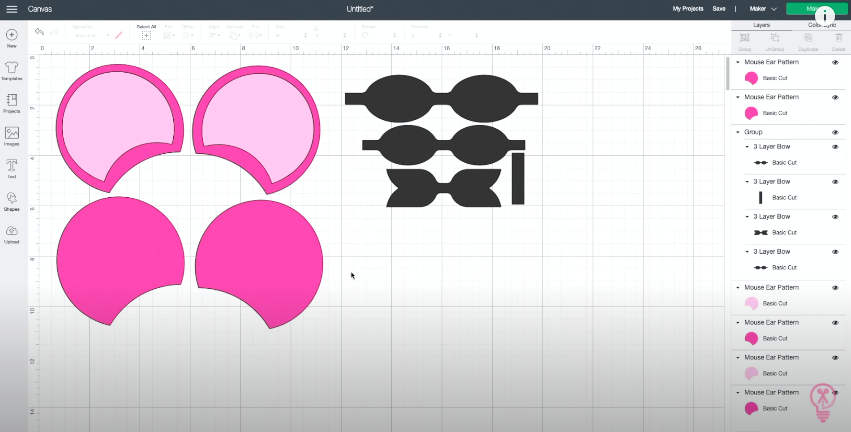 Starting in Cricut Design Space
Import your Mouse Ears SVG into Cricut Design Space. You don't even need to do any resizing or file manipulation or anything – it is already perfectly sized and ready to go as it is.
You'll see that we have the front and back pieces for the left and right ears. Then we have smaller pieces that are for cutting out the craft foam. If you don't have any foam on hand, you can use cardboard instead.
In addition, we have the bow cut file. You may be wondering what the finished size of the bow will be. We look at the bottom piece of the bow cut file and this gives us a really good idea of the finished size of the bow. If you want to make it a different size, you certainly can resize it but use that bottom piece as a way to gauge just how big it will be.
We will be using the rotary blade to cut out the fabric, the fine point blade to cut out the faux leather, and the deep point blade to cut out the foam. If you're using an Explore Air 2, you will either need to bond your fabric or to cut out a cardstock template and cut your fabric by hand in place of using the rotary blade for the fabric.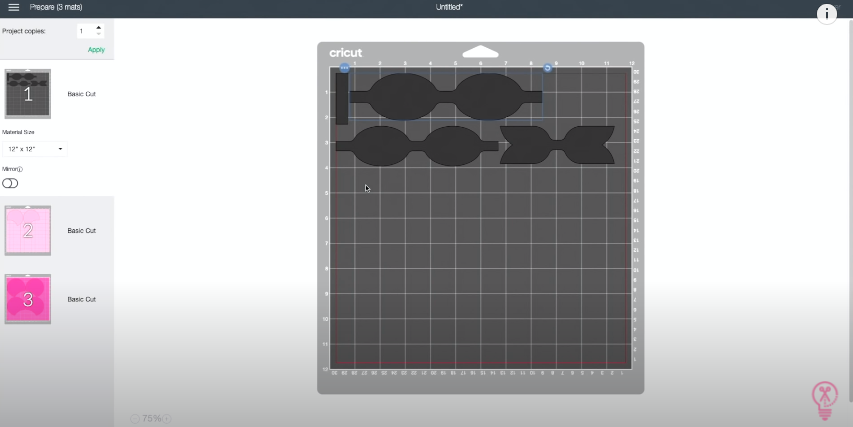 Cutting your materials
Press Make It and choose your materials for each of your cutting mats according to which material you will be using. For the bow, we are using Paper Thin Faux Leather, for the inner part of the ears, we're using Craft Foam, and for the rest of the ears, we are using cotton fabric.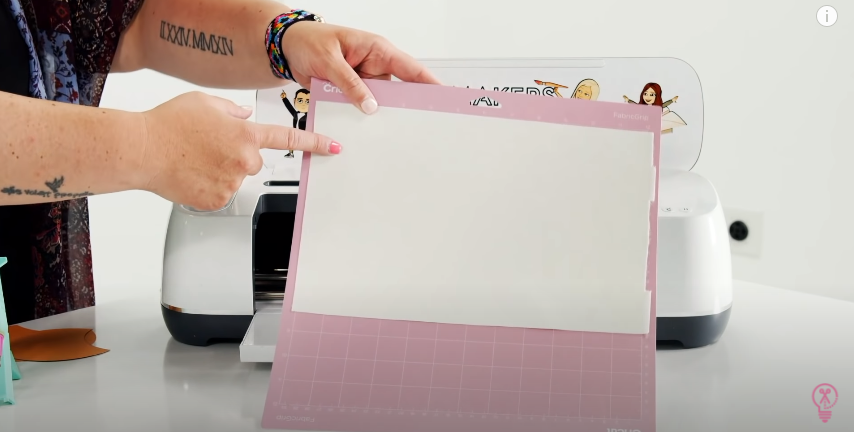 Once you have selected your materials, place your materials on the cutting mats, load each blade for the mats as needed, and cut out your materials. We are placing the Holographic Faux Leather shiny metallic side down on the Fabricgrip cutting mat.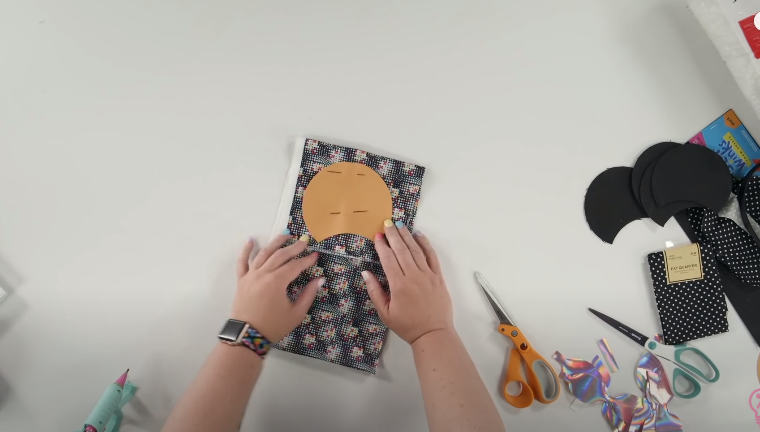 Remember, if using your Air 2, you can cut out a Mickey ears template and hand-cut your ears. We're cutting all 4 layers at once. Simply pin the template on the fabric and cut out.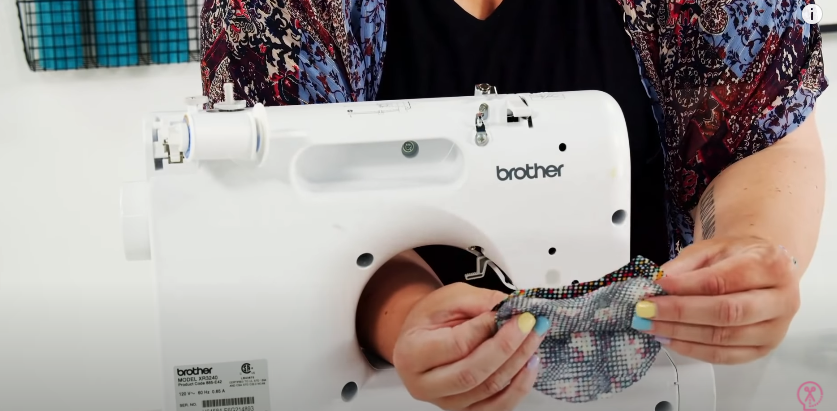 DIY Disney Ears Tutorial – Sewn Version
Sewing the ears
Place two of your fabric ears right sides together. Sew all the way around except for the bottom of the ear (leave that open) using a 1/4 inch seam allowance. Repeat with the other fabric ear.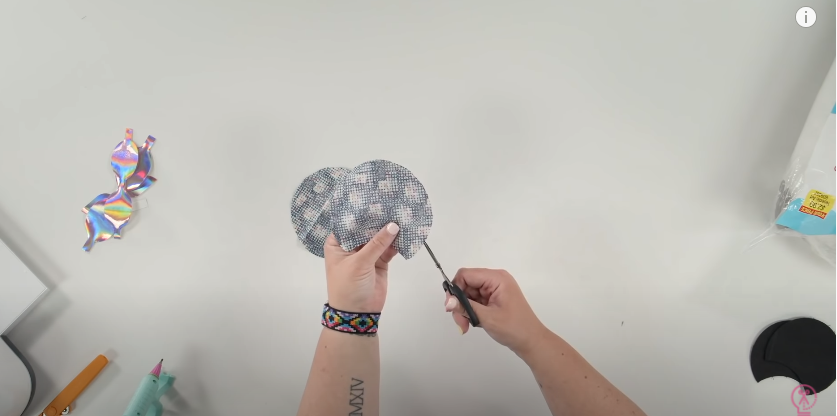 Cut notches around the curved part of the ears. This will help keep them from puckering when you turn them right side out. Cut little V's using the small scissors being careful not to cut into the seam. Go all the way around about every 1/2 to 1 inch.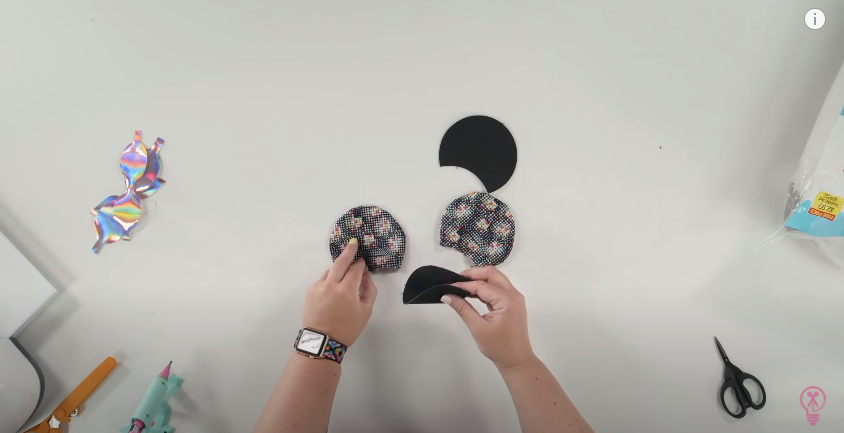 Turn each of the ears right side out. You can use either cardboard or craft foam inside the ears. We like using craft foam because you can bend it slightly to make it easy to insert it into each ear.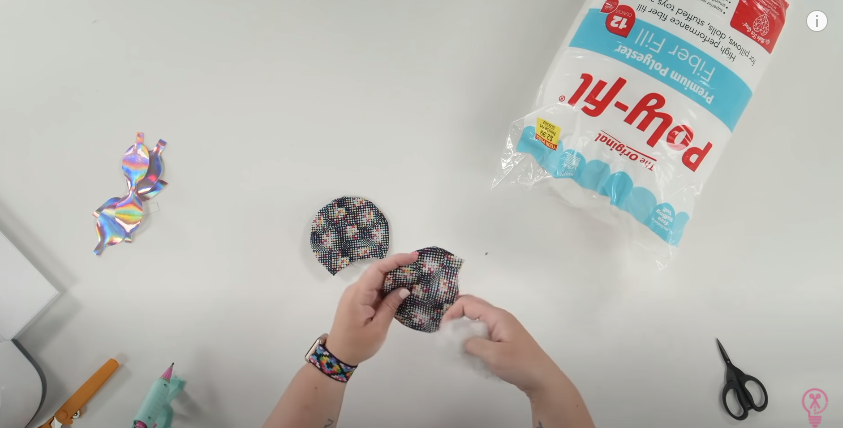 Now, it's time to fill the ears with the Poly-Fil stuffing. You can add it to just one side of the craft foam or on both sides according to your personal preference. Make sure that the two ears are evenly stuffed and that you have pushed the filling so that it extends right up into the edges of the ears.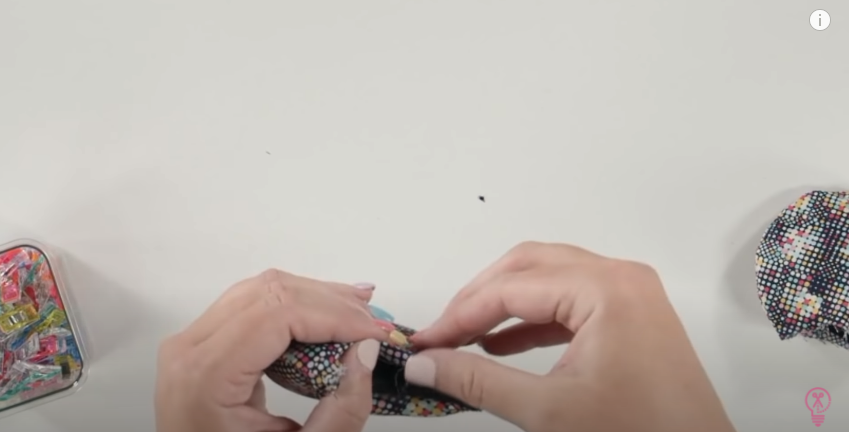 Fold the bottom edges into the ear. We like to do it by folding one edge over the piece of craft foam and then folding in the other side.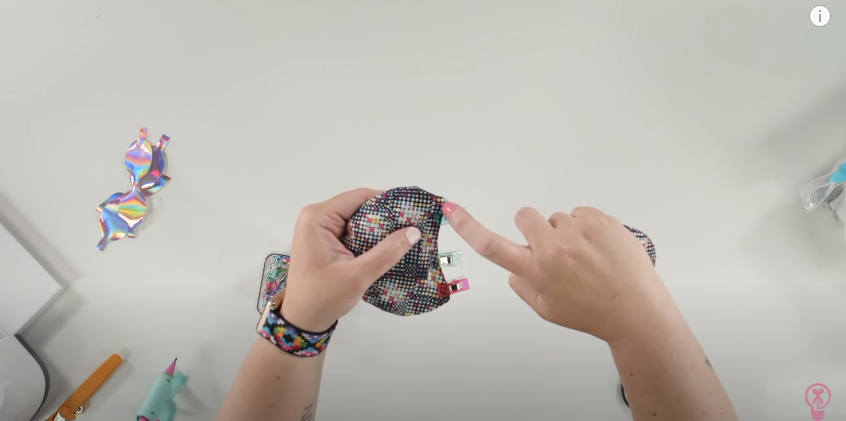 Clip or pin those edges together to hold them in place. Sew closed using a top-stitch ready close to the edge.
Assembling the bows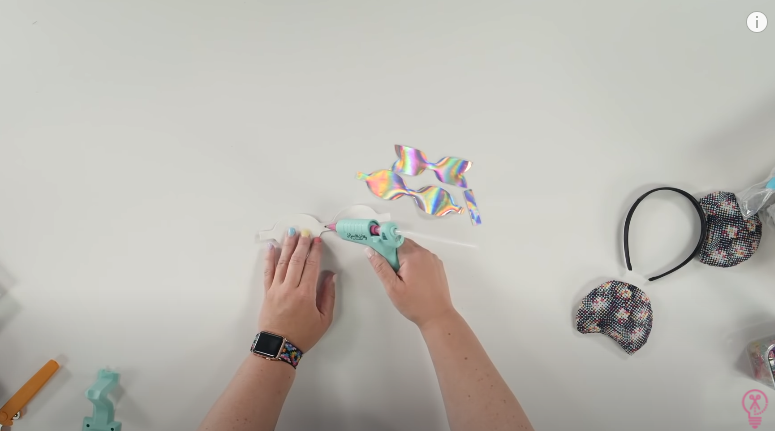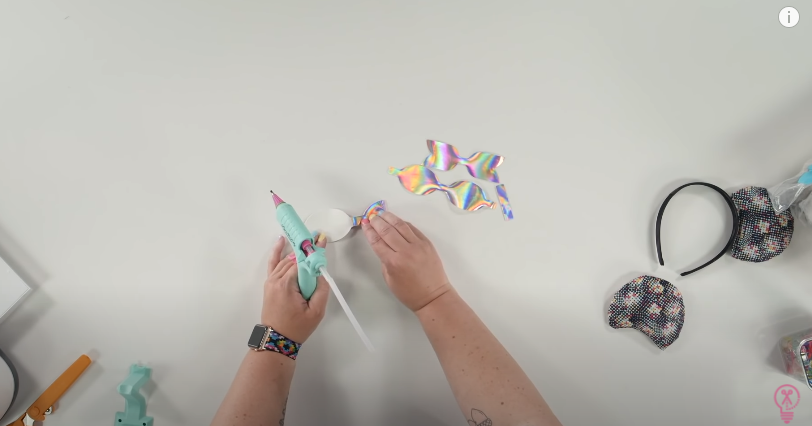 Next, we'll glue the bows together. Apply some hot glue to the center and fold in one side tab towards the middle, lining it up with the center piece. Add another dab of glue to the center and then fold in the other side.
Layer each of the bow sections together and secure with hot glue. Then, starting in the back, glue down one end of the rectangle that wraps around the middle of the bow, wrap it around, and secure the other end with more glue.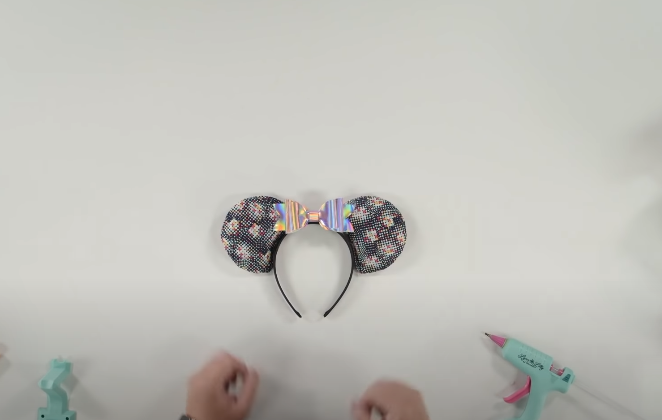 Lay out the pieces, arranging them as you'd like. Then, when happy with how your Mickey ears headband, hot glue the pieces in place on the headband. Hold each piece in place until it dries.
DIY Disney Ears Tutorial – No Sew Version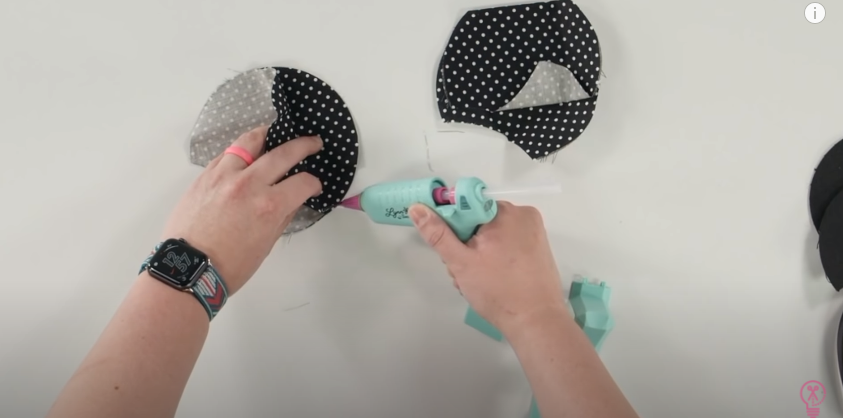 You can start by assembling the bow by following the instructions above. Then, start putting each ear together. Once again, lay two pieces of the fabric ears right sides together. Instead of sewing, we're going to hot glue them together. Work in a small section at a time, making sure to apply the glue close to the edge. As with the sewn version, do not glue along the bottom edge of each ear.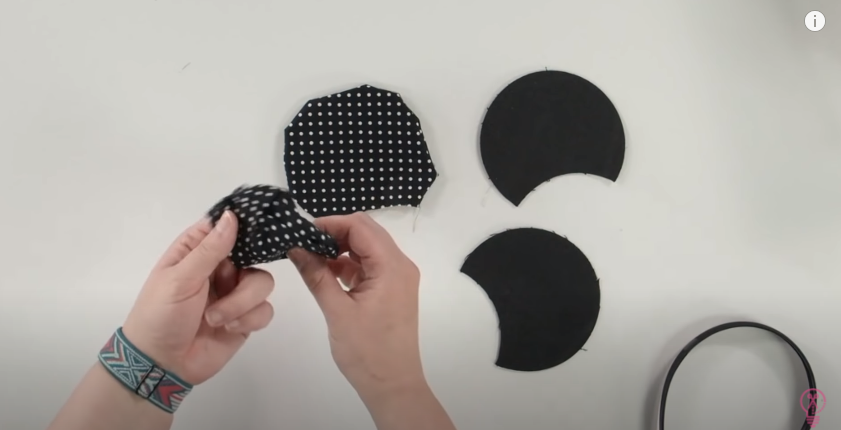 Turn each ear right side out. Be a bit gentle with this as putting them together with hot glue isn't quite as permanent as sewing. Tuck the foam pieces into the ears as shown in the sewn version. Then, stuff them with Fiber-Fil and glue the bottoms of each ear shut. We like to glue one side to the craft foam. Then, fold in the other side and secure with glue.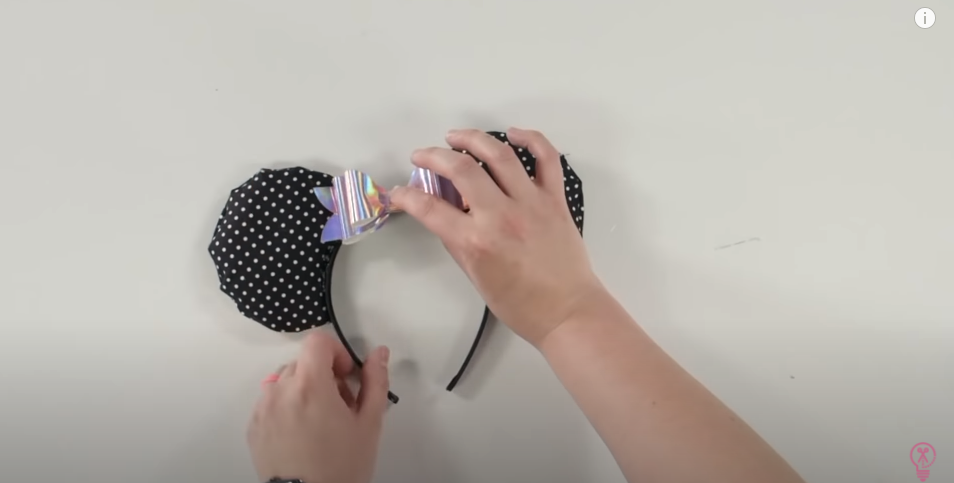 Assemble the mouse ear headband just as we did for the sewn version. Arrange the pieces and secure in place on the headband using hot glue.
Aren't these the cutest? You can easily customize these Disney ears to any color or design you want, not just Mickey and Minnie. Avengers, maybe? Or how about Winnie the Pooh? We can wait to see the Disney ear headbands you make. Just tag us using hashtag #MakersGonnaLearn on social media.
Need a more in-depth step-by-step video tutorial? Check out the one below!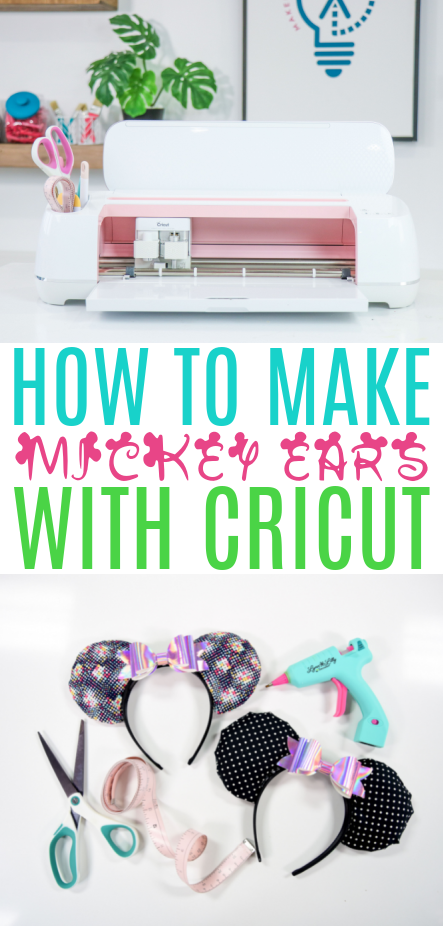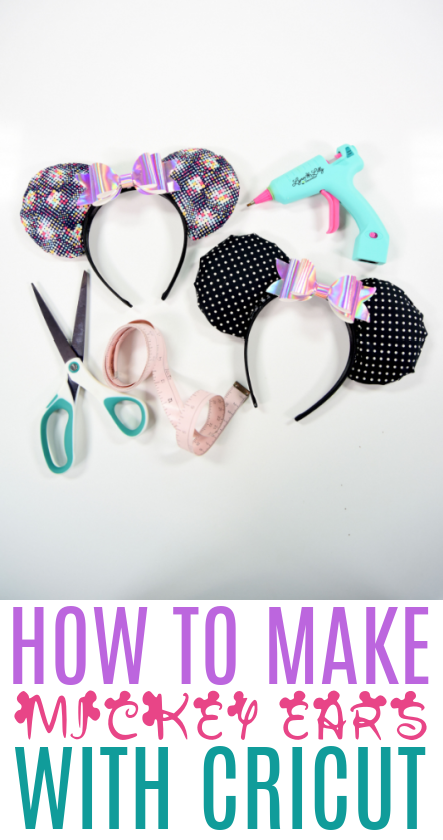 Tanner, Courtney, and the rest of the Makers Gonna Learn Team are all here because we love die-cutting and especially love sharing fun projects and tutorials with fellow makers. We are all great friends and are always having a blast when we are together- you will see this on camera, especially during live streams! We are here to inspire and support you in your crafting journey!