DIY Homebody Sign
File manipulation is something that some Cricuters are afraid to do because they think it is too complicated. Let us uncomplicate it for you with this tutorial on how to use patterns in Design Space and make an adorable DIY homebody sign.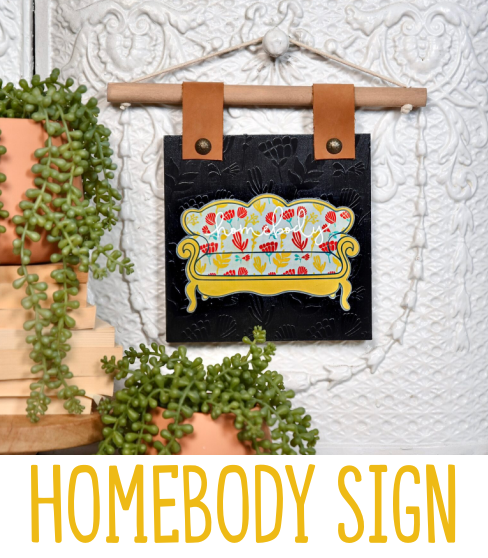 DIY Homebody Sign
Disclosure: Some of the links below are affiliate links provided for your convenience. This means, at no additional cost to you, we will earn a commission if you click through and make a purchase.
Cut Files Used:
Supply Links: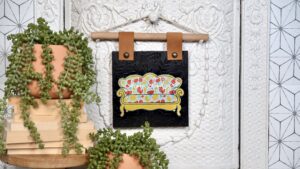 Step-by-step Instructions:
Important tip: You might find it helpful to pause and even rewatch parts of this tutorial as you follow it. It involves quite a few steps and may feel overwhelming, but taking it step by step and slowing down the process can really help you master it.
If you're trying to match the colors in your project to your home decor (or some other item), you can always take a picture of it and create a color palette from it using a dropper tool. Bring that color palette in your Cricut Design Space Canvas so you can match your colors there.
Import the downloaded cut files from Makers Gonna Learn to Design Space. Since we are going to work with the funky flower pattern first, we are going to hide the other parts of our design. This just makes it easier and less confusing..
We are going to change the colors of this pattern to match some in our color palette. So, we began by hiding the tan layer and focusing on the other color.
Within this color, we still want to change these pieces into two different colors. To do that, begin by duplicating that remaining layer. Now, you have 2 layers that are exactly the same.
Working with one of these layers, we are going to use Contour. You could slice away the pieces that you don't want to use with this color, but instead, since there are quite a few to do, we find it faster to use Contour instead.
We are contouring out the stems on one of the layers. Then, on the second layer, we're going to contour out the opposite. So, since we already did the stems on the first layer, on the second layer, we will contour out the petals.
Once you've done that, you can unhide the tan layer and combine all the layers together and line them up. Now, you can go through layer by layer and change the colors as desired.
Next, we are going to work with the Homebody cut file. Because we want to see a lot of the pattern on the couch, we're going to make the pattern design smaller and duplicate it. You can select it and then press command C, command V OR right-click on it and press Duplicate OR you can select Duplicate in the Layers Panel.
You might want to work with the design a little larger to line up your duplicates perfectly to get your repeating pattern and then reduce the size. Once you have two sections lined up, group them and then duplicate that whole thing and line those layers up. Once completed, group them again so that the whole thing can be used as one pattern design.
Now, we need to Weld our pattern together. But, we can't just weld the entire pattern design or it will make it all one color. So, go one color at a time in the Layers Panel. Select one and press Shift to select another until you have selected all of the shapes that are the same color. Weld. Repeat with your other colors.
Hide your pattern and work on the couch design – that's our Homebody cut file. We're visualizing this as 2 sections – the cushions and the wooden part of the couch. Duplicate the file and hide one of them. We don't need it right now. Ultimately, we will need 3 different layers to this design.
With the remaining cut file, we're going to once again contour out the parts that aren't needed. In this case, we want to go right down to the button at the bottom that says "Hide all contour" and click that.
Then, duplicate that contoured out design. On this one, you want to select all of the pieces that would be wooden and make sure that everything else is contoured away.
Duplicate this piece and hide the other one. This just gets it out of your way while you're working so there's no confusion. This time, you want to select the pieces that are for the fabric including the cushions, and contour away everything else.
As a way of double-checking that you have all the pieces you need, change each of those new contoured layers to a different color. Then, line them up together and it should become quite obvious if anything is missing. If it is, simply go back into that layer and fix it.
Now, unhide the layer for the fabric/cushions and unhide the layer for your repeating pattern. Place the couch pieces on top of the pattern piece.
We are going to be slicing and with the Slice function, you can only do two layers at a time. The background pattern layer is multiple layers, so we have too many. To correct this, duplicate the couch pieces so that you have a total of 3.
Select all of your duplicates and select Align Center.
Now, we are going to work one at a time. Choose one of the couch layers and one of the color layers of the pattern. Press Slice at the bottom of the Layers Panel. Delete the unnecessary slice results.
Repeat with another couch layer and another color layer of the pattern. Do this again, for the final color layer.
Once completed, select all of the sliced pieces that remain and select Group.
Now it's time to bring in the other layers of the couch that you contoured – the couch silhouette layer, the outline couch layer, and the wooden couch layer. Line it all up.
Once happy with it, select all of the layers and choose Flatten.
To create the background, we're pulling in a square from Basic Shapes and adding the same pattern we used before. This time we're making it bigger and we're welding it so that it's easier to cut.
Next, you can place your flattened Homebody design onto the background and size it accordingly. Hide the square – it was just there to give us as a guide for sizing the pattern.
Press Make It.
Your project will be separated onto 2 mats. One is for the Print then Cut (the couch design) and the other is for the vinyl.
For the Print then Cut, we like to make sure Bleed is turned on and using the System Dialog, we like to increase the quality to Best. If your printer has the capability for it, we find we also get the best results by changing the setting for the type of paper we're using as needed on the printer. Print your Print then Cut the design.
Next, once the ink is thoroughly dry, place it on your cutting mat and load it into your Cricut for cutting. Select Printable Vinyl for your material.
Now, you want to cut out the vinyl design for the background. This time we're selecting Premium Vinyl for our material setting.
Burnish your cut design to the mat and weed away the excess.
Apply transfer tape to your weeded design. Remove the design from your mat, flip it over, and burnish from the back. Cut off the excess transfer tape.
Peel away the backing slowly.
Apply the vinyl to the wooden sign. Burnish it down. Gently peel away the transfer tape.
Apply a thin coat of polyurethane over the sign. Let it dry well.
Now, you can apply your Print then Cut sticker. Smooth from the center out so there aren't any bubbles.
Tanner, Courtney, and the rest of the Makers Gonna Learn Team are all here because we love die-cutting and especially love sharing fun projects and tutorials with fellow makers. We are all great friends and are always having a blast when we are together- you will see this on camera, especially during live streams! We are here to inspire and support you in your crafting journey!