DIY Paper Pinwheel
Disclosure: Some of the links below are affiliate links provided for your convenience. This means, at no additional cost to you, we will earn a commission if you click through and make a purchase.
Who doesn't love a pinwheel? It reminds us of those days when we were little and had no cares in the world other than running in the breeze with one of these. So, how about making your own DIY paper pinwheel?
We will take you through the process step by step. These are a fun gift for kids or are perfect party favors for a little one's birthday party. Let's start crafting!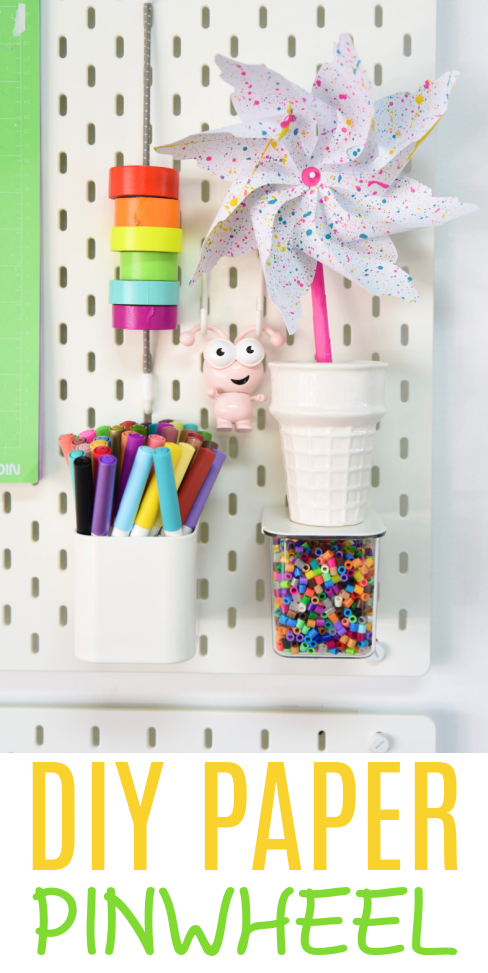 DIY Paper Pinwheel
Cut File Used:
Supply Links: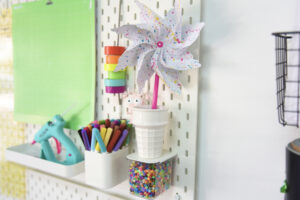 Step-by-step Instructions:
Upload your cut file into Design Space. You actually don't have to size the pinwheel cut file unless you want yours smaller than ours. We changed our pinwheel colors to white.
Go to "basic shapes" on the left side of your layers panel and grab a circle. Make the circle 0.5" and then duplicate it. Make the duplicated circle 0.095" and center the smaller circle with the bigger circle using the "align" tool at the top of your layers panel.
Select both circle layers and click "slice" at the bottom of your layers panel. Delete the slice results until you're left with the 0.5" circle with the small hole in the center of it. This will be a decorative piece on the front of your pinwheel that hides any glue imperfections
Get a square from "basic shapes" and unlock the size ratio. Make the square 0.9" by 2.36". This will be rolled and go between the back of your finished pinwheel and the pinwheel handle.
Get another square from "basic shapes" and unlock the size ratio. Make the square 5.9" by 8.25". This will be your pinwheel handle!
Make sure your basic shape layers are all the same color so they can be cut out of the same piece of paper.
Click "make it" and set your material setting to "Medium Cardstock – 80lb".
While your Cricut is cutting your paper, turn your hot glue gun on and allow it to begin heating up.
Allow your Cricut to cut out all of your pieces. Be gentle when removing the paper from the mat.
Once all your pieces are cut lets assemble your pinwheel. Please refer to the video at time 12:04 for a clear understanding of this process. Lay one of your pinwheel layers down on your work surface with the skinny cut edges facing to the right. Now, lay your second pinwheel layer down the same exact way, then rotate the second layer so that it is offset but even with your first layer in the center. Again, the video at time 12:04 contains better visual directions for this process.
Once you have the positioning correct on your two pinwheel layers, add hot glue to the back of the second layer of your pinwheel and place it back down where you had it, being very mindful to keep it centered and positioned correctly.
Now your goal is to pull all of the long thin pieces on the bottom pinwheel layer up with the same pieces on the top pinwheel layer. Please refer to the video at time 13:38 for a clear understanding of this process.
Now that all of your pinwheel pieces are in the front you can begin gluing. This step will bring your project to life! See time 14:33 in the video for visual instructions on this process. Add hot glue to the front of one of the small thin edges of the pinwheel layers next to the pre-cut hole. Now fold it over and place it glue side down onto the center of the pinwheel lining up the holes.
Repeat that process until everything is glued down.
Time to splatter paint! Place your poster board on your work surface and squeeze a little bit of paint in each of your small cups. Add a few drops of water at a time mixing with a craft stick until the paint is pretty thin.
Put gloves on and place your assembled pinwheel on your poster board. Dip a brush into one of your colors of paint and splatter. You can hit the paintbrush on your non-dominant hand to splatter, or you can hold the brush and use your finger to sweep the bristles of the brush to splatter. Whatever you find works best for you!
Once your pinwheel is painted allow it to dry and clean your work surface.
Now we can assemble the other pieces of this project. Take your small cut rectangle and using a quilling tool, roll it up tightly and evenly adding glue on the edge to secure. You can also use a toothpick for this. Remove the toothpick or quilling tool from your small rolled tube.
With your larger cut rectangle, take the skewer, and starting at one of the four corners of the paper, roll the paper onto the skewer. Roll tightly. Once at the edge add glue to secure. Remove the skewer from the large rolled tube.
When your pinwheel is fully dry bring all of your pieces back to your work surface. Using tweezers add a dot of hot glue to your small cut circle to the front of your pinwheel being sure to line it up correctly.
Insert a pin from the front of the pinwheel through the back.
Place your small rolled tube onto the back of your pin.
Now push the exposed end of the pin through your large rolled tube. While holding it all together, add hot glue inside the top of your large tube as well as all around the seam where your large and small tubes meet.
Once the glue has fully dried look for areas that might need more glue.
Once fully secure, enjoy your pinwheel!
Tanner, Courtney, and the rest of the Makers Gonna Learn Team are all here because we love die-cutting and especially love sharing fun projects and tutorials with fellow makers. We are all great friends and are always having a blast when we are together- you will see this on camera, especially during live streams! We are here to inspire and support you in your crafting journey!