DIY Scoreboard Book
Yard games (especially corn hole) are probably more popular now than ever, and if you're like me, you need a great way for keeping accurate track of who is winning! This yard game scoreboard is a great solution!
Because this special waterproof canvas is cut using a deep point blade, Maker AND Air 2 crafters can recreate this exact version! With a wide variety of fabric colors available and the ability to customize the stenciled text with your Cricut, these scoreboards make great gifts OR products for selling!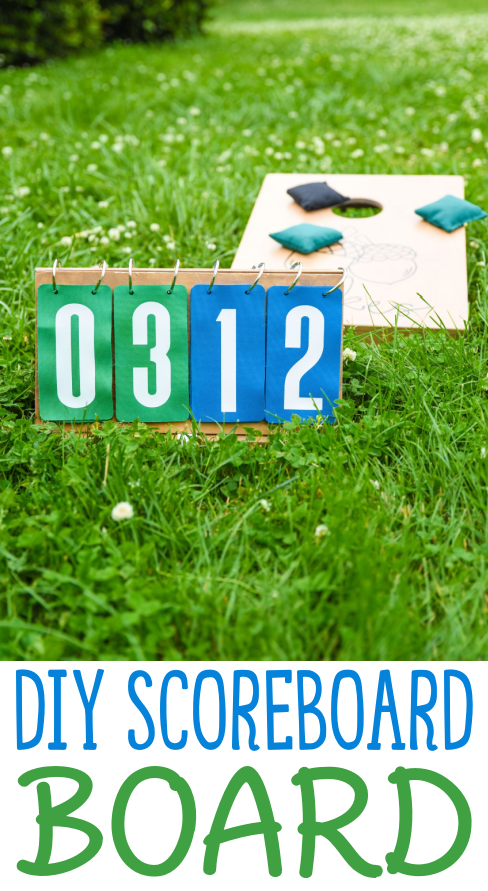 DIY Scoreboard Book
Disclosure: Some of the links below are affiliate links provided for your convenience. This means, at no additional cost to you, we will earn a commission if you click through and make a purchase.
Font Used:
Supply Links:
2 pieces of 1/4″ plywood cut 15 7/8″x 8 3/8″
8- 2" round wire rings (I'm linking a great alternative that is MUCH easier to open and close for installation)
Vinyl for stencil (doesn't matter what color)
Channel Locks (if using wire rings without hinges)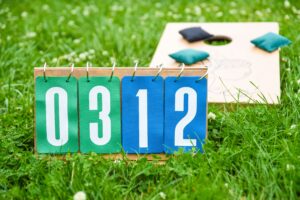 Step-by-step Instructions:
In the design space, add a rectangle sized to represent the plywood piece of your sign.
Add another rectangle and size for use as a score card. Round corners of a rectangle.
Add two circles sized to .25″ align and place at the top of the rectangular score card where the score card will be threaded on the wire rings. Weld the two circles together so that they are one layer. Select the circles and the score card rectangle and slice the circles from the rectangle.
Duplicate this card for a total of 10 cards.
Insert text box. Using the font "opposites attract", type in the numbers 0-9. Size the numbers to fit on the rectangular scorecard. Weld the numbers together so that you can contour the inside of the letters to make a solid bold letter. (You cannot skip the welding step. Currently, Design Space will now allow the contour option on an individual letter or number.) You will then have to slice each number individually so that they are each their own layer.
Duplicate the cards and numbers so that you have 4 sets total.
Add a text bot with font variant and the desired text. Format and size to fit on the plywood piece. Weld the text and contour the characters to create a bold-looking font.
Click make it and load appropriate mats with appropriate material. Cheese the correct material setting for each mat.
Scorecard mats- load waterproof canvas fabric onto a 12×24 strong grip mat. Use plastic canvas material setting and install deep point blade. Make sure to change the mat size in the design space from 12×12 to 12×24
Number mats- load HTV onto 12×12 or 12×24 standard grip mat. Choose an iron-on setting, load a fine point blade, and make sure to mirror your image. (If using a 12×24 standard grip mat, make sure to change the mat size in design space)
Stencil mat: load vinyl onto a 12×12 standard grip mat. Choose premium vinyl or vinyl setting and load fine point blade.
9. Unload cut mats. Weed vinyl and apply a transfer tape.
10. Sand and stain the back, front, and sides of both pieces of plywood (allow plenty of dry time)
11. Using an easy press and easy press mat, apply letters to the front of canvas scorecards.
12. Even space and align 4 score cards on one piece of plywood. Mark holes with a pencil. Remove scorecards and drill holes along the plywood with a drill and drill bit slightly bigger than the wire rings.
13. Drill corresponding holes in the second piece of plywood
14. Assemble scoreboard using both pieces of plywood, all score cards and wire rings. (use channel locks to open wire rings that do not have hinges)
15. Apply the vinyl stencil to plywood.
16. Use black acrylic paint and a paintbrush to stencil the quote. Remove vinyl when finished applying paint.
Tanner, Courtney, and the rest of the Makers Gonna Learn Team are all here because we love die-cutting and especially love sharing fun projects and tutorials with fellow makers. We are all great friends and are always having a blast when we are together- you will see this on camera, especially during live streams! We are here to inspire and support you in your crafting journey!