DIY Sublimation License Plate
This is such a fun idea for those of you who live in a state where only one license plate is required. Use the other license plate spot for something fun that reflects your personality like our monogrammed sublimation license plate! These make great gifts and products to sell too!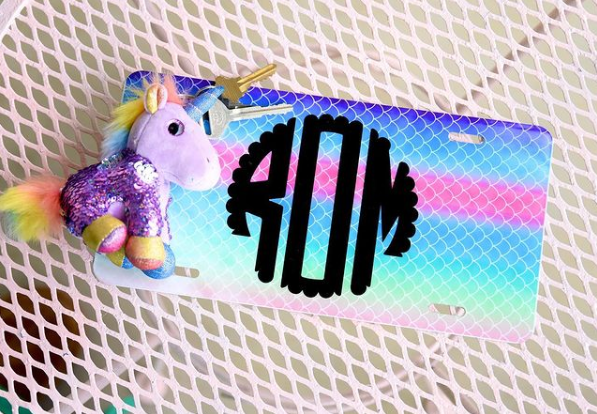 DIY Sublimation License Plate
Disclosure: Some of the links below are affiliate links provided for your convenience. This means, at no additional cost to you, we will earn a commission if you click through and make a purchase.
Font Used:
Scallop Monogram: https://makersgonnalearn.com/fonts/scallop-monogram/
Supply Links: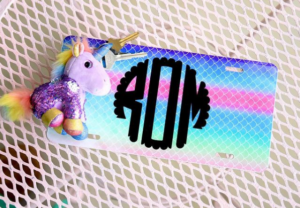 Step-by-step Instructions:
Download the font from Makers Gonna Learn. Then, unzip the file and install it on your computer..
In Design Space, grab a square from Basic Shapes over on the left and size it to the size of the license plate you are making. In this tutorial, it's 12"x6".
Open a text box and type in the letter for your last name (or whatever name you're using for this monogram). When you open your fonts, be sure to take note that with a monogram there will be multiple files. In this case, we have Scallop Monogram Right, Left, and Center as our 3 files. Since this is the first letter of your last name, choose Scallop Monogram Center.
Next, open another text box and type in the first letter of your first name. Change that to Scallop Monogram Left.
Finally, open one more text box and type in the first letter of your middle name. Change that to Scallop Monogram Right.
We're placing these side by side but we haven't sized them yet because we want to show you a simple hack for that. Sizing them all at once makes it so much quicker and easier to get it perfect. Select all 3 of the letters and choose Align, Center Vertically. While they are still selected, choose Group.
Now, all 3 parts of your monogram will move together as one and you can size them appropriately for your license plate. Remember to think about where the holes will be on the actual license plate when sizing your design.
Delete the rectangle – it was just for visualization purposes. With your design selected, choose Attach or Weld to keep the pieces together and in order during the cutting process.
Click Make It. Then, Continue and connect to your machine. Set your material – we're using Premium Vinyl. Place the vinyl on the cutting mat and then load the mat into the machine.
Once cutting is completed, unload the mat from the machine. Burnish your vinyl to the mat and weed away the excess vinyl. Remember to also weed away the centers of any letters as needed.
Apply transfer tape to your design. Burnish again. Flip the mat upside down and carefully peel the mat away from your design. Burnish your design again from the back.
Preheat the EasyPress to 385. Place the Infusible Ink sheet on the paper trimmer and line it up on the 6 inches mark and cut it.
Put the Infusible Ink sheet facedown on the license plate and make sure to line it up perfectly. In order to secure it, so it won't move around, you can use the heat-resistant tape to tape it to the license plate. Place the Teflon sheet over the Infusible Ink on the license plate. It needs to heat up for 40 seconds with minimal pressure.
Remove the Teflon sheet. Allow the license plate to cool down before peeling up the heat-resistant tape. Remember that this is metal so it will take a bit longer to cool.
Remove the backing of the monogram. Place it where you'd like on the license plate. Burnish well. Peel up the transfer tape.
The last thing you need to do is apply the mod podge to seal the license plate. Get a good amount on your paintbrush and apply it smoothly. Mod podge goes on white and dries clear. NOTE: It needs to be cured for 28 days before using it outside.
Tanner, Courtney, and the rest of the Makers Gonna Learn Team are all here because we love die-cutting and especially love sharing fun projects and tutorials with fellow makers. We are all great friends and are always having a blast when we are together- you will see this on camera, especially during live streams! We are here to inspire and support you in your crafting journey!