DIY Wine Glasses With Your Cricut
If you're looking for an awesome wedding gift idea, this post is for you. Today we're going to be showing you how to make some DIY Wine Glasses With Your Cricut. We'll share our best Cricut hacks for working with vinyl on wine glasses so you can make a beautiful gift for someone special.
This Cricut beginner project is perfect as a gift for friends who are getting married and are super customizable. You could also make a set for yourself and your friend or for you and your husband. They're a fun addition to your kitchen and make a fantastic gift for any occasion!
Want to create an etched design on glasses instead? We'll show you how!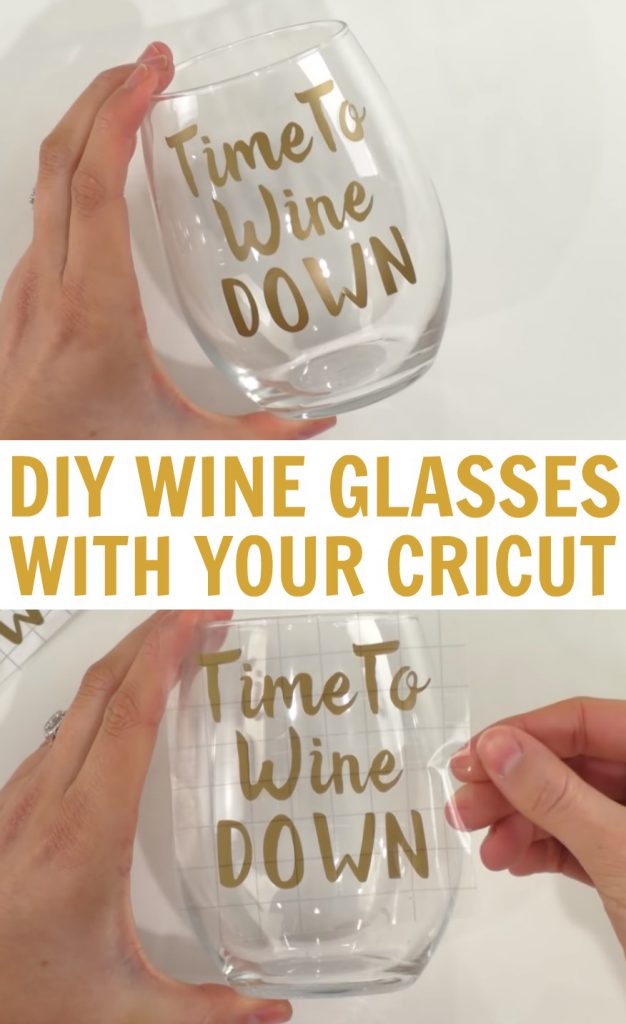 DIY Wine Glasses With Your Cricut
Today we are going to use two fonts from our Makers Gonna Learn font library. If you are not familiar with our membership, be sure to check us out. We have thousands of cut files and fonts with more coming every month. If you have a die cutting machine, you will love the membership.

In this tutorial, we're going to give you some great tips and tricks to applying vinyl to your wine glasses and helping them adhere really well. Sometimes, it might seem tricky to apply vinyl to such a curved surface but with these tricks you'll be able to do it like a pro.
Beginning in Cricut Design Space
Let's go to Design Space. I already downloaded, sized and manipulated all of our fonts that we're going to use today but I'm still going to teach you how we did it. First, we're going to download the fonts and install them on our computer. If you need help learning how to download fonts from Makers Gonna Learn to Cricut Design Space, be sure to check out this post: How to Upload 3rd Party Fonts and Cut Files to Cricut Design Space
Next, we're going to Design Space. Hit "Text" and make sure you go to system fonts. The fonts that we're going to use are "Muffin" and "Fast Curve". We're going to type in our words "Time to wine down" using the two fonts that we would like to use.
Tap on the first text box which is "Time to" and we're going to click "Letter space" and hit the minus sign to bring the letter spacing down. Select "Actions" and ungroup. Then we can move the letters exactly where we want them and click "Attach". We will do the same thing with the rest of the text.
Once you have your letter placement the way you want it, a great tip is to select all of your layers and go over to align and center. That will make sure your whole file is exactly where it needs to be and all parts are lined up with each other.
Once you have everything the way you want, select all of the layers > Actions > Weld. A very important thing to do before you hit "Make it" is to come over to your wine glasses and measure them using a tape measure or a ruler. You want to be sure you've sized this correctly for your wine glass before cutting.
Preparing to cut the vinyl
Select "Vinyl" on the materials, take the cutting mat and load it into the machine. Once complete, unload your mat, take your scraper tool and burnish over the vinyl. Then using your Cricut TrueControl knife, cut off the excess.
You can now start weeding. Burnishing it before we weed it will help adhere all the letters down really well. Sometimes when we weed vinyl, we find that our letters want to come up. Burnishing beforehand helps to prevent that.
Now we've cut a piece of transfer tape and we're going to peel the backing off of it and apply it on to our weeded images. Again, grab your burnishing tool and burnish it.
Once you remove your weeded images from the mat, you will be very tempted to go ahead and put your vinyl on to your glasses but I urge you to take this extra step.
Have some rubbing alcohol on hand and put some on a piece of paper towel to wipe off the area before you apply vinyl onto your wine glasses. This helps take off all the dirt from your hands and the oil from your fingertips or any dust that could have accumulated over time.
Applying the vinyl to the wine glass
We're now going to remove the backing from our vinyl. If you have any problems doing this, just reapply this piece of transfer paper backing and you can burnish some more. Once you've removed the transfer paper backing, take your wine glass and just lay your vinyl onto the glass. Don't press it all – just lay it down and then you can hold it up to make sure it's even and before you start to burnish it down.
Grab your pair of scissors and start cutting along the transfer paper. Be sure not to cut any of the letters. This just makes it so much easier for the transfer paper to help your vinyl stick to your wine glasses.
Once done, take your index finger and your thumb and start slowly pressing all of your vinyl down. Once you're confident your vinyl is well adhered to your wine glass, pick a corner and pull your transfer paper straight down.
Repeat this process with your second wine glass.
What do you all think of these super cute wine glasses? I love them! They're so much easier to apply vinyl to than you probably originally thought. I hope that you learned something new and that you are way more confident in applying vinyl to wine glasses. These make beautiful gifts!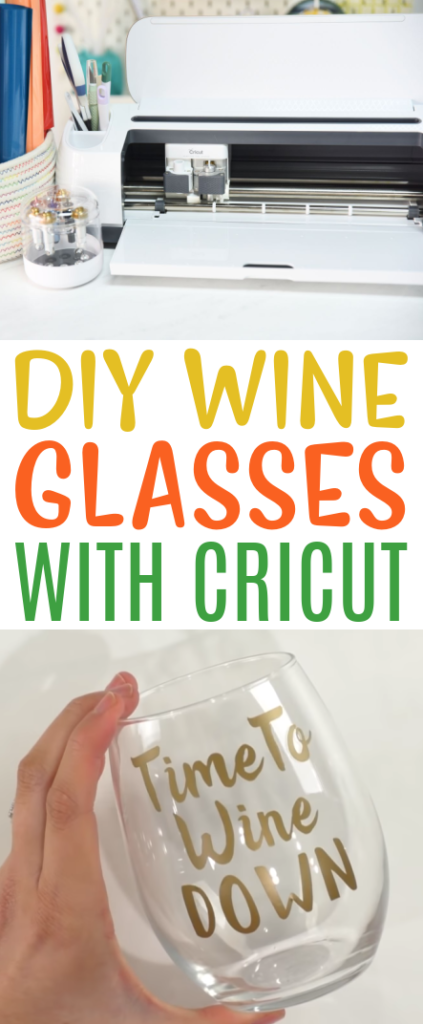 Tanner, Courtney, and the rest of the Makers Gonna Learn Team are all here because we love die-cutting and especially love sharing fun projects and tutorials with fellow makers. We are all great friends and are always having a blast when we are together- you will see this on camera, especially during live streams! We are here to inspire and support you in your crafting journey!