Dog Lover Home Decor
If you know a dog lover, this home decor project would be a great gift for them! It's not only an adorable piece of wall decor, but it's practical too because you can hang your dog's leash from it. So fun!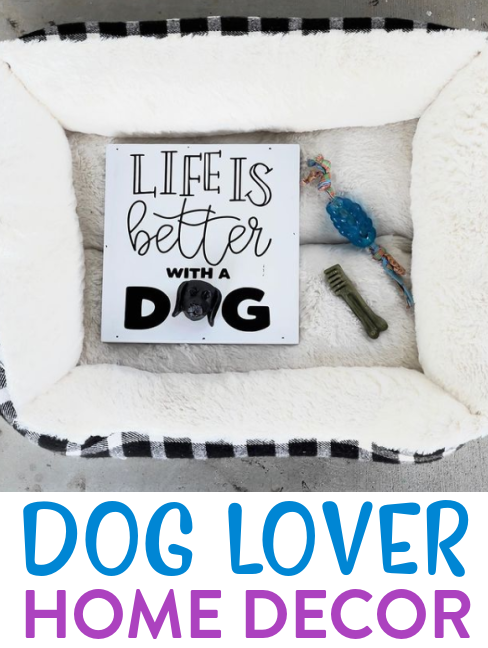 Dog Lover Home Decor
Disclosure: Some of the links below are affiliate links provided for your convenience. This means, at no additional cost to you, we will earn a commission if you click through and make a purchase.
Cut File Used:
Supply Links: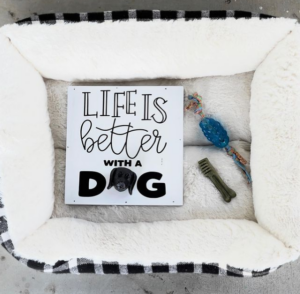 Step-by-step Instructions:
Make sure to measure the size of the knob and the wood sign so that when working in Design Space you can size your designs appropriately to the size of your surface materials.
Import the cut files downloaded from Makers Gonna Learn into Design Space.
We pulled in a square from Basic Shapes and sized it to represent the size of the sign we are making.
Next, we added a smaller square and sized it to represent the size of the dog head knob.
We could duplicate our Life is Better file and then use Contour to contour out the dog paw to make space for the knob. However, this might not leave us enough space for the knob.
If that doesn't work, you can use Slice instead. We are going to use a rectangle (an unlocked and resized square) to cover the entire word "dog" (which includes the paw). Highlight both the rectangle and the cut file layers and select Slice.
Delete the layers that you don't need. Now you've got "Life is better with a" separate from the word "dog".
Use another rectangle and this time, using the same technique as before, you want to slice the dog paw out of the word "dog".
Now you can size your design to fit the square representing your sign. Put both pieces onto the square and arrange them. Then, select Align, Center Horizontally. Next, click Attach to hold the pieces together.
Make sure the knob is going to fit between the D and the G. When you are happy with your design, click Make It.
Select your material and if your blade isn't new, you might want to give it more pressure too.
Place your vinyl on your mat and load it into your Cricut machine. Let the machine cut your design out.
After cutting, burnish your vinyl to the mat with your scraper tool. We like to use our Cricut TruControl knife to trim away the excess unused vinyl. Then, using our weeding tool (and the Pin Pen tool for the smaller pieces), we weed away the unneeded vinyl.
Once you have finished weeding, place a piece of transfer tape over your design. Burnish.
Now you can apply the design to your sign. Burnish once more and remove the transfer tape.
Attach your dog head knob and your sign is all finished!
Tanner, Courtney, and the rest of the Makers Gonna Learn Team are all here because we love die-cutting and especially love sharing fun projects and tutorials with fellow makers. We are all great friends and are always having a blast when we are together- you will see this on camera, especially during live streams! We are here to inspire and support you in your crafting journey!