Don't Add Vinyl to These Items
If you're a Cricut owner, you know that your machine is really versatile and you can use it to apply vinyl to so many surfaces. In fact, some of the craft blanks you can use with your Cricut might just surprise you.
However, there are some things you CAN apply vinyl to, but the question is, should you? We love sharing Cricut projects to inspire and motivate you to make your own crafts confidently. However, we think it's really important to show the projects we DON'T recommend making. Some of them simply aren't worth the time or money you would invest in them and you just don't get the best results.

Don't Add Vinyl to These Items
We're giving you a list of items here that we think you shouldn't add vinyl to – or at least, we want to caution you about using them. You're going to want to consult this list before you start planning out your next craft project!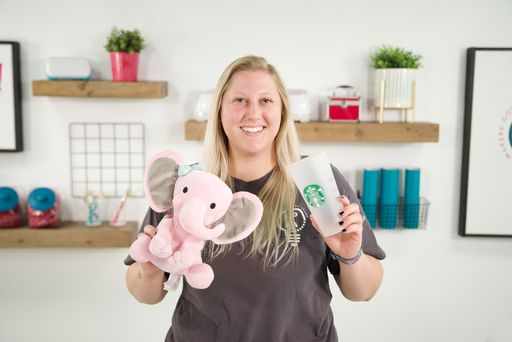 Bath Towels
Bath towels are washed frequently. Once you add heat transfer vinyl to an item like a bath towel, it's simply not going to last for a long time if you are washing that item often.
HTV likes to bond well with very fibrous materials like t-shirts and tote bags because then it can make that bond with as many fibers as possible. The texture of a bath towel interferes with getting a perfect bond and then once you wash it many times, that seal will be broken.
In addition, because iron-on vinyl adheres to the surface with heat, heat is also going to loosen the bond and over time, it will start to come up. With the heat from the washing machine (and especially if you put it in the dryer), this is going to affect the longevity of your project.
Balloons
We have applied both regular adhesive vinyl and printable vinyl to balloons, whether they are filled with air or helium. They didn't turn out as well as we hoped for.
Since they aren't hard or flat, it can be quite difficult to apply vinyl to them properly. This means it requires extra effort to put vinyl on balloons. In our opinion, it's simply not worth the effort to apply vinyl to them when they're only going to last such a short time anyway.
If you really want to apply vinyl on balloons, small simple graphics like hearts would be easy enough, but we haven't had success with larger words or anything along those lines.
Flip Flops
Yes, you can apply HTV to flip flops. Unfortunately, they didn't last long. If you're like some of us, though, your flip flops don't last more than one summer anyway so maybe that's okay with you. Or maybe you just want to make some for a vacation or a bachelorette party.
Sand, salt water, chlorine – many things that you encounter during the summer can speed up the process of removing that vinyl from the flip flops. So, you just want to bear in mind how often you will wear them, what they will be exposed to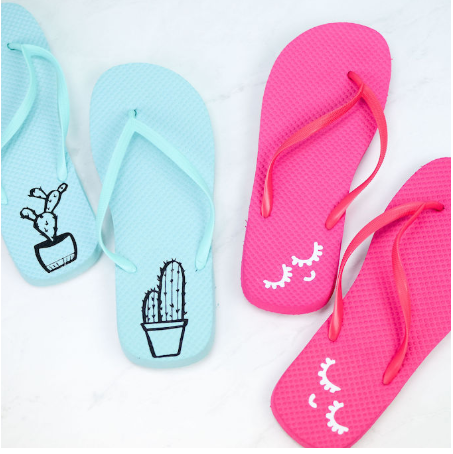 If you do decide to add iron-on vinyl to your flip flops, we have some tips for you. First, it's really important to use the EasyPress Mini. Secondly, while making our flip flops, we did have to do some trial and error to be able to apply the HTV without burning the flip flops.
Paper
You might be thinking, what??? We have heard you talking about using vinyl on paper before and now you're saying not to? Well, we want to clarify. We don't advise using adhesive vinyl on paper…without the proper transfer tape.
If you're a Cricut beginner, you might just reach for regular Cricut transfer tape and when you try to use it with paper, you are very likely to have a craft fail. That's why you need to be sure to have some masking paper transfer tape on hand for these projects.
With something gentle like the masking paper transfer tape, you can use it on delicate materials like paper and cardstock without it causing any damage. Sometimes we will even take a piece of this tape and pat it against our shirt to remove even more of the tack so that it works just as we want it to.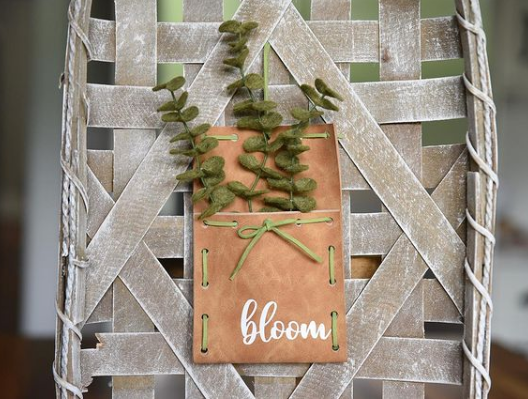 Genuine Leather
We do not recommend applying HTV to genuine leather. We do know people who have had success with this, but it can be quite dependent on the brand, the thickness, and other similar factors. It's so hard to just give a blanket statement of "yes it works" for real leather.
If you already have some, try searching online to see if others have been able to use this for iron-on projects, but we would be wary of investing in some new pieces of genuine leather and then having a craft fail. Many different types of real leather cannot withstand the heat needed to apply heat transfer vinyl.
There is some amazing faux leather available that works beautifully with HTV. Our favorite is from 143Vinyl. They have so many types and colors available. It cuts beautifully in the Cricut and takes the vinyl so well.
Glass
We don't recommend applying vinyl to glass. In order to make your project last for a long time, you will need to seal the vinyl. Unfortunately, if you try to apply sealant over the vinyl on glass, the brush marks will show and it won't look very good.
If you really do want to put vinyl on glass and are okay with not sealing it, you can get great results that way. Just remember that it won't be a very long-lasting project.
Another alternative – instead of applying vinyl to glass, you can use vinyl and your Cricut machine to make a stencil and then etch a design onto a glass.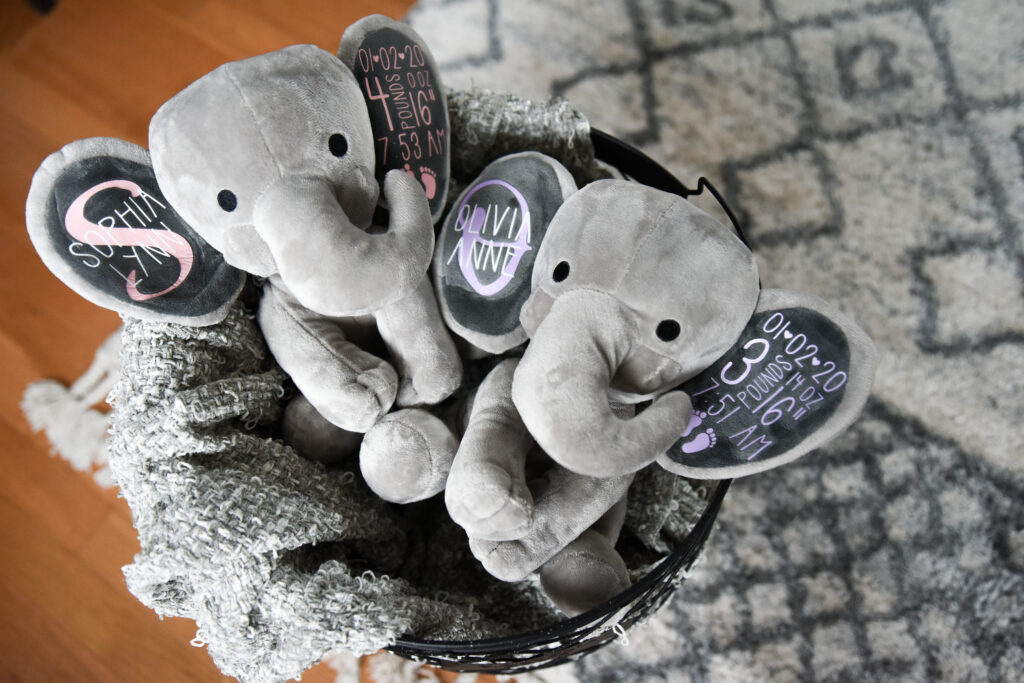 Stuffed Animals
This is another one that might have you thinking, but wait – we've seen you making stuffed animals with vinyl on them before! Yes you have! It is possible, but you have to be really picky about it.
It's not just stuffed animals that can be an issue, It's also those rugs and pillows that have that long fur on them too! Similar to the bath towels, the texture of that long fur can be really problematic when trying to apply HTV and you won't get a good bond.
If you want to try making a birth stat elephant or another craft project using iron-on vinyl, you just want to make sure to find just the right stuffed animal to work on so your project will be a success.
Silicone
This includes oven mitts, phone cases, cups, and other silicone items. Vinyl is not meant to stick well to silicone and you just won't get it to adhere well. The fact that these tend to be really flexible and even a bit stretchy at times can also mean you will have issues with the vinyl sticking as the blank moves around.
Our last point is something we think is really important, especially for die-cutting beginners. You really need to buy good quality vinyl if you want to have successful projects. Even with other blanks that we do highly recommend using, you could have a craft fail if your vinyl or HTV isn't the best.
Our two favorite brands of vinyl are:

Tanner, Courtney, and the rest of the Makers Gonna Learn Team are all here because we love die-cutting and especially love sharing fun projects and tutorials with fellow makers. We are all great friends and are always having a blast when we are together- you will see this on camera, especially during live streams! We are here to inspire and support you in your crafting journey!