Easy Cricut Craft – Floral Paper Ball
You are going to love today's project! We are creating a beautiful Floral Paper Ball perfect for spring or summer. It's a simple, quick project to make but so pretty! Not only that but it's a super affordable craft too. This is a lovely addition to any room and makes a beautiful gift. Just think of how perfect this would be for a wedding!
For our materials, you're going to be using:
Card stock (shades of hot pink, light pink and white)
Sheer ribbon
Foam ball
Glue dots (or hot glue or a glue gun)
Bone folder
We're going be using the Stacking Flower cut file from the Spring Collection. It's a very basic flower but there are so many possibilities of ways to use it!.
Designing and Cutting the Paper Flowers with Cricut Design Space
Go over to Design Space and upload it. Edit and size these – we want them to be about two by two inches. Once you have it sized the way you want it, duplicate it as many times as you need for as many as will fit on a 12 by 12 sheet. You're going to have enough to be able to make about 2 or 3 balls.
We have ours pre-cut here. We've cut the out in the three different colors.
Assembling the Floral Paper Balls
We're going to start by grabbing our first flower. Using the bone folder, curl the ends of your flower just a bit.
Once they're curled, you can kind of stack them. The more flowers you put on this ball the easier and prettier it will be. We're going to stick the pin right in the center. Then, attach a glue dot on the paper as close to the pin as possible.
The pin along with the glue dot will really help the flowers adhere to the ball. Attach this flower to the ball. Then, grab another flower (a different color this time) and repeat the same process. Place the second flower next to the first one.
Keep going until the ball is nearly full of paper flowers. You want to just leave enough space for the ribbon.
Some other fun ideas for this technique: Make a bunch of the balls and create a garland out of them. Or buy shapes other than balls – the foam pieces shaped like bunnies at Easter for example and cover those in flowers. Wouldn't a rainbow flower garland decor be pretty?
Using the glue dots and a piece of ribbon, create a loop so that you'll be able to hang up this paper floral ball. Then add another glue dot to the end of the loop. Using a pin along with the glue dot just as you did for the flowers, attach the ribbon loop to the ball. If you want to, you can add in a few more flowers now to cover the end of the ribbon.
That's it! Isn't it pretty? I love how a simple flower cut file and some inexpensive craft supplies can make something so amazing. Let us know if you make one or use this idea in another project. We'd love to see pictures of it!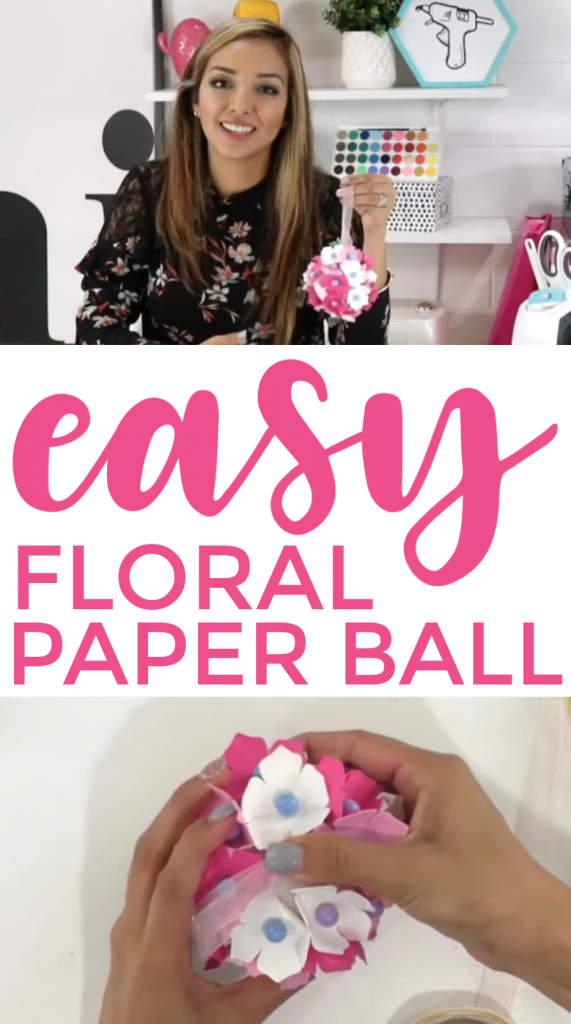 Tanner, Courtney, and the rest of the Makers Gonna Learn Team are all here because we love die-cutting and especially love sharing fun projects and tutorials with fellow makers. We are all great friends and are always having a blast when we are together- you will see this on camera, especially during live streams! We are here to inspire and support you in your crafting journey!