EASY Cricut Projects for Beginners
You will love making these Cricut beginner projects TODAY! If you're a new Cricut owner, this is the post for you! We love inspiring you all to create some awesome things through crafting and die-cutting. You might think that working with your Cricut machine is too difficult – or that you can't figure out what projects are appropriate for beginners!
In this video, Rachel will go over tons of EASY Cricut Projects Perfect For Beginners that you can create yourself today. It's easy to get overwhelmed when entering the Cricut world, and videos like this are designed to encourage and inspire you all to create easy beginner Cricut projects.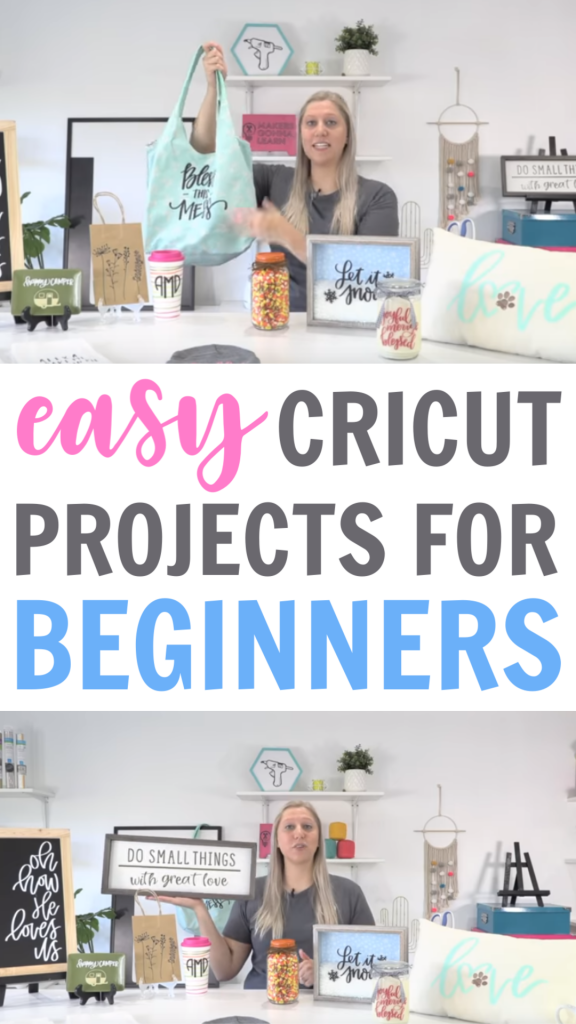 EASY Cricut Projects Perfect For Beginners
You're going to love these Cricut craft projects. We're keeping it really simple with some basic vinyl and heat transfer vinyl project ideas that are perfect for beginners. Don't think that just because they're simple that these aren't going to be amazing projects though! There is something here for everyone.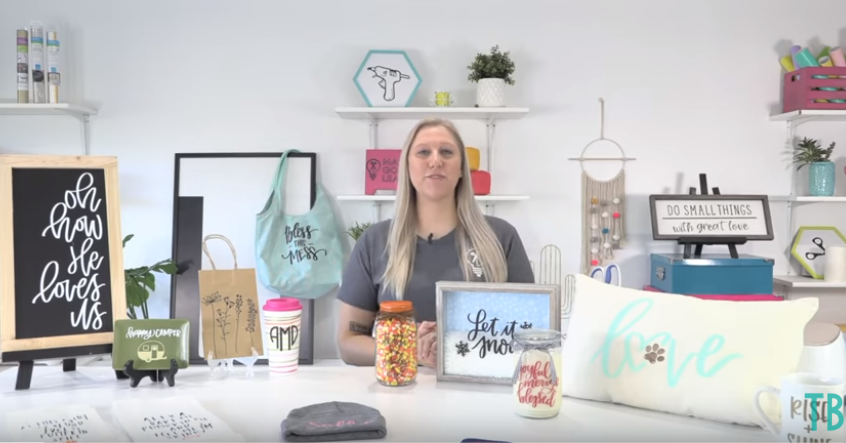 Sometimes people think that a project needs to be complex and difficult to make in order to be special, but we're going to show you today that just isn't true. Even as a brand new Cricut owner, you can make something adorable! So, let's get started!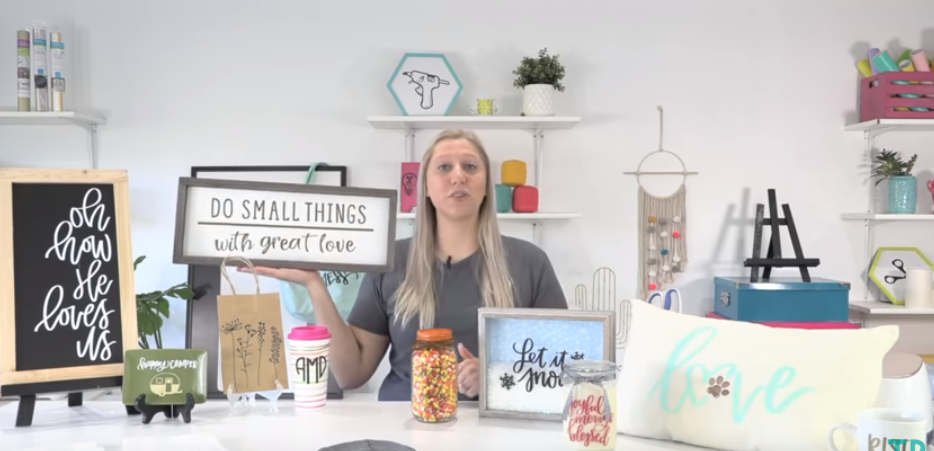 TIP #1: USE SIMPLE DESIGNS
You may be wondering why we consider these projects to be perfect for beginners. As you can see, they're really fun and adorable, but still easily attainable if you're a die cutting newbie. For example, if you look at these designs, most of them get their design from text.
That is one of the things we love about using our Cricut machines. You can take your favorite quote or easily add your name to customize a simple surface like a sign, tumbler, or shadowbox. It's a simple touch but it really takes the item to the next level.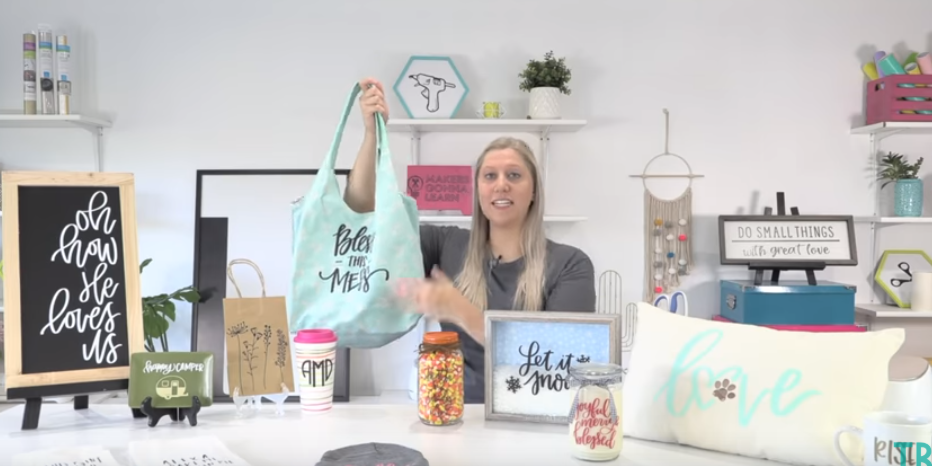 TIP #2: LOOK FOR FLAT, SMOOTH SURFACES TO WORK ON
Don't forget about ironing on designs to fabric surfaces like throw pillows, kitchen towels, hats, and tote bags. If you're a little nervous about using HTV (heat transfer vinyl), our suggestion is to pick up some less expensive items from Walmart, Target, or stores like that. Then, if you have a craft fail, it won't feel like you've wasted a lot of money.
Once you have a little practice under your belt, you can always try the techniques on some higher priced surfaces if you wish, but we have had a lot of luck with many of the cheaper items. Tote bags are one of the surfaces we highly recommend to beginners because they a nice flat surface and easy to work with.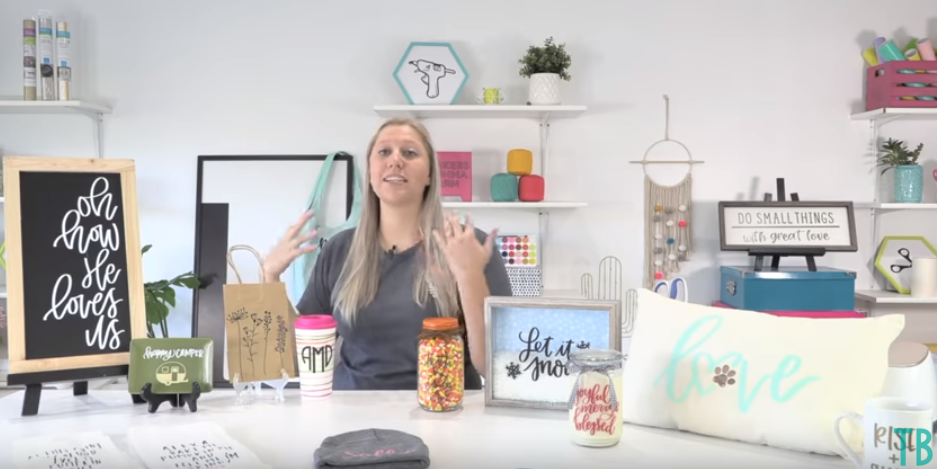 TIP #3: GO BIG!
We also like to suggest that beginners start with large projects. You might think that larger means more complicated but a simple, large design is so much easier to cut and weed successfully, than a tiny, intricate one. You want to begin with projects that will give you success!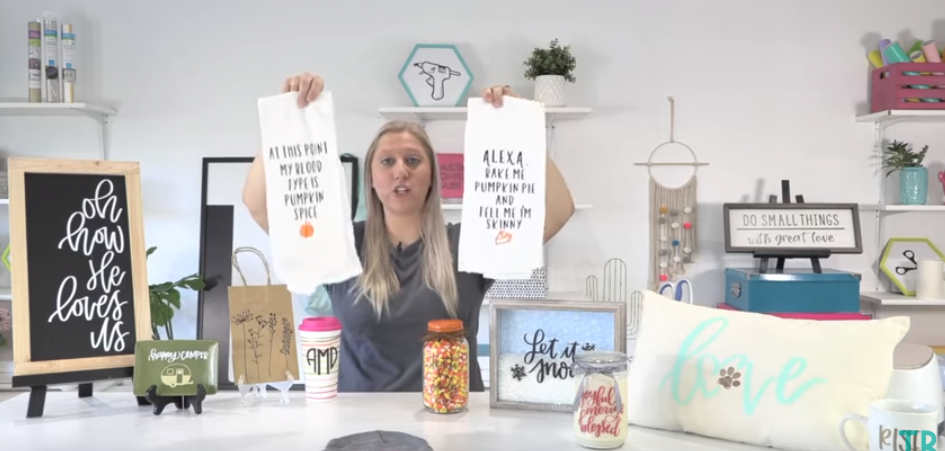 TIP #4: DON'T LIMIT YOURSELF TO PRE-EXISTING CUT FILE DESIGNS.
As a beginner, we want you to create something you're going to get excited about! After all, if you love what you're making, you're more likely to really learn the skills you need and apply them again and again. So remember, if you want a customized design that you can't find, you can create it yourself.
For these kitchen towels, we used a font and dingbat image from Makers Gonna Learn to create our own design. Just because you're a beginner doesn't mean you can't do that too! It's really easy. Choose a simple font and get in there and start designing! Remember, to learn Cricut Design Space, you need to USE Cricut Design Space.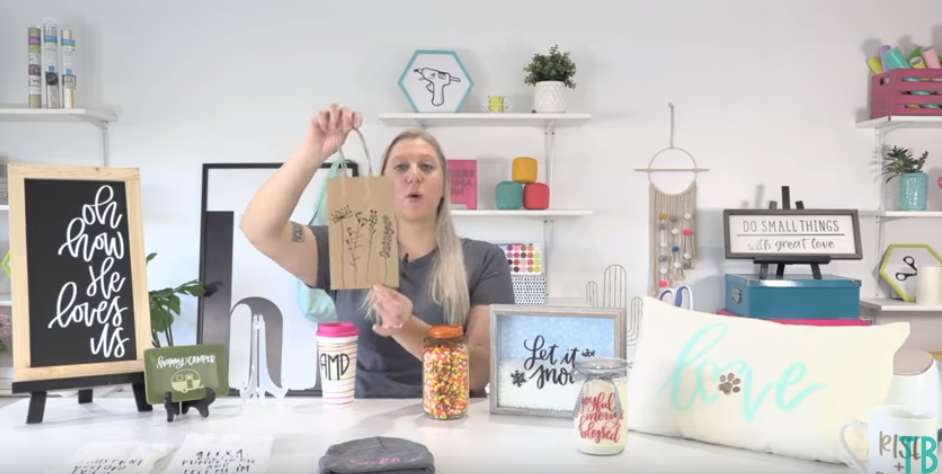 TIP #5: WORK ON SIMPLE, REALLY INEXPENSIVE BACKGROUNDS
As we mentioned before, we don't advise starting out using a surface for your design that is very expensive. After all, you're a newbie at this and you don't want to risk having a costly craft fail. These little paper gift bags come in several sizes and you can often find them in a multi-pack at the dollar store.
Try using some iron on vinyl on them to get the hang of working with it. This is a nice flat surface to work on and HTV applies to it beautifully so it's a great beginner project! If you're successful, you've got some super cute bags for gift-giving. If you're not, you can chalk the experience up to some great practice that didn't cost much.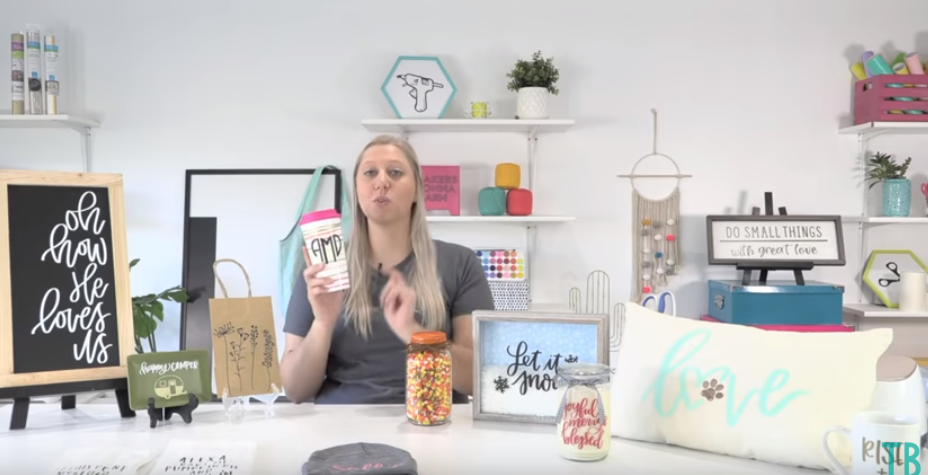 TIP #6: MAKE PROJECTS USING TUMBLERS, CERAMIC MUGS,AND MASON JARS
Now, you might be thinking, wait! This is a beginner project? With their rounded surfaces, working on tumblers, mugs, and jars can be a little bit trickier than those flat surfaces we've been recommending. But, we want to get you to start reaching outside the box and stretching to that next level.
So, here's the important thing to remember. If you mess up, your design on a tumbler, jar, or mug, you can easily remove it and try again. Yes, you may have "wasted" some vinyl – we don't actually consider a learning experience a waste, but still, you get the point. However, your surface will be fine and you can try again until you get it right. How great is that?
Now, are you excited to get that Cricut out of the box and start crafting? It's really not as difficult as you think and there are so many options of craft projects you can make even as a beginner.
Meet the Makers Gonna Learn team! Tanner, Rachel, and Courtney are all here because we love diecutting and especially love sharing fun projects and tutorials with fellow makers. We are all great friends and are always having a blast when we are together- you will see this on camera especially during live streams! We are here to inspire and support you in your crafting journey!