Easy Paper Bow With Cricut Design Space
Today we are going to show you how to create a gorgeous paper bow with a piece of 12 by 12 paper and Cricut Design Space. This is such a great way to use up those leftover sheets of craft and scrapbooking paper you have sitting in your stash!
Cricut machines can cut so much more than just vinyl. You can cut paper, cardstock, fabric, felt, and more with your Cricut. Your machine will make it so much quicker and easier to put your craft projects together and make beautiful items for yourself and to give as gifts. Or you could even start your own crafting business!
How to Make an Easy Paper Bow with Cricut Design Space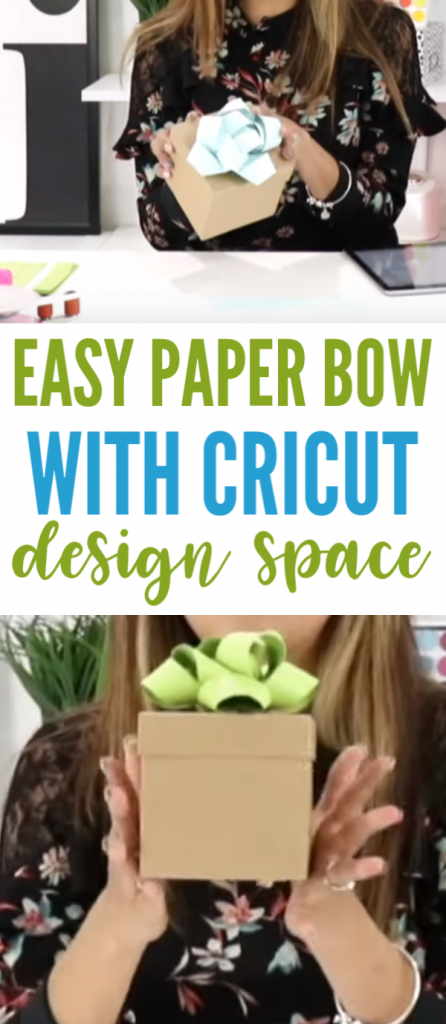 If you are a newbie when it comes to using Cricut Design Space, be sure to check out our Cricut Design Space Introduction for Beginners.
Materials' Needed:
For this project, you are going to need a few basic supplies: a 12 by 12 piece of cardstock (I'm using a fairly thick piece, 110 lb, double-sided gives really pretty results), glue (half-inch glue dots or an ATG gun work well), a bone folder and a little gift box.
We're going to begin by designing our strips in Cricut Design Space. Once you've opened your canvas, just grab a square shape.
To create a rectangle, you're gonna unlock the square and press edit. Make your rectangle one inch by six inches and then lock that up.
We are going to duplicate this until we have 9 of them. Once we have our 9 strips that are 1 inch by 6 inches, we're going to take one of them and unlock it. For that one, we're going to unlock it and change the height to 5 inches. You'll need 4 strips that are 1 inch by 5 inches. Then we need to create one more strip that is 1 by 4 inches.
So, you should have created eight strips that are 1 by 6 inches, four strips that are 1 by 5 inches and one strip that is 1 by 4 inches. Go ahead and cut these.
To assemble the paper bow:
Now we're going to start putting our bow together. Begin with the largest paper strips.
Using your bone folder, curl the ends of each of the large strips. This makes it a lot easier to attach the strips together. Use your glue dots or ATG to attach one end to another to create a cone-like loop.
We're going to repeat the process with the rest of them of the strips, using your bone folder for curling and then the glue to make these cone-like loops. For the smallest strip, simply glue into into a traditional loop shape.
Now, we're going to create the bow itself. On most tutorials for this type of paper bow, they are using a thinner cardstock or paper than I am. They will usually start assembling the bow as they make the loops but I find it much better to place these individually when using the heavier cardstock. By doing that, it allows more wiggle room to be able to place all of the pieces.
Starting with the largest loops, turn it around to the back and apply some glue. We're going to attach one of the loops to another one but we're going to leave some room. The reason we do this is because it creates a bigger bow, it gives you more space to fit in the rest of the loops, and it doesn't flatten out the loops in your bow.
Now we're going to add a third loop to the first two we glued together. Then glue in a fourth one so that you have a shape that looks like the photo below.
With the next four loops, we're going to start angling them as we add them to the bow. You really want to put the adhesive nice and close to the edge.
As you can imagine patterned paper gives a really pretty effect. It is usually a little thinner too so the bow is a bit easier to put together. This thicker cardstock makes a really lovely, sturdy bow though.
Next, we move on to the medium sized loops. Add them into your bow just as you did with the larger one. It's going to be a bit of a tight fit so just work slowly and carefully. Finally, you're taking that last small loop and adding it right to the center of your bow.
If you want to clean up the bottom of the bow, you can glue a piece of cardstock there. These are super easy to make and add the perfect touch to a gift box.
Out of a 12 by 12 sheet, you should be able to get about two bows, so it's a really inexpensive craft too. We hope you've enjoyed this quick tutorial on how to make an Easy Paper Bow with Cricut Design Space. Remember to pin this post so you can refer back to it for all of your gift-giving occasions!
Meet the Makers Gonna Learn team! Tanner, Rachel, and Courtney are all here because we love diecutting and especially love sharing fun projects and tutorials with fellow makers. We are all great friends and are always having a blast when we are together- you will see this on camera especially during live streams! We are here to inspire and support you in your crafting journey!