Embroidered Baby Denim Jacket
How cute is this embroidered baby denim jacket? Your little one would look so stylish sporting this hand embroidered jacket and you can be sure, anyone who sees it is going to smile with delight. You might think that is would be a complicated project to make, but just wait until you see how easy it actually is!
The design for the embroidery comes from our new Baby Cut File Collection. Isn't it wonderful that you can get so many uses out of cut files? Not just for applying to signs and t-shirts, you can use them as stencils and patterns like we are here. Grab your needle and embroidery floss and let's start crafting!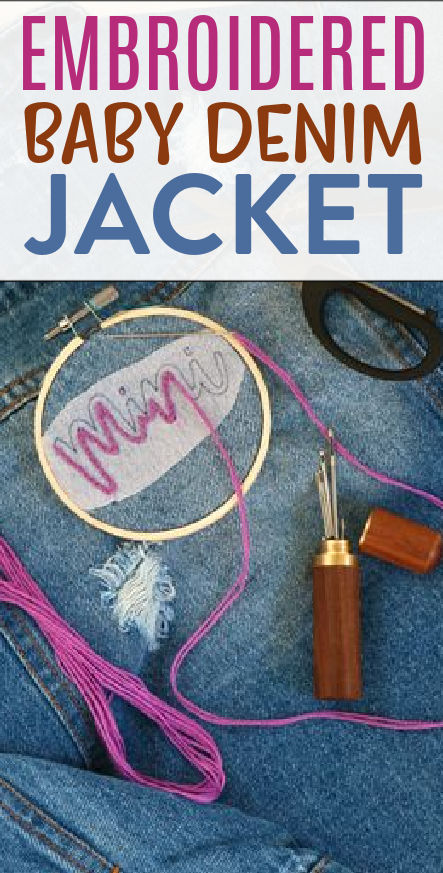 Embroidered Baby Denim Jacket
MGL Cut Files Used:
Be sure to check out the entire Baby Cut File Collection here.
Supplies Used:
We have a full video tutorial showing you just how to make this adorable project below: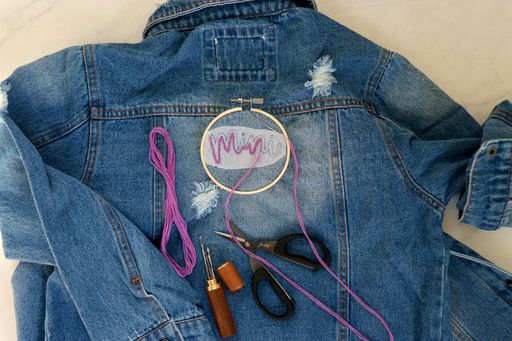 Steps:
Import cut file and ungroup
Delete the "mama" layer of the cut file leaving "mini" to work with.
Select the "mini" layer and change the cut lines to draw lines
Resize cut file to 2.75" (or whatever size you would like to work with)
Press make it
Move the cut file down and over slightly on your mat preview so that there is at least an inch of space between the tops and sides of your stabilizer and cut file
Connect to your maker and select "firm stabilizer" as your material setting
Place your stabilizer in the top left corner of your mat and smooth out
Load your mat into your cricut
Load your cricut marker in clamp A of your machine
Press the flashing cricut button
Unload the mat and remove the stabilizer from your mat
Place stabilizer in the desired location on your jean jacked
Place easy press mat under jean jacket where the stabilizer is placed.
Using your easy press (heated to 350), apply pressure and heat to your stabilizer ensuring that the stabilizer adheres firmly to your jacket.
Place your embroidery hoop on your jean jacket making sure that you tighten enough so that your project remains firm and tight during embroidery.
Thread your needle with your desired embroidery thread. Knot at the end for use as a double strand.
Using a split stitch for embroidery, embroider the outline of your design.
Once outline is finished, fill-in the inside of your design using the same split stitch.
Stitch the dots on your "i's"
Remove embroidery hoop & stabilizer
You could use this technique for so many different craft projects, using so many different cut files. How about embellishing a matching jacket for yourself? Be sure to share your projects with us in the member only Facebook group!
Tanner, Courtney, and the rest of the Makers Gonna Learn Team are all here because we love die-cutting and especially love sharing fun projects and tutorials with fellow makers. We are all great friends and are always having a blast when we are together- you will see this on camera, especially during live streams! We are here to inspire and support you in your crafting journey!