Embroidery Cricut Hack
Have you ever used your Cricut machine with your embroidery projects? Whether you're a Cricut beginner or a seasoned pro when it comes to using your die cutting machine with embroidery, you're going to want to check out our helpful embroidery Cricut hack.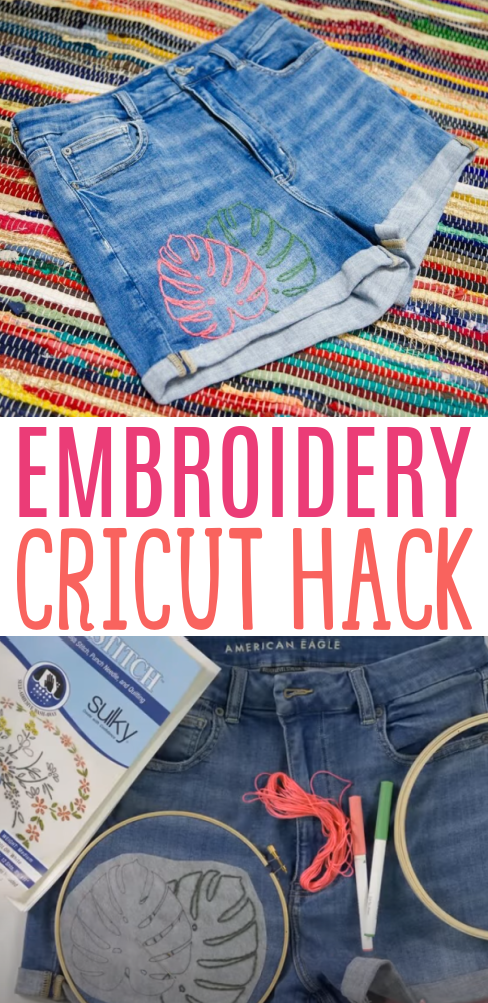 Embroidery Cricut Hack
We have an amazing Cricut hack for embroidery that you probably didn't even know you needed! Want to turn your designs into an embroidery craft? This is a must-see!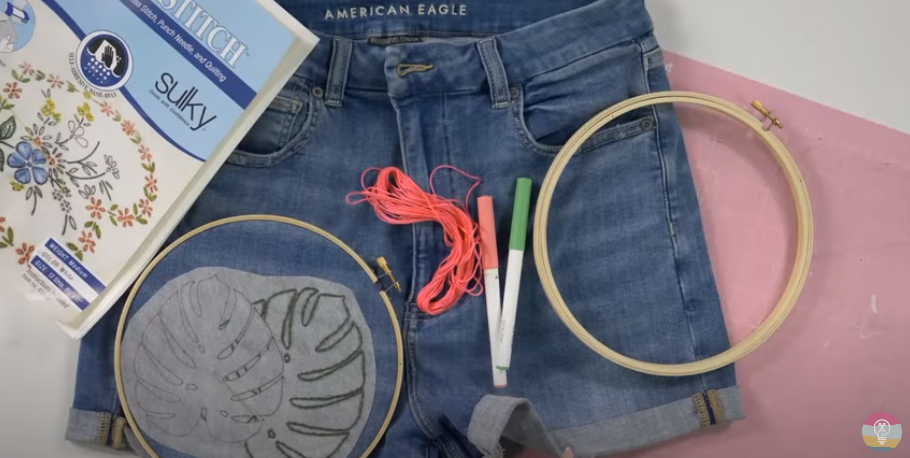 Materials we used:
Cut Files/Fonts Used: https://makersgonnalearn.com/cut_files/leaf-3/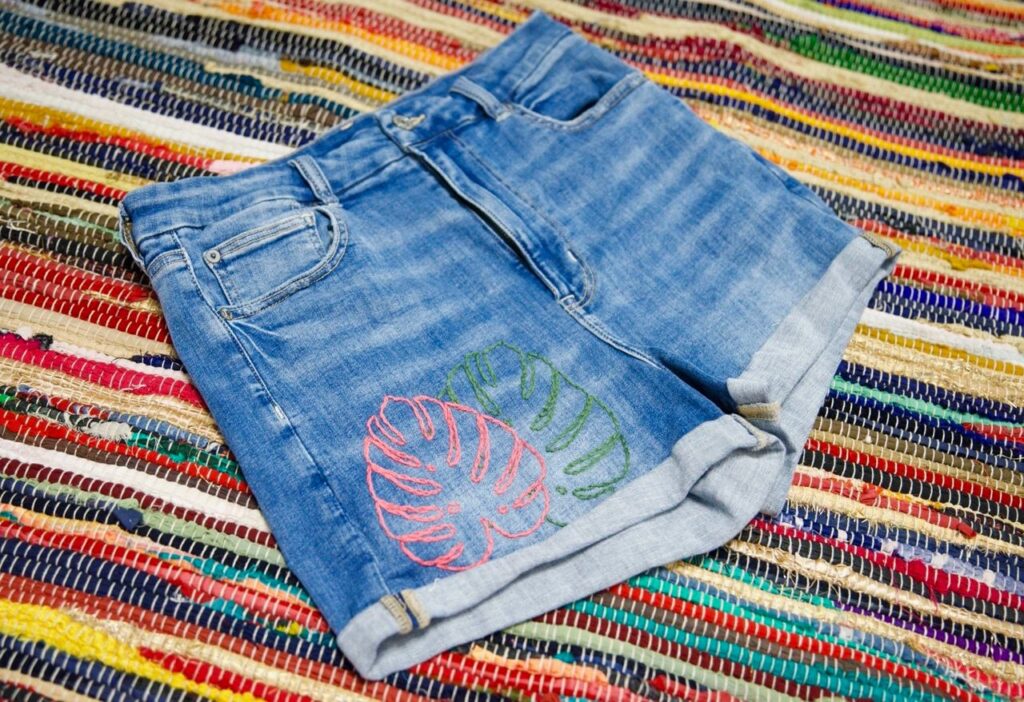 Step-by-step tutorial:
Working in Design Space: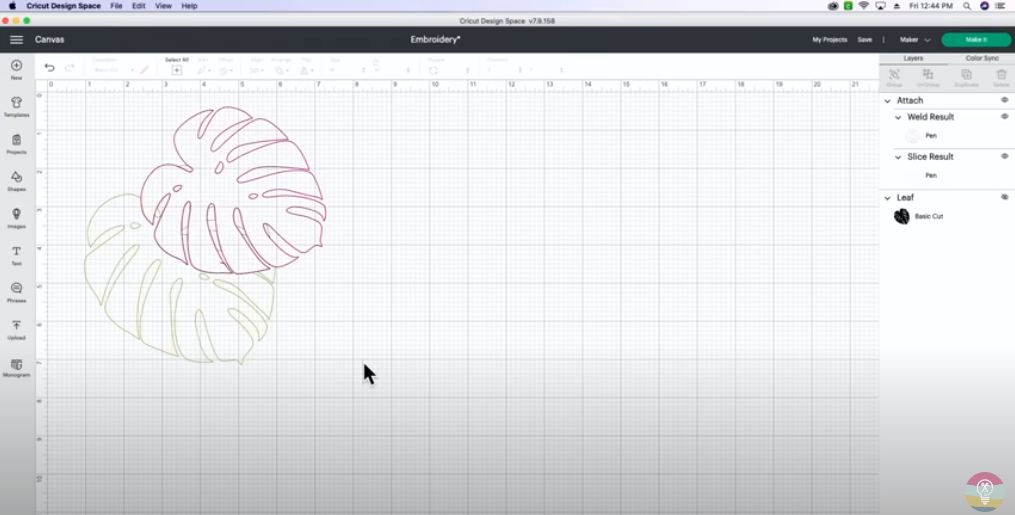 1 – Download the Monstera Leaf file from Makers Gonna Learn. Upload into Design Space, choosing Complex. Choose the Cut Image option.
Pro Tip: You could use the Print then Cut image and print it directly on the Stick and Stitch with your printer. Because this then washes away though, that's a waste of a lot of ink so we prefer the Cricut pen method.
2 – Add to your canvas. This file comes in quite large, so you will want to size it down so you can work with it more easily.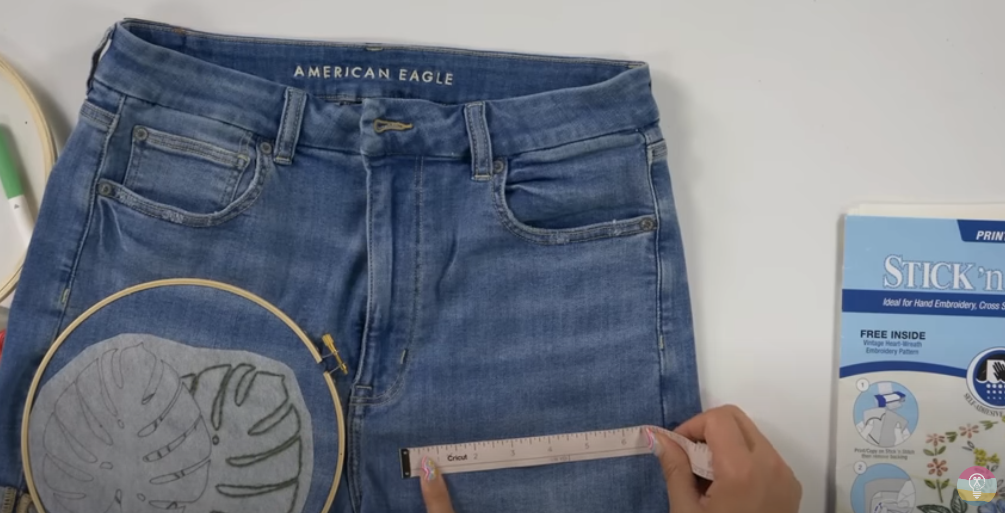 3 – Measure the space available on your surface so you can determine just how large your design should be.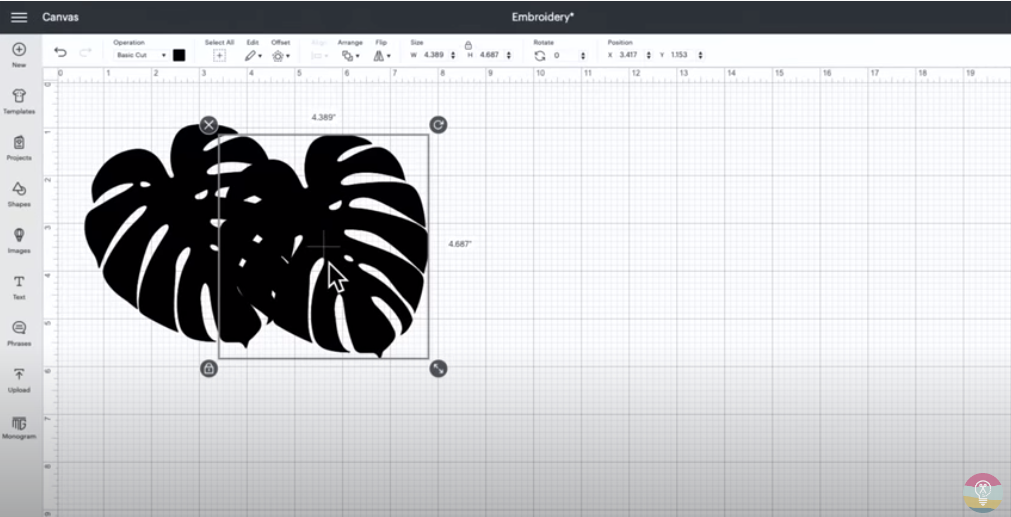 Fine tuning your design:
4 – Duplicate your design. We then made one of the leaves smaller than the other, changed the color, and rotated it. You can create your design any way you'd like.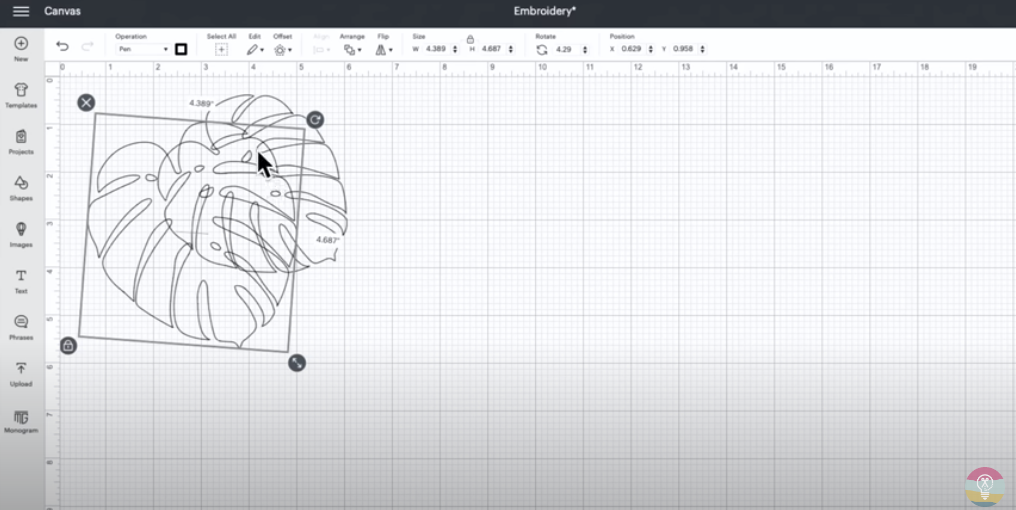 5 – If you change your design from a Basic Cut to a Pen function, you will see that where the two leaves overlap becomes quite messy looking. To fix that, we're going to use the Slice function.
Slicing the design to get rid of the excess parts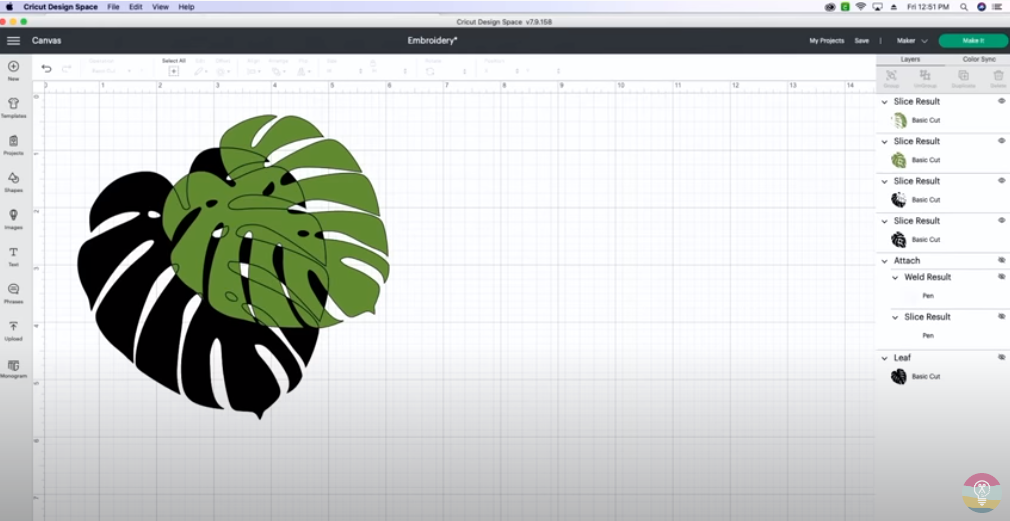 6 – Select both leaves (while set to Basic Cut) and choose Slice.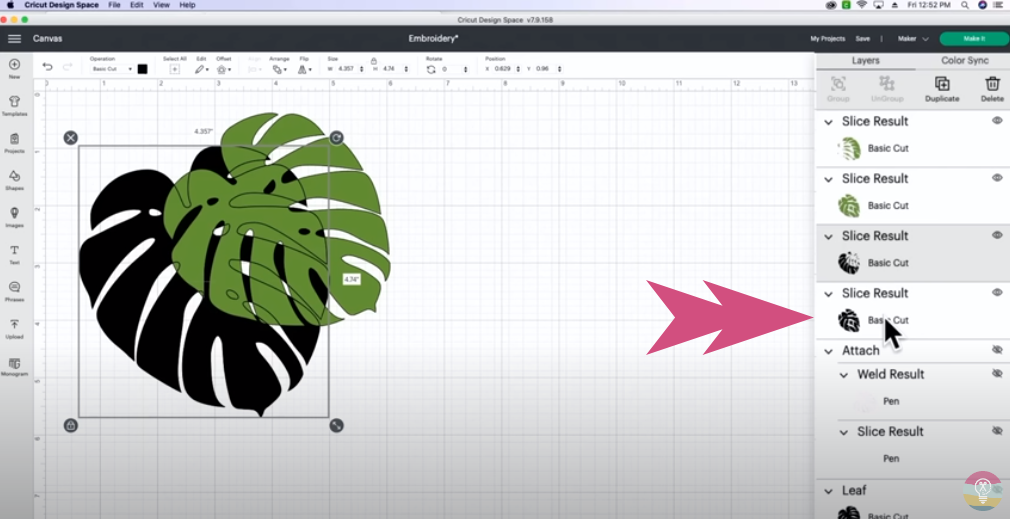 7 – Use your Layers Panel to delete the slice results that you want to delete. You can see the layer you need to delete in the image above.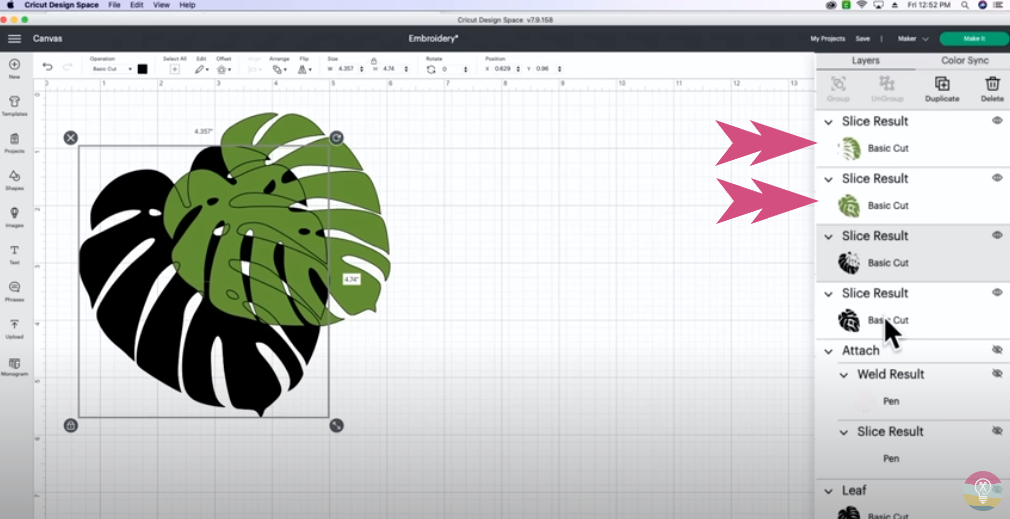 8 – Next, select the two layers indicated in the image above and choose Weld.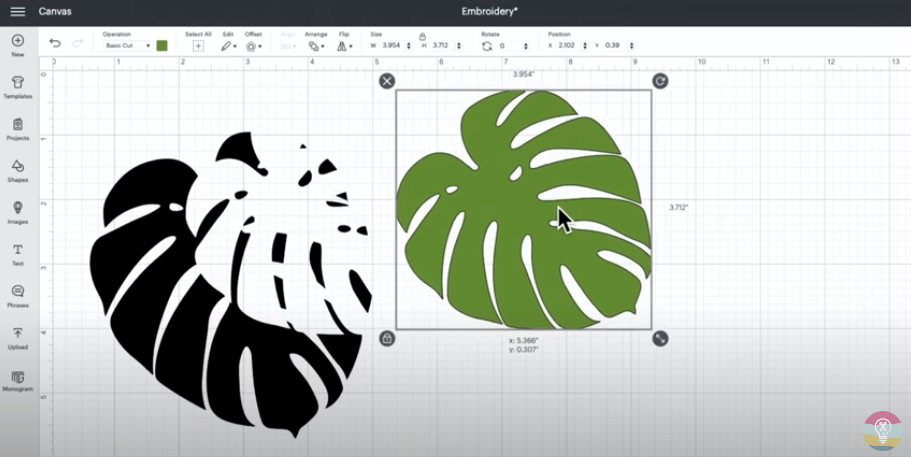 9 – If you were to move the green layer out of the way now, you would see the perfect cutout layer beneath. This is exactly what we're trying to achieve.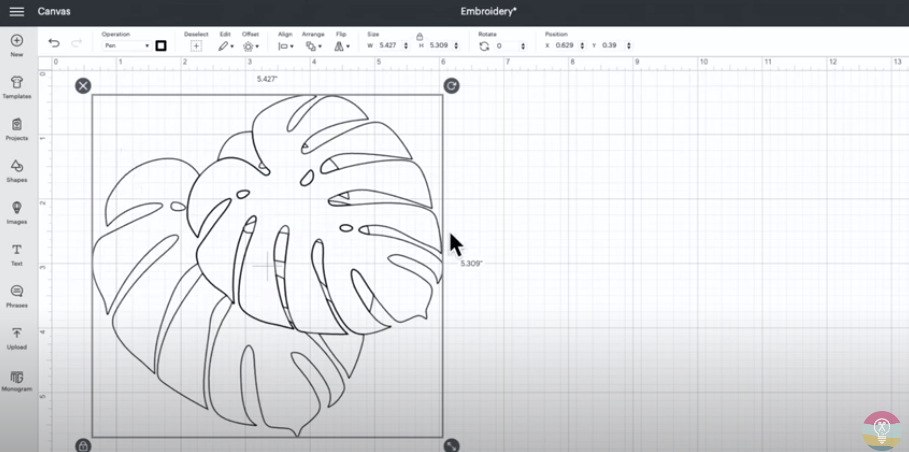 10 – Select both layers and change from the Basic Cut function to Pen.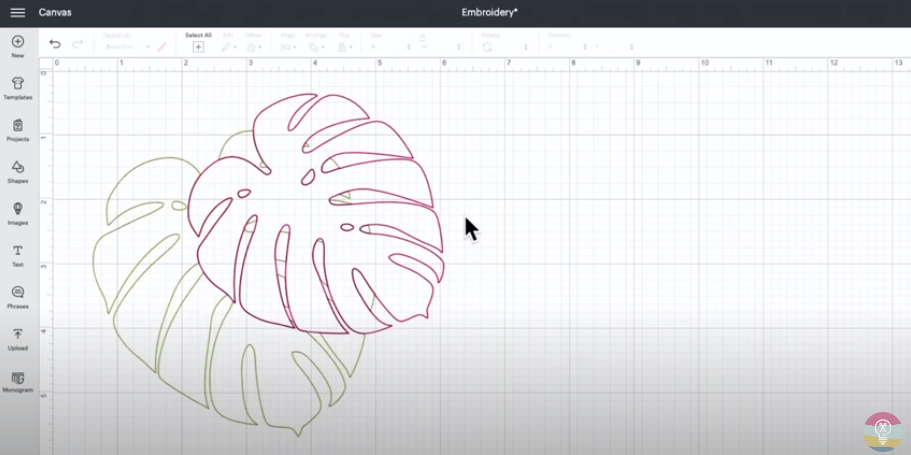 11 – Change the colors to match the design you want. Select both layers and Attach.
Pro Tip: Be sure to use Attach not Weld. See image below for what would happen to your design if you used Weld.
Drawing the design: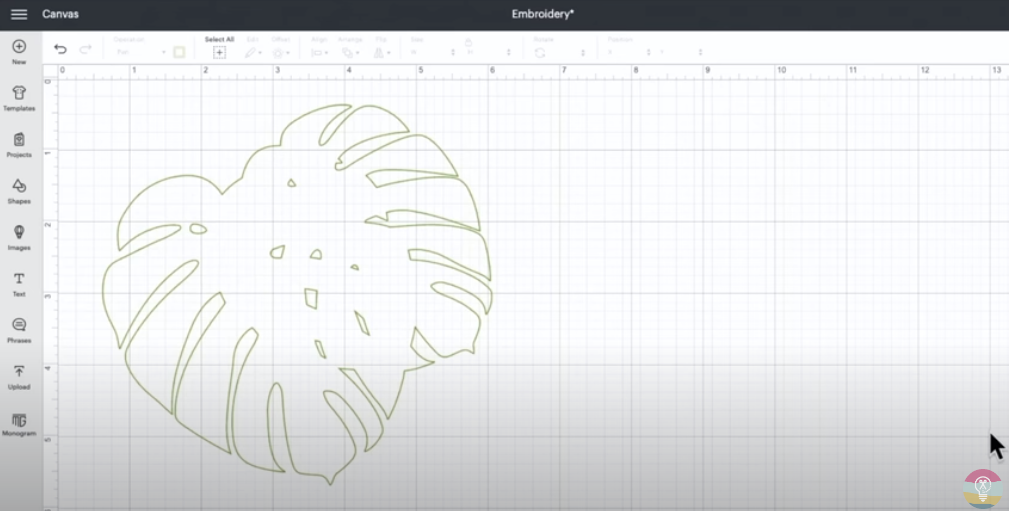 12 – With your design sized as needed, press Make It. Press Continue. Connect to your machine. For the material, select Heavy Cardstock (since we're drawing with the pens, it doesn't really matter what material you choose).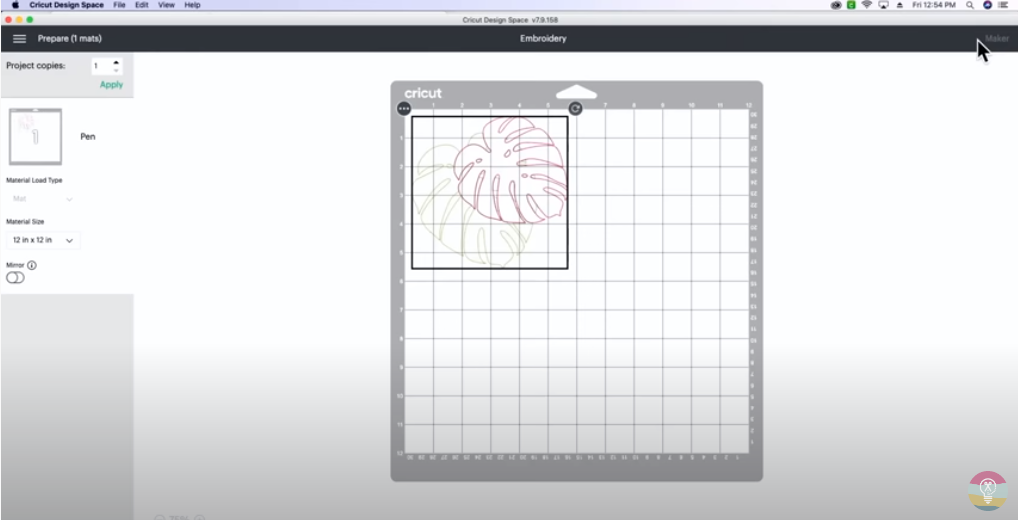 13 – Load the first pen into Clamp A as directed by Design Space. Place the Stick and Stitch on the mat and load into the machine. Press Play and allow the Cricut to draw the first part of your design.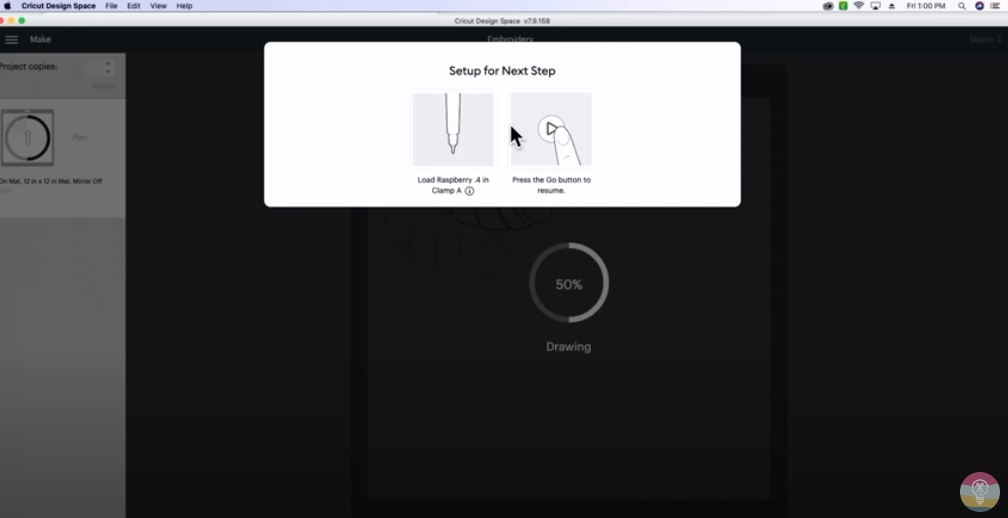 14 – Once it has drawn the first part, you'll be prompted to load the second pen. Remove the first one from Clamp A and replace it with the second one. Press Play and let the machine draw.
Pro Tip: When loading a pen into your Cricut, you always want to be sure you hear it "click".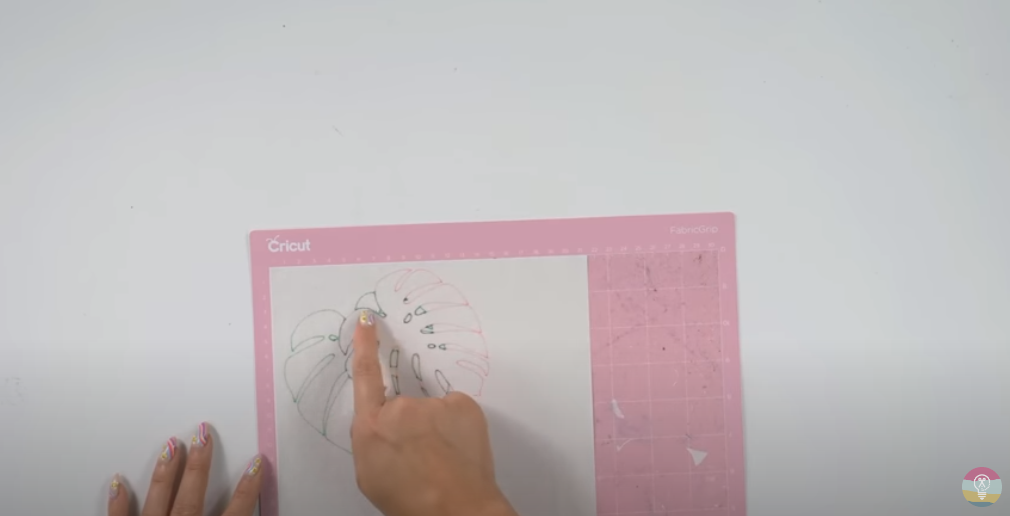 Note: You'll see that Cricut has drawn some of the lines that we wanted to be pink with the green pen. An easy way to ensure that you are embroidering it correctly would be to start with the pink shape first. Embroider those lines while they're still easy to see and distinguish from the ones that are meant to be green.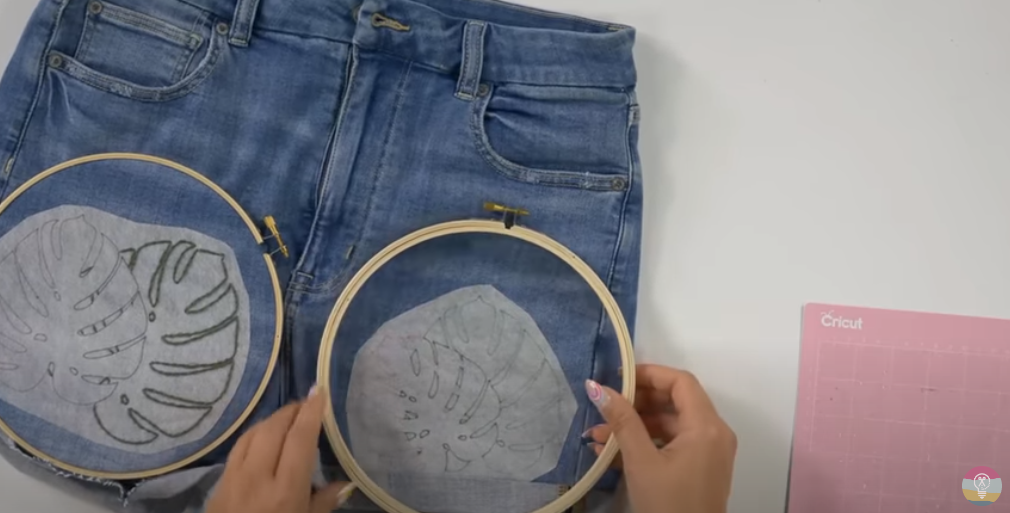 Embroidering your design:
15 – Trim around your printed design. Remove the backing and place it on your garment, sticky side down. Add an embroidery hoop around your design.
16 – Thread your needle and knot your thread. Bring the needle up on the line that was drawn (point A) and then put it back down a short distance away from where it came up (point B).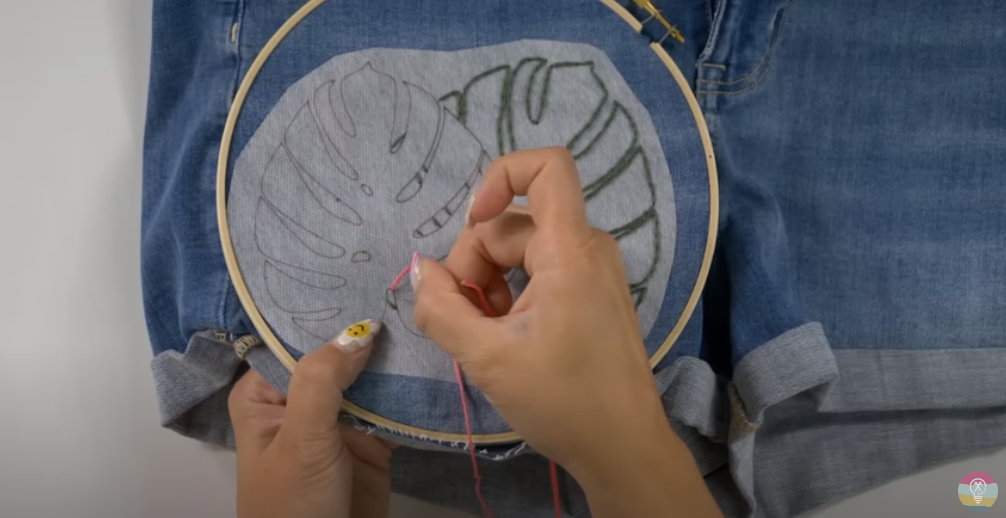 17 – Bring the needle back up on the line a short distance away from point B. (point C) Push it back down at about the halfway point between point A and point B. (point D)
18 – From here, continue bringing the needle up a short distance away from the previous point (in this case, point C) and then back down at the halfway point between that previous stitch. (in this case, points C and D). Repeat that step until you reach the end of your embroidery.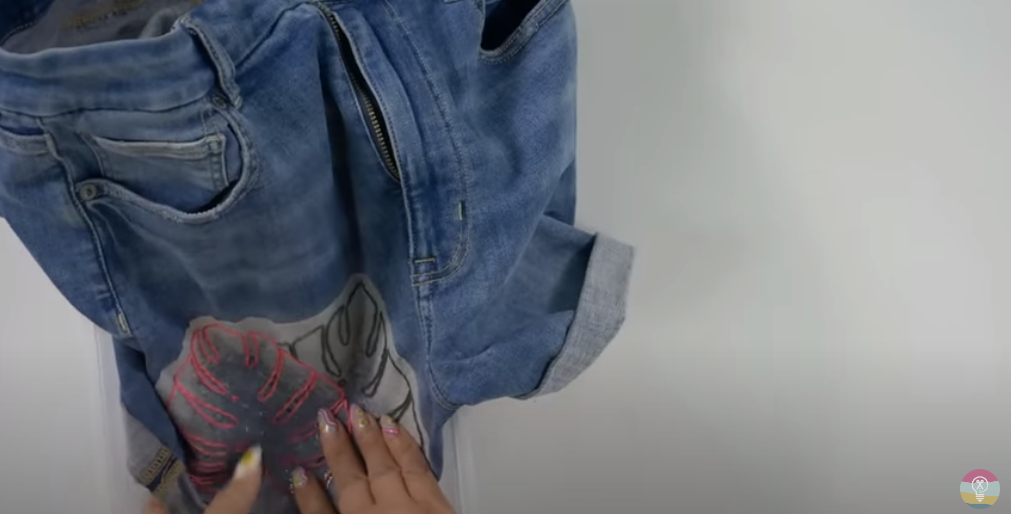 19 – When the embroidery is complete. place the embroidered design in water. The Stick and Stitch will start dissolving. You can do this in a bin of water or in the washing machine.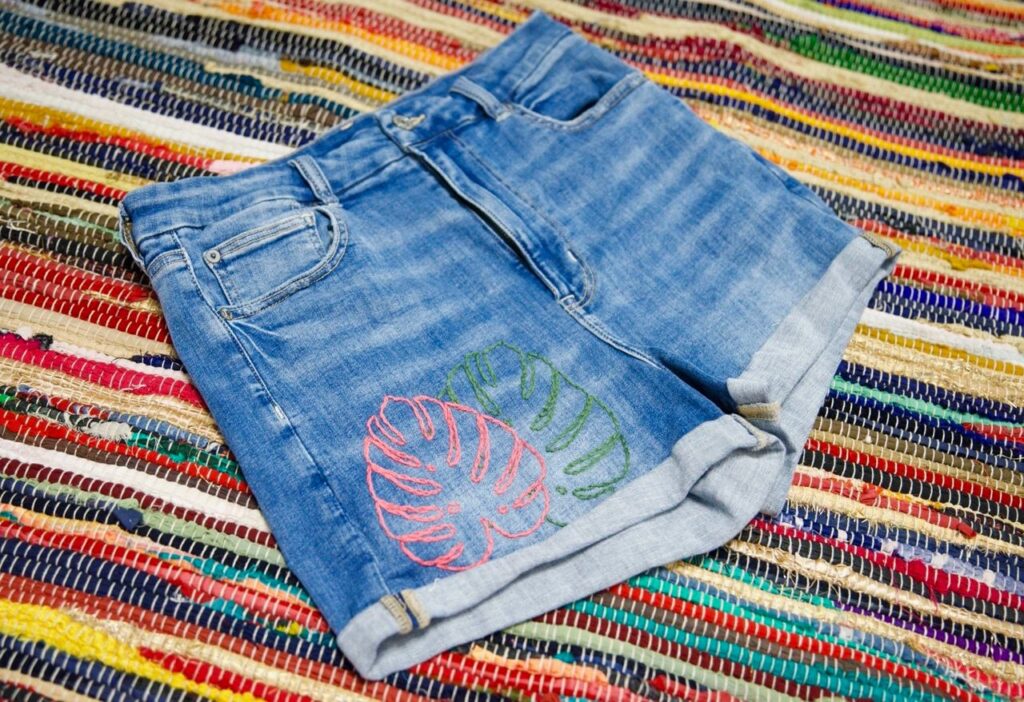 It's that easy to create a beautiful embroidery project with the help of your Cricut!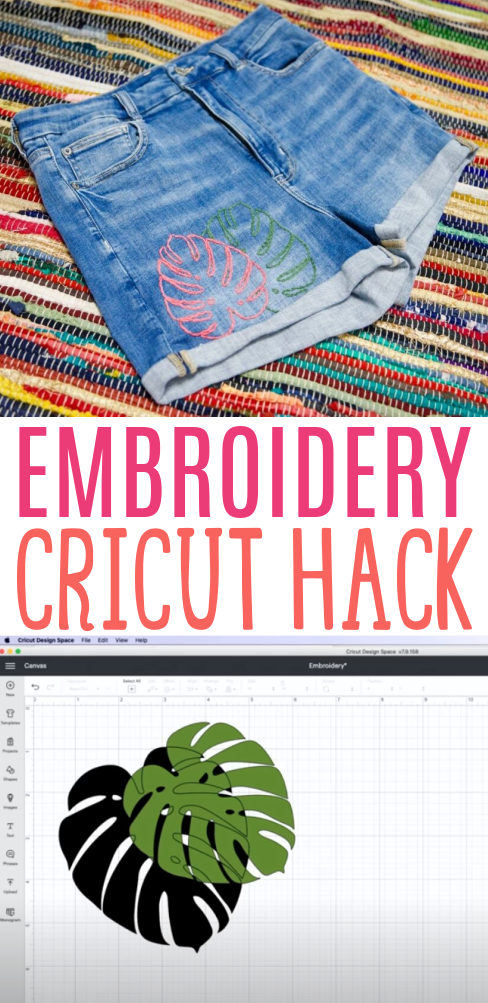 Tanner, Courtney, and the rest of the Makers Gonna Learn Team are all here because we love die-cutting and especially love sharing fun projects and tutorials with fellow makers. We are all great friends and are always having a blast when we are together- you will see this on camera, especially during live streams! We are here to inspire and support you in your crafting journey!