FREE Workshop for Crafters
Crafting Can Be Profitable:
The 5 Secrets to Using Your Die-Cutting
Machine for a Successful Business
Discover the easy, crafter-tested strategies for banishing guilt, overwhelm,
and confusion so you can sell your products. With confidence.
You need to attend this no-cost, step-by-step




masterclass if you're a craft who is ready to:
Learn the "selling" part of crafting without feeling like you need to go to business school for it.
Use their incredible gift to not only bring smiles to people's faces but also put money in the bank so you can face any personal crisis without losing sleep.
Understand exactly why you've struggled to sell your crafts in the past and how to avoid that from happening ever again.
Come face-to-face with the THREE lies that have led you down a path of guilt and overwhelm as a crafter who wants to succeed.
Stop going around in circles with endless YouTube videos and instead ethically steal a 5-step, easy-to-follow approach that has been tested by hundreds of crafters.
A personal invite from Tanner Bell and the Makers Gonna Learn team…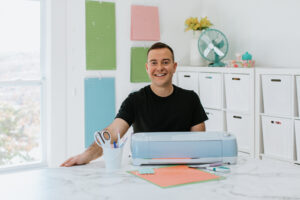 Hi friend!! We are SO glad you're here.
I'm Tanner Bell of Makers Gonna Learn and I can't wait to teach you how you can go from thinking about selling your crafts to actually seeing them fly off the shelves, online and in stores!
Taking action always feels a little scary even if it doesn't cost a dime.
This is why my team and I wanted to applaud you and tell you how proud we are of you for not only realizing you have an incredible gift but also having the courage to turn that gift into a lasting legacy for your family.
You deserve this.
This masterclass will dispel all those lingering doubts in your mind about whether or not your die-cutting crafts can sell in "crowded" markets.
You'll see JUST how your fellow crafters have used the same strategies you'll learn for FREE to create their own SVGs and sell their crafts.
Best of all, you'll put focused attention on learning exactly what you need to know instead of squirreling down YouTube rabbit holes.
My team and I are SOOO EXCITED!