Frog Shaped Card
Make an adorable frog-shaped birthday card using a fun offset technique in Cricut Design Space. This simple Cricut hack will allow you to turn any cut file you'd like into a folded greeting card!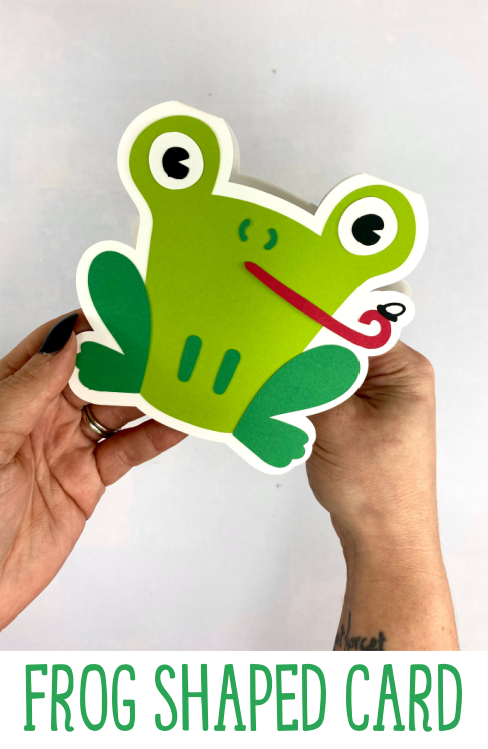 Frog Shaped Card
Disclosure: Some of the links below are affiliate links provided for your convenience. This means, at no additional cost to you, we will earn a commission if you click through and make a purchase.
Cut File Used:
Frog 1: https://makersgonnalearn.com/cut_files/frog-1/
Supply Links:
Craft paper – 1 sheet each of dark green, light green, black, red, and white
Adhesive: any of these options
ATG (Advanced Tape Glider) adhesive gun, glue, double-sided foam tape, or a tape runner
Cricut pen – fine tip black
Tweezers – handy for picking up the small pieces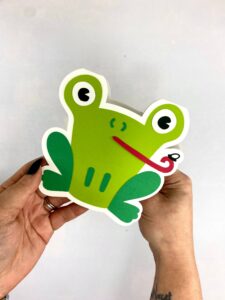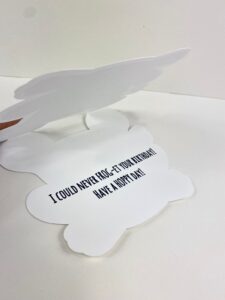 Step-by-step Instructions:
1. Upload the cut file into Design Space.
2. Use the Offset tool to add an offset. We made ours 0.2. Keep the corners rounded.
3. Pull the cut file away from the offset. Duplicate the offset.
4. Place one of the offsets above the other. Flip the top one vertically.
5. Select both of the offsets and Align Horizontally.
6. Make sure they are touching where the frogs' eyes are and weld. This will form the base of the card that will be folded.
7. On the bottom half of the card base, add your text for inside the card. We added two lines of text "I could never FROG-et your birthday. Have a HOPPY day."
8. Choose a font that will work well with a Cricut pen.
9. Size and center your text to fit the card. Change the Operation for your text to Pen.
10. Attach the text to the card base.
11. Press Make It and cut all of the pieces of your card out.
12. Assemble the card. Fold the card base and glue the pieces to the front beginning with the frog's body, then the legs, and other features. You can use the shape of the card and the image of the cut file to line things up properly.
Meet the Makers Gonna Learn team! Tanner, Rachel, and Courtney are all here because we love diecutting and especially love sharing fun projects and tutorials with fellow makers. We are all great friends and are always having a blast when we are together- you will see this on camera especially during live streams! We are here to inspire and support you in your crafting journey!