Greeting Card Organization Idea
If you like to make and send greeting cards, you are going to LOVE this organization idea for them. We find that we have so many different ones for a variety of occasions that then when it's time to send one out, it can be tough finding just the right one without digging through them all. This project eliminates that issue and keeps them neat and organized!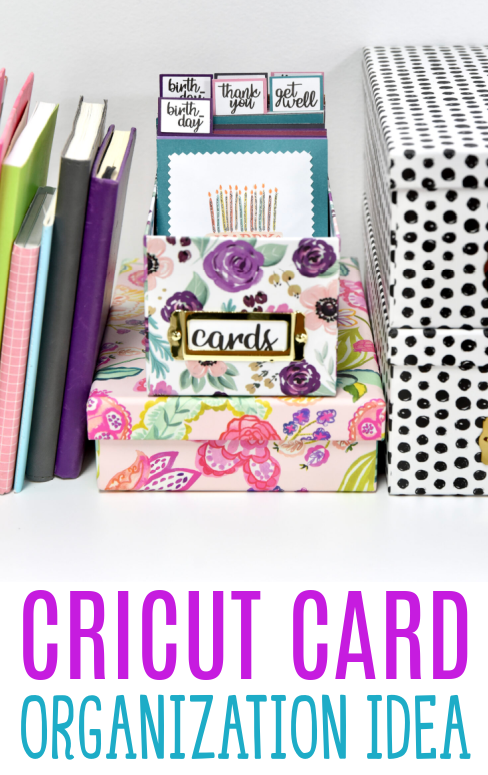 Greeting Card Organization Idea
Disclosure: Some of the links below are affiliate links provided for your convenience. This means, at no additional cost to you, we will earn a commission if you click through and make a purchase.
Font Used:
Supply Links: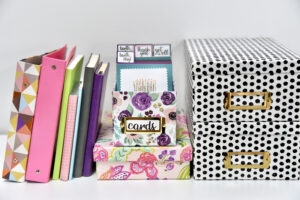 Step-by-step Instructions:
Import the fonts and cut files downloaded from Makers Gonna Learn into Design Space.
We are working with Basic Shapes today. The box we're working with fits A2-sized cards perfectly. So, we're making dividers for it using some rectangles. Grab a square, unlock it, and size it to the size you need for the divider. In our case, we're using the size 4.25 x 5.5".
Grab another square. This is going to be the tab for the divider. You want to make sure that 3 of these will fit across the top of your dividers. The size we liked for ours was 1.38 x 0.907".
Duplicate the large rectangle so that you have 3 of them. Duplicate the small rectangle so that you have 3 of them as well.
For the first divider, place your small rectangle at the top of the large one over to the left. Select both of these layers and choose Align, Left. This will ensure they are perfectly lined up. Select both again and Weld.
For the second divider, repeat this, only use Align, Center Horizontally instead of Align, Left. Once again weld those two together.
For the third divider, it's the same process again, only you will use Align, Right.
Open a text box and type in the words you want to put and select the font you want to use. You can change the spacing of the letters by using Letter Spacing. Size your labels to fit the tabs. We also made a larger one saying Cards for the whole box in general.
You will need to create small white rectangles to fit the divider tabs for each of your words (the one saying Cards will be sized to fit the slot on the front of the box). Click both the rectangle and the word that goes on it to select them both. Click Flatten. Repeat for each of the labels.
Go ahead and click Make It and print your labels. Once printed, place your printed labels onto your cutting mat. Load it into your machine to cut. Choose Heavy Cardstock for your material setting.
For each of the tabbed dividers, load a piece of cardstock onto your cutting mat, choose for your material setting, load the mat into the machine, and cut.
Pop the Cards label into the slot on the front of the box. For the other labels, you can glue them to the tabs and you're all finished!
Tanner, Courtney, and the rest of the Makers Gonna Learn Team are all here because we love die-cutting and especially love sharing fun projects and tutorials with fellow makers. We are all great friends and are always having a blast when we are together- you will see this on camera, especially during live streams! We are here to inspire and support you in your crafting journey!