Hanging Butterfly Art
This is one of our favorite projects for so many reasons: it's really pretty and it's really easy to make! We're using the Slice function to cut apart a PNG file so we can use each of the components separately. Amazing, right?
We'll show you how simple this is to do. In almost no time at all, you'll have some beautiful art to hang in your home!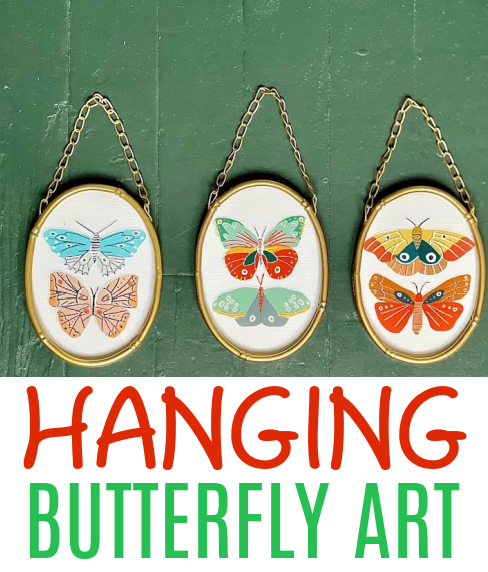 Hanging Butterfly Art
Disclosure: Some of the links below are affiliate links provided for your convenience. This means, at no additional cost to you, we will earn a commission if you click through and make a purchase.
Cut File Used:
Supply Links:
Cardstock
Printable sticker paper
Step-by-step Instructions:
Take the measurement of the frame you'll be using. You always want to know how big your working space is so you can size your files in Design Space appropriately.
Import the cut file downloaded from Makers Gonna Learn to Design Space.
We're going to slice these butterflies out one at a time so we can work with them just as we want. Since the file we are working with is a PNG, it is not layered. We want to work with the butterflies separately so we have to use Slice to do that.
Grab a Basic Shape and size it to cover one butterfly at a time. Select both layers and choose Slice. Repeat as many times as needed to slice out each individual butterfly.
Now, grab a Basic Shape again to mimic the shape of your frame and resize it to fit your frame. Make sure to give it a little extra space. Now you can move your cut files over to the shape and resize them to fit your frame. Repeat as needed until you have completed all your designs and frames. We're going to cut out the Print then Cut butterflies as stickers and then oval pieces of cardstock to form the background for those butterflies to put in the frames.
Click Make It to send it to the printer. We like to choose Add Bleed. Then, under the printer's' System Dialog, increase the quality to Best.
Once printed, place your printed design onto the mat and load it into the machine for cutting,
Now, go back into Design Space to change the Material Setting to Medium Cardstock. Load your medium cardstock onto your mat and load it into the machine to cut out your cardstock background.
Place the sticker onto the cardstock and frame it.
Tanner, Courtney, and the rest of the Makers Gonna Learn Team are all here because we love die-cutting and especially love sharing fun projects and tutorials with fellow makers. We are all great friends and are always having a blast when we are together- you will see this on camera, especially during live streams! We are here to inspire and support you in your crafting journey!