Hot Air Balloon Wall Hanging
How sweet is this Hot Air Balloon Wall Hanging? It's one of those adorable kids' decor items you look at and just say "awwwww", isn't it? We think it's just perfect for a kids' room or nursery and it would make a fantastic baby shower gift too!
We made this wall hanging using one of the cut files in our new Baby Cut File Collection, just being released today! This adds a colorful, fanciful touch to any room decor and we just know it would be so cute in any kid's room. Check out the tutorial below to learn just how easy it is to make this!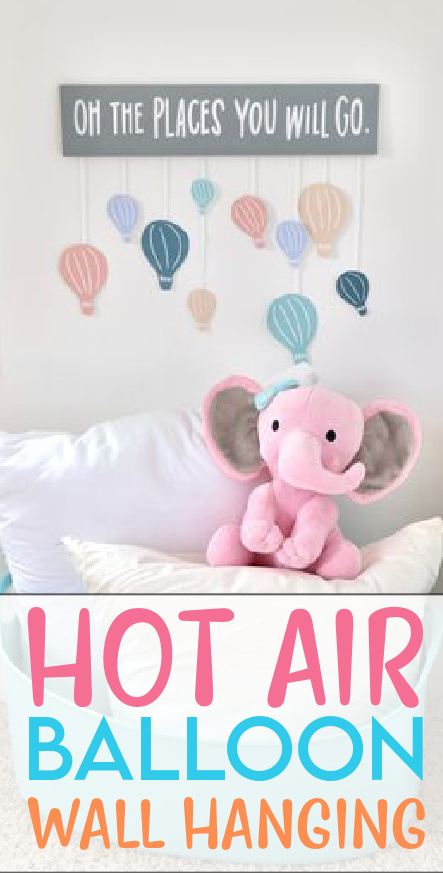 Hot Air Balloon Wall Hanging
MGL Files Used:
Oh The Places You Will Go (SVG, not PNG)
Check out the full Baby Cut File Collection here!
Supplies:
3.5" Poplar Wood cut at 16" long
Check out the full step-by-step video tutorial below: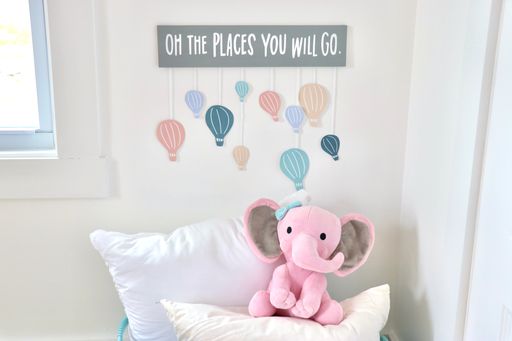 Steps:
Sand your wood plank, then apply 2 coats of grey paint and allow to dry.
Bring your SVG into Design Space. Now, add a basic shape the same dimensions as your wood plank, 16" by 3.5".
Ungroup your SVG and move the hot air balloon layers out of the way on the canvas so you can work with the text. Now, take another basic shape and cover the first line of text with it. Select the shape and the text, and click "slice". Select and erase all of the slice layers accept for the first row of text that is now detached.
Repeat that process with all of the lines of text until you have them all detached and separated.
Now select all of the layerers and size them down together and place them where you'd like them to go on your wood plank basic shape. Once you like the placement, select all of the words and click "attach"
Now with the hot air balloons selected duplicate them and change the colors of them until you have one of each of your desired color. Don't forget that you can use the "advanced" color tool to get the precise color you desire!
One by one select a balloon and then click "duplicate". Select the duplicated balloon then go to the bottom of your layers panel and click "contour". Then click "hide all contours". At this point, go to the top of your screen and change the color of the solid balloon to white. Now, drag the solid balloon over the original balloon layer and then go up to the top of your screen and click "arrange" then "send to back". With both balloon layers selected, click "align" then "align center". While both layers are still selected go to the bottom of your layers panel and click "flatten".
Repeat that process with all of your hot air balloons.
Now, begin to arrange the balloons where you'd like them to hang under your wood plank basic shape.Duplicate the colors of balloons you want to use more of, size them accordingly, and continue arranging them until you like the layout. We have many different sizes of hot air balloons in our project. On some strings we will attach two hot air balloons but most strings will get just one.
NOTE: This is a lengthy Design Space project. If you haven't been saving your project periodically, now is a great time to do so! We wouldn't want you to accidentally lose all of your hard work!
Once you're happy with the layout, select all of the balloons and group them together. Duplicate them. Slide the duplicates over so you can work with them. Ungroup the duplicated hot air balloons. Now, one by one, click on them and click "Unflatten". At this point drag the top colored hot air balloon layer away from the solid white layer and erase it. Repeat this process until you have all of the white solid hot air balloon layers.
At this point, click and drag your mouse over all of the solid hot air balloon layers and go up to the top of your canvas where it says "fill" and click "no fill". This action will change the layers from a print then cut to a cut layer. These will act as the back supports to our hot air balloon hangings.
With all of the solid layers still selected, change their color to white.
Hide or delete the wood plank basic shape layer, as it was just for visualization and we do not need to cut it out. Change the color of the text to another color. This is because the text along with the solid balloon layers are white, which the Cricut will then want to cut on the same mat, but one will be cut from vinyl and the other from cardstock so we need to make sure those are on different mats, so changing the color allows that to happen.
Load the 80 pound cardstock in your printer and click "make it". Send the Print Then Cut layers to your printer then cut them out using the "Kraft Board" setting. Then cut the solid hot air balloon layers from 120 pound cardstock on the same material setting set to "more pressure". Cut the vinyl out using the "Premium Vinyl" setting and weed and apply transfer tape to it.
Turn your hot glue gun on and allow it to start heating up. Transfer the vinyl onto the painted wood plank being sure to burnish well. Slowly peel off the transfer tape. Feel free to add a few coats of polycrylic if you'd like to seal your wood.
Take some time and lay out all of your print then cut hot air balloons under your wood plank how you designed them in Design Space. It's often helpful to have Design Space in your view so you can remember the layout you wanted.
Once you have them all laid out begin measuring the string from the middle of the wood plank to the middle of the hot air balloon. Cut the string there. Add a strip of hot glue on the back of the hot air balloon and lay the string in the glue. As the glue is drying, find the blank white cut out of the exact balloon you have. Add some glue to it, and lay the print then cut balloon on it and line it up it up before the glue dries.
Repeat that process with all of your balloons.
For this next part, there are probably better ways to do it! If you can think of any, have at it. Make sure all of the strings are the correct width apart and you like their placement. We decided to add a string of hot glue to the bottom of the back of our wood plank, and lay it down onto the strings where we wanted it to go. Quickly pick the plank up, and all of the strings were adhered. NOTE: This method will get hot glue on your work surface so if you choose to do this method it would be best to lay down some parchment paper or a self healing mat before starting this project.
We then turned the plank over and gave each string more hot glue to reinforce them.
Once all of your strings are dry you can glue another piece of string on the plank so you can hang it, or you can add hanging hardware, or just use command strips!
If you make a hot air balloon wall hanging, we would love to see it! Be sure to post pictures over in the MGL member only Facebook group.
Tanner, Courtney, and the rest of the Makers Gonna Learn Team are all here because we love die-cutting and especially love sharing fun projects and tutorials with fellow makers. We are all great friends and are always having a blast when we are together- you will see this on camera, especially during live streams! We are here to inspire and support you in your crafting journey!