How To Clean Your Cricut Mats 3 Ways!
You guys are in for a real treat! Get ready to have your mind blown, with this amazing video and post all about How To Clean Your Cricut Mats 3 Ways! These are some of our favorite Cricut hacks because they help us get the most out of our Cricut supplies and save money.
This is not your typical Cricut mat cleaning article, because we compare 3 ways to clean your Cricut mats that REALLY work! You can read for yourself and choose your favorite, but all of these ways will be successful if done correctly.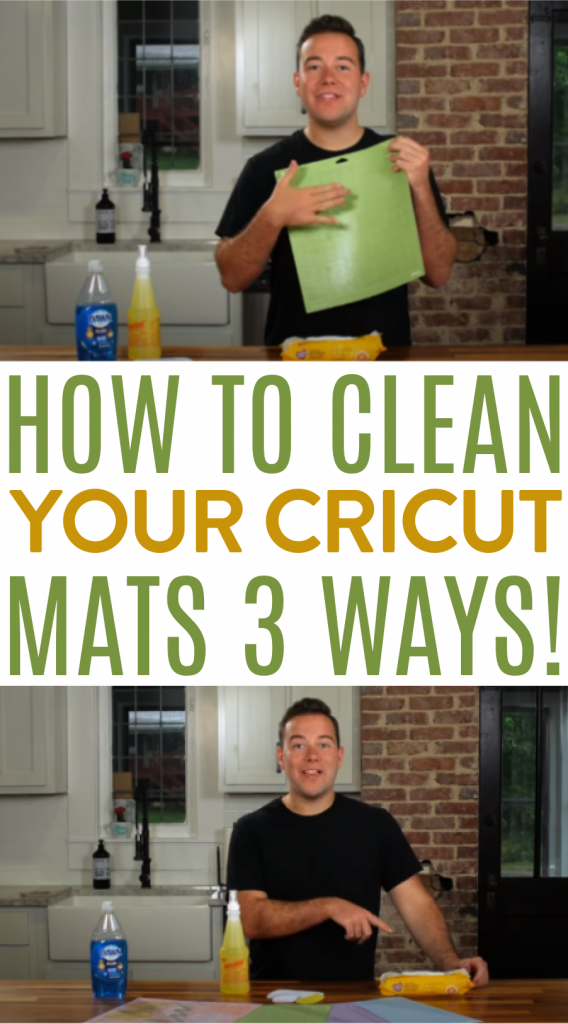 Remember, it's really important to clean your Cricut machine too!
How To Clean Your Cricut Mats 3 Ways!
In this video, Tanner compares cleaning your Cricut mats with baby wipes, Dawn dishwashing liquid, and LA's Totally Awesome Cleaner. We love being able to clean our mats to get some extra use out of them, and you will too.
Before we get started, we want to make sure you know that Cricut does NOT advise cleaning the mats. In fact, if your Cricut die cutting machine is still under warranty (less than a year old), you could void your warranty if you use mats that have been cleaned. That being said, we have had great luck with these methods.
And, after that time, it can be well worth it to try these cleaning methods out and see if you can extend the life of your mat. What have you got to lose?
Be sure to check out this post too! Which Cricut Mat to Use for Your Craft Projects and Materials.
How do I know when I need to clean my Cricut cutting mat?
When your Cricut mat no longer has its natural stickiness – which you need to hold the vinyl in place – it is time to be cleaned! You might also need to clean it if you see that a project has left behind some residue or bits of lint.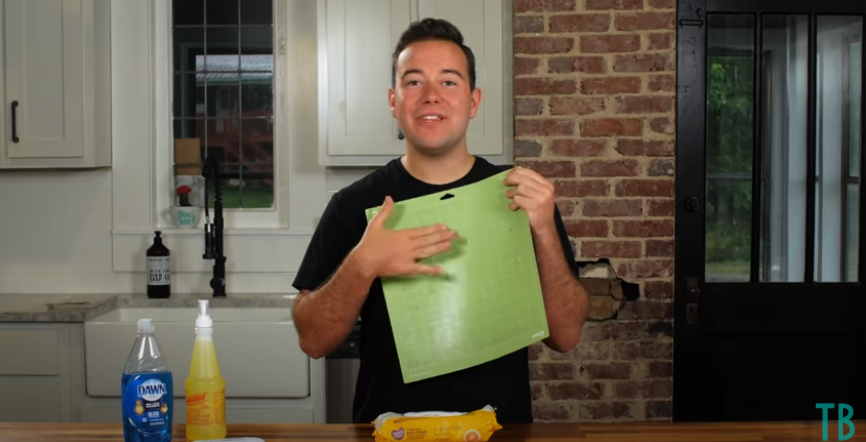 Method #1 – Use a baby wipe.
That's right. You can clean your mat with a baby wipe! We love using baby wipes to quick-clean our mats. You can keep them right in your crafting room and easily clean your mat without needing a sink.
Simply grab a baby wipe and start in one corner of the mat. Wipe the mat in a circular motion until you have cleaned the entire cutting mat.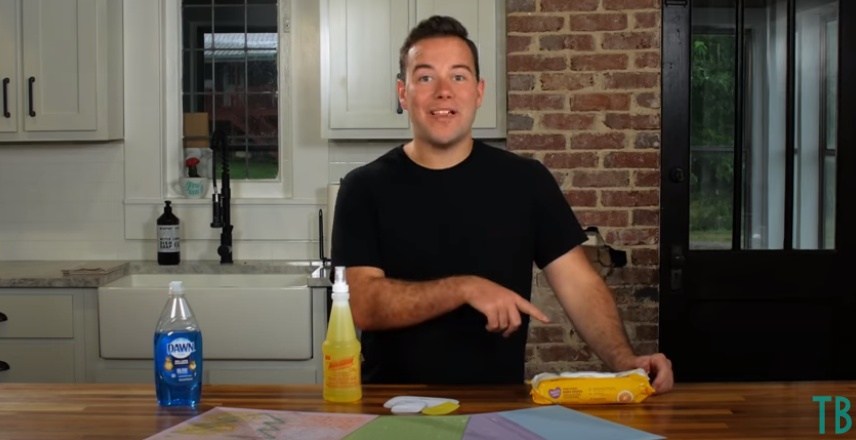 You don't want to use too much pressure. Simply wipe lightly and you'll start to see a difference right away as the baby wipe removes the residue.
Your mat has an adhesive coating, so you must be careful not to scrape that adhesive away. Use a light touch and go over the area for a little bit longer if needed, rather than increase the pressure. You may need 2-3 wipes per mat.
Let your mat dry for 3-5 minutes. Once thoroughly dry, the stickiness should be restored!
Pro Tip: Keep that clear plastic sheet that comes with your cutting mat. Put it back on each time you finish using your mat. This will help to protect it and keep it clean.
Method #2 – Use LA's Totally Awesome Cleaner.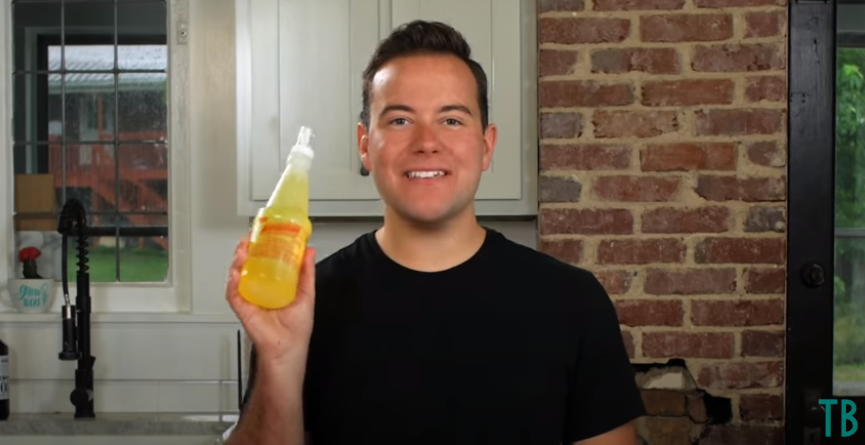 You might be a little skeptical about using LA's Totally Awesome cleaner on your mat. After all, it comes from Dollar Tree and is only $1.
It really can work well at cleaning your cutting mats though. With this technique, it's all about the pressure – even more than with using a baby wipe!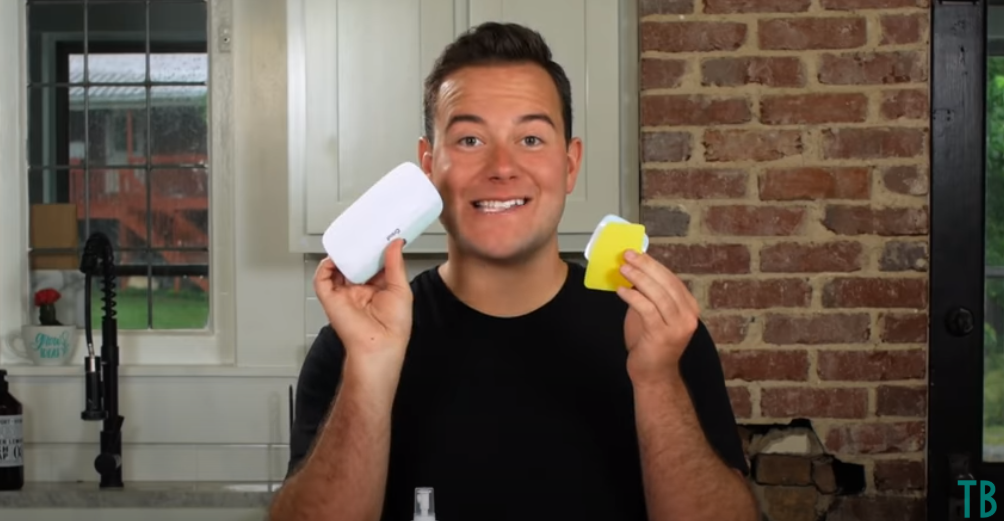 Along with the cleaner, you're going to need a plastic scraper. Spray on a nice even coat of the cleaner and let it sit for 3-5 minutes.
Be generous with your application of the spray. We've never had an issue with over spraying but we have had problems with under spraying.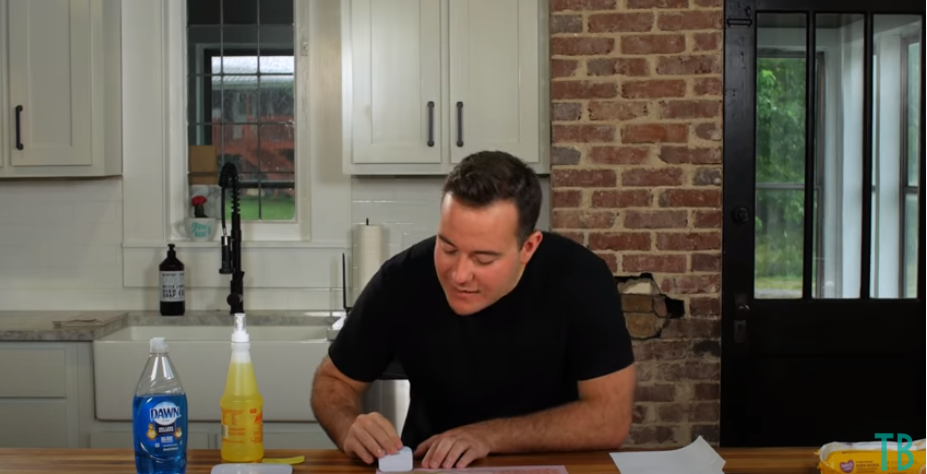 Next, you want to use the scraper tool. Be sure to use a really light hand here! If you scrape too hard, you will remove the adhesive and ruin it.
It's better to start with a really light touch with your scraper tool. Then you can go back in a second time if you need to. You don't need to scrape off every tiny particle – the rest will likely come off with the rinsing.
Rinse the mat off with warm water. Let it sit to dry for about 20 minutes and blot gently with a paper towel. It should be good to go again!
Pro Tip: We find this method does an especially good job on the fabric grip mat!
Method #3 – Use Dawn Dishwashing Liquid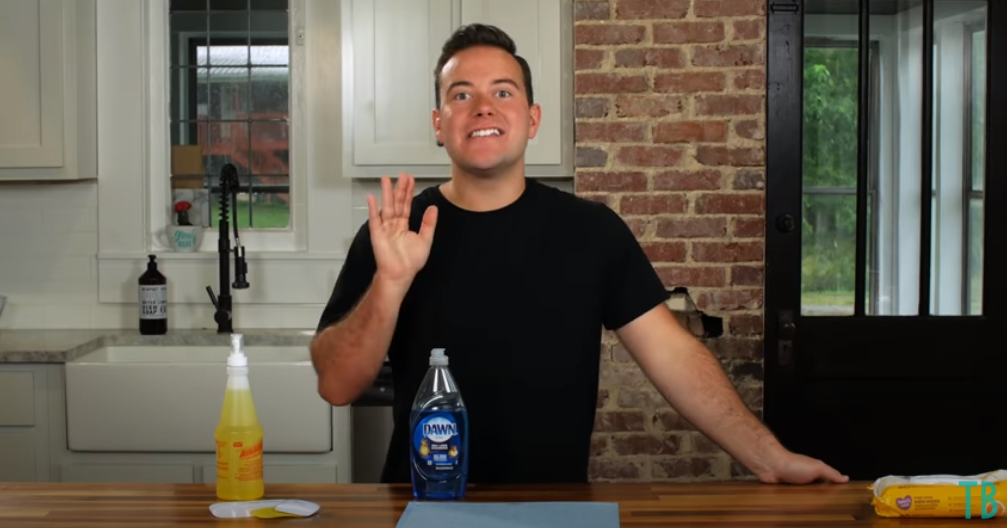 Apply some Dawn dish soap to your mat. Let it sit for 3-5 minutes.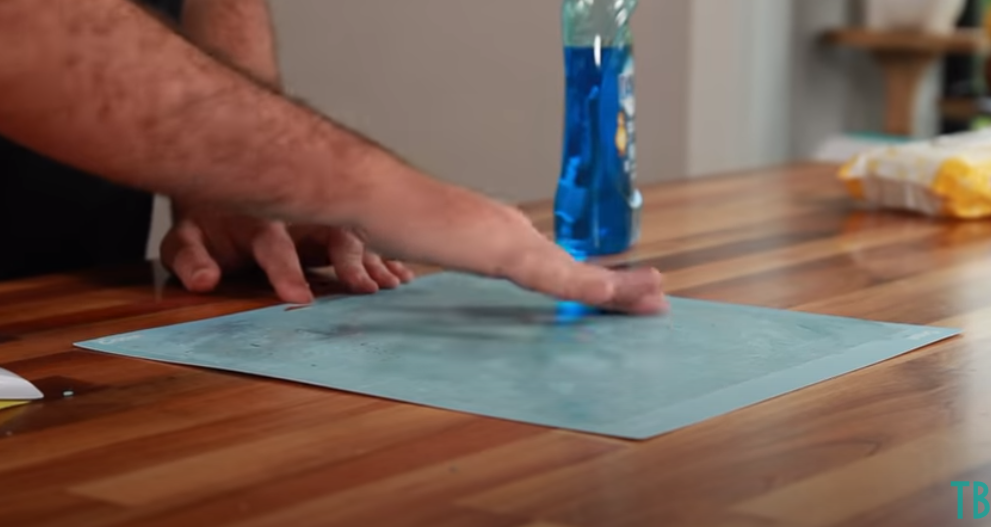 Then, hold it under warm running water and gently rub away the debris with your fingers. If you need to, you can use something like a paper towel.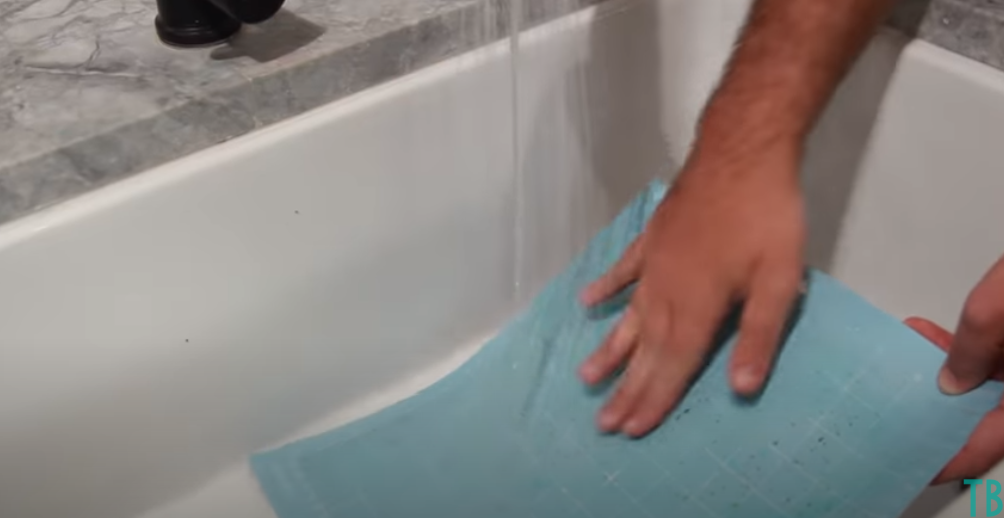 Don't use a sponge or anything along those lines as it is likely to rub away some of the adhesive.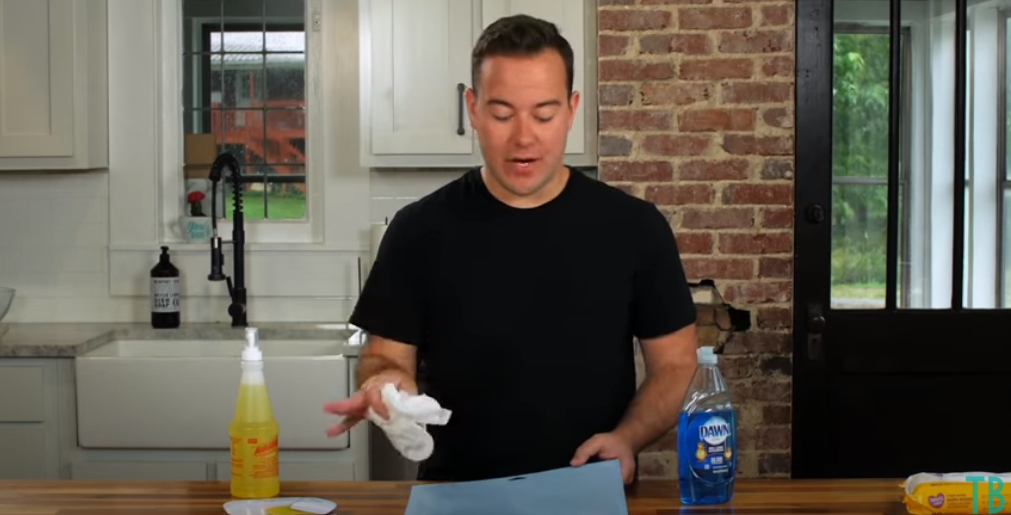 Gently go over the wet cutting mat with a dry paper towel. We find that the soap and water gets rid of most of the debris on the mat, but this will help dry the mat and get those last little bits.
Pro Tip: As long as the mat is wet, the adhesive will not be sticky. Let it dry thoroughly and the adhesive should come back as long as you've cleaned it carefully!
Out of these 3 methods, we prefer the baby wipes! They work well and are so handy – especially if you don't have running water in your craft room.
When it comes to the fabric grip mat, we definitely still love using LA's Totally Awesome. In fact, we've had such good luck with it, that we have found our mats are almost stickier AFTER we use this technique than when they're brand new!
Test out these techniques for yourself and let us know which one is your favorite!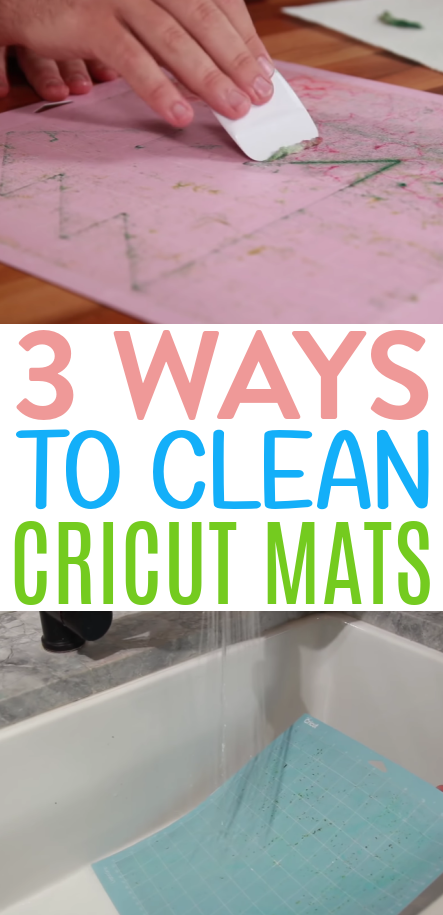 Tanner, Courtney, and the rest of the Makers Gonna Learn Team are all here because we love die-cutting and especially love sharing fun projects and tutorials with fellow makers. We are all great friends and are always having a blast when we are together- you will see this on camera, especially during live streams! We are here to inspire and support you in your crafting journey!