How to Create Large Print then Cut
If you're like us, you love creating Print and Cut craft projects with your Cricut. The only problem is the limitations of the Cricut Print then Cut size. You see, you can only make projects that are 6.75 x 9.25 inches. Or can you?
We're going to show you how to create large Print then Cut projects – larger than those size limits! Keep reading. If you want to expand the range of Print and Cut crafts that you can make, you're going to need to know all about this amazing Cricut hack.
How to Create Large Print then Cut
You're going to love the crafty tips and tricks we share in this tutorial. We'll show you how to hack the system so you can make your craft projects as large as you want.
Supplies we're using:

Step by Step Tutorial: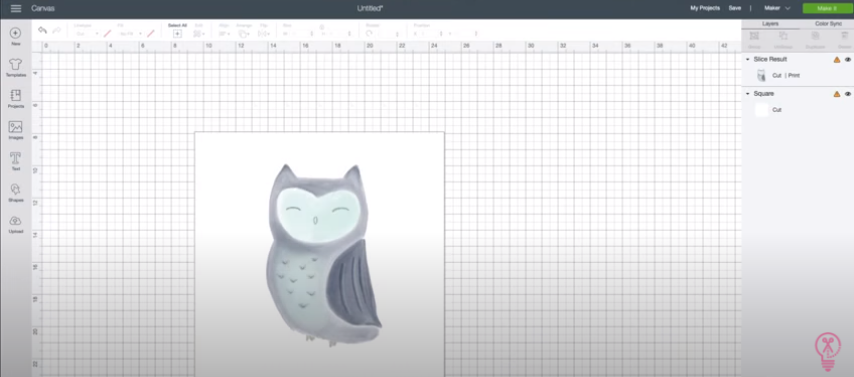 Working in Cricut Design Space
This is the design we've chosen to work with today. It's an adorable owl Print then Cut file available as part of your Makers Gonna Learn memberships. Note that we have added a square on our canvas that is the exact size of the pillow we're making so that we can size the owl design accordingly.
Once you have the owl to the size you'd like, you can delete the square. Then, you want to grab a rectangle and size it to 6.75 x 9.25 so it will represent the Cricut Print then Cut max size. Move it so that it covers as much of the owl as possible.
Select both the owl and the rectangle and choose Slice.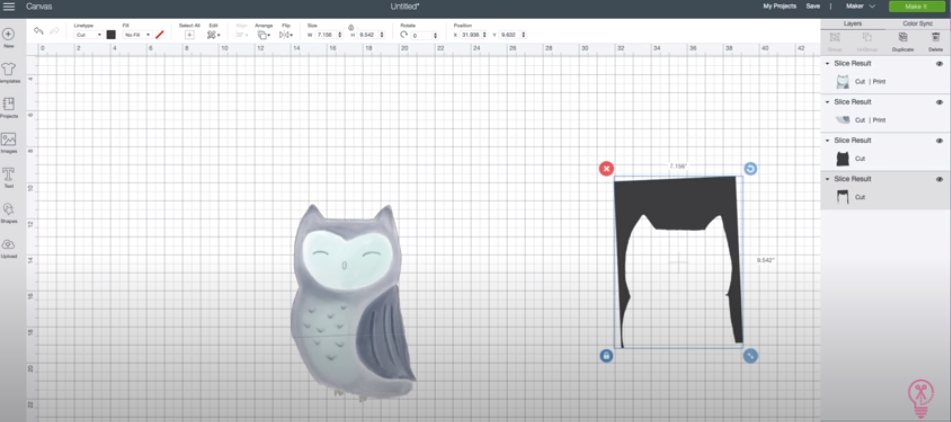 Drag away the excess sliced pieces that you don't need and delete them.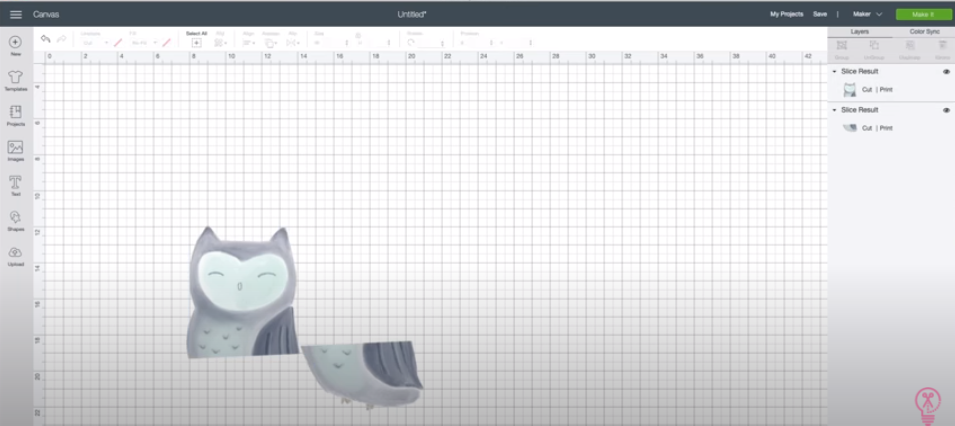 You should be left with the top of the owl and the bottom of the owl. You won't see any of the caution signs that Cricut had before over in your Layers Panel warning you that your Print then Cut design is too big, because now each piece fits perfectly within the allowed space.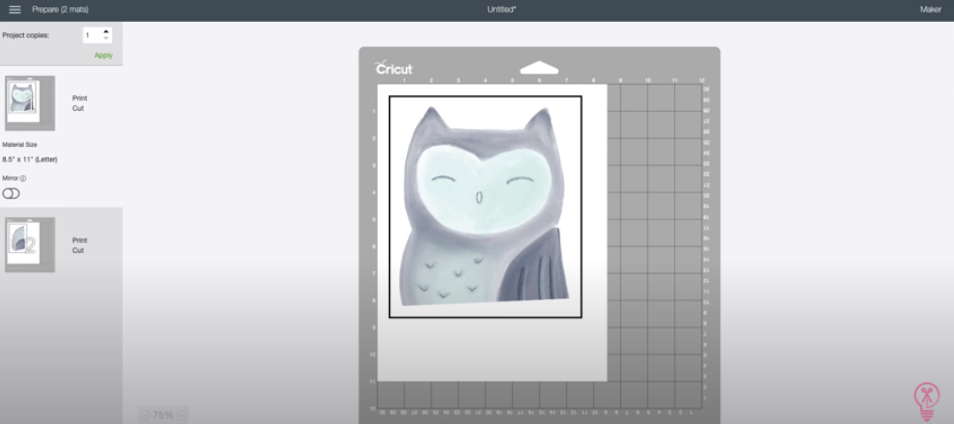 Making Print then Cut Projects
Click Make It. With the printable iron-on brand that we're using, we also have to make sure to toggle on Mirror and mirror our design. Click Continue and connect your machine.
Remember this is a Print and Cut project, so we will be printing it first and then cutting it out. Make sure your printable HTV is loaded into your printer. Also, remember that this must be printed on an inkjet printer.
Pro Tip: We have turned on Add Bleed. If you need more tips about creating the best possible Print and Cut projects, be sure to check out this post too: The Ultimate Print then Cut Guide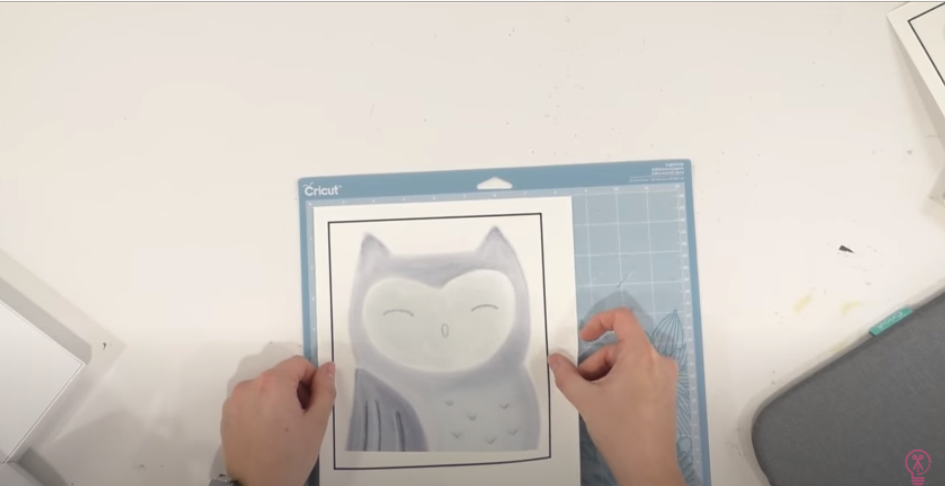 Once they're printed, place your designs on the cutting mat and load them into your Cricut machine.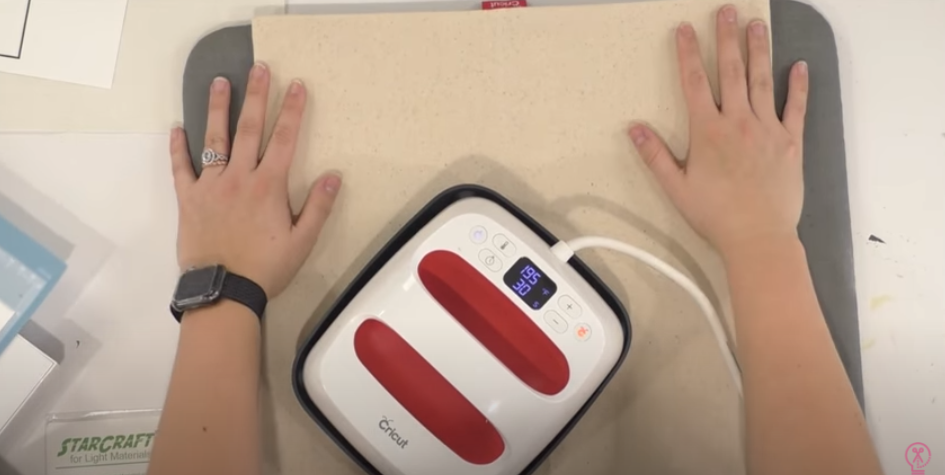 Heating Your Design
While your design is cutting, this is a good time to preheat your EasyPress and iron out any wrinkles from your pillow cover.
Pro tip: Open the zipper on the back of the pillow and insert your EasyPress mat inside of it. This helps get the zipper out of the way so it doesn't interfere with a smooth transfer of your printable HTV.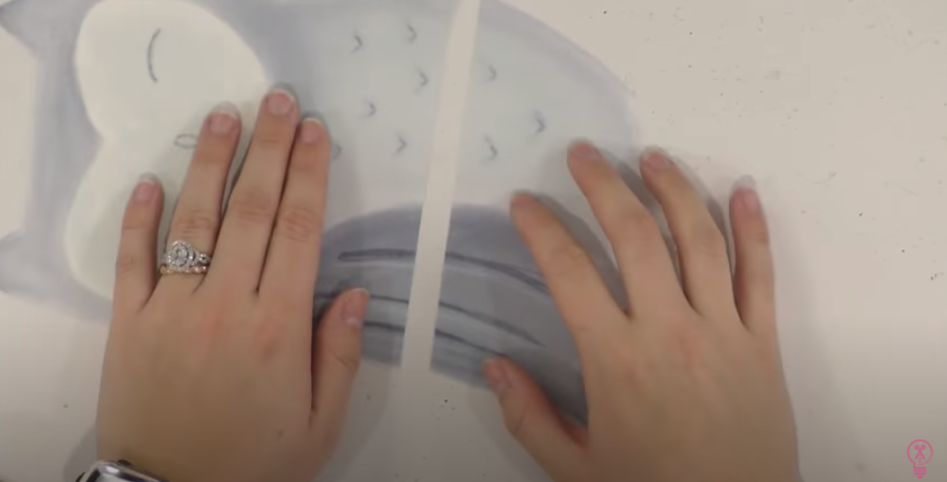 Now, line your cut pieces of the owl up and tape them together with heat resistant tape on the back. To line this up well, we like to place a piece of tape on one half and then flip it over. Since part of the tape is exposed, we can now line them up from the front to get a perfect design. Once lined up well, flip it back over and add more tape to the back to make sure it's secure.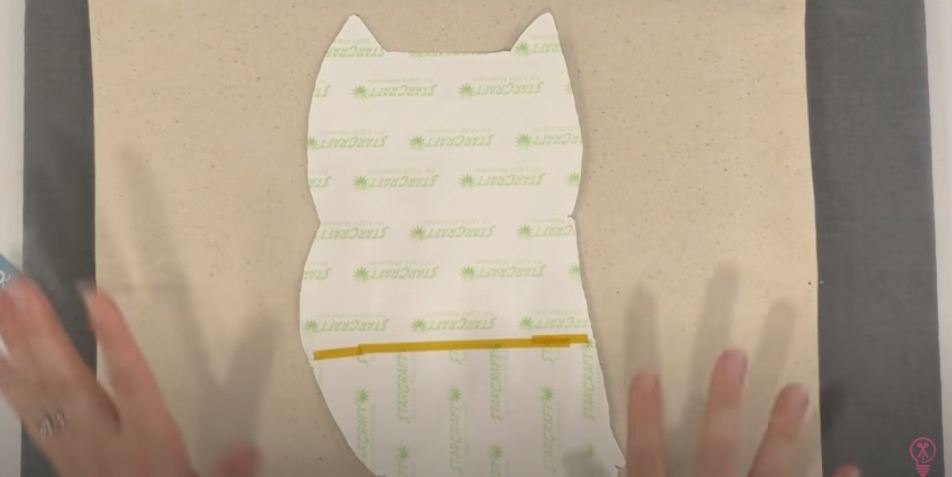 Place the design facedown on the pillow cover. Cover with the Teflon sheet. Heat with your Cricut EasyPress. We are heating one half at a time, giving good pressure, using a temperature of 375 and a time of 30 seconds.
Note: The instructions say to peel up the design while still hot, but we have found that allowing it to cool works much better.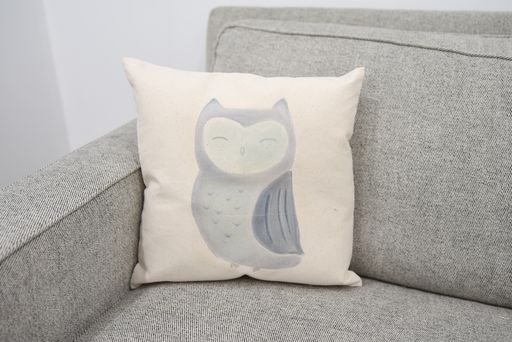 Add some stuffing or a pillow form inside your completed pillow cover. Isn't it adorable? What will you make with this Larger than Size Print and Cut technique?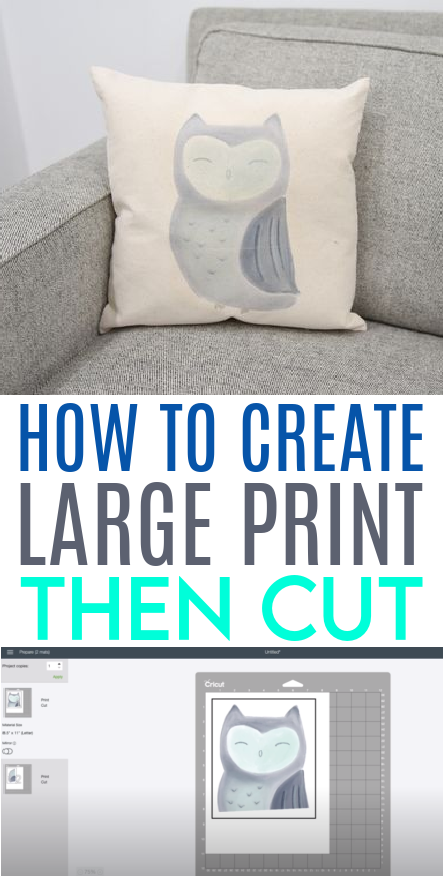 Tanner, Courtney, and the rest of the Makers Gonna Learn Team are all here because we love die-cutting and especially love sharing fun projects and tutorials with fellow makers. We are all great friends and are always having a blast when we are together- you will see this on camera, especially during live streams! We are here to inspire and support you in your crafting journey!