How To Download a Font for Cricut Design Space on Your iPad or iPhone
July 8, 2019 by mary
If you're a member of our die cutting community here at Makers Gonna Learn and you want to download fonts with your iPad or iPhone, this post is for you.
We get asked so often about how to download fonts and take full advantage of them on an iPhone or iPad. This process is exactly the same if you are using any other font websites out there and want to be able to access those fonts in Cricut Design Space, but in today's tutorial we're particularly focused on our Makers Gonna Learn members.
If you're not already a member, you should know that with your membership, you will be able to access hundreds of cut files and (as a yearly member) hundreds of fonts with more added regularly. Add to that a private Facebook group, free tutorials and workshops, and more! This is such a great membership – check us out here.
We're going to be using an app for this. It's called AnyFont. It's a paid app that's currently $1.99. It allows you to manage your fonts and is compatible with Word, Excel, PowerPoint, and of course, Cricut Design Space.
So after you've purchased and downloaded it, you will be able to open up AnyFont. Of course, we a font to download. So, we're going over to Makers Gonna Learn. Log into your account and click on the font tab. Scroll through until you find the one you want. For today, we're going to choose the font Chloe's House and click the download button.
Important reminder: you must be a yearly member on Makers Gonna Learn to have access to the fonts
Once done, it will bring you to this zip file. It will say "open on iZip", but we're going to select more and click copy to AnyFont instead.
It will automatically send you over to AnyFont. Now, we've been working with AnyFont for quite some time, so you can see we have lots of fonts already on our iPad. We're going to scroll up to find the one that we want. They're in alphabetical order which is so handy. Once we find "Chloe's House", we're going to click on it to install.
It will now ask you if you want to allow it to open settings and show you the configuration profile. You want to click allow. So now it's going to take you to your Settings app and say "Install profile".
You are going to want to select install and then you can enter the pass code for your tablet. It will ask you to give consent and once you do, you will click "next". It's going to give you a quick warning and then, you click install and then press install one more time. It should then state that the profile has been installed. Press done and it will send you right back to AnyFont.
Now what you're going to want to do is to close the Cricut Design Space app and relaunch it. Click new project, go into text, and look under system fonts. When you download a Makers Gonna Learn font you will always find it under system. Search for Chloe's House.
Now you can type out anything you want and you'll be able to adjust it any way you want to. You can change the letter spacing, sizing – anything you want to do with your design.
We absolutely love being able to download fonts onto our iPad. It's so easy and really opens up the possibilities of being able to design right within our iPad or iPhone. Be sure to check out the video for a more detailed tutorial if you're having any difficulties. Once you try this one time, you'll see just how simple it is to use AnyFont to download fonts and use them in Cricut Design Space right on your iPad or iPhone.
If you're just getting started with Cricut Design Space, be sure to check out our Introduction to Cricut Design Space for Beginners.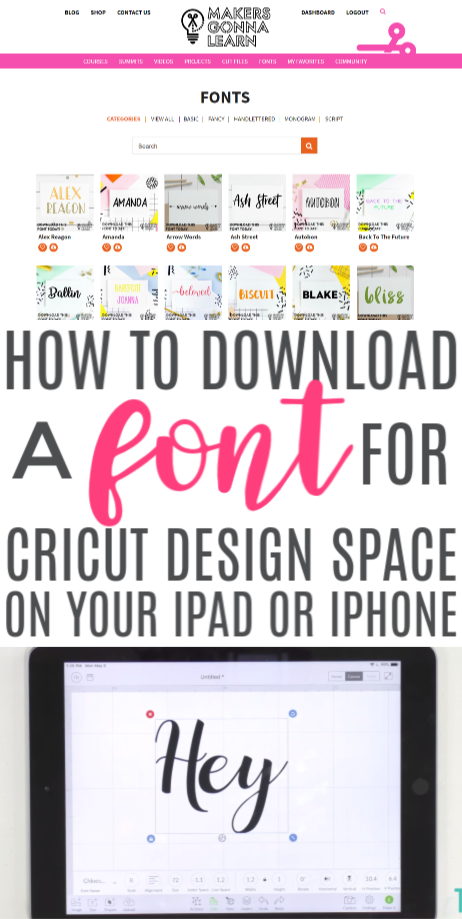 And if you want to create designs with digital cut files, head on over to our article on How to Work with Digital Cut Files on Your iPad and iPhone.