How To Iron On Tumblers
Today, we're going to teach you How To Iron On Tumblers. We've tried making these iron-on tumblers many times and we've had a few fails.
Since then, we have found that there are some Cricut tips and tricks you need to know to get the best results. We have tested this out multiple times to make sure that we have the perfect craft tutorial for you.
If you love making tumblers, you will love these posts too: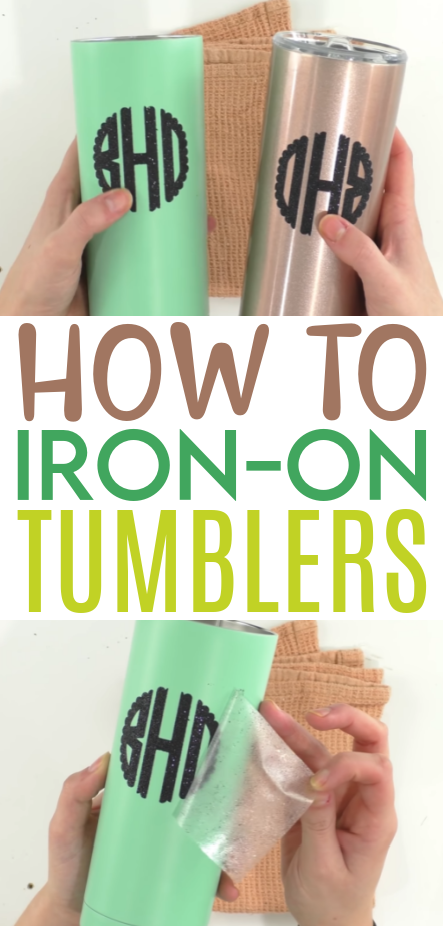 How To Iron On Tumblers
You're going to love this! Making tumblers is such fun and they make great gifts. You can personalize them and make a really special handmade gift that anyone would love to receive.
Want to learn how to iron on wood too? It's such a great way to make some beautiful craft projects!
The materials you're going to need to make this project is:
A tumbler. We recommend that it be stainless steel. It can be plain or colored.
Iron-on vinyl. Today, we're using glitter heat transfer vinyl. I have found it's a little easier to get it to adhere and it will hide any little flaws that might occur with your design.
A Cricut EasyPress. I highly recommend this 6 by 7 EasyPress for this project. You can use one of the larger ones but it takes a bit more effort. Update: the Cricut EasyPress Mini is a great option for this!
A cloth. You need a cloth you can fold up and place the tumbler on so that it won't roll around.
Some rubbing alcohol and a small cloth or something similar to wipe down your tumbler with. This will help eliminate any dirt and oils that can interfere with getting your vinyl to adhere properly.
We're using our Scalloped Monogram design for this. When downloading a monogram, you have to download three files. One will be for the letter on the left, one for the letter on the right, and one for the letter in the center.
Instructions:
We cut out a monogram for the tumbler just as we would for any other Cricut project. Remember, when you are ready to cut out your design, if you are using glitter iron-on vinyl, be sure to select that setting in Design Space.
You do not want to choose just the plain iron-on setting as it will not cut all the way through, so make sure that you are being very specific in Design Space when selecting your materials.
After you have this weeded, just peel it up. There's a bit of excess along the edges, so we're going to take some scissors and snip off the excess. You do want a bit of excess left behind though as this really helps us with adhering our design to the tumbler.
Next, we're going to get our rubbing alcohol and wipe down the tumbler. We really want this to be super clean.
Time to use your EasyPress!
Once the alcohol has dried, it's all good to go. Make sure your EasyPress is preheated to 300 degrees. This is really important!
We tested this several times and 300 degrees was found to be the best for both normal iron-on vinyl and glitter iron-on. We're going to place our design where we want and we're going to make sure to do a really good job to stick this down to the sides. We really want this to adhere well.
Once it's stuck down pretty well, grab the EasyPress that's preheated to 300 degrees. Start at one side and make this little rocking motion while giving good pressure all over the monogram.
This is not at all as hard as it may seem. Because this is a curved surface, it does take a lot longer to do but it is worth it in the end. Just make sure you go all the way around the whole monogram.
You'll start to see bubbles and those are a great sign. This means that our iron on vinyl is starting to adhere well to the tumbler. Keep going to make sure you get in all the letters and details.
Once you think that you might have it adhered properly, just let your tumbler cool for a few minutes. This is most definitely a project that you want to let cool down for quite some time before you start to peel away very slowly.
What do you think about these tumblers? I think they turned out so cute! Make one for yourself and one for your bestie!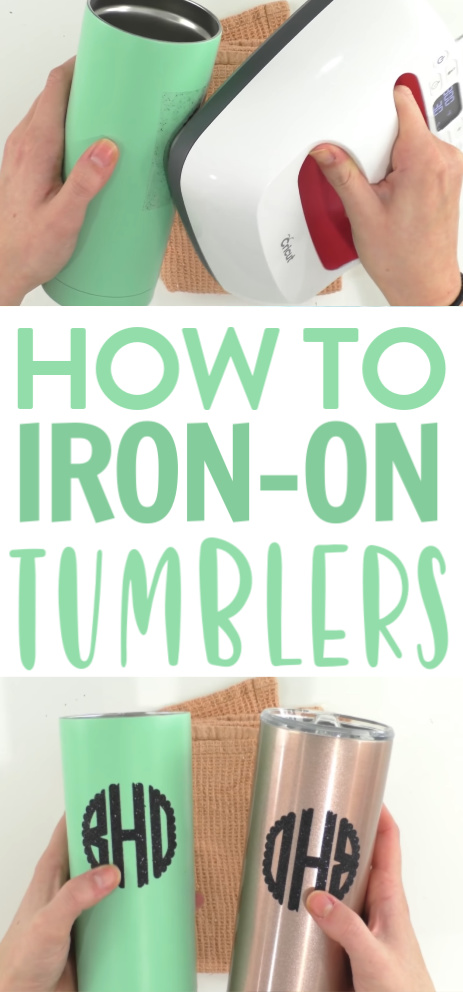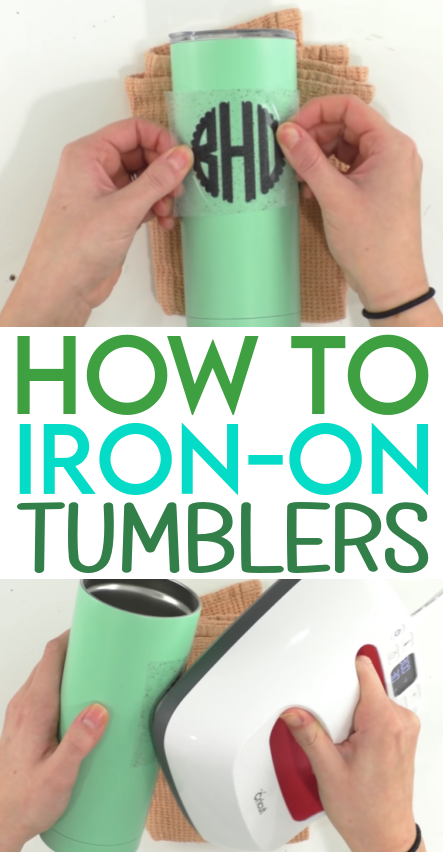 Tanner, Courtney, and the rest of the Makers Gonna Learn Team are all here because we love die-cutting and especially love sharing fun projects and tutorials with fellow makers. We are all great friends and are always having a blast when we are together- you will see this on camera, especially during live streams! We are here to inspire and support you in your crafting journey!