How To Iron On Wood
A lot of you might be wondering if it's really possible to create some awesome die cutting DIYs on wood. So today, I am so excited to share with you my tips and tricks for How To Iron On Wood. We love sharing our best Cricut hacks with you to help you make projects with ease!
Looking for some more amazing iron on projects? Check out our posts on How to Iron On a Hat and How to Iron On a Tumbler.
This is so popular right now! This craft technique will help you make some really great professional looking projects for your home or to give as gifts. You can even start a side business selling these crafts!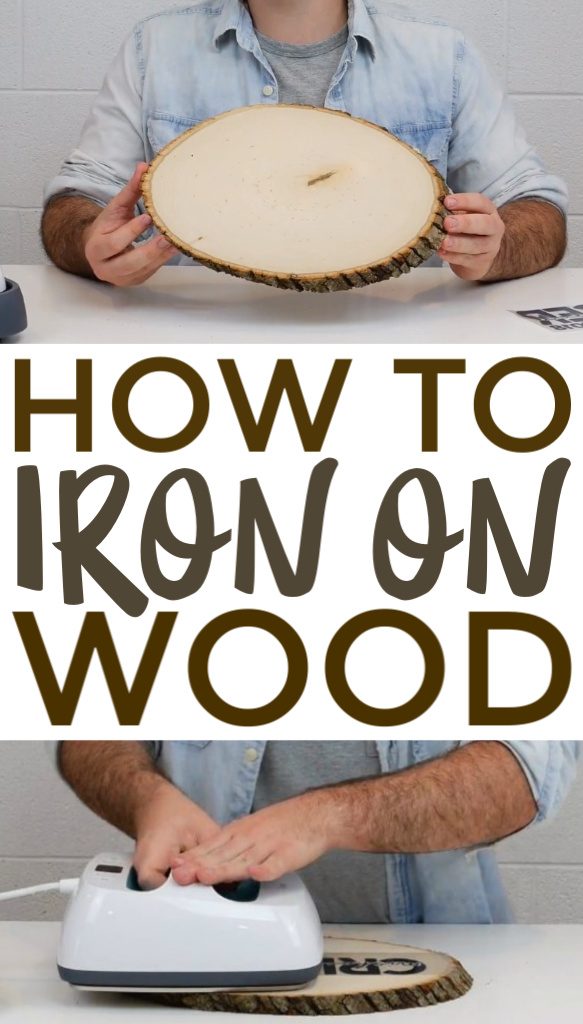 How To Iron On Wood
It may seem like ironing on wood would be really complicated but I promise you it's not. With my simple tips, you will be able to create some amazing wooden craft projects. You'll want to iron on every piece of wood you find! What will you make first?
Supplies needed:
Steps to Making an Heat Transfer Vinyl Wood Project:
Creating Your Design
We're using a fun knockout text design here for this particular project. You can create any kind of design you would like using fonts and/or cut files in Cricut Design Space.
Pro tip: Since we're using heat transfer vinyl, remember to mirror your design before cutting.
Cutting Your Design
Be sure to place your HTV on the mat shiny side down. The shiny side is the built-in transfer tape. After placing it, we like to use a brayer or burnishing tool to ensure that the iron-on vinyl is well adhered to the mat.
Weeding Your Design
After cutting your design, it's time to weed it. We like to weed right on the cutting mat. Go over the cut HTV with your burnishing tool or brayer once more. Use your weeding tool to lift up a corner and begin removing the negative vinyl around your design.
Pro tip: Before you start weeding, you can cut away any excess vinyl using your Cricut TrueControl Knife and save these vinyl scraps for another project.
Applying Your Design
We're going to get ready to put it on a piece of slab wood. You can find these at Michael's or your local craft store. They're super trendy and perfect for all kinds of craft projects.
These slabs of wood are perfect to use with your Cricut die cutting machine, Cricut EasyPress, and Heat Transfer Vinyl. They're really smooth, making them an ideal surface for applying iron on.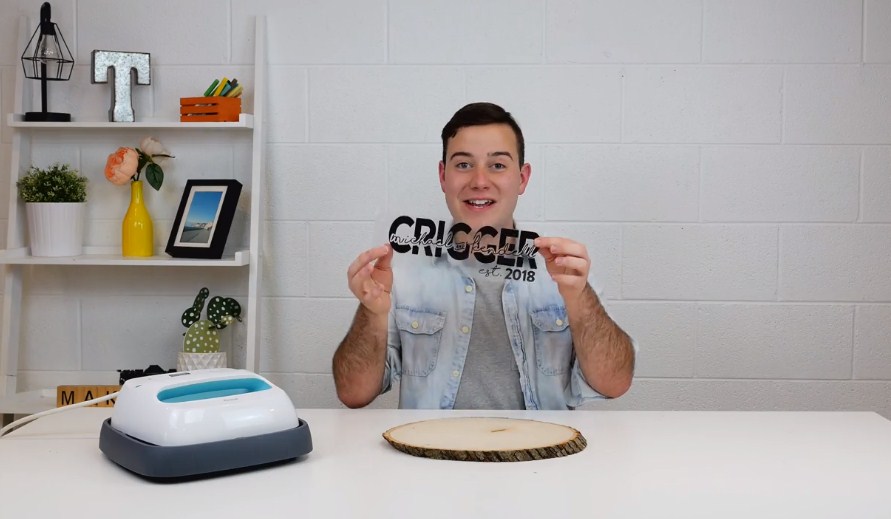 Pro tip: When choosing wood for an iron-on project, you want to be sure that it isn't warped. Check it out carefully and make sure it's perfectly flat and even so that the HTV will adhere well to it. In addition, if you feel any rough spots where the heat transfer vinyl will be applied, use a sanding block to smooth that out. After sanding, be sure to use a lint roller or barely damp cloth to wipe away any sawdust or other debris.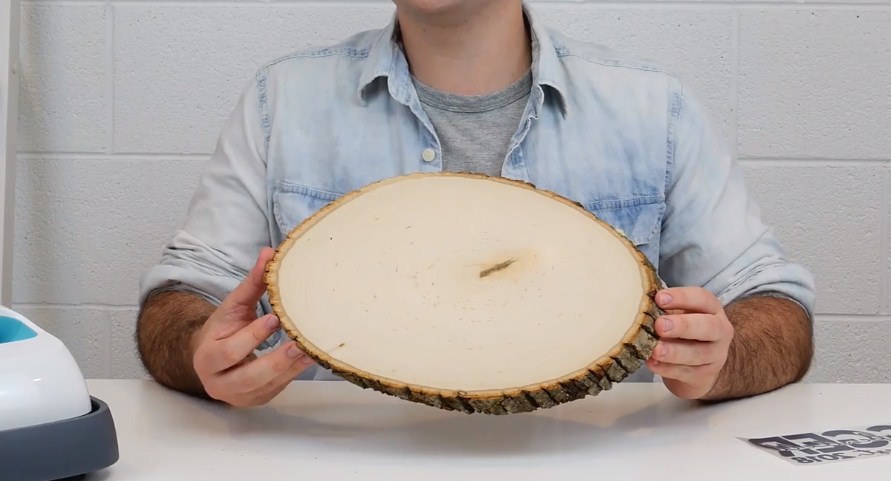 Preheat your EasyPress
What we're going to do next is to pre-heat the EasyPress to 340 degrees and set the timer for 30 seconds.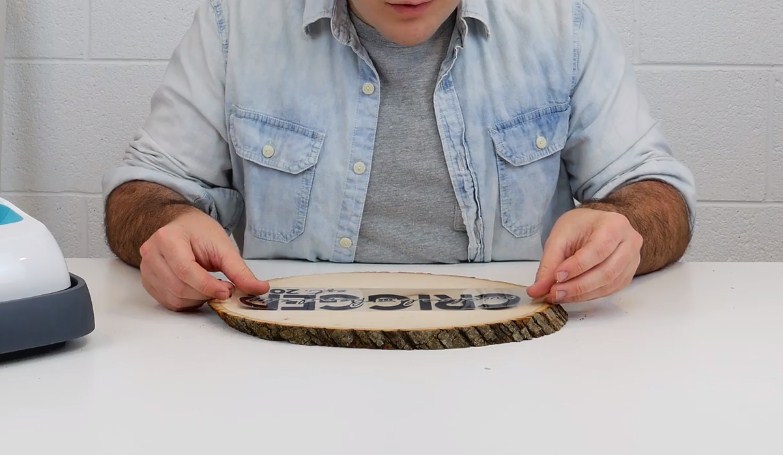 Position Your Design
It can be a little challenging trying to position your design on the wood slab because it's not a perfect circle. Just take your time on this step and place it where it looks best to you!
Pro tip: Getting right up over the project can help you get it placed better.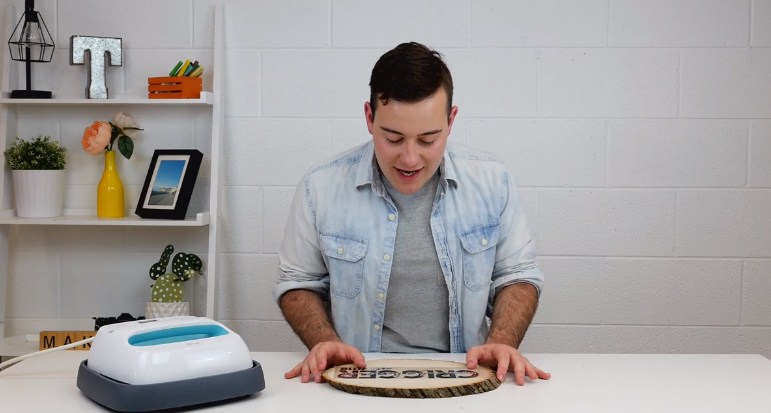 Use Your EasyPress and Remove the Transfer Tape.
Once the EasyPress has preheated, we're going to heat our design. Since our slab is a little larger than our press, we're just going to start with one side and then carefully move it to the other side.
Give it a little bit of pressure but be sure not to move the EasyPress. Let it count down for about 10 seconds and then check on it. You want to be sure not to overheat the wood. You want to see some bubbles start to form. This indicates that the transfer tape is releasing from the design.
Pro tip: If you have stained or painted the wood, it needs to dry really well before you apply the vinyl. We also suggest using a Teflon sheet or a piece of butcher paper on top of it before using the EasyPress to help protect it.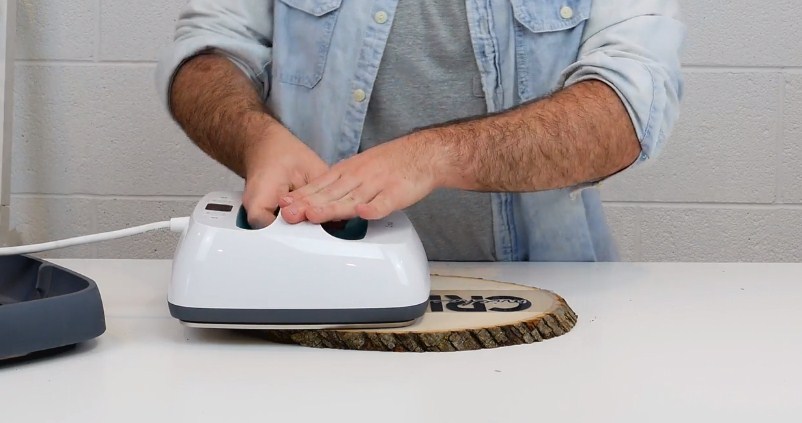 Remove the transfer tape carefully.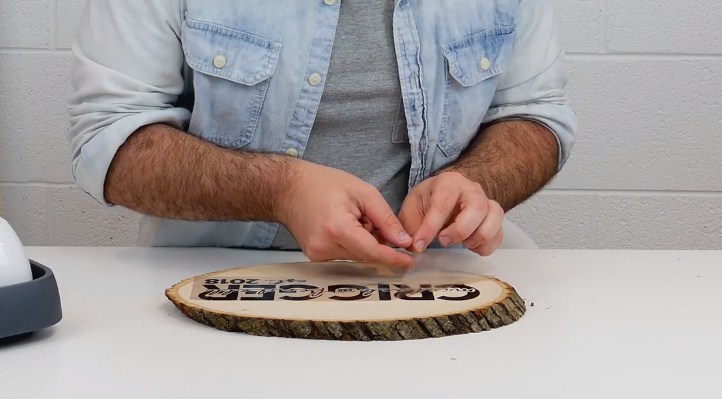 And just like that, you have an amazing iron-on wooden piece you're going to love. Wasn't that easy? It's really not intimidating at all! You just have to have the right tools and take your time with each step.
Here's another fun wooden craft project: How to do wood burning with Cricut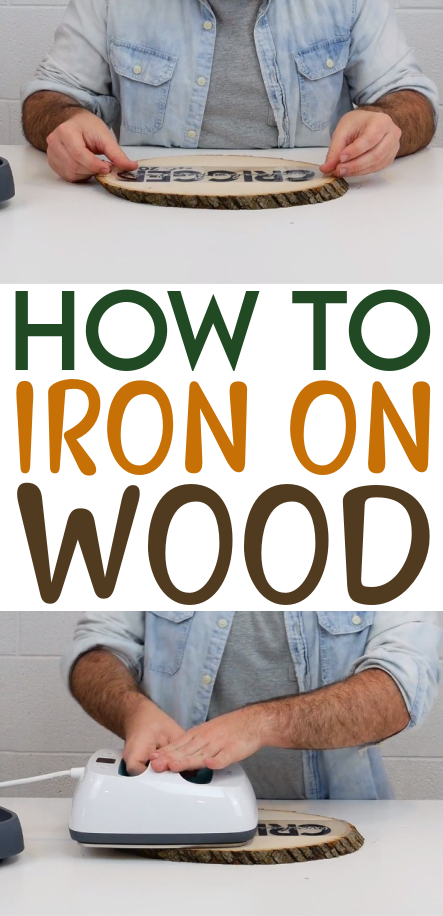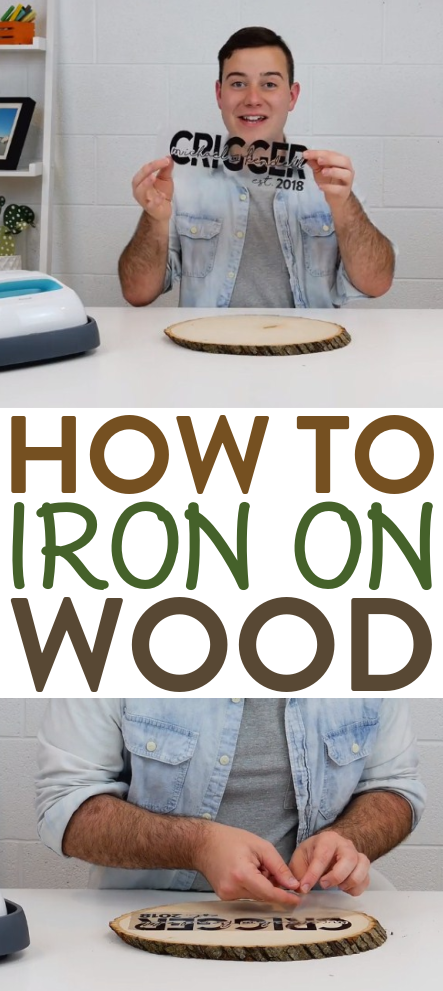 Tanner, Courtney, and the rest of the Makers Gonna Learn Team are all here because we love die-cutting and especially love sharing fun projects and tutorials with fellow makers. We are all great friends and are always having a blast when we are together- you will see this on camera, especially during live streams! We are here to inspire and support you in your crafting journey!