How To Make a Cake Topper With Cricut
In this post, we're going to be answering all your questions on How To Make a Cake Topper With Cricut. We have this adorable little chocolate cake and I'm super excited to share with you how easy it is to make a cake topper. You can do this in many different ways and really personalize it the way you want it.
Most people think of die cutting machines and using them for vinyl and heat transfer vinyl. They're amazing with these kinds of projects. But you can cut more than vinyl with Cricut machines!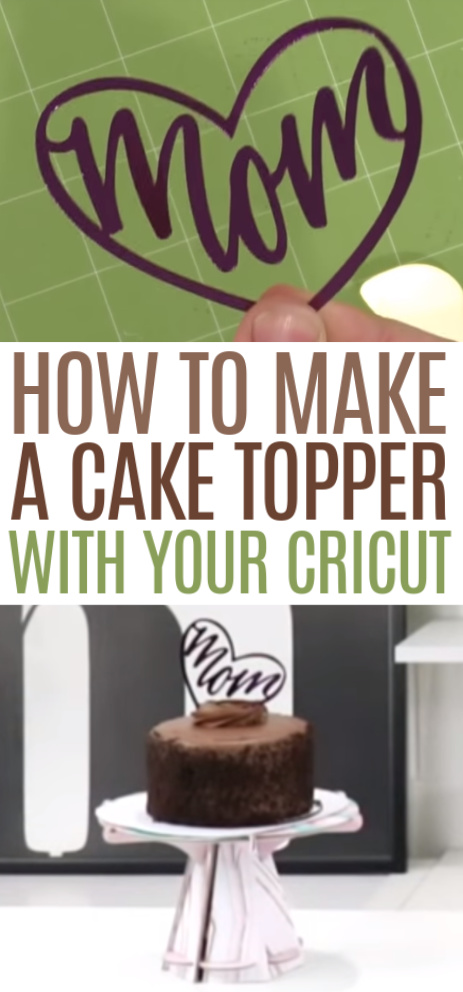 How To Make a Cake Topper With Cricut
We're using a heart cut file from our Mom and Dad Collection here at Makers Gonna Learn. With a yearly membership, you can get instant access to thousands of digital cut files and hundreds of fonts as well as access to printable guides and courses eaching you how to master any of your die-cutting machines.
Cricut Kraft board is one of my favorite materials, especially for projects like this. What I love about this Kraft board, is it's a very thick material that is perfect for 3D projects. It has the durability that you need for 3D projects as it's a little thicker than standard cardstock.
We're going to put our Kraft board onto our standard cutting mat. You can cut Kraft board with your Cricut Explore machine or your Cricut Maker. We're going to use the fine point blade for this project.
Now, let's head over to Cricut Design Space. My number one tip when working on designing a cake topper is to make sure the file is one piece. It's much easier. If you really want to use a file that isn't one piece, you need to begin by duplicating your file. Click on your duplicated image, then click on actions and press "Hide Contour".
Now, what we need to do is to take out all of the little pieces that are going to be cut. With the example we've got here, this leaves us with a perfect heart background. Change the color to make it easier to see. Then, click "Edit" and "send to back" so we can visualize it better. That's a really easy way to use with a two-layer design. In this case, our letters are joined together so we don't have to worry about that.
Next thing I want to do is size it. We're going to type in the size that we would like. For this project, I'll go for 3.5 inches. This is the perfect size cake topper for our little chocolate cake. We are now going to press "Make it" and select Kraft board on the materials. Then we can load the mat into our machine and press the flashing Cricut button.
Once the cutting is complete, let's go ahead and unload the mat. Gently peel the mat away from your project. Then, use the spatula to help lift it up a bit and go in with your weeding tool to remove the pieces you won't be using.
You want to be delicate with the project so it doesn't fold, but with using this thicker material it's a lot less likely.
We're just going to add our little cake topper right down in the center and look how adorable this is! This is such a fun unique thing that you can add to all of your cakes. It's going to take it to a whole new level.
What do you think about this project? I cannot wait to see what you do with this using our cut files. There are so many that we want to try out as cake toppers and we know you're going to love this idea. If you are a DIY bride you will love being able to make your own cake toppers for your wedding too!
Tanner, Courtney, and the rest of the Makers Gonna Learn Team are all here because we love die-cutting and especially love sharing fun projects and tutorials with fellow makers. We are all great friends and are always having a blast when we are together- you will see this on camera, especially during live streams! We are here to inspire and support you in your crafting journey!