How to Print then Cut Photos
We just love making personalized craft projects with our own photos on them. It makes them extra special! Once you know how easy it is to Print then Cut Photos, you're going to want to make all kinds of beautiful, custom projects for everyone you know.
Using Print and Cut – a technique most Cricut machines are able to perform – and some printable vinyl or printable iron on vinyl, you'll be able to take your favorite photographs and easily add them to pretty much any surface you'd like. This Cricut technique will open up so many more craft project ideas for you and it's really simple to do.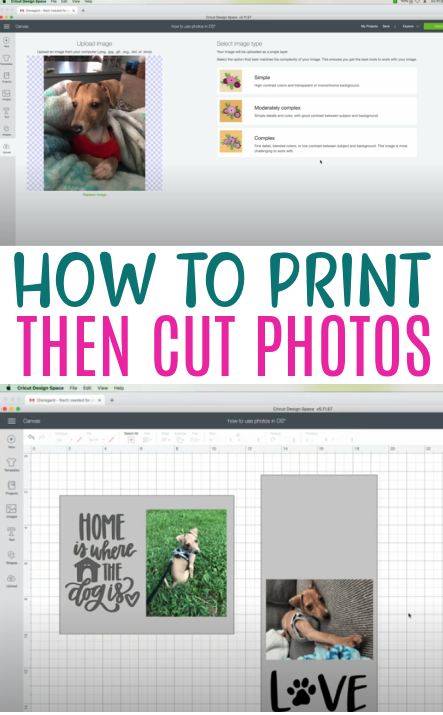 How to Print then Cut Photos
Not only are these Print then Cut Photos a great way to customize your own wearables or home decor, but these make fantastic gift ideas. In this post, we're going to show you how to make super cute photo frame using printable vinyl and an adorable kitchen towel using printable heat transfer vinyl.
Materials Needed:
Cut Files Used:
Supplies Used:
Step-by-Step Tutorial:
Get the photos onto your device.
You need to begin by getting the photos onto the device that you will be using for Cricut Design Space. Some of the ways you can do this:
Email them to yourself.
Send them from your phone or tablet to another device (often, for example, you can send between two iOS devices)
Attach your device to your laptop with a cord or place the SD card from your camera into the card reader and upload them that way.
Upload your photos into Cricut Design Space.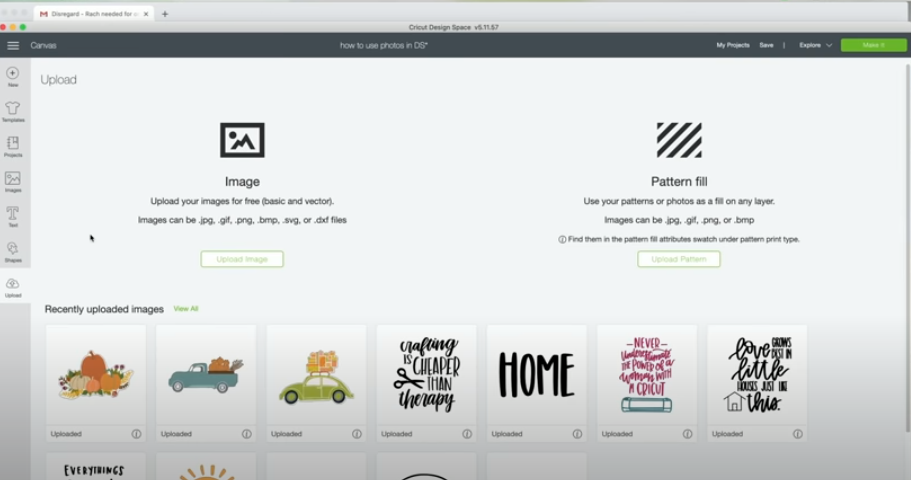 You're going to add these photos to Design Space the same way you would with any other files. Click Upload and then Upload Image. You can browse for the images (remember to take note of where you saved them!) or drag and drop into Design Space. We like to save ours to our desktop so it's easy then to drag and drop.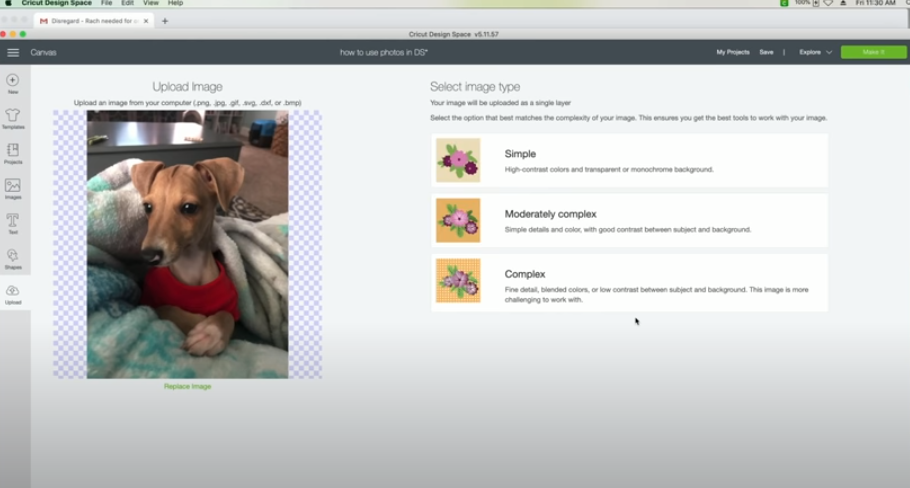 Click Complex.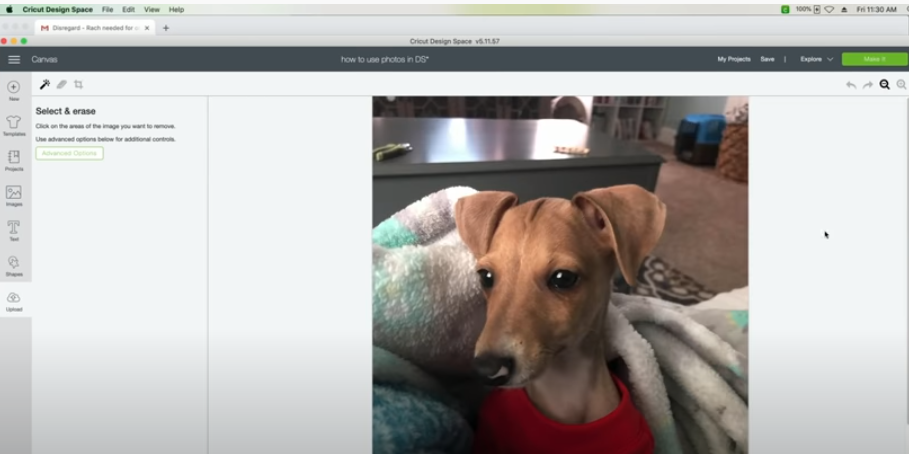 Zoom out so you can see the entire image. At this point, you don't need to do anything unless you want to remove any of the background.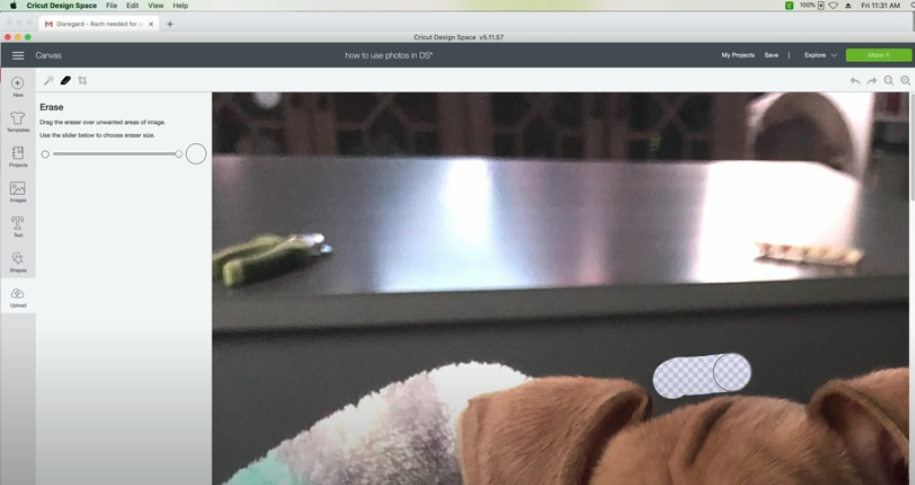 For example, in the image above, perhaps we want to remove the blanket and the rest of the background and just leave behind Lenny the dog. In that case, we would use the eraser tool to erase the background.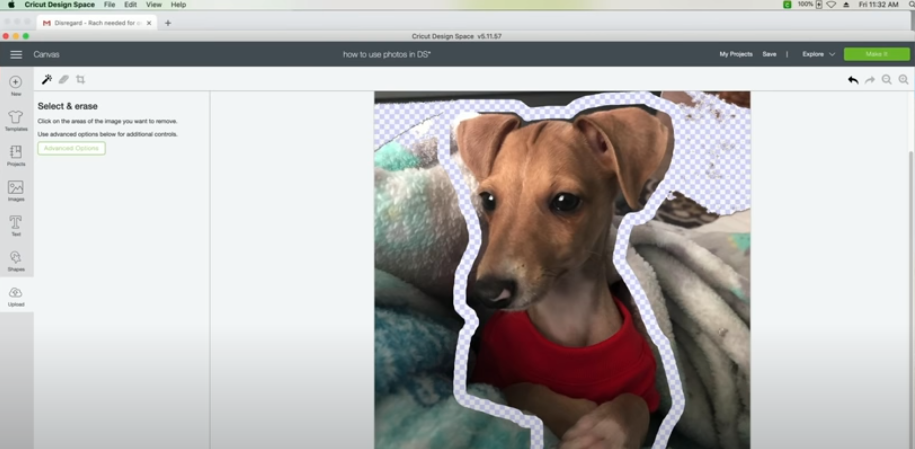 We like to go around with the wand to get close to the image we want to keep and then once it's outlined, we can begin clicking the rest of the background areas to remove them. We like to begin by zooming in really close so we can be as precise as needed to get right around our image. Then, we can zoom back out to click the rest of the background.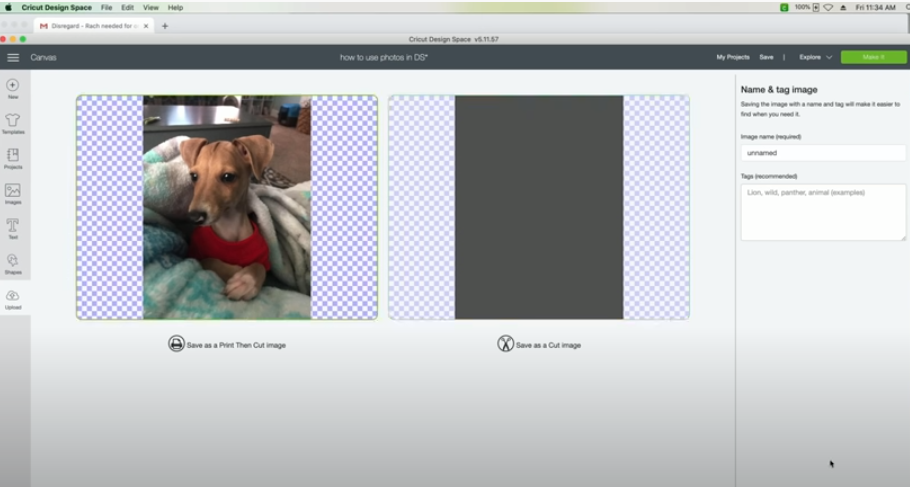 Remember, you don't have to do any of that if you want to work with the entire image as is. You can just click Continue and then save your image as a Print then Cut.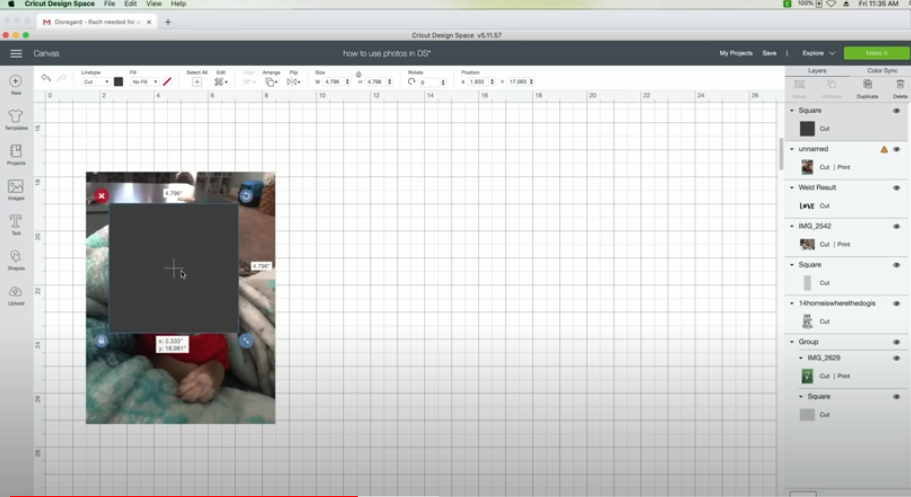 As another way to manipulate the photo you're working with, once you have added the photo to your Design Space canvas, you would also use a basic shape to cut out a portion of it using the Slice function.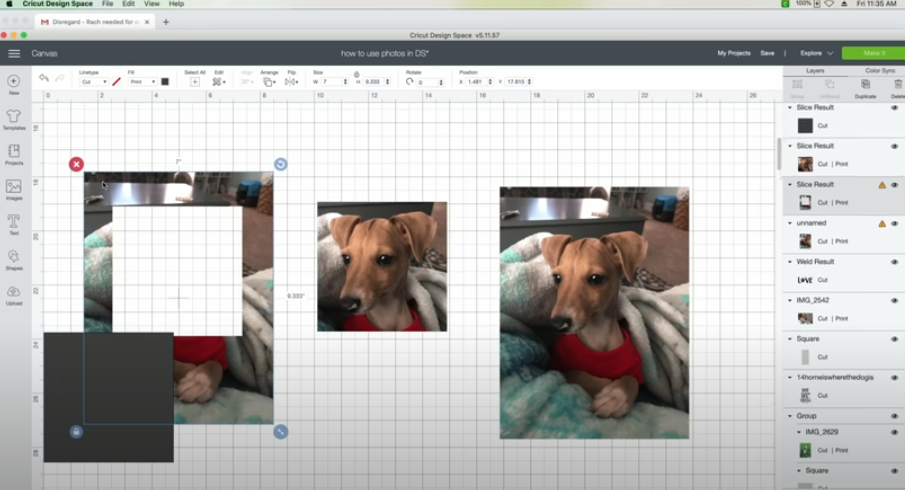 Note: Cricut Design Space is going to be slower working with your photos than it would be with a typical cut file. Just bear this in mind as you work.
Upload the cut files into Design Space and add them to your canvas along with the photos.
Size your images as needed.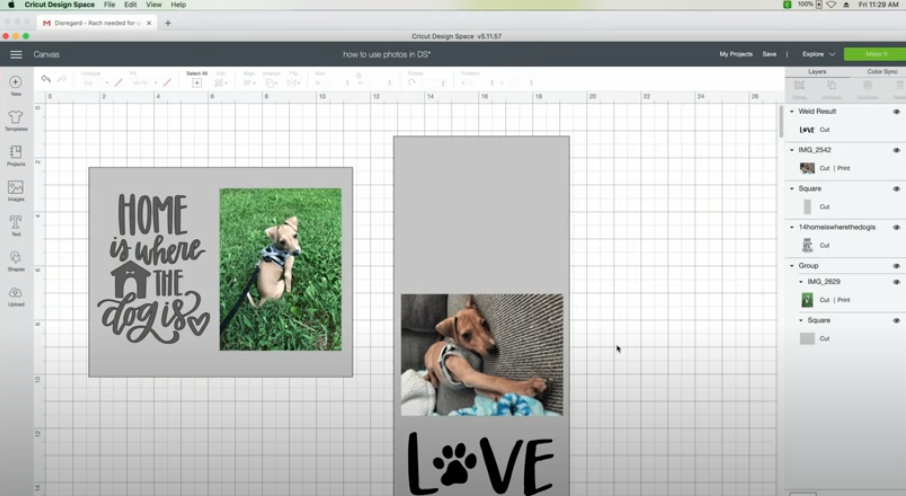 We like to add basic shapes to our canvas in Design Space to represent the size of the blanks we're working with. For the frame, be sure to measure the workable surface area – the space that is available to you to place your design on and not the actual frame itself.
For the towel, we like to put in the measurement of the folded towel. This represents the way it will be used in our kitchen and really helps us with sizing accordingly. We like to use these shapes to truly visualize how our final project will look.
Notice the cut files we're using. Even though our finished cut file designs will be black, we have changed one of them to gray in Design space. This is because we're using regular vinyl for one project and HTV for the other. By making them different colors, Design Space will place them on two different mats, which is exactly what we need since we're using twp different materials.
Cut out your designs.
Now, you're ready to click Make It. Choose your materials.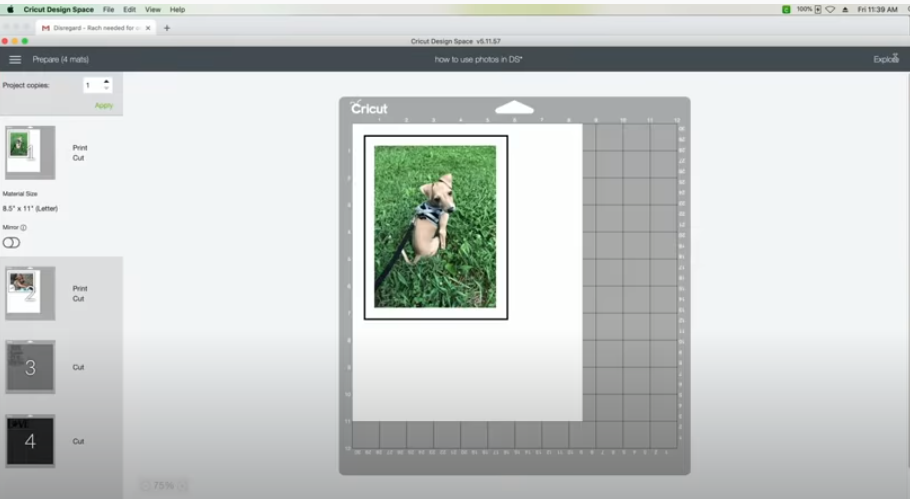 Choose material. For the photos, you will be using Printable Vinyl (for the one going on the frame) and Printable HTV (for the one going on the towel). For the cut files, you will be using the black regular vinyl and the black iron-on vinyl. Remember to turn on Mirror for the cut file that will be cut out of HTV.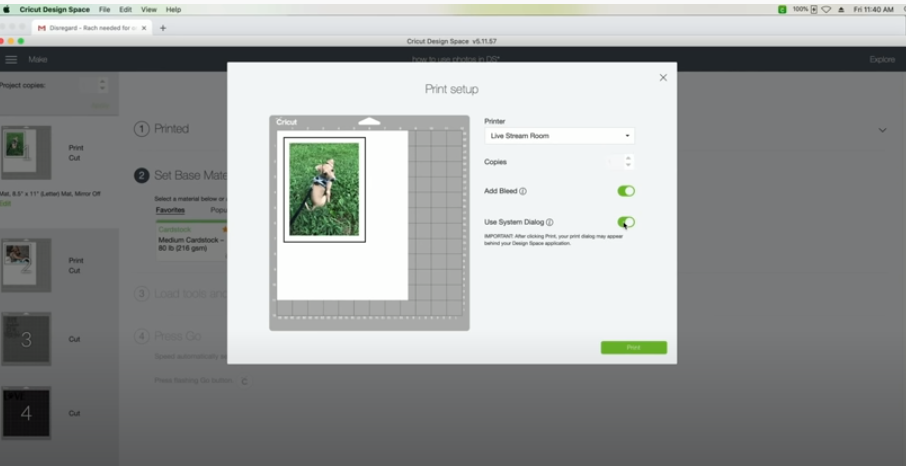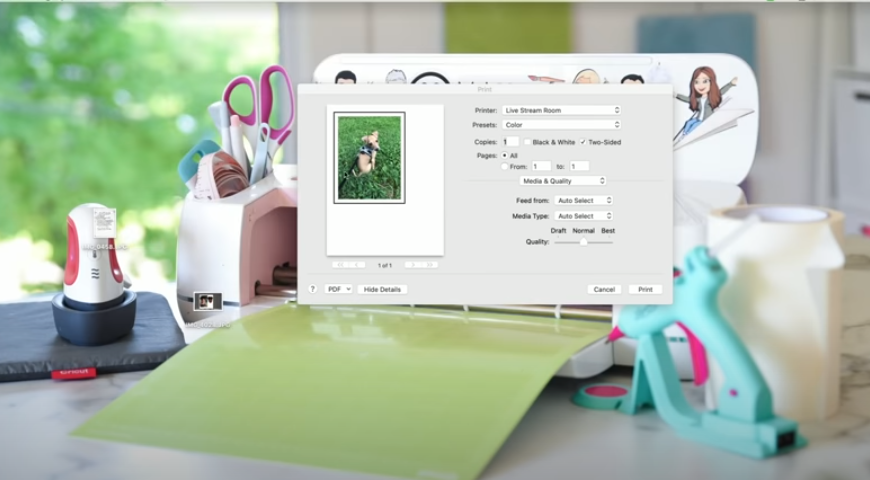 On the Print Setup screen, we like to toggle on Use System Dialog. This will open up our printer's system dialog screen so we can make any adjustments to the print quality there.
Sometimes your computer may bring up the System Dialog behind Cricut Design Space. Just minimize Design Space so you can see it. Then, we like to change to "best" quality so our photos come out crisp and clear and beautiful every time.
Note: changing to best quality will use more printer ink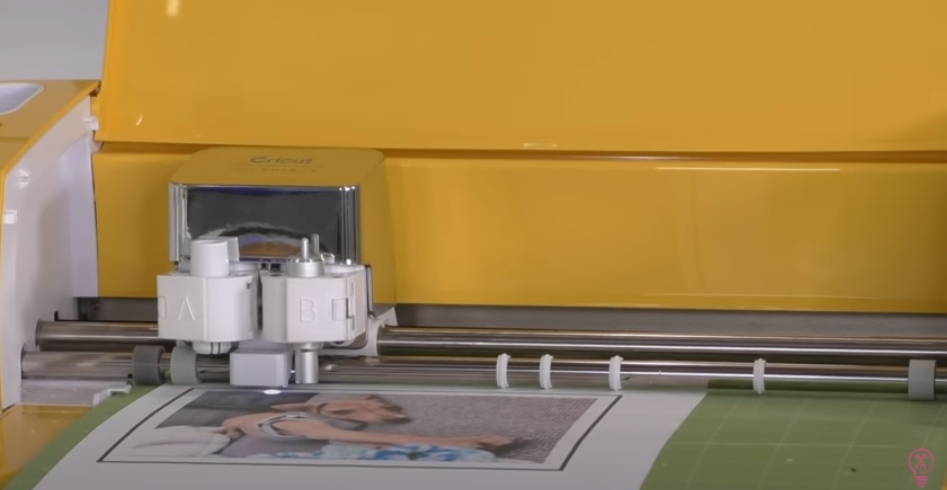 Once you have printed out your photos, load them onto the cutting mats and into your Cricut machine. For the printable vinyl (the photos), your Cricut machine will first go around the designs to "read" the registration marks (black lines). Then it will cut them out. Once you have loaded in each of the photos and cut them out, you can then place your vinyl and HTV onto their mats and cut out the cut files as well.
Important reminder: The HTV for your cut file needs to be placed on the mat shiny side down.
Weeding and applying your designs.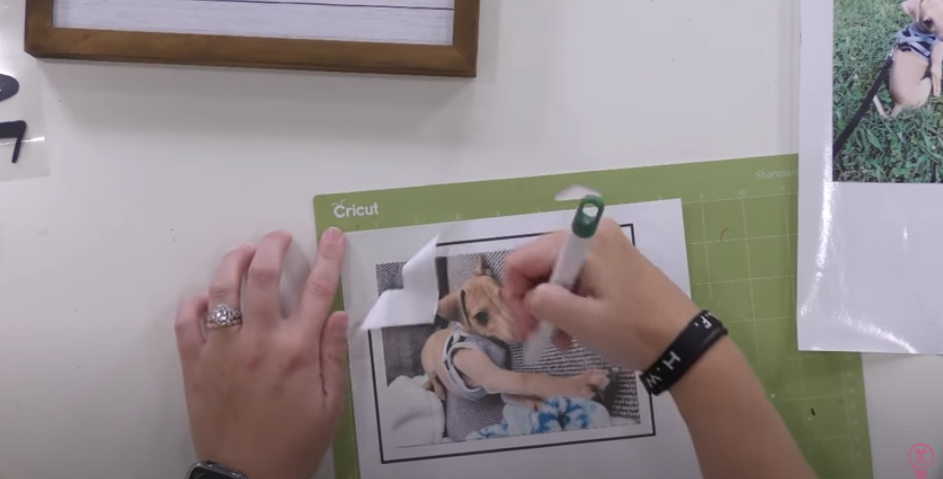 Weed your designs. For the photos, you'll see that you just need to remove the excess from around the photo. They are then ready to use pretty much as you would a sticker (although of course, you'll be applying heat to the printable HTV image going on the towel).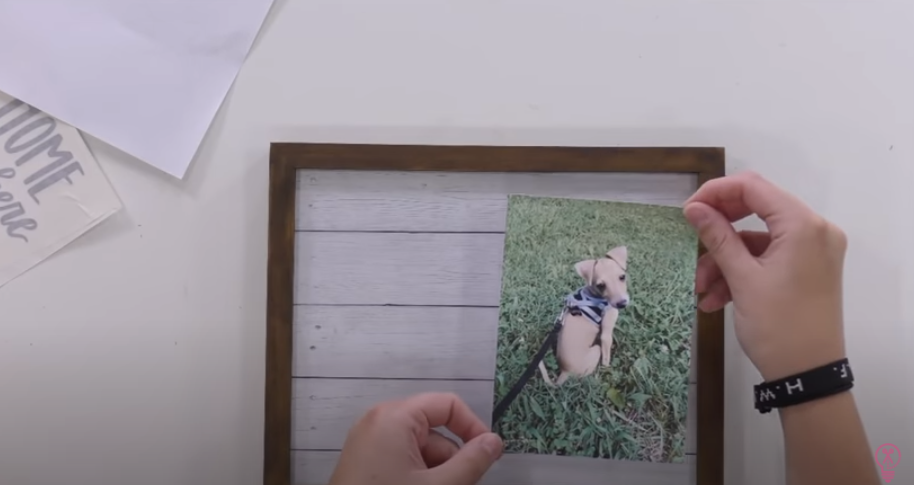 For the frame, it's very important to clean the surface before applying your designs. Use some rubbing alcohol and a paper towel to go over it and remove any fingerprints, dust, or other debris that can interfere with your designs adhering well.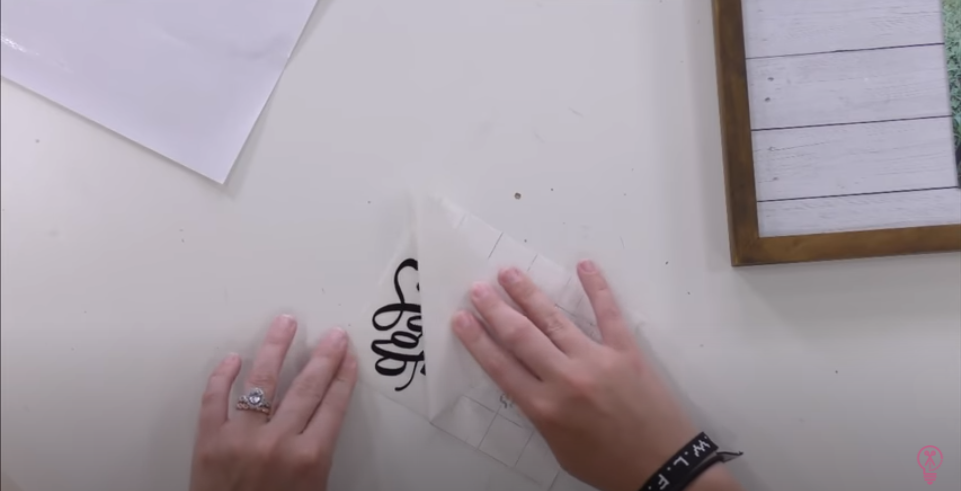 Apply transfer tape over the cut file you're using on the frame. Once you have burnished that well, remove the backing.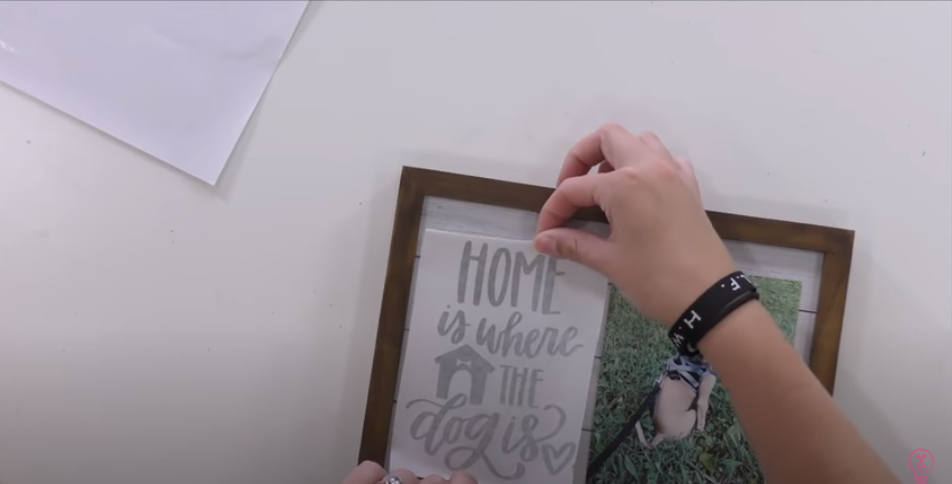 Line it up and place it down onto the glass.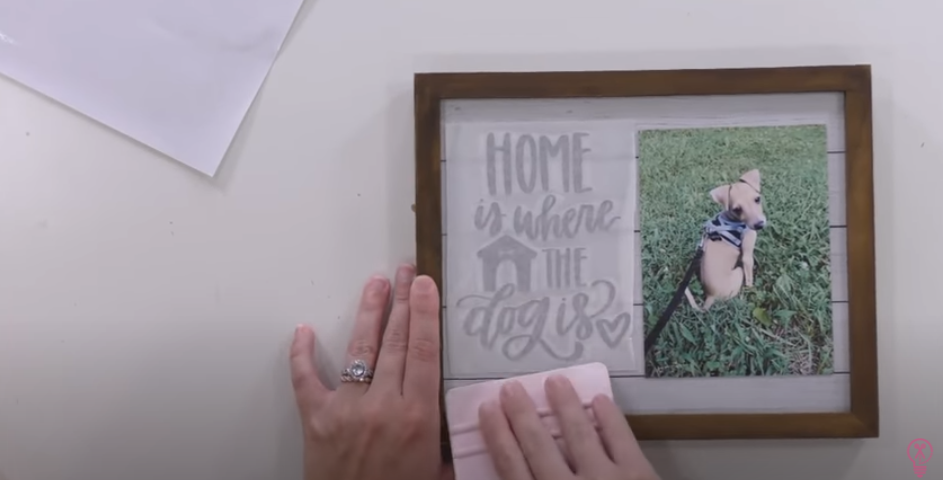 Burnish well with your scraper tool to ensure that the design is well adhered to the glass. Peel up the transfer tape carefully. We placed the piece of shiplap-looking paper inside the frame as a backdrop for our designs.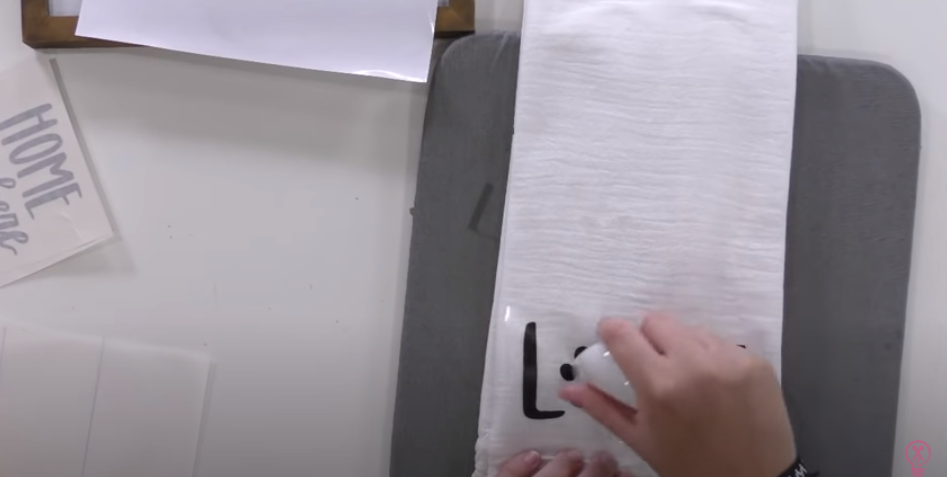 Now for the towel, we are applying the cut file first. Remember that HTV has built-in transfer tape so you don't need to apply any to this. Remove the backing and place your design on the towel.
We used our EasyPress Mini on the second setting (about 350 degrees) to iron our design onto the towel.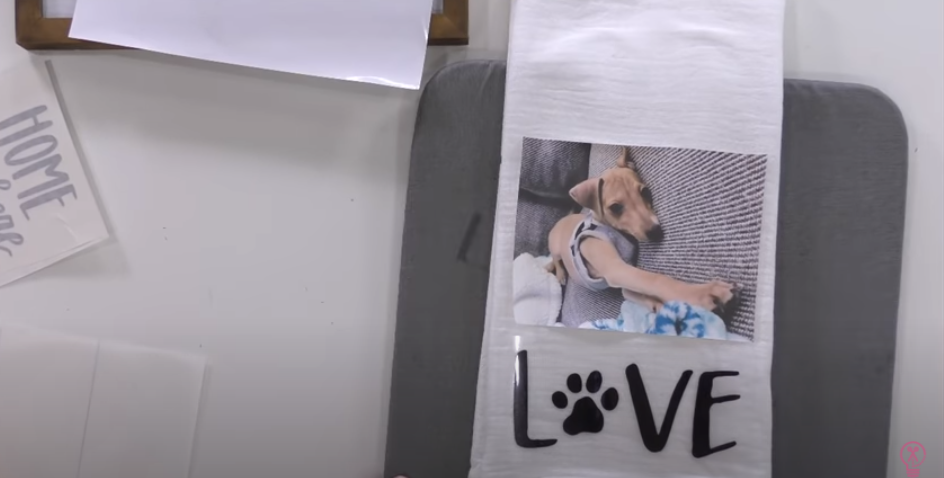 For the photo, we like to cover it with the butcher paper (often provided with the printable HTV) or a Teflon sheet. Note: the instructions for this product didn't say that this was necessary but it's an extra precaution that we like to take to ensure the success of our project.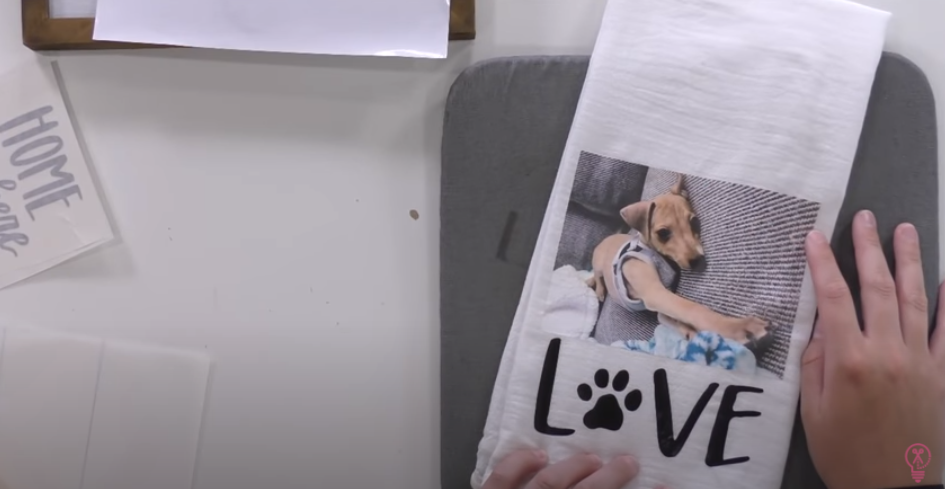 Now that you've seen how simple a craft project these are, you probably have all kinds of ideas in mind for using photos with your die cutting projects to create something custom and beautiful! You can use Cricut print then cut in so many ways to make fun items for yourself and others!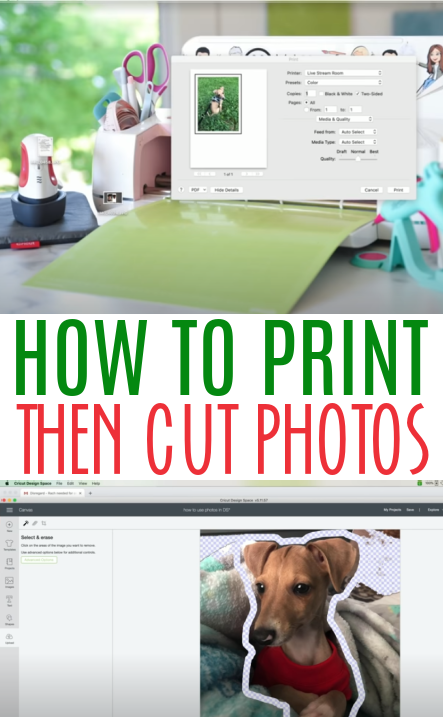 Tanner, Courtney, and the rest of the Makers Gonna Learn Team are all here because we love die-cutting and especially love sharing fun projects and tutorials with fellow makers. We are all great friends and are always having a blast when we are together- you will see this on camera, especially during live streams! We are here to inspire and support you in your crafting journey!