How to Sew a Wet Bag
We've all been there! You've just finished up a fantastic day in the sun and pool with friends, changed into your dry clothes and you are left wondering what to do with your soaking wet bathing suit. Do you throw it in your pool bag and risk drenching everything in it? Now you don't have to! We're going to show you how to sew a wet bag.
This super easy wet suit bag is the answer to all your wet swimsuit problems, and with this step-by-step video tutorial, even beginner sewists can create a super cute and functional bag that will keep the rest of your belongings from getting soggy!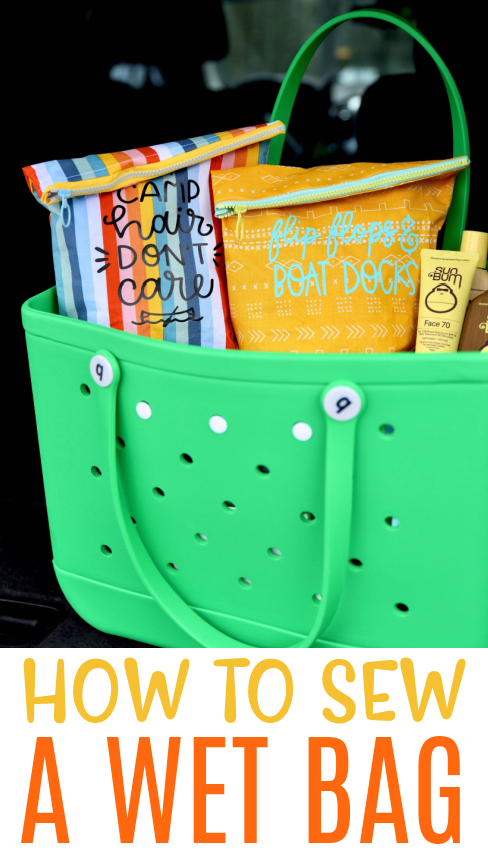 How to Sew a Wet Bag
Disclosure: Some of the links below are affiliate links provided for your convenience. This means, at no additional cost to you, we will earn a commission if you click through and make a purchase.
Cut Files Used:
Supply Links: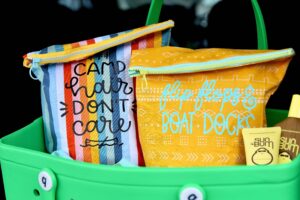 Step-by-step Instructions:
Using a rotary cutter and rotary cutting mat, cut 2 pieces of 11.5×14″ cotton fabric and 2 pieces of 11.5×14″ fusible vinyl
Remove the backing from fusible vinyl and place vinyl sticky side down on the "wrong side" of the fabric
Place backing from fusible vinyl over fusible vinyl. Use an easy press to adhere fusible vinyl to fabric. (refer to instructions for proper application of fusible vinyl)
Using a zipper foot, sew zipper to each piece of fabric. (Never sewn a zipper before? Here's a great instructional video! https://www.youtube.com/watch?v=OlpCOp8p6oI)
Once the zipper is sewn on both pieces of fabric, place the fabrics right side together, partially unzip zipper (so you can turn the bag later on), and sew the sides and bottom of the bag together
Next, create boxed corners in the bottom of your bag. Mark corners at 2″ and sew new seam. Trim the edges of the boxed corner.
Flip bag right side out
Measure the finished size of your bag
Size cut file in design space to fit on the front of your finished wet bag
Load mat with HTV (shiny side down). Mirror your image and select "iron-on" as your material setting.
Load mat into Cricut. After the cut is complete unload mat and weed/remove the excess vinyl
Place weeded image on wet bag
Insert a small easy press mat into the bag so that fusible vinyl does not melt together
Use an easy mini press to apply heat to HTV. Cool peel
Tanner, Courtney, and the rest of the Makers Gonna Learn Team are all here because we love die-cutting and especially love sharing fun projects and tutorials with fellow makers. We are all great friends and are always having a blast when we are together- you will see this on camera, especially during live streams! We are here to inspire and support you in your crafting journey!